Splinterlands Weekly Challenge: PORTAL SPINNER
Hi all Splinterlands friends,
the new weekly appointment with the Battle Challenge has as its theme PORTAL SPINNER, a rare card of the LIFE element, with Ranged attack skills! The monster belongs to the new Chaos Legion edition, another example of exceptional graphics and truly incredible artistic skills of the team.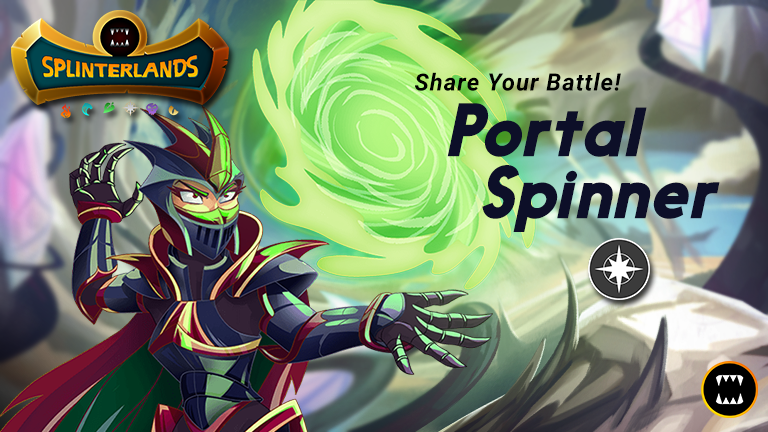 The Life element is not among those that I am particularly considering in upgrading my deck, having a limited budget I preferred to invest it elsewhere but I decided not to sell my CL cards anyway, waiting for better times to upgrade everything else. That said, here's why I fielded PORTAL SPINNER with summoner Daria Dragonscale, with great results, as you can see in the battle link below.
PORTAL SPINNER is upgraded to level 4 and has very interesting offensive characteristics: attack with 3 damage points, speed of action 2 points, 4 greetings points and 2 armor points. Mana is 5 points. A card therefore very balanced, its innate skill is Scattershot, so the monster attacks the opponents deployed in any position randomly. The other skill, active from level 5, is Snare and removes the Flying skill from opposing monsters.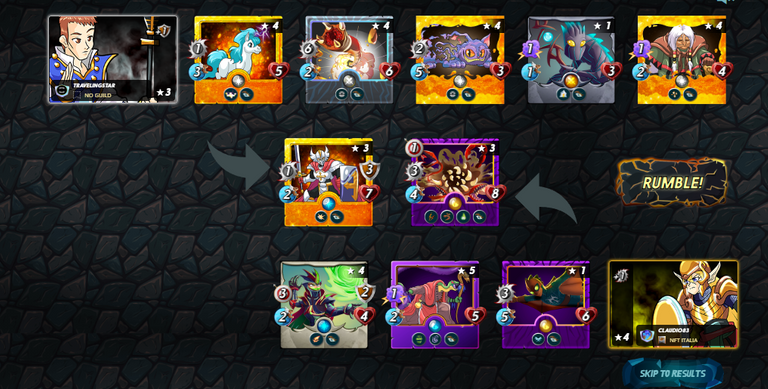 THE VIGILATOR
As previously written, I consider this card to be among the strongest in the game. Its offensive power is truly impressive and is crucial in the many races in which the monster fights. In the first position she is an unstoppable war machine, very difficult to defeat without taking substantial damage. I would like to get the gold version someday, it would really be the top for me!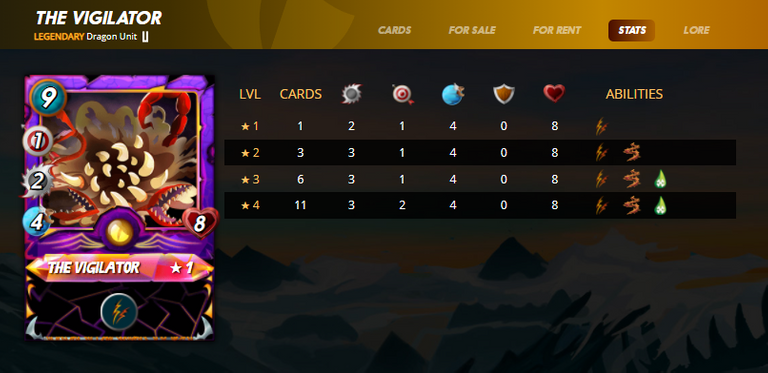 ---
DRAGON JUMPER
Another card with incredible offensive abilities, although I only own it at the basic level. His +3 attack, which is always added to +1 from the summoner, is enhanced by the Opportunity ability targeting enemy monsters with lower health from whatever position he is! Truly a hostile and dangerous monster for opponents! Glad I bought it!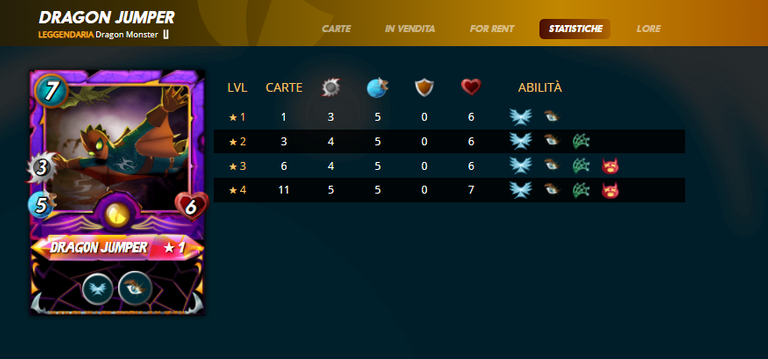 ---
MYSTIC SERPENTINE
Particularly influential card especially for the Slow ability that slows down opponent attacks. An absolutely exceptional advantage in a battle between monsters that generally have a weak defense and this allows you to hit earlier and have a better chance of defeating the opponent.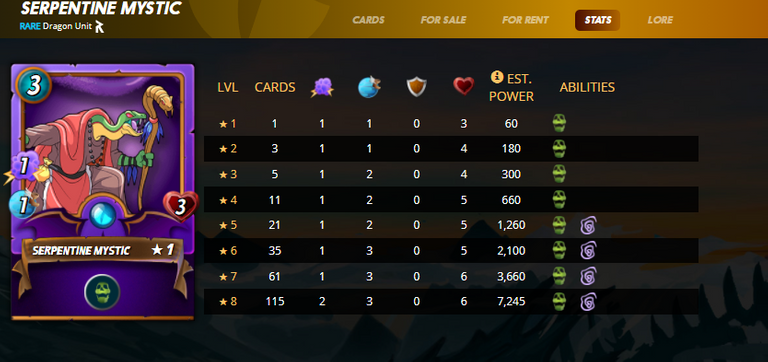 ---
PORTAL SPINNER
Deployed in last position, the monster casts its attacks randomly, reducing the opponents' health points so that allied cards can finish the dirty work! Valuable card that surely brings important support to the final victory!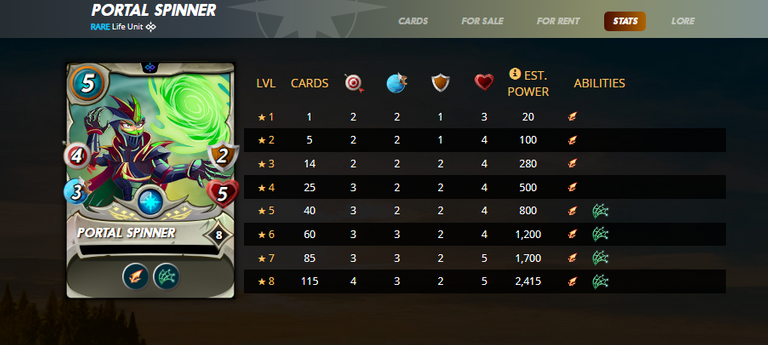 Conclusion
The @splinterlands contests are not only aimed at making us get generous upvotes but it is above all to help us discover new cards that can really be very useful in our battles and stimulate us to new strategies and more options in battle.
The low prices of the cards, also caused by the large number of printing and availability of Chaos Legion cards, is an excellent entry point for new players. In fact, it is possible to build an excellent deck of cards by spending little, compared to the cards of previous editions. It will also be interesting to observe the next airdrops CL cards in order to better establish which Summoner to upgrade and consequently the cards to buy on the market!
Furthermore, the strategy that each player sets himself, can undergo natural variations, in order to improve his deck of cards and climb the ranking of the best players, also obtaining higher rewards!
Good Game
Thank you for taking the time to read this post
If you have not yet signed up for Splinterlands, I invite you to try. You can use my referreal link
ITA
Ciao a tutti amici di Splinterlands,
il nuovo appuntamento settimanale con il Battle Challenge ha come tema PORTAL SPINNER, carta rara dell'elemento LIFE, con abilità d'attacco Ranged! Il mostro appartiene alla nova edizione Chaos Legion, un altro esempio di grafica eccezionale e doti artistiche del team davvero incredibili.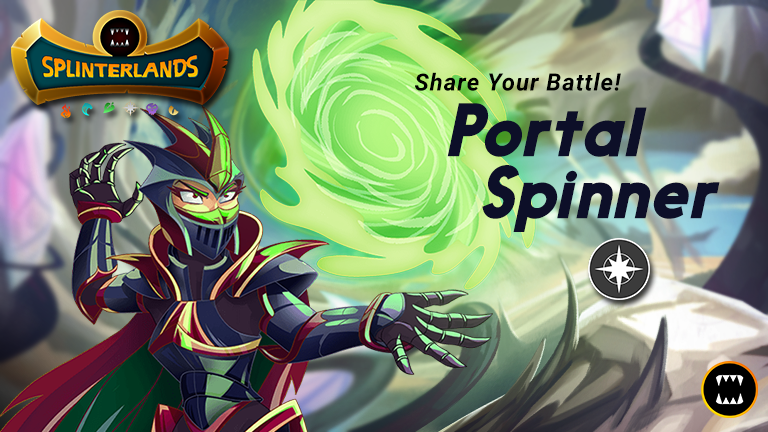 L'elemento Life non è tra quelli che sto considerando particolarmente nel potenziamento del mio mazzo, avendo un budget limitato ho preferito investirlo altrove ma ho deciso comunque di non vendere le mie carte CL, in attesa di momenti migliori per potenziare tutto il resto. Ciò detto, ecco il motivo per cui ho schierato PORTAL SPINNER con l'evocatore Daria Dragonscale, con ottimi risultati, come potrete vedere nel link battle in basso.
PORTAL SPINNER è potenziato a livello 4 ed ha caratteristiche offensive molto interessanti: attacco con ben 3 punti danno, velocità d'azione 2 punti, 4 punti saluti e 2 punti armature. Il mana è di 5 punti. Una carta dunque molto equilibrata, la sua skill innata è Scattershot, per cui il mostro attacco gli avversari schierati in qualsiasi posizione in modo random. L'altra abilità, attiva dal livello 5, è Snare e rimuove l'abilità Flying ai mostri avversari.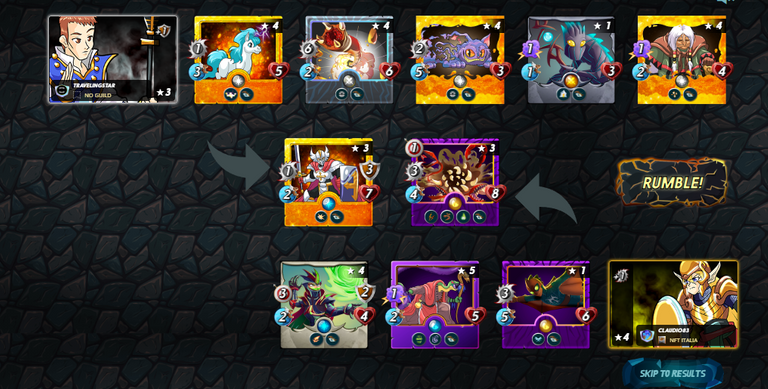 THE VIGILATOR
Come scritto in precedenza, io ritengo questa carta tra le più forti del gioco. La sua potenza offensiva è davvero impressionante ed è determinante nelle tante gare in cui il mostro combatte. In prima posizione è una macchina da guerra inarrestabile, davvero difficile sconfiggerla senza subire danni consistenti. Mi piacerebbe un giorno ottenere la versione dorata, sarebbe davvero il top per me!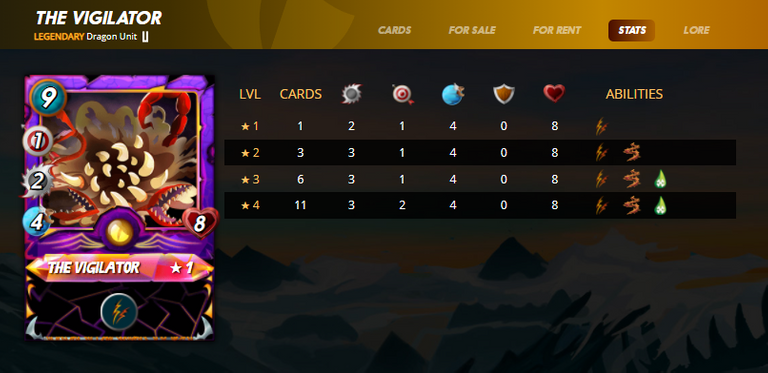 ---
DRAGON JUMPER
Altra carta dalle abilità offensive incredibili, nonostante io la possiedo solo al livello base. Il sua attacco +3, a cui si somma sempre +1 dell'evocatore, è valorizzato dall'abilità Opportunity bersagliando i mostri avversari con salute minore da qualsiasi posizione si trovi! Davvero un mostro ostile e pericoloso per gli avversari! Sono contento di averlo comprato!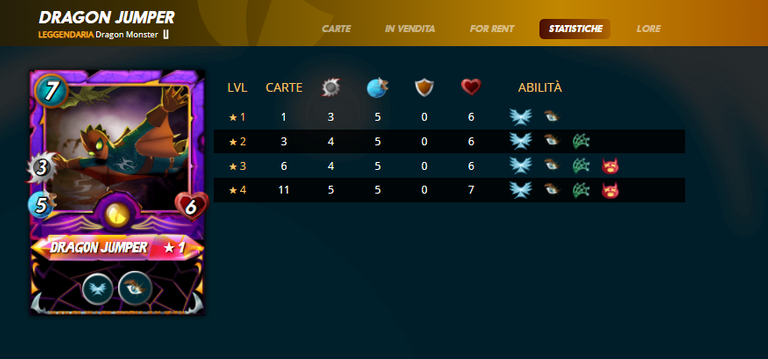 ---
SERPENTINE MYSTIC
Carta particolarmente influente soprattutto per l'abilità Slow che rallenta gli attacchi avversari. Un vantaggio assolutamente eccezionale in una battaglia tra mostri che generalmente hanno una difesa debole e ciò consente di colpire prima e di avere maggiori possibilità di sconfiggere l'avversario.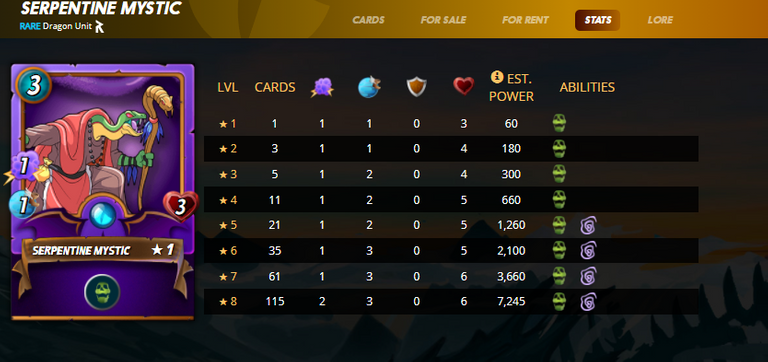 ---
PORTAL SPINNER
Schierato in ultima posizione, il mostro lancia i suoi attacchi in modo randomico, riducendo i punti salute degli avversari affinchè le carte alleate possano terminare il lavoro sporco! Carta preziosa che sicuramente apporta un importante supporto alla vittoria finale!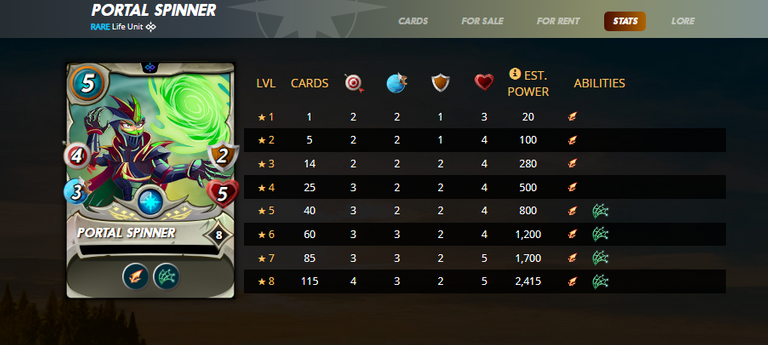 Conclusione
I contest di @splinterlands non hanno solo l'obiettivo di farci ottenere upvotes generosi ma è soprattutto quello di aiutarci a scoprire nuove carte che possono essere davvero molto utili alle nostre battaglie e stimolarci a nuove strategie e maggiori opzioni in battaglia
I prezzi contenuti delle carte, causato anche dal grande numero di stampa e disponibilità delle carte Chaos Legion, è un ottimi punto d'ingresso per i nuovi players. E' possibile infatti costruire un ottimo mazzo di carte spendendo poco, rispetto alle carte delle edizioni precedenti. Sarà interessante osservare anche le prossime carte airdrops CL per poter meglio stabilire quali Summoner potenziare e di conseguenza le carte da acquistare sul mercato!
Inoltre la strategia che ogni giocatore si prefissa, può subire delle naturali variazioni, al fine di migliorare il proprio mazzo di carte e scalare la classifica dei migliori giocatori, ottenendo anche ricompense più alte!
Buon Game
Grazie per aver dedicato del tempo per leggere questo post
If you have not yet signed up for Splinterlands, I invite you to try. You can use my referreal link
---
---