The new Modern and Wild Ranked system incentivizes new players
A few days ago the new classification and interaction system for the game came into operation: Modern Ranked and Wild Ranked. The main difference is the limit to the cafrte that can be used by the players according to the editions: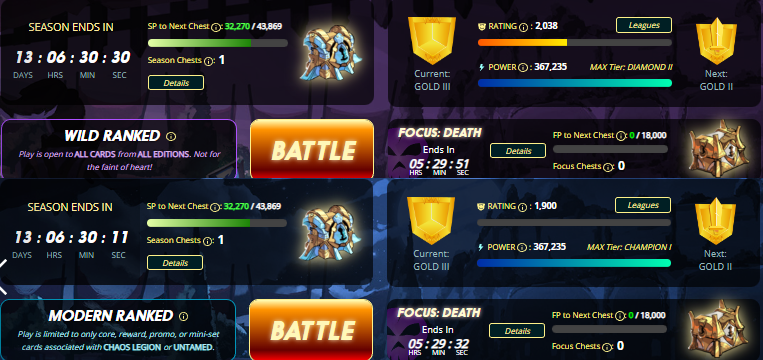 ---
Modern Ranked: In this ranking mode, the player can field any card belonging exclusively to the UNTAMED and CHAOS LEGION editions

Wild Ranked: In this ranking mode, the player can field any card from all existing editions (Alpha, Beta, Untamed, Dice, Chaos Legion).
The two classification systems therefore differ in the cards that can be used but not in the rewards obtained during the battles. For example if the win rewards me with 10 DEC in Modern Ranked. I'll get the same reward in Wild Ranked. The speech is also valid for the points assigned for the purposes of the daily and end-of-season trunks.
The need to create two different classification systems arises to offer greater opportunities for play and victory to new players, who will largely purchase decks of Chaos Legion cards, thus allowing equal opportunities to all new users. On the other hand, those who are players from the beginning will have a very powerful and competitive deck of cards and this discouraged new users, who were obviously disadvantaged from the beginning. It is likely that over time, with the release of future card editions and the entry of new players, the current Wild Ranked and Modern Ranked will merge, and a new ranking system will be created to benefit new players.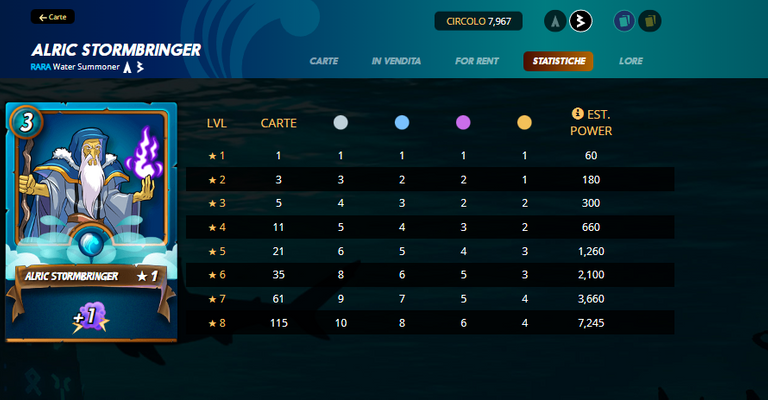 ---
At the moment I am playing in Wild Ranked because I have very good cards such as the summoner of the Water element ALRIC STORMBRINGER and the Dragon sign DARIA DRAGONSCALE, both upgraded to level 4 and are really very useful for my training. However, I am waiting for the new summoners of the Chaos Legion edition, if the characteristics are similar, then I will probably migrate entirely to the latest edition.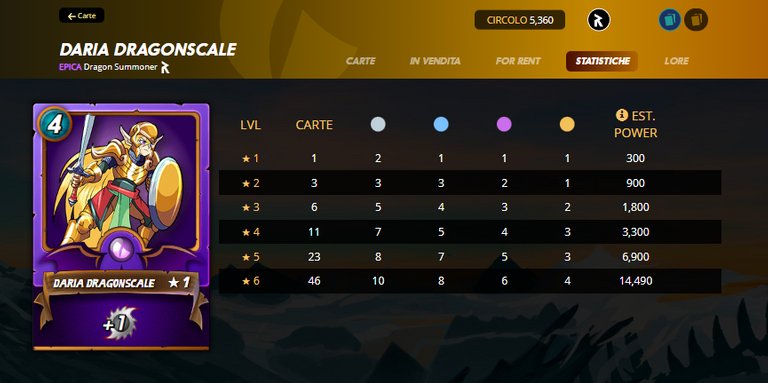 ---
Conclusion
The @splinterlands contests are not only aimed at making us get generous upvotes but it is above all to help us discover new cards that can really be very useful in our battles and stimulate us to new strategies and more options in battle.
The low prices of the cards, also caused by the large number of printing and availability of Chaos Legion cards, is an excellent entry point for new players. In fact, it is possible to build an excellent deck of cards by spending little, compared to the cards of previous editions. It will also be interesting to observe the next airdrops CL cards in order to better determine which Summoner to upgrade and consequently the cards to buy on the market!
Furthermore, the strategy that each player sets himself, can undergo natural variations, in order to improve his deck of cards and climb the ranking of the best players, also obtaining higher rewards!
Good Game
Thank you for taking the time to read this post
If you have not yet signed up for Splinterlands, I invite you to try. You can use my referreal link
ITA
Da qualche giorno è entrato in funzione il nuovo sistema di classificazione ed interazione al game: Modern Ranked e Wild Ranked. La differenza sostanziale è il limite alle cafrte utilizzabili dai giocatori a seconda delle edizioni:
Modern Ranked: In questa modalità di classificazione, il giocatore può schierare qualsiasi carta appartenente esclusivamente alle edizione UNTAMED e CHAOS LEGION

Wild Ranked: In questa modalità di classificazione, il giocatore può schierare qualsiasi carta di tutte le edizioni esistenti (Alpha, Beta, Untamed, Dice, Chaos Legion).
I due sistemi di classificazione differiscono quindi per le carte utilizzabili ma non per le rewards ottenute durante le battaglie. Ad esempio se la vittoria mi ricompensa con 10 DEC nel Modern Ranked. io otterrò la stessa medesima ricompensa nel Wild Ranked. Il discorso è valido anche per i punti assegnati ai fini dei bauli giornalieri e di fine stagione.
La necessità di creare due differenti sistemi di classificazione nasce per offrire maggiori opportunità di gioco e vittoria ai nuovi giocatori, che in gran parte acquisteranno mazzi di carte Chaos Legion, consentendo quindi pari opportunità a tutti i nuovi utenti. Chi invece è giocatore sin dall'inizio, avrà un mazzo di carte già molto potente e competitivo e ciò scoraggiava i nuovi utenti, evidentemente svantaggiati sin dall'inizio. E' probabile che nel corso del tempo, con l'uscita delle future edizioni di carte e l'ingresso dei nuovi giocatori, gli attuali Wild Ranked e Modern Ranked si fonderanno, e si creerà un nuovo sistema di classificazione per avvantaggiare i nuovi players.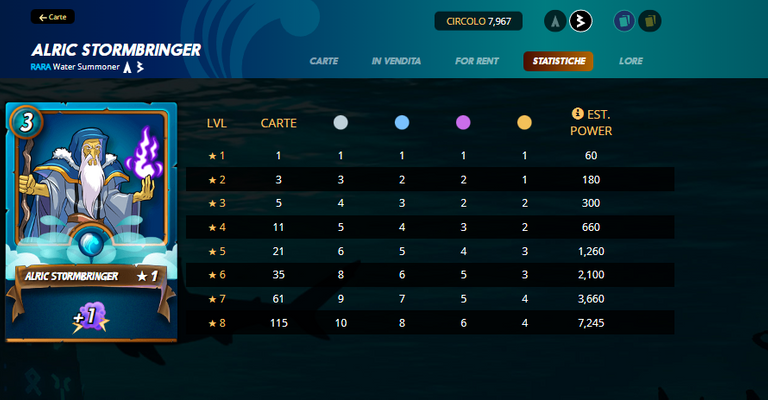 ---
Al momento io sto giocando in Wild Ranked perchè ho carte molto buone come l'evocatore dell'elemento Water ALRIC STORMBRINGER e del segno Dragon DARIA DRAGONSCALE, entrambi potenziati a livello 4 e sono davvero molto utili per la mia formazione. Sono però in attesa dei nuovi evocatori dell'edizione Chaos Legion, se le caratteristiche saranno simili, allora probabilmente migrerò interamente verso l'ultima edizione.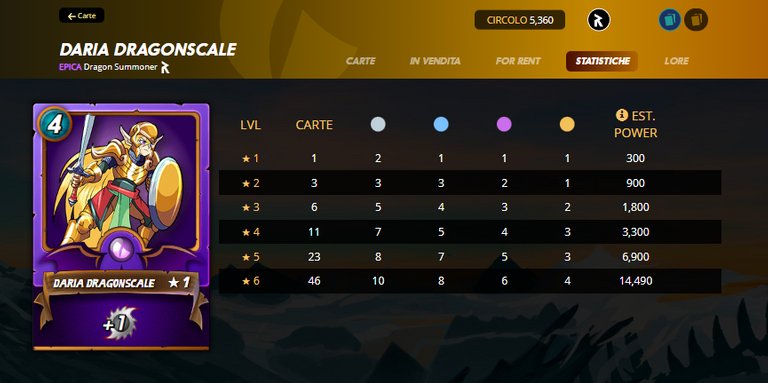 ---
Conclusione
I contest di @splinterlands non hanno solo l'obiettivo di farci ottenere upvotes generosi ma è soprattutto quello di aiutarci a scoprire nuove carte che possono essere davvero molto utili alle nostre battaglie e stimolarci a nuove strategie e maggiori opzioni in battaglia
I prezzi contenuti delle carte, causato anche dal grande numero di stampa e disponibilità delle carte Chaos Legion, è un ottimi punto d'ingresso per i nuovi players. E' possibile infatti costruire un ottimo mazzo di carte spendendo poco, rispetto alle carte delle edizioni precedenti. Sarà interessante osservare anche le prossime carte airdrops CL per poter meglio stabilire quali Summoner potenziare e di conseguenza le carte da acquistare sul mercato!
Inoltre la strategia che ogni giocatore si prefissa, può subire delle naturali variazioni, al fine di migliorare il proprio mazzo di carte e scalare la classifica dei migliori giocatori, ottenendo anche ricompense più alte!
Buon Game
Grazie per aver dedicato del tempo per leggere questo post
If you have not yet signed up for Splinterlands, I invite you to try. You can use my referreal link
---
---