Find out how well you know our friends on Splinterlands let's play Splinter Feuds!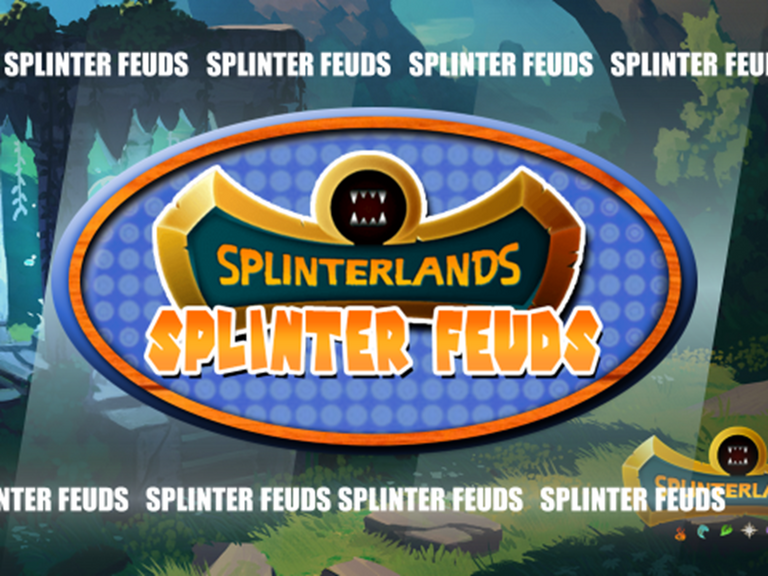 Do you enjoy watching family feuds? Or perhaps you simply miss that show. SplinterFeuds is now available. With a novel spin on a classic game. SplinterFeuds is an online family feuds game where you may compete with Splinterlanders from all over twitch in entertaining and exciting rounds.
I've always wanted to play a game with the Splinterlands Community, and now we can, thanks to SplinterFeuds, play with our No Sleep Splinterlands family and compare scores between rounds!
"Why Family Feud?" you might wonder. Who doesn't love Family Feud?! a little healthy competition is the most effective method for families to unite over something enjoyable and interesting. There's no better way to discuss the Splinterlands card than with a fun game that encourages healthy rivalry.
Player Selection:
Invitation
Chat random selection
Game Play
Players will aim to match their responses to the most popular survey responses throughout the game.
Each game has three (3) Face-Off rounds, the player who got the most points or got 2 rounds out of 3 wins the prize.
The Face-Off!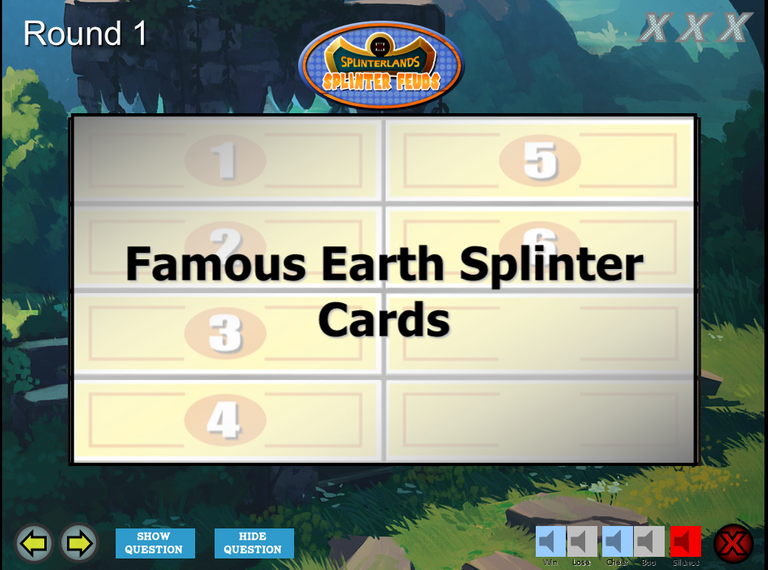 Each round begins with a one-on-one Face-Off in which a player from each team attempts to gain control of the question by providing the most popular (but not necessarily number one) response.
CmmndrGarlic will read the question aloud, and a wheel will be spun to determine who will answer first. The player has 10 seconds to answer the question. If his answer is the top answer on the board, he has the option of passing or playing. If his answer is not the top answer on the board, the opposing participant has the opportunity to respond. The round will be controlled by whoever receives the most points.
The round's controller has the option of picking first or passing it to his opponent. Before three strikes, whoever guesses first will try to predict the remaining answers.
When a player gives a correct response, Garlic will reveal its position on the scoreboard as well as the points associated with it.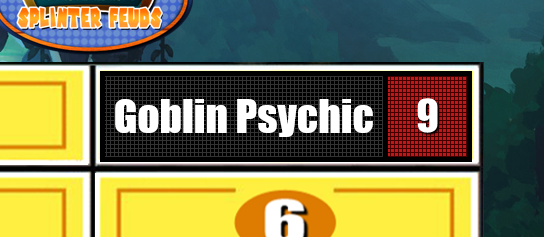 A 'strike' occurs when a player gives an erroneous answer or takes too long to respond. One "X" is placed in one of the three strike boxes by the Host.

At the end of each round, the player who got the most number of points wins 1 round point and the game is best of 3
---

This is a community-driven game, we need your help to run Splinterfeuds submit responses to our SplinterFeuds topics.
For the first episode help me gather the data by answering questions from this form:
https://forms.gle/uYo7zJHajEcDCFiA6
Disclamer:
The Splinterlands logo is owned by splinterlands
The SplinterFeuds gameshow is a community-run game and is not directly connected to the Splinterlands Company
---
CmmndrGarlic's Blog Topics
Rising Star Tips and Giveways : Start your read HERE

Gthoughts: Start your read HERE

Splinterlands Weekly Battle Challenge

#3Comments (soon)

SBT Weekly Battle Highlights

MEMEs
---
SHOUTOUT
Huge thanks and much love to the people who sponsor my stream and my peakd posts:
SplinterlandsHQ (@gank and @walkingkeys) Youtube Channel:
https://www.youtube.com/channel/UCEG5107_73wZKKPQQeNooJA
SplinterlandsClove71 Youtube Channel:
https://www.youtube.com/c/clove71
---


Twitch: https://www.twitch.tv/cmmndrgarlic
Facebook: https://www.facebook.com/CmmndrGarlic
Youtube: https://www.youtube.com/channel/UCqFOcAe9C3DsMsUGODShV7w
Splinterlands: https://splinterlands.com?ref=cmmndrbawang
Rising Star: https://www.risingstargame.com?referrer=cmmndrbawang

HOW TO SUPPORT CmmndrGarlic:
Donate Splinterlands Assets to: @cmmndrbawang
Donate WAX NFTs to: 3r2xc.wam
Donate goodies here: Tip Page
---
---
---