Splinterlands | Why It's a Good Time To Start Playing!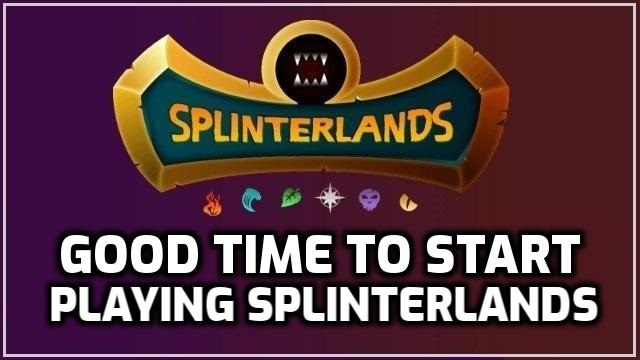 For the first time since long, I'm actually having a lot of fun again playing Splinterlands in ranked mode to the point I would recommend the game to actual gamers who aren't just looking for a way to earn. Here is why I believe it's a good time now to start playing the game.
---
While I generally have enjoyed many aspects of Splinterlands these past 3+ years along with the earnings that came from the game, I also have been the first in line to express frustrations on the game and how the economy along with the pay2win factor came at the cost of actual fun gameplay. With the new Ranked Rewards Update, my overall experience playing the game really has improved massively.
With the past system, it was all about the rewards getting the daily quest over with as quickly as possible to be left playing more optimally for some DEC earnings while often leaving my capture rate at 100%. All this while most battles felt like a pure pay2win experience on both sides either winning without getting competition or being crushed by legendary summoners that are crazy expensive and unbeatable.
---
Why I now Would Play Splinterlands as A Gamer!
For most of my time playing the game, the Play2Earn part has been the main motivation to play but this has shifted now and I can say that I would recommend the game to myself at this point as an actual game aside from the potential to earn for the following reasons.
Profitable Rental Market: When buying the 10$ Spellbook, you now get 3$ worth of credits that can be used to directly get going on the rental market. Since the bots got crushed by the new Ranked rewards since Captre Rate & Win Rate matters a lot more, prices on the rental market are really cheap. This makes it possible to start out using just a small part of the 3000 Credits each day and make a lot more than what you paid for.

Challenging & Competitive Gameplay: I have seen many experienced players make a new account to try out how far they can get and they are easily able to crush it in the early stages because of their deep knowledge on all the cards and game mechanics. This is exactly what real gamers are looking for and the learning experience of getting to a stage where you are good enough is a big part of the fun.

Every Game Matters: In the past, it was just about getting the daily quest over with while now really every single game counts as each win along with streaks get you closer to the next chest reward.

Growing Community and More Quality Content: The community has always been a great part of the game and the content creation on youtube really elevates the entire experience. The Channels I tend to watch for great content which gets you more into the game are Tales From The Cryptmancer |Dwayne Cunningham | Luk Plays To Earn | Bulldog1205 | Hawk21 | Splinterlands HQ | CryptoLlama | Stever82 | ...

No Obligation To Invest: In the past, it always felt a must to own your own card collection and the entry cost used to be really high, especially around the time when prices peaked. Right now, you can literally pay the 10 Dollars and get going with the game having some fun getting to know all the mechanics and figuring out how to make it profitable with the rental market. Less than 50$ in card purchases also gets you enough collection power for Silver League. So even without intentions to become a bigger Splinterlands player, you can spend 10$ to have fun with it and when playing it smart you should be able to even recover that within a week even making a profit.
---
Conclusion
While I still would really like to see a pure skill-based mode over time, the new ranked rewards system along with the rental market which seems to be available for everyone makes the game feel a lot less Pay2Win and more fun right now to the point where I see
Splinterlands
not only as a game for Play2Earn Players but also for Gamers who are up for the challenge of a game that can be entered at a very low cost. I don't expect the gaming industry to all of a sudden adopt the game though but things are certainly getting closer even though it's still far from perfect. I'm looking forward to future updates and hope this current trend continues.
Play2Earn Games I'm Currently Playing...
Posted using 1UP - Play2Earn & NFTs
---
---