Live Stream Tonight With Randumb! Max Level Ettin Spearman Acquired!
I've been looking forward to getting this for a while now. I believe it will help with the Yodin Zaku build. I had a level 6 before, but a max level adds more damage and piercing which will be great for battles.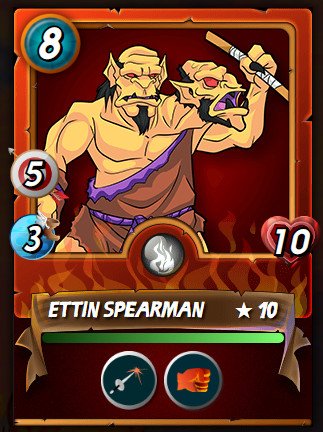 Join our LevelUpLife discord server to discuss more about Splinterlands topics, tatics, and gameplay.
Level Up Life Discord Server - https://discord.gg/HfbHGvxmVM
Also, tune into the livestream @randumb and I, @cr4zych1ck3nb0y, will be having tonight to talk about all things Splinterlands and more about how to create a proper post in the hive community to get the most benefits out of it.
Livestream will be at 8:00 PM EST Tuesday / 1:00 AM GMT Wednesday on @randumbs dlive channel here: https://dlive.tv/Randumb
If you feel up to it, join our discord, have a chat with us and ask any questions that you may have as well while we are livestreaming.
!PIZZA and !LUV
Cheers!




---
---