(PT-EN) Fast, Furious and CrazyPhantomBR #07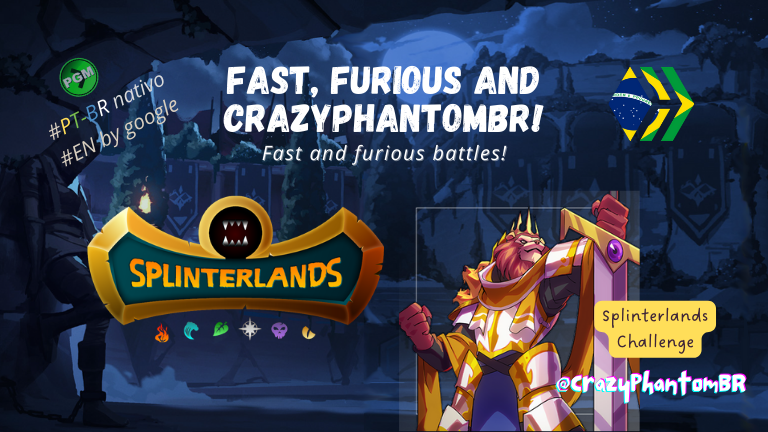 Clique aqui para ir até a versão em português
Hey guys, @CrazyPhantomBR participating in the Weekly Challenge, this is the best #play2earn game out there!! #Splinterlands!!
We are all #hive and #hivebr!
This post has been formatted for better viewing in the Ecency DarkMode frontend! It's a submission to the Weekly Challenge Splinterlands!



After being relegated to the Bronze 2 league, I managed to stabilize myself in the Silver 3 league. At least for now, in the last two days.
For this reason, I had few battle options to make a nice post for you! But today I achieved a feat that fits this template very well fast and furious!
I really like the weekly challenges and I have my own style of posting. I think it's very productive, and serves the purpose of getting the game into the trending topics.
I started with card analysis, went through complete compositions, then the idea of staring came up, and the newest thing is this post!
I think it's very productive, and serves the purpose of getting the game into the trending topics.
I decided to call it Fast, Furious and CrazyPhantomBR
Basically, they are quick matches, either because of the few rounds needed for their outcome, or because of the small amount of cards used, and the consequent quick outcome!
This is the seventh time I've created this type of content!
You can locate by the numbering in the title if you like.
Let's go!
PREVIOUS ANALYSIS
Without further ado, let's get straight to the point!
The game in question had the following ruleset: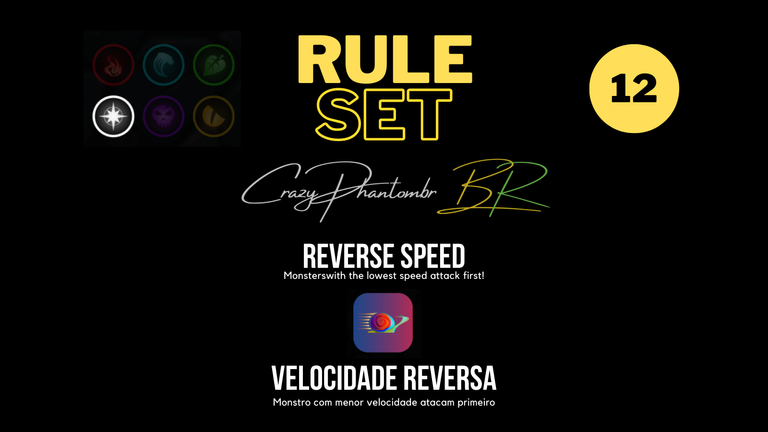 When you have Reverse Speed, everything is backwards. You need to practice this game mode a lot to not fall into traps. In a normal game, the highest speed a monster can have is "infinite". But in reverse speed, the "highest" speed is 1. So everything that can be bet on the evasion stats, the card with speed 1 is the absolute best option. There is no margin for error, the best option is clearly speed 1, because there is no speed lower than that.
So you don't want a card with BloodLust increasing your speed, and worsening your chances and evasion. You don't want a Martyr screwing your team.
But splinter's restriction to Life Only takes us to another level. Couple that with as little mana as possible, and the party's on.
First, it is not possible to use my favorite gladius life card because there is not enough mana for it. So let's save money by using the default General Sloam summoner. I realized that I only have level 2.
Everyone who follows me knows that I prioritized the Death and Water splinters, and that if it weren't for that I wouldn't even be playing in the leagues where I played. So I don't regret it. But life was never in my plans.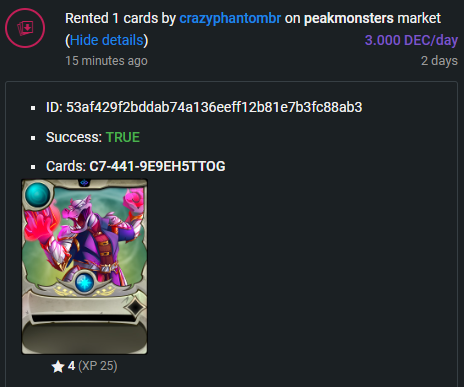 In quick thinking, I open the Peakmonster page, and quickly perform a General Sloam level 4 lease! The value doesn't even matter, in this case it was a reasonable lease with only 3 DEC per day.
The important thing is to have available mana and a suitable summoner to use the card that I had already chosen as the best option for this battle!
I refresh the Splinterlands page and the battle reloads, now with the available summoner of my choice.
I have 30 seconds to assemble the team.
But I don't need that much.
The choice was already made! I was immediately betting on the feared Imperial Knight level 5 of my own, as it has two attributes that I am very interested in: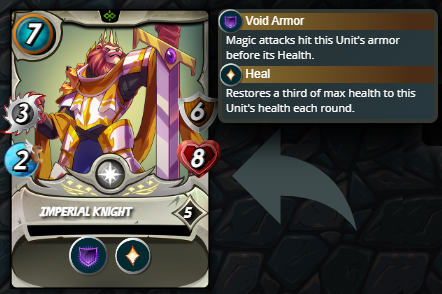 Void Armor, this holds all magic attacks on the shield. A terror to mages!

Heal, which is essential to recover hit points. As the card has average score (8 life points) the expectation is that it heals for 2 points per round.
The remaining mana is used with disposables...
We'll see if this plan leads me to victory!
BATTLE
This match took place in league Silver 3, Modern Mode, No Bot!, a few minutes ago, and can be watched via the link:

https://splinterlands.com?p=battle&id=sl_e622cd9bd447af8e0557cb1c87005fda&ref=crazyphantombr
You can also watch the video below, it's quick!
Note that video upload is exclusive to the Ecency frontend partnered with 3speak. we have no informations about how the video will behave in other frontends. What are you waiting for to come to Ecency?
Source
CONCLUSION
Great!
The opponent bet on evasion and healing but did not count on my superior attack power. It was just one point of attack more than the healing capacity (which made it take some time to eliminate the opponent).
Yet my strategy was very effective.
No chance for the opponent.
I was very satisfied!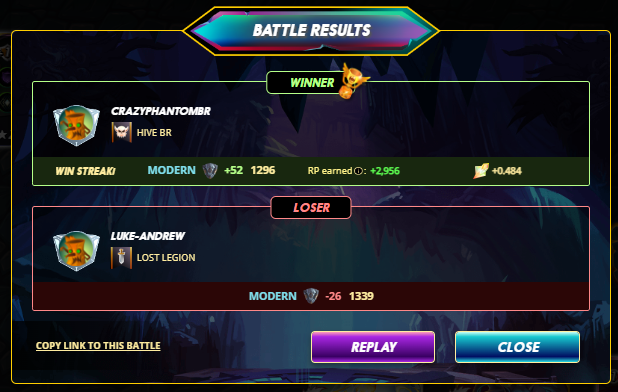 In this way I was victorious in this exhibition of Fast, Furious and CrazyPhantomBR!!!
Follow me to follow my reviews.
---
What do you think of my composition?
If you liked it, leave a comment about the fight.
If you still don't play Splinterlands come join the community!!! If you want, use my recommendation link:
https://splinterlands.com?ref=crazyphantombr
Thank you all so much and see you next time!!!
---

CrazyPhantomBR supports the PGM project
I invite you to know the PGM project.
The gamer community is looking for you!
The divider and logo / image above belong to the PGM project.
---

CrazyPhantomBR supports the Brazilian curators
@Hive-BR and @Brazilians
I invite you to discover the projects curated by Brazilian communities!
The divider and logo / image belong to CrazyPhantomBR.
Delegate HP to hive-br.voter account and earn daily net Hive!
50 HP | 100 HP | 200 HP |500 HP | 1000 HP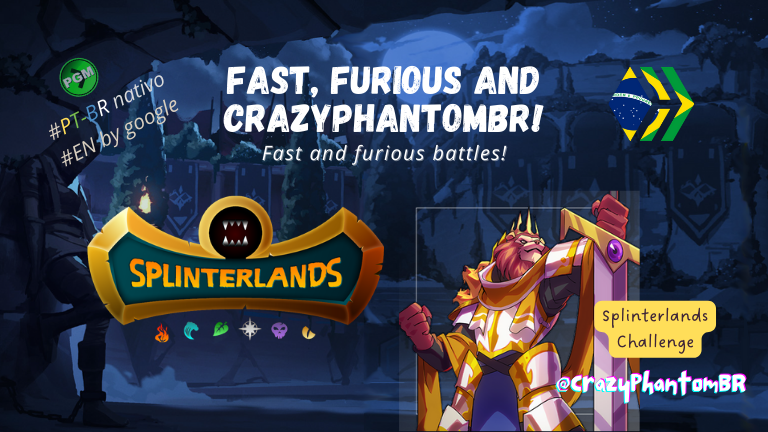 Fala galera, @CrazyPhantomBR participando no Desafio Semanal, deste que é o melhor jogo #play2earn que existe!! #Splinterlands!!
Somos todos #hive e #hivebr!
Esta postagem foi formatada para melhor visualização no frontend Ecency DarkMode! É uma submissão ao Desafio Semanal Splinterlands!



Depois de ter sido rebaixado para liga Bronze 2, consegui me estabilizar na liga Prata 3. Ao menos por enquanto, nos ultimos dois dias.
Por este motivo, fiquei com poucas opções de batalhas para fazer uma postagem bacana para vocês! Mas hoje consegui um feito que se encaixa muito bem neste modelo fast and furious!
Eu gosto muito dos desafios semanais e tenho meu próprio estilo de postagem. Eu acredito que é bem produtivo, e serve ao propósito de colocar o game nos trending topics.
Comecei com análises de cards, passei por composições completas, ai surgiu a ideia do encarando, e a mais nova novidade é esse post!
Eu acredito que é bem produtivo, e serve ao propósito de colocar o game nos trending topics.
Resolvi chamar de Fast, Furious and CrazyPhantomBR
Basicamente são partidas rápidas, seja pelos poucos rounds necessários para seu desfecho, seja pela pequena quantidade de cards utilizados, e consequente rápido desfecho!
Esta é a sétima vez que crio este tipo de conteúdo!
Você pode localizar pela numeração no título, se quiser.
Vamos lá!
ANÁLISE PRÉVIA
Sem mais demora vamos direto ao que interessa!
A partida em questão apresentou o seguinte ruleset: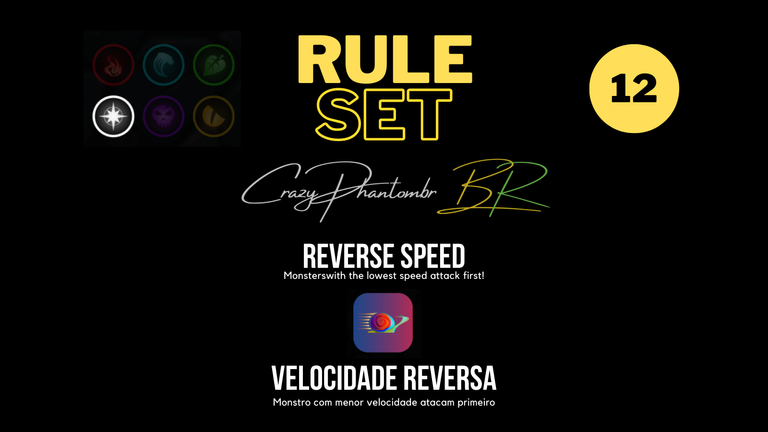 Quando temos Reverse Speed, fica tudo às avessas. É preciso praticar bastante esse modo de jogo para não cair em armadilhas. Numa partida normal, a maior velocidade que um monstro pode ter é "infinita". Mas na velocidade reversa, a "maior" velocidade é 1. Então tudo que pode ser apostado nas estatísticas de evasão, no card com velocidade 1 é em absoluto a melhor opção. Não tem margem de erro, a melhor opção é claramente a velocidade 1, porque não existe velocidade menor que essa.
Então você não vai querer um card com BloodLust aumentando sua velocidade, e piorando suas chances e evasão. Você não vai querer um Martyr ferrando com seu time.
Mas a restrição do splinter para Somente Life nos coloca em outro patamar. Junte isso ao menor mana possível, e está feita a festa.
Primeiro que não é possível utilizar meu card gladius life preferido pois não há mana suficiente para isto. Então vamos economizar usando o invocador padrão General Sloam. Percebi que tenho somente em level 2.
Todo mundo que me acompanha sabe que priorizei os splinters Death e Water, e que se não fosse por isso eu nem estaria jogando nas ligas onde joguei. Então não me arrependo. Mas life nunca esteve nos meus planos.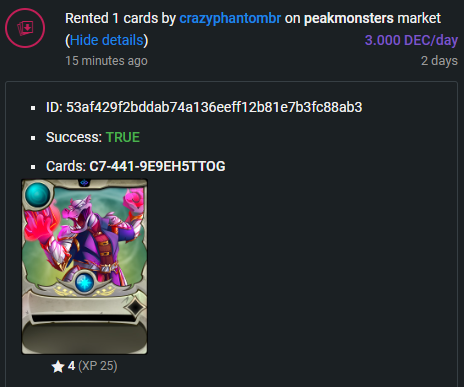 Em um pensamento ágil, abro a página Peakmonster, e rapidamente realizo uma locação de General Sloam level 4! O valor nem importa, no caso foi uma locação razoável com apenas 3 DEC por dia.
O importante é ter mana disponível e um invocador adequado para utilizar o card que eu já havia elegido como melhor opção para esta batalha!
Atualizo a página Splinterlands e a batalha é recarregada, agora com o invocador disponível para minha escolha.
Tenho 30 segundos para montar a equipe.
Mas não preciso de tanto.
A escolha já estava feita! Fui logo apostando no temido Imperial Knight level 5 meu próprio, pois ele possui dois atributos que tenho muito interesse: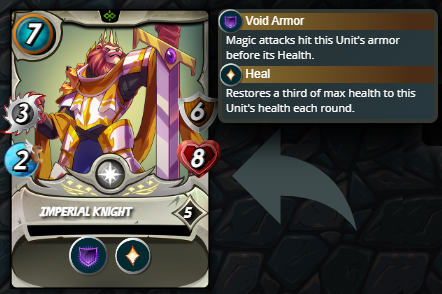 Void Armor, essa segura todos os ataques mágicos no escudo. Um terror para os magos!

Heal, o que é essencial para recuperar os pontos de vida. Como o card tem pontuação mediana (8 pontos de vida) a expectativa é que ele se cure em 2 pontos por round.
O mana restante é usado com descartáveis...
Veremos se esse plano me leva a vitória!
BATALHA
Esta partida ocorreu na liga Prata 3, Modern Mode, No Bot!, alguns minutos atrás, e pode ser assistida através do link:

https://splinterlands.com?p=battle&id=sl_e622cd9bd447af8e0557cb1c87005fda&ref=crazyphantombr
Você também pode assistir pelo vídeo abaixo, é rapidinho!
Observe que o upload de vídeo é exclusivo do frontend Ecency com parceria da 3speak. Não temos informações sobre como o vídeo vai se comportar em outros frontends. Esta esperando o que para vir pra Ecency?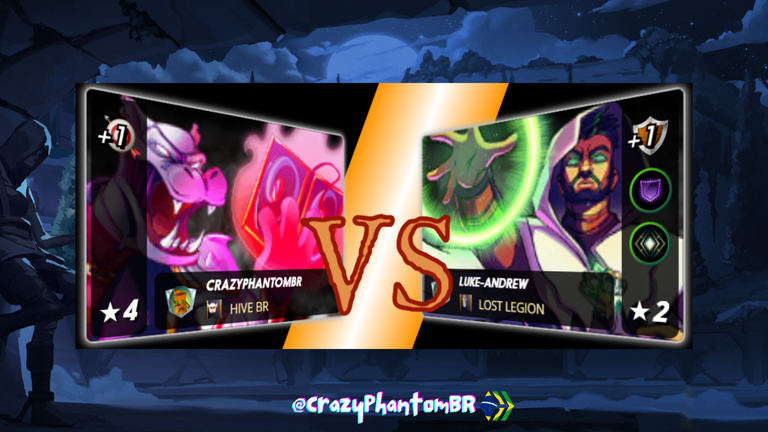 Source
CONCLUSÃO
Excelente!
O adversário apostou na evasão e cura mas não contava com meu poder de ataque superior. Foi apenas um ponto de ataque a mais do que a capacidade de cura (o que fez com que demorasse um certo tempo até eliminar o adversário).
Ainda assim minha estratégia foi muito efetiva.
Sem chance para o adversário.
Fiquei muito satisfeito!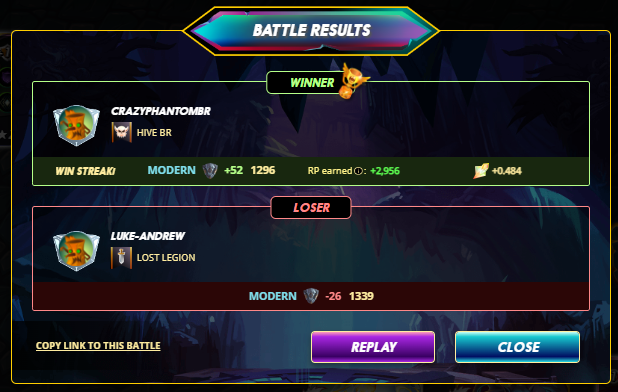 Desta forma fui vitorioso nesta exibição do Fast, Furious and CrazyPhantomBR!!!
Me siga para acompanhar minhas análises.
---
O que achou da minha composição?
Se curtiu, deixa um comentário aí sobre a luta.
Se você ainda não joga Splinterlands venha fazer parte da comunidade!!! Se quiser, utilize meu link de recomendação:
https://splinterlands.com?ref=crazyphantombr
Muito obrigado a todos e até a próxima!!!
---

CrazyPhantomBR apoia o projeto PGM
Te convido a conhecer o projeto PGM.
A comunidade gammer procura por você!
O divisor e logotipo / imagem acima pertencem ao projeto PGM.
---

CrazyPhantomBR apoia as curadorias brasileiras
@Hive-BR e @Brazilians
Te convido a conhecer os projetos de curadoria das comunidades brasileiras!
O divisor e logotipo / imagem pertencem à CrazyPhantomBR.
Delegue HP para conta hive-br.voter e ganhe Hive líquida diariamente!
50 HP | 100 HP | 200 HP |500 HP | 1000 HP

---
---