(PT-EN) Facing Madcap Magus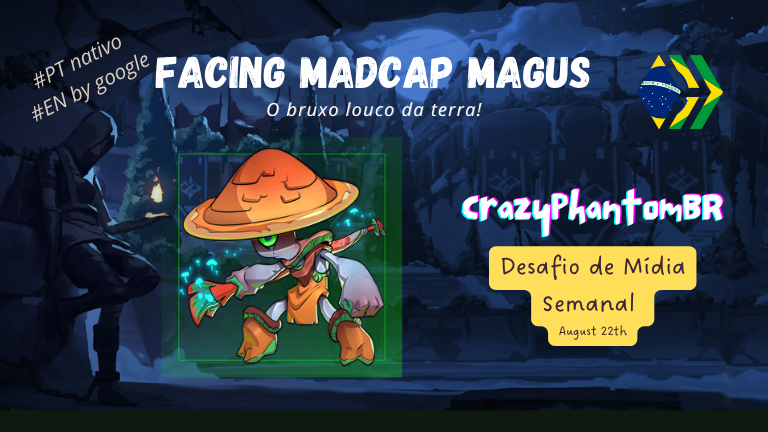 Clique aqui para ler em Português!
This post was created and is best viewed in Ecency Dark Mode!


This is my participation in the Splinterlands Weekly Challenge, this is the best #hive game #hivebr #play2earn!!
Today we're going to focus on a battle that happened a little while ago, at the start of the season, when I'm skating in the Prata 3 league because something has changed in the last few days... the battles are getting more difficult and the opponents have been using new cards, at higher levels. Bots are gone and humans are getting smarter? I don't know, I have my doubts about that.
One of the cards that I never actually counted, but I decided to bet today was Madicap Magus. This card is from splinter Earth and I have it at level 4. I don't use it much, but to perform my gameplay tests today I had to rely on it.


OBJECTIVE
Subdue the opponent through random attack skill!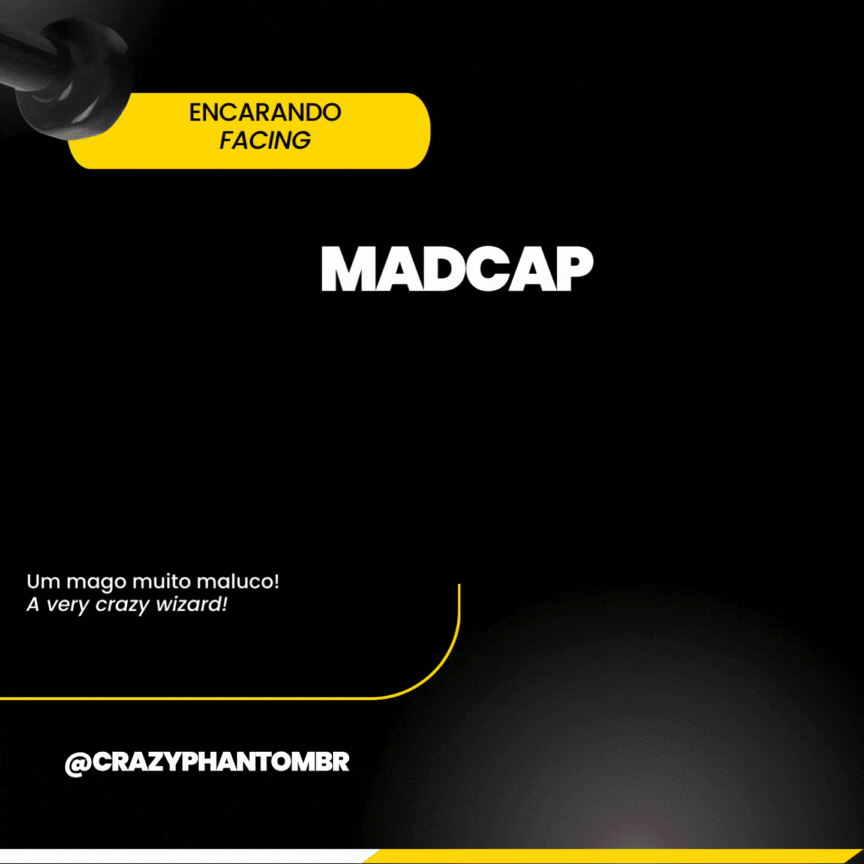 Art built by @crazyphantombr on Canva. Image by SplinterCards / Splinterlands.
CARD ATTRIBUTES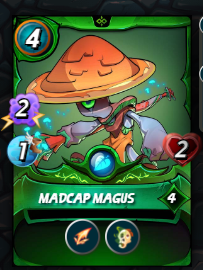 Mana: 04 units

Splinter: Earth

Edition: Rewards

Rarity: Rare

Skills:


Scattershot: Attacks a random opponent.


Life Leech: Life bridges increase every time you deal damage to your opponent.

Well, I have this card and I played it at level 4.

According to the SplinterCards website, the number of cards in circulation is just 255,000, out of a total universe of just 583,000 printed cards. It doesn't appear as much in battles because it needs to be properly evolved, and also because there are more interesting options in this Mana cost range.
MY OPINION ABOUT THE CARD
First of all, it is worth mentioning that the Earth splinter was neglected by me, and my deck was not properly leveled to play in the Silver league. That said, I've started to improve my cards from this splinter recently due to the current reward card pools.
The main reason was that I managed to build the Earth element summoner at level 4, Lobb Lowland. This allowed me to utilize suitable cards in my league. Soon afterwards I ended up getting the card Quora Towershead which is an invitation to dedicate yourself to this splinter!
Today's game featured Madcap Magus by pure chance, due to lack of options. So he joined the team from the bench, with the mission to land his random attack on a card other than the opponent's tank.
His synergy with Obsidian summoner made him have the attack empowered, with 3 points of magic damage. This is very effective in Little League matches, as cards usually have low hitpoints.
His ability *** Life Leech *** would be of great use to reinforce his tiny initial 2 life points. To protect it, I used the vacant slot with a Martyr card. Thus, any sneak attack could earn me an attribute upgrade that would be very necessary for victory!
ATTRIBUTES
Its 4 mana cost is suitable for the ruleset, so it's prudent to think at what level this card can be best used, and in my point of view we should aim for level 4. This for my gaming range. I can't battle him at level 6, and the extra skill he acquires doesn't seem to add great advantages.

For today's battle, I ended up using the invoker Obsidian, as it is located at level 4, which guarantees the use of Madcap Magus at level 4 without any prejudice!
This is more than enough for us to test the card's playability.

RULESET
This battle took place in the SILVER 3 league (Modern mode) and can be watched via this link:

https://splinterlands.com?p=battle&id=sl_0421ad22a1a873244d705c8007ea35ab&ref=crazyphantombr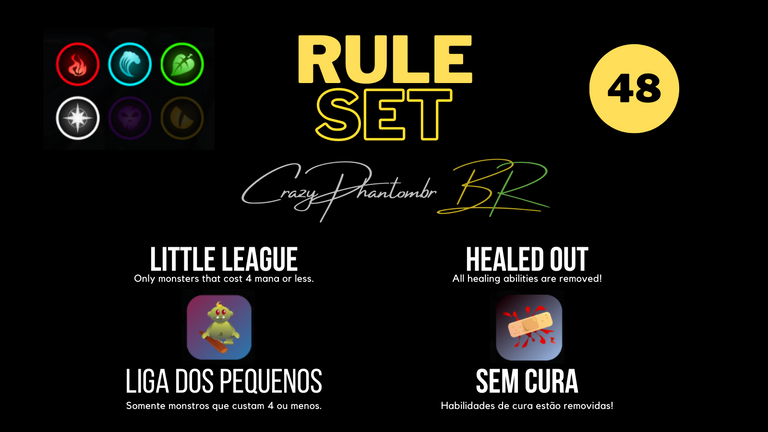 MY TEAM
I chose to take the Hill Gigant in front because he has a lot of life points, besides being from the Gold foliage, which helps me in daily missions. In order for him to benefit from Martyr, I placed Venari Marksrat in the second position, calling for eventual snipe attacks. As protection for magic opponents, I ended up putting Djinn Biljka because it has resistance to magic. Halfling Alchemist came to reduce the opponent's attack power.
Only now we have Madcap Magus and behind him his sneak protector, Fungus Flinger.
ADVERSARY TEAM
The opponent chose a physical attack team with summoner Kelya Frendul. The presence of the Cruel Sethropod stands out as it has a lot of shields, followed by the proper Reach: Tide Biter. A sneak combo with Ureus and Pelacor Bandit, then equipped with ranged Kulu Swinhunter and Merdhampir
When using the level 1 summoner, he ended up limiting all his cards to level 1. Was it worth it?

R O U N D
1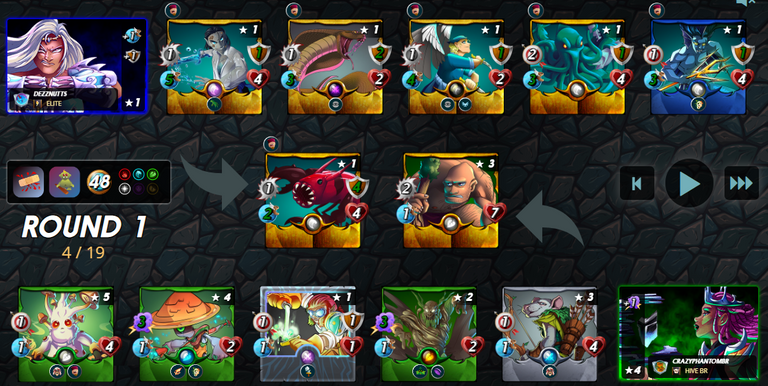 The image above shows the opening of Round 1, after applying the debuff and debuff of monsters and summoners. The main difference is in the shields that I don't have available on my team.
Opponent's attack strength is low but I have low life points on the field. What's more, I have three ranged monsters that don't attack in first position!
R O U N D
2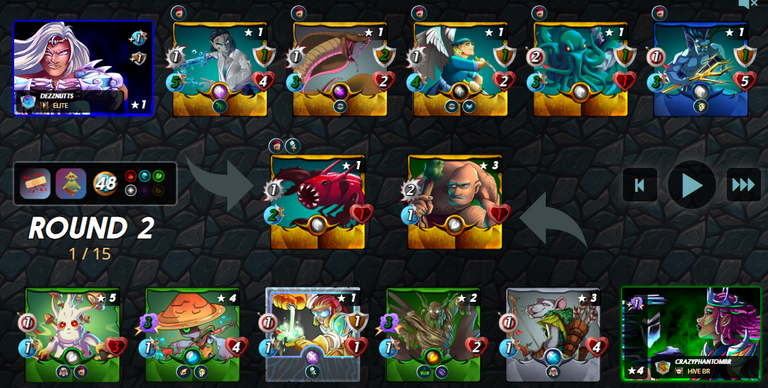 At the opening of the second round we can visualize some interesting things: I already have two opponents with a single life point, and my highlight of the night is with 4 life points. This looks promising, but...


R O U N D
3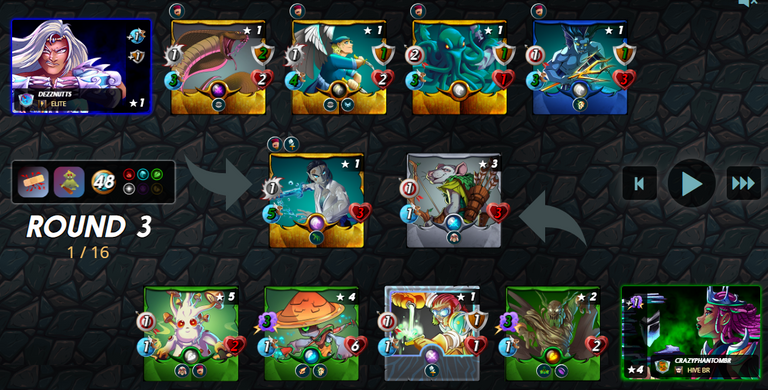 Now we have the battle exposed: the opponent has a high probability of eliminating two carsd in this round, the ends: the first and last placed on my team.
On the other hand, both cards are Martyr. That means I'll have a two-card stat boost, which could be a bad deal for the opponent!
R O U N D
5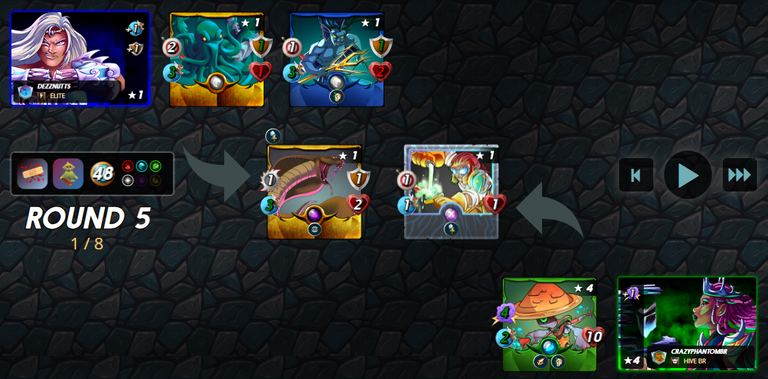 Now yes, the game is ending and I only have Madcap Magus doing 4 points of magic damage per round. I don't know if it will be enough, because the opponent also deals 4 points of damage per round, I have enough life points for just two rounds.
R O U N D
7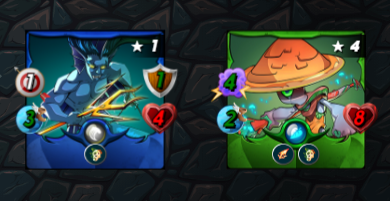 The battle ends with this excellent card that proved to be a real crazy on the battlefield!
---
What do you think of my composition?
If you liked it, leave a comment about the fight.
If you still don't play Splinterlands come join the community!!! If you want, use my recommendation link:
https://splinterlands.com?ref=crazyphantombr
Thank you all so much and see you next time!!!
---

CrazyPhantomBR supports the PGM project
I invite you to know the PGM project.
The gamer community is looking for you!
The divider and logo / image above belong to the PGM project.
---

CrazyPhantomBR supports the Brazilian curators
@Hive-BR and @Brazilians
I invite you to discover the projects curated by Brazilian communities!
1% of funds raised from this post go to @Hive-br
1% of the funds raised from this post go to @Brazilians
The divider and logo / image belong to CrazyPhantomBR.
Delegate HP to hive-br.voter account and earn daily net Hive!
50 HP | 100 HP | 200 HP |[500 HP](https://hivesigner.com/sign/delegateVestingShares?&delegatee=hive -br.voter&vesting_shares=500%20HP) | 1000 HP

---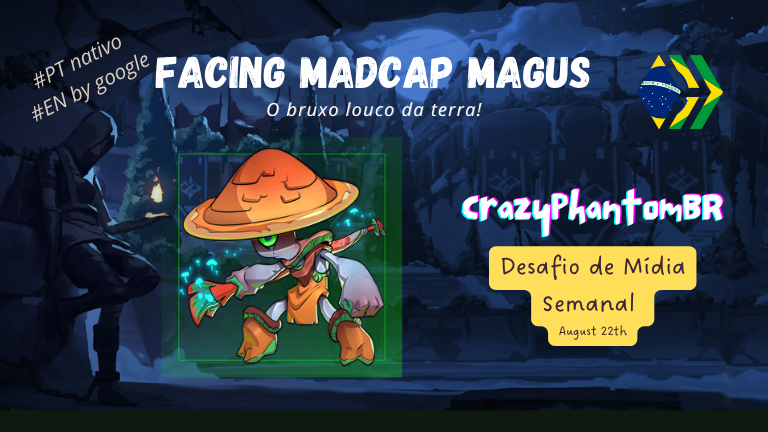 Este post foi criado e é melhor visualizado no Ecency Dark Mode!


Esta é minha participação no Desafio Semanal Splinterlands, deste que é o melhor jogo da #hive #hivebr #play2earn!!
Hoje vamos nos debruçar sobre uma batalha ocorrida a pouco, no recomeço da temporada, quando estou patinando na liga Prata 3 porque algo mudou nos últimos dias... as batalhas estão ficando difíceis e os oponentes tem utilizado novas cartas, em level maiores. Os bots sumiram e os humanos estão cada vez mais inteligentes? Não sei, tenho minhas dúvidas quanto a isso.
Uma das cartas que nunca contei efetivamente, mas resolvi apostar hoje foi Madicap Magus. Esse card é do splinter Earth e tenho ele em level 4. Não utilizo muito, mas para realizar os meus testes de jogabilidade hoje precisei contar com ele.


OBJETIVO
Subjugar o adversário através da habilidade de ataque aleatório!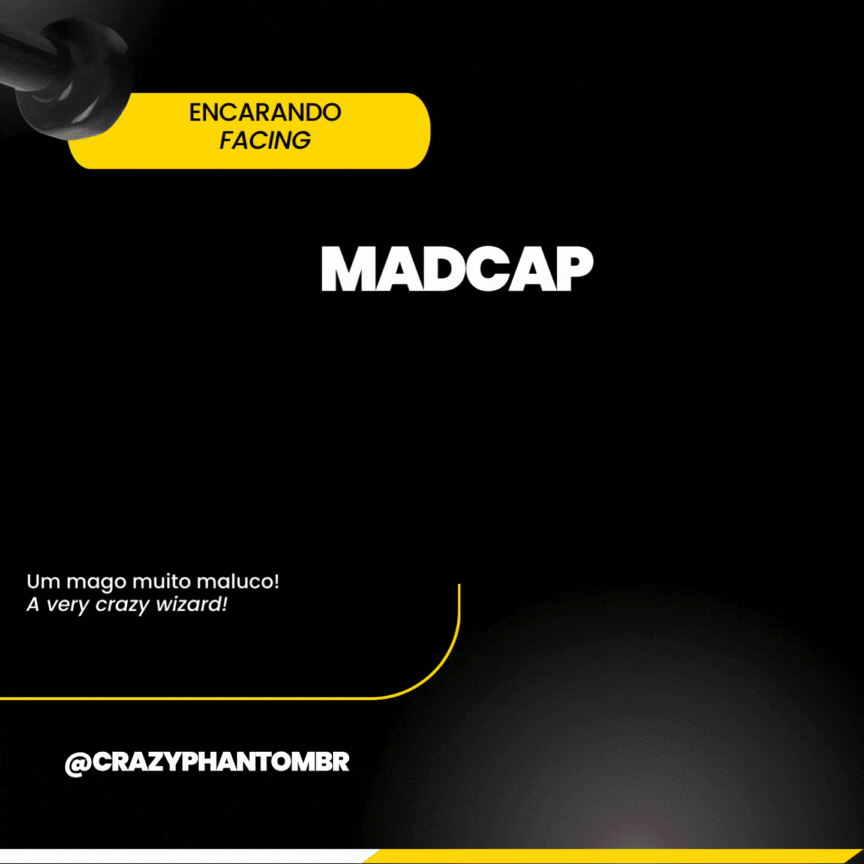 Arte construída por @crazyphantombr no Canva. Imagem de SplinterCards / Splinterlands.
ATRIBUTOS DO CARD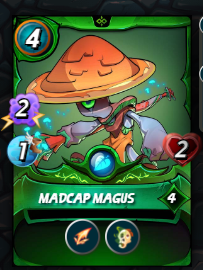 Mana: 04 unidades

Splinter: Earth

Edição: Rewards

Raridade: Rare

Habilidades:


Scattershot: Ataca um adversário aleatório.


Life Leech: Os pontes de vida aumentam toda vez que causa dano no adversário.

Bom, eu tenho esta carta e joguei com ela em level 4.

De acordo com o site SplinterCards, a quantidade de cards em circulação é de apenas 255 mil, de um universo total de apenas 583 mil cards impressos. Ele não aparece tanto nas batalhas porque precisa estar adequadamente evoluído, e também porque existem opções mais interessantes nessa faixa de custo de Mana.
MINHA OPINIÃO SOBRE O CARD
Antes de mais nada cabe citar que o splinter Earth foi negligenciado por mim, e o meu baralho não foi devidamente upado para ter jogabilidade na liga Prata. Dito isto, comecei a melhorar minhas cartas deste splinter recentemente devido aos atuais grupos de cards rewards.
O principal motivo foi que consegui montar o invocador do elemento Terra em level 4, Lobb Lowland. Isso me permitiu utilizar cards adequados na minha liga. Logo em seguida acabei conseguindo o card Quora Towershead que é um convite a se dedicar a este splinter!
A partida de hoje teve a participação do Madcap Magus por puro acaso, por falta de opções mesmo. Então ele entrou na equipe saindo do banco de reservas, com a missão de acertar seu ataque aleatório em algum card que não o tanque do adversário.
Sua sinergia com invocador Obsidian fez com que ele tivesse o ataque potencializado, com 3 pontos de dano mágico. Isso é muito efetivo em partidas da Little League, pois geralmente os cards tem pontos de vida baixo.
Já a sua habilidade Life Leech seria de grande utilidade para reforçar seus ínfimos 2 pontos de vida iniciais. Para protegê-lo, utilizei o slot vago com um card Martyr. Assim, eventual ataque sneak poderia me render um upgrade de atributos que seriam muito necessários para a vitória!
ATRIBUTOS
Seu custo de 4 mana é adequado ao ruleset, então é prudente pensar em que level esse card pode ser melhor utilizado, e no meu ponto de vista devemos ter por meta o level 4 mesmo. Isso para meu alcance de jogo. Não tenho como batalhar com ele em level 6, e a habilidade extra que ele adquire não me parece agregar grandes vantagens.

Para a batalha de hoje, acabei utilizando o invocador Obsidian, pois esta locado em level 4, o que garante o uso do Madcap Magus em level 4 sem qualquer prejuízo!
Isso é mais do que suficiente para testarmos a jogabilidade do card.

RULESET
Essa batalha ocorreu na liga SILVER 3 (Modern mode) e pode ser assistida por este link:

https://splinterlands.com?p=battle&id=sl_0421ad22a1a873244d705c8007ea35ab&ref=crazyphantombr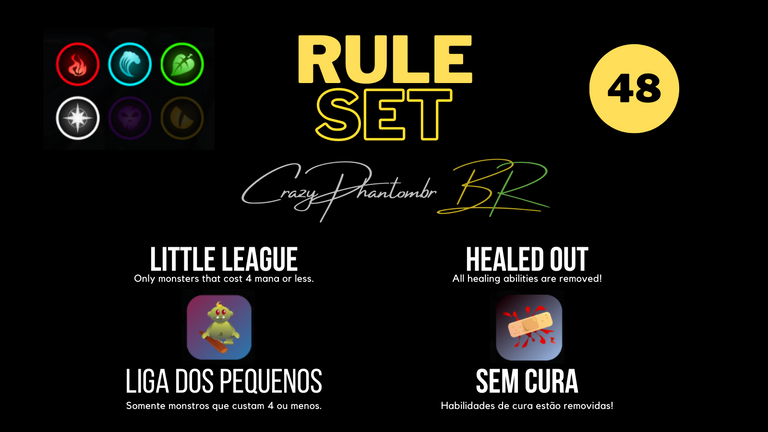 MEU TIME
Escolhi levar o Hill Gigant na frente pois ele tem muitos pontos de vida, além de ser da folhagem Ouro, o que me ajuda nas missões diárias. Para que ele fosse beneficiado pelo Martyr, colocquei Venari Marksrat na segunda posição, chamando por eventuais ataques snipe. Como proteção para adversários mágicos, acabei colocando Djinn Biljka pois tem resistência à magia. Halfling Alchemist veio para reduzir o poder de ataque do adversário.
Só agora temos Madcap Magus e atrás dele o seu protetor de sneak, Fungus Flinger.
TIME ADVERSÁRIO
O adversário escolheu um time de ataque físico com invocador Kelya Frendul. A presença do Cruel Sethropod se destaca pois tem muitos escudos, seguido do Reach adequado: Tide Biter. Um combo de sneaks com Ureus e Pelacor Bandit, e depois equipado com ranged Kulu Swinhunter e Merdhampir
Ao utilizar o invocador level 1, acabou por limitar seus cards todos ao level 1. Será que valeu a pena?

R O U N D
1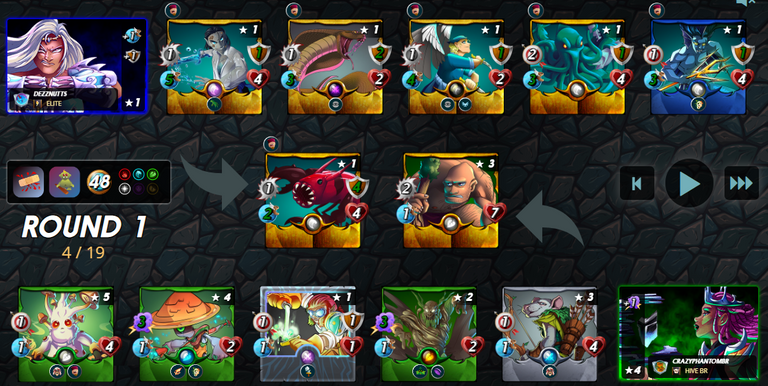 A imagem acima mostra a abertura do Round 1, após aplicados o debuff e debuff dos monstros e invocadores. A principal diferença está nos escudos que não temos a disposição na minha equipe.
A força de ataque do adversário é baixa mas eu tenho poucos pontos de vida em campo. Além do mais, tenho três monstros ranged que não atacam na primeira posição!
R O U N D
2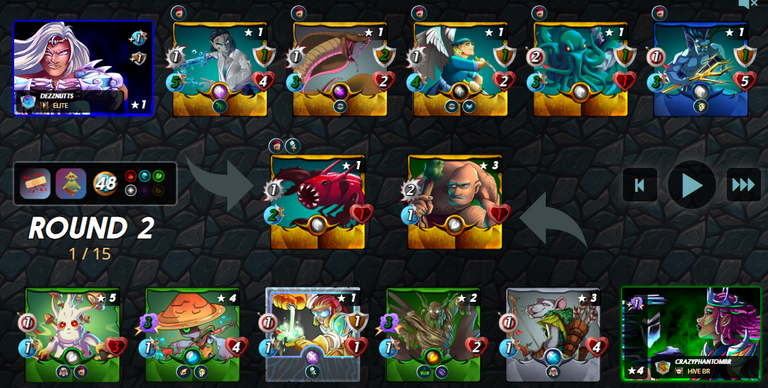 Na abertura do segundo round podemos visualizar algumas coisas interessantes: já tenho dois adversários com um único ponto de vida, e meu destaque da noite está com 4 pontos de vida. Isso parece promissor, mas...


R O U N D
3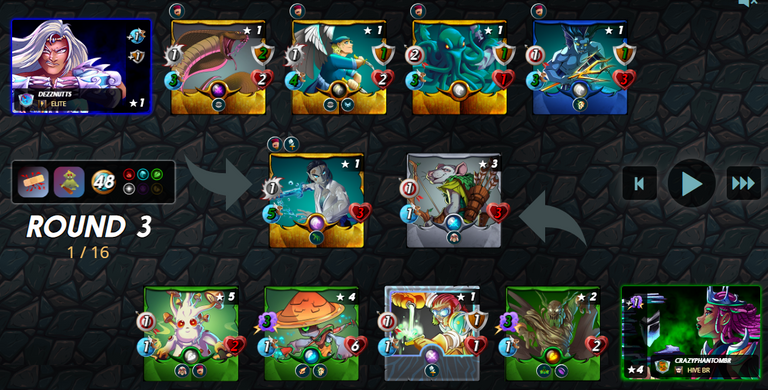 Agora temos a batalha exposta: o adversário tem alta probabilidade de eliminar dois carsd neste round, as pontas: o primeiro e o último posicionados da minha equipe.
Por outro lado, ambos os cards são Martyr. Isso significa que terei aumento de atributos em dois cards, o que pode ser um péssimo negócio para o adversário!
R O U N D
5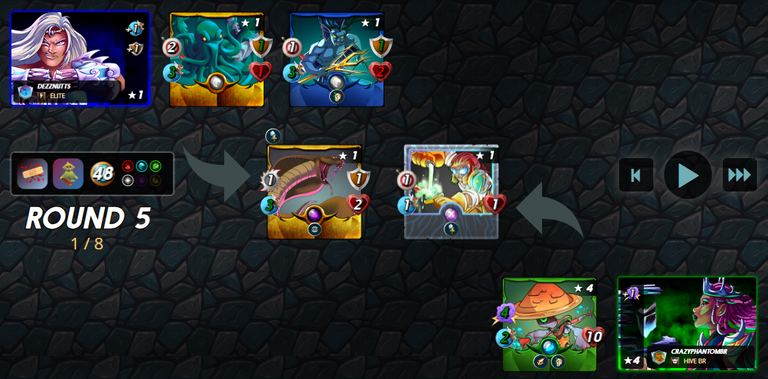 Agora sim, a partida está acabando e tenho apenas o Madcap Magus causando dano mágico de 4 pontos por rodada. Não sei se será suficiente, pois o adversário causa também 4 pontos de dano por rodadas, tenho pontos de vida suficientes para apenas duas rodadas.
R O U N D
7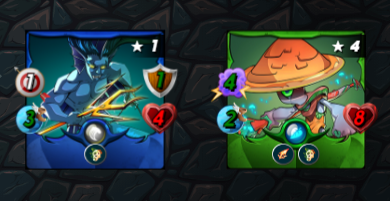 A batalha termina com esse excelente card que se monstrou ser um verdadeiro maluco em campo de batalha!
---
O que achou da minha composição?
Se curtiu, deixa um comentário aí sobre a luta.
Se você ainda não joga Splinterlands venha fazer parte da comunidade!!! Se quiser, utilize meu link de recomendação:
https://splinterlands.com?ref=crazyphantombr
Muito obrigado a todos e até a próxima!!!
---

CrazyPhantomBR apoia o projeto PGM
Te convido a conhecer o projeto PGM.
A comunidade gammer procura por você!
O divisor e logotipo / imagem acima pertencem ao projeto PGM.
---

CrazyPhantomBR apoia as curadorias brasileiras
@Hive-BR e @Brazilians
Te convido a conhecer os projetos de curadoria das comunidades brasileiras!
1% dos fundos obtidos nesta postagem estão destinados a @Hive-br
1% dos fundos obtidos nesta postagem estão destinados a @Brazilians
O divisor e logotipo / imagem pertencem à CrazyPhantomBR.
Delegue HP para conta hive-br.voter e ganhe Hive líquida diariamente!
50 HP | 100 HP | 200 HP |500 HP | 1000 HP

---
---