First week on Spliterlands.

Hello, I´m Fuzi from Brazil, and I just started playing Splinterlands for one week.
I´m writting now a few words about my experience with the game. If you are already playing for a while, please don´t judje me, I´m still learning, please comment, so I can improve my game play. And, if you quite new, as I am, or thinking about starting playing Spliterlands, please comment too, so we can learn together.
That game is realy cool, Summoners and Monsters, all of them whith specific habilities, depending of the battle the weak Monster alied with the right Summoner can defeat the stronger enemy, just unsing the right strategy. It is realy cool.
But, I do not have enough money to invest on cards, or even renting cards, witch will be some good alternative when the right time comes, so, some battles are quite difficult, because I´m fighting with those initial cards, that the game allow us to use, against some players with better cards, unfortunately this affects our Rating points, and it is a little frustrating, but it´s good to learn.
I am farmming, I have already earned some cards and a few DECs, playing and completing daily quests, witch obligates us to emprove our game play, and makes it more exciting.
So, thank you for reading this, let me know about your experiences, and if you have some good advices, don´t forget to give your comments.
I´m having lots of fun, and recommend you to do the same!
This is a afiliate link if you like to enjoy me on this game.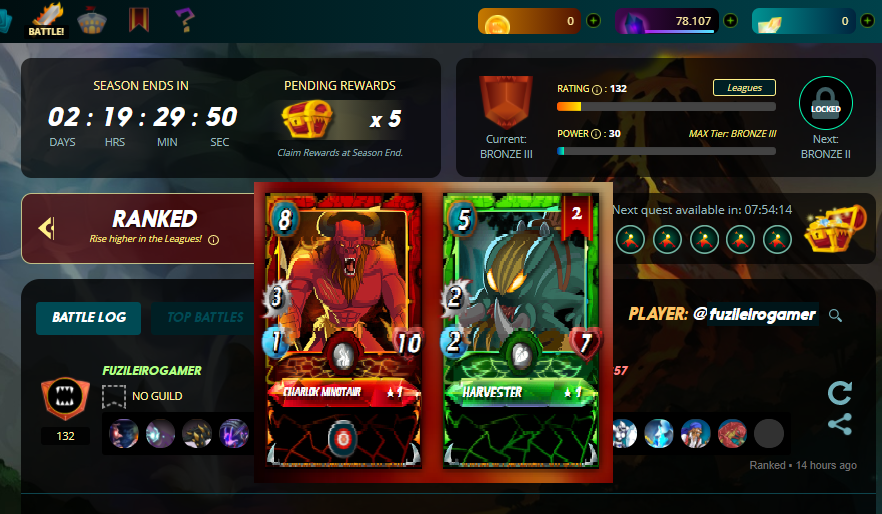 https://splinterlands.com?ref=fuzileirogamer
Thank you!
Fuzi.
---
---