What if Splinterlands went from Play to Earn to PLAY TO BURN?
A Shift to Play to Burn to Raise SPS and DEC prices.
None of this article is financial/investment/legal advice, it contains a strategic valuation analysis of speculative assets that can be subject to market fluctuations. You are suggested to seek out a Registered Investment Advisor (RIA) for all investments and the author is not an RIA. Splinterlands' Terms of Service identifies Splinterlands/Steem Monsters as not being an Investment Company. As defined by the U.S. Code of Federal Regulations, Steem Monsters (the parent company of Splinterlands) and the Decentralized Autonomous Organization (DAO) that was published by Steem Monsters can be argued to rise to the definition of being classified as Financial Institutions in the United States. This is a duty to warn and inform given that the actions to be described regard the valuation of assets and speculation of events to take place.
It is a radical idea, but considering that there is an oversupply of SPS and DEC, the objective would be to reduce the supply going forward and it would be effectively executed in two different ways in one action. The concept of Play to Burn is draconian and extreme, but it would effectively take advantage of ecosystem. In fact, this is a measure that could have removed the free-rider effect that bot mining accounts have effectively achieved within 5 months of the new Soulbound Rewards system had it been implemented from the outset. Play to Burn is controversial, but it would be effective.
The Flywheel Concept
For those unfamiliar, the objective to get DEC to $.001, which would be the soft peg price where SPS holders can burn their SPS in exchange for DEC. DEC would effectively never go above $.0011 ever again. The reduction in SPS supply would necessitate a rise in price as the demand would at the very least remain steady.
The Flywheel Concept has yet to be implemented as DEC has failed to reach the soft peg figure and start the burning process.
Enter the Concept of Play to Burn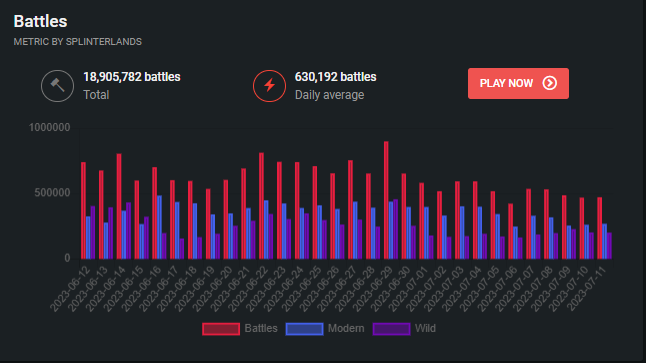 There are roughly 500,000 battles in Ranked matches per day in the past week. This means roughly 1 million parties, often the same parties, participating in these matches where one party receives a share of the SPS pool (based on their staked rewards) and Focus/Season Points that go toward Rewards Chests.
Each party in the match puts in 50 DEC to play the match (which would burn the DEC) and the winner gets the SPS reward and Focus/Season Points. However, there is a catch here as well, the SPS rewards going forward would take half of what would have been issued and burn it. This would effectively reduce half of the SPS supply that would come from Ranked battles going forward.
This concept would have the effect of burning 50,000,000 DEC per day ceteris paribus. In a given month, that is 1.5 Billion DEC burned.
Benefits
DEC burning at a faster rate.
Ranked matches just mean more.
Bringing the retro arcade feel to a PvP game.
SPS supply shrinks.
Downsides
Bot miners may quit.
Game may get too expensive for some.
Doesn't necessarily fit with the Energy Caps that exist now.
It's a concept to consider and make alterations to when it comes to specific amounts, but it is tough to ignore.
---
---