My BATTLE MAGE SECRETS WEEKLY CHALLENGE WITH Little league Battle rule.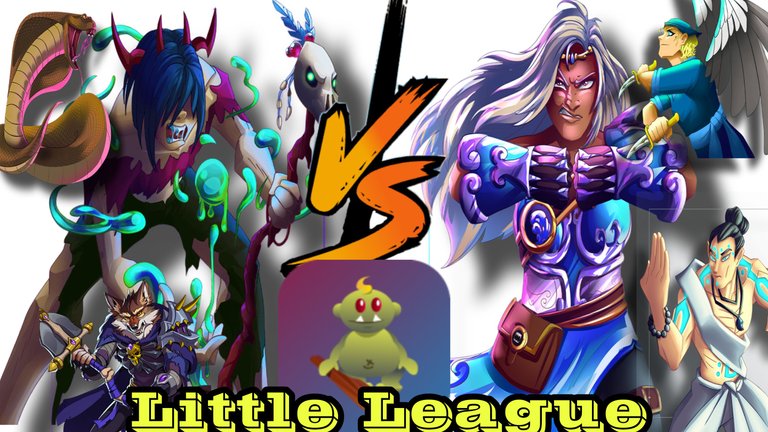 Hello friends, how are you all, I hope you are fine, healthy and enjoying the whole day. I am your friend cruis. Here I am again with the battle mage secrets weekly challenge. Sharing this time's battle with Little League battle rule. Although 43 mana was given to play this battle, but only 28 mana can be used in the battle. Because only cards of 4 or less than 4 mana can be used in Little League. There was one more rule in this battle which was Lost Legendary! When I played this battle, my collection power was around 106000 and my rating was around 1300.
BOTTLE RULE AND MANA

There were 43 mana to play this battle with two battle rules. The first was theme rule Little league and the second battle rule was Lost Legendary. Three elements could be used in this battle, Fire, Water and Death. Although I thought it best to go with the death element because I have a lot of good cards in this element for Little League.
THEME BATTLE RULE
LITTLE LEAGUE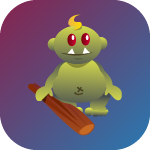 As the name of this Rule is little league, that's probably why only cards that are four mana or less than 4 mana can be used under this rule.
line up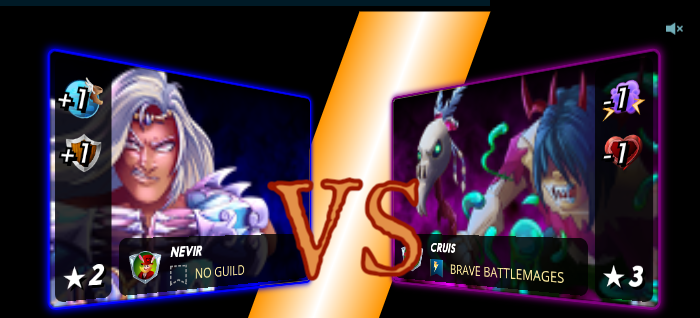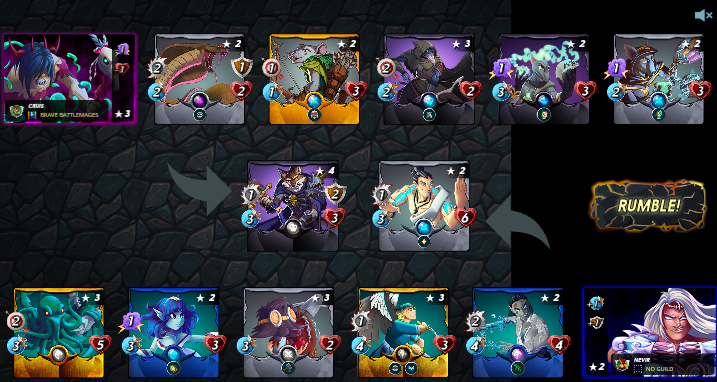 OPPONENT'S TEAM
KELYA FRENDUL
XENITH MONK²
TIDE BITE²
PELACOR BANDIT³
SCAVO HIRELING²
RIVER NYMPH²
KULU SWIMHUNTER³
My Summoner
THADDEUS BROOD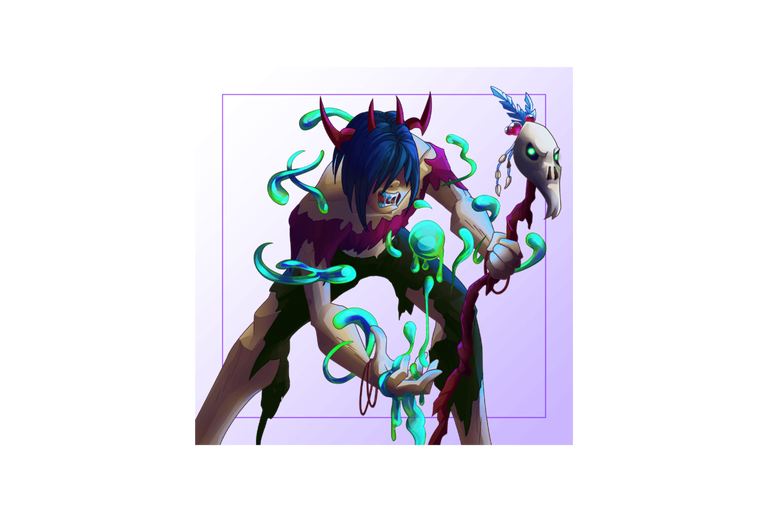 This summoner is worth 4 mana. and 3 level. Because of which now I can use legendary cards up to level 2 and common cards up to level 4. It reduces one health and one magic of the opposing team.
My card placement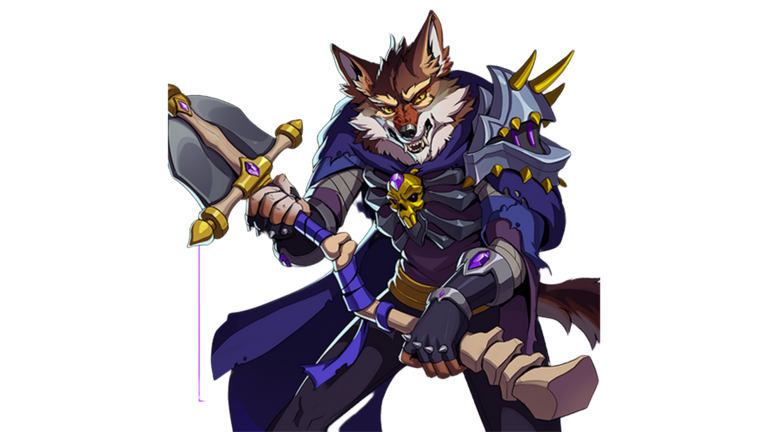 Wily Coyotian is a card of 4 mana. I have used it level 4 in this battle. So doing 1 Melee attack with three speeds. It has three health and four shields. However, I got these two shields because of my Ravenhood's protect ability. It doesn't have any abilities of its own. This card can't be typed from any position except 1st position, which is why I put it in 1st position.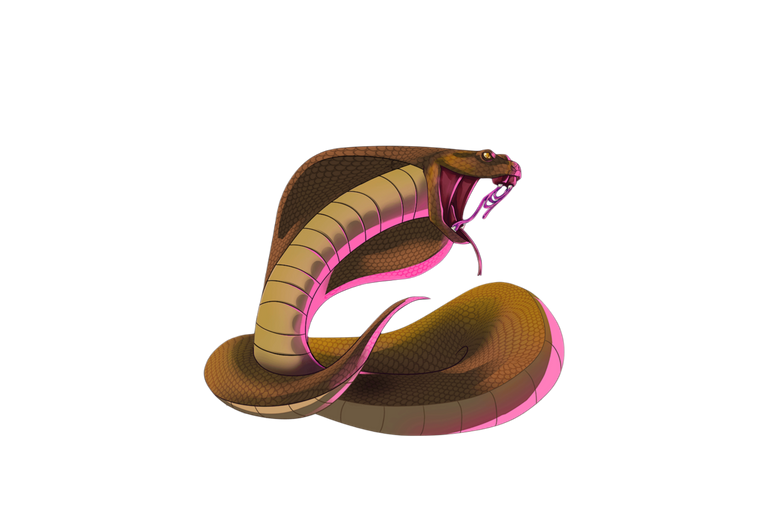 URAEUS is my favorite card because it has the sneak ability. And it costs 3 mana. I have used 2 levels. I have put this card on the second position. It has sneak ability in which it attacks the last card of the opposing team. It also has two shields due to its protect ability and does two melee attacks with two attacking speeds. It also has two healths. Because it attacks Melee and it also has sneak ability i.e. it can attack from any position.
VENARI MARKSRAT

VENARI MARKSRAT is of 3 mana. Makes 1 Range attack with a speed. It has three health. It has Martyr Ability. means when this card is eliminated, it will increase the power of the cards around it. I put this card in the third position thinking that if it will eliminate , Which will increase the power of my remaining 2 cards that are around it.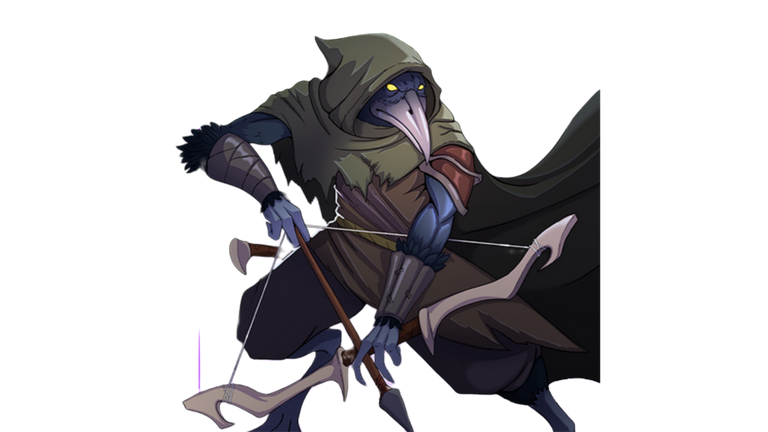 The Ravenhood Warden card only costs four mana. Attacks 2 range with three speeds. In this fight I have used it at Level 3. It has the 'Protect' ability which gives two shields to all partner cards. I put this card on the 4th position. Because this card makes a range attack, it can attack from any position other than first.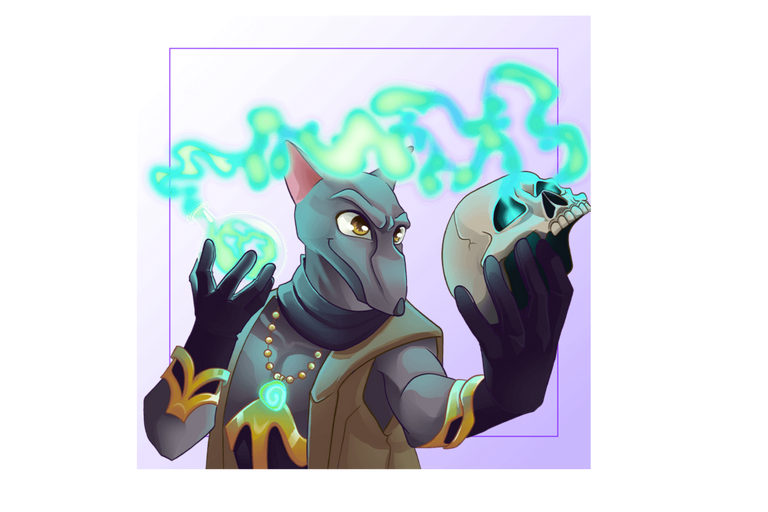 This card is of 4 mana. Performs a magic attack with three attacking speeds. It also has three health. I have used it level 2 in this battle. It has its own life leech ability in which it increases its health every time it attacks. It has two shields which it got because of Ravenhood's protect ability. I put this card on the fifth position.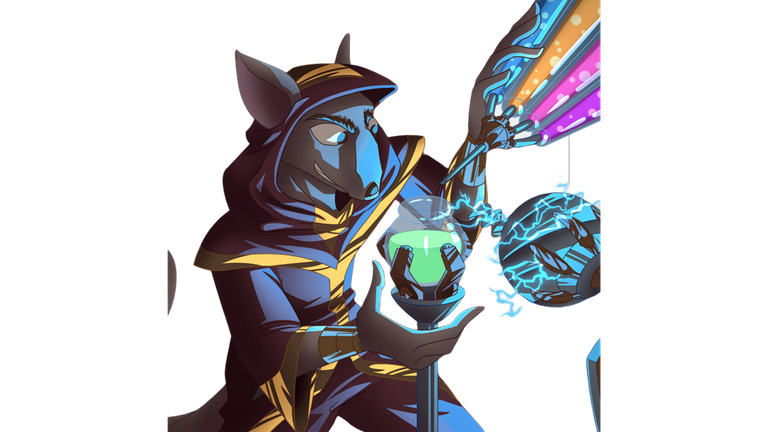 This card is a very good card, Prasad people do not know about its ability, even I did not know much about its ability. But once this card destroyed the increased power of my Quora Towerahead. Then I got its ability to know how useful it can prove to be in any battle. This card is of four mana. Makes a magic attack with 2 speed and has 2 health. It has DISPEL Ability. In Disability, when this card attacks a card, it destroys all the positive statuses it has. I put this card last.



BATTLE ROUND AND RESULTS
ROUND -1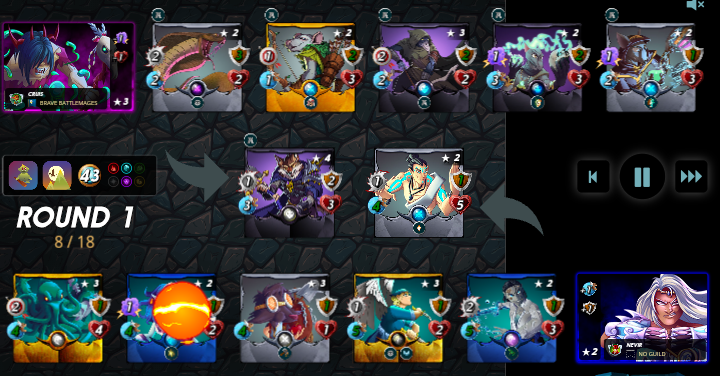 ROUND -2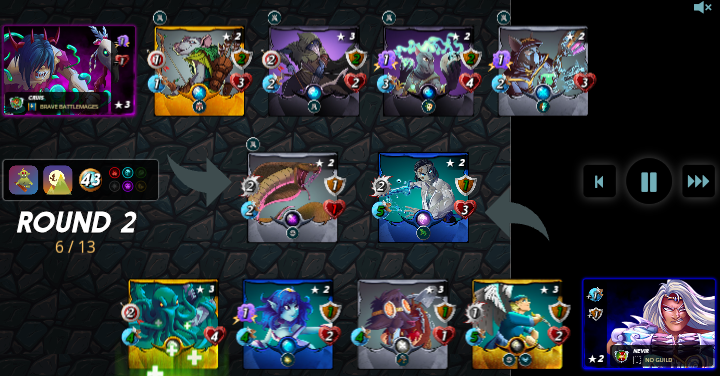 ROUND -3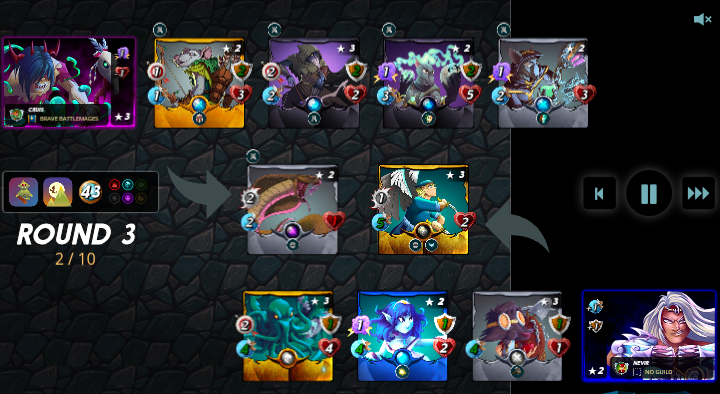 ROUND -4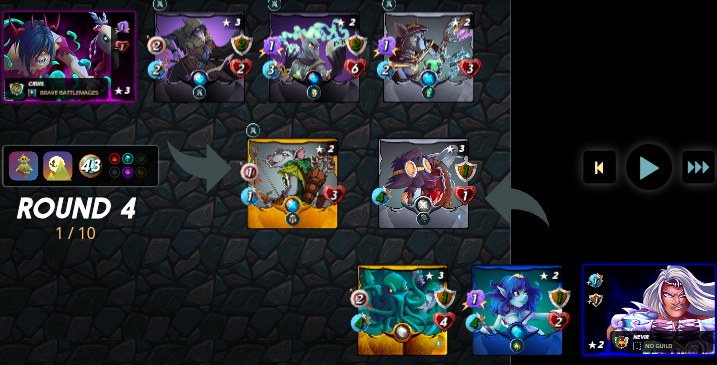 ROUND -5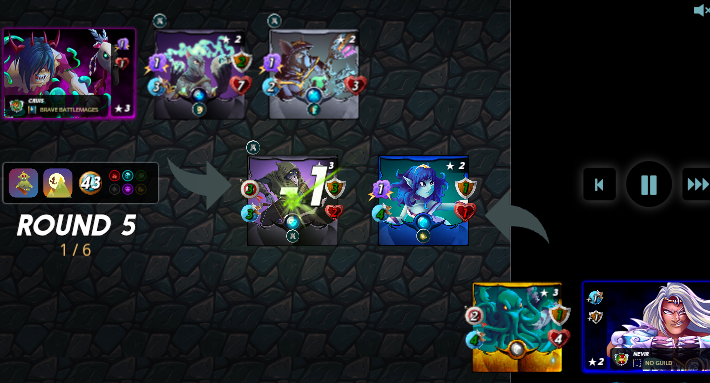 ROUND -7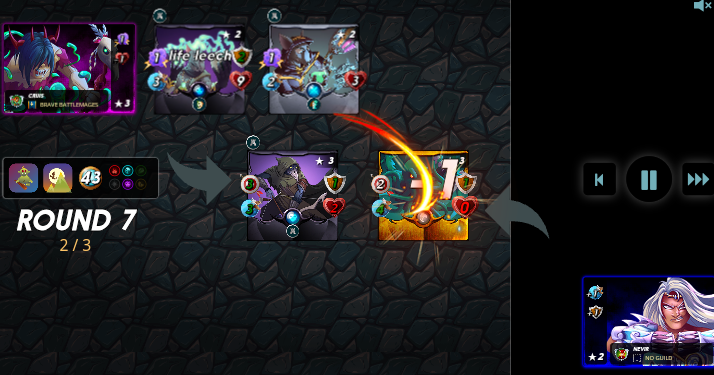 Battle Result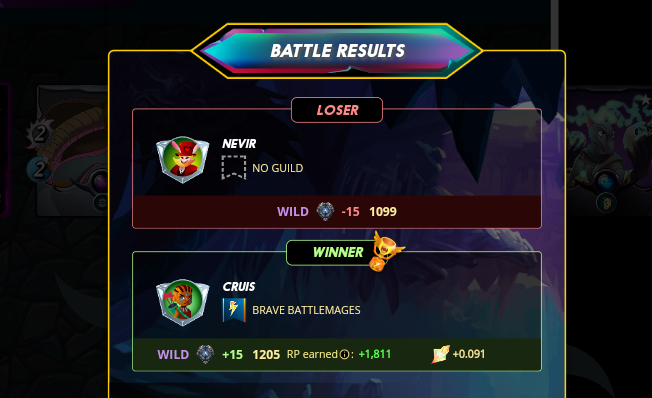 DID MY STRATEGY WORKED?
My strategy has always been based on the battle rules. Well I decide to always go with the water element in Little League Battles. But still somewhere I am afraid of element of death THADDIUS which declines magic attack. So in this battle I decided to go with THADDIUS BROOD because if the opponent comes with magic which usually happens in little league battle rules then the Summoner I have reduces magic attack as well as reduces health.In the first place, I put a level 4 Wily Coyotian. Although it only does 1 melee attack. I put Uraeus, a card with the Sneak ability, in second place, which is doing 2 Melee Attacks. However, I made a mistake in placement, placing the marksrat that has the Martyr ability in a position where none of my cards benefit from being eliminated. Because just after that I put the ranged attack card, Ravenhood. And after my venari marksrat was eliminated, ravenhood moved to the first position. And as everyone knows, no range attacker card ever attacks from the first position, except for close range abilities. On the 4th and 5th positions, I put magic attack cards that directly damage the health of the cards. Overall, at the end of the battle, it felt like I would have lost the battle if I hadn't used magic attack cards.
DO YOU LIKE PLAY WITH LITTLE LEAGUE BATTLE RULE OR NOT WHY
To be honest, I have a lot of problems playing Little League Battle. That too especially when water element is also being used. But if the water element is not being used, then I enjoy playing. Then I try to play mostly with the fire element. Because I have two or three cards in Fire element that are 4 or less than 4 mana. And do 2 to 3 melee attacks using Tarsa. But till date I have not been able to understand that if Little League Battle rule is available, then what is the use of giving 25 or more than 25 mana in Battle rule. As this battle was given 43 mana to play. But there are many cards using which we can easily play Little League Battle which I have used in this battle.

All images, photographs are not mine, taken from games website Here-

---
---