Current giveaway sponsors - Secret santa charity stream from family fund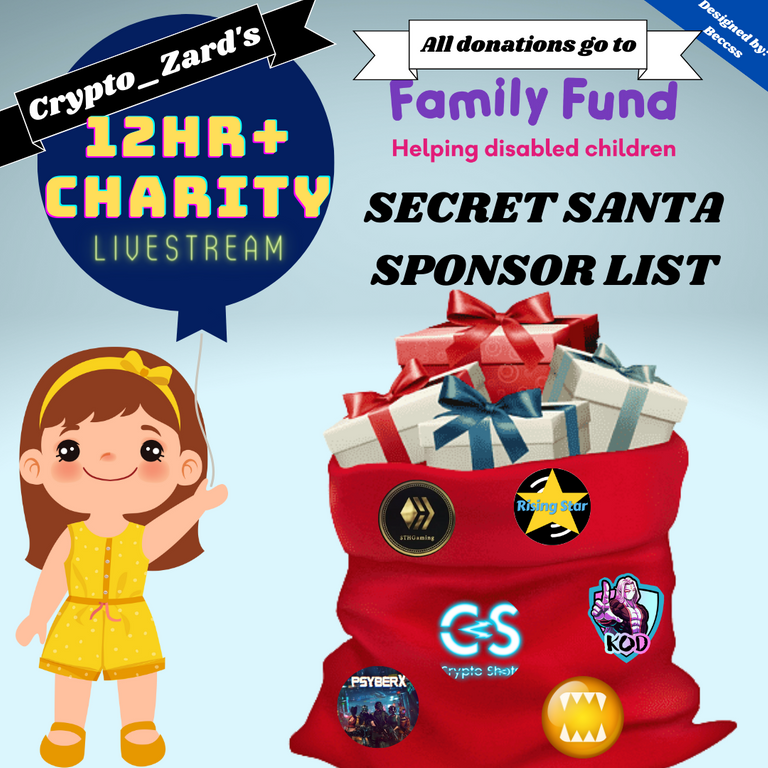 Current giveaway sponsors - Secret Santa charity stream for Family Fund
When we announced that we were doing a charity event, we were overwhelmed with the amount of P2E Guilds and games that reached out to us who offered to donate some of their assets for or giveaways.
In this post we want to let all you readers and those who will be joining us in the stream to know more about the games (we will be playing them too) and the guilds that are helping us with this stream, so you know more about the games you can win prizes from!
Before we get into things, we just want to say a massive thank you to everyone who has donated prizes, donated to the Twitch page for Family Fund and those who are sharing/re-blogging to get the word out - we wouldn't be able to do any of this without you all.

THGaming
@THGaming is a gaming guild that focuses on onboarding players into new play to earn games by building a community within THGaming for each game.
This is a great place for P2E players to be able to have a way to get into new games and not feel alone when they get into them as they have welcoming members who will guide you through your Play To Earn journey and answer any questions you may have about the game.
ThGaming has some great partnerships with some play-to-earn games including but not limited to: Splinterlands, King of Duels, Crypto Shots, Big Time, and many more.
If you want to be a part of their growing community or want to ask them any questions, join their
Discord server as they will help you with any questions and will try their best to help you with anything you may need to play one of their partnered games.
The guild currently have three brawling guilds in Splinterlands and are always welcoming new players to join them, and they are currently getting more players into Big Time with early access passes so you can be one of the early birds to be apart of a game that won't be released publicly until next year at the earliest.

Splinterlands
If you don't know what @Splinterlands is then where have you been? Splinterlands is an amazing auto-battling card game that allows you to buy, sell and rent out cards to climb up the ranks to earn SPS (Splintershards) which is their own cryptocurrency governance token. You are able to stake SPS and gain more overtime due to the amount you have in your staking pool. This can then be cashed out into a currency of your choice.
Splinterlands doesn't only have SPS and games again other random players, they also have a large tournament community. There are multiple tournaments that happen every day so all time zones are able to join one. Splinterlands themselves host a lot of tournaments ranging from Novice to Diamond league so all abilities can play and a generous prize pool. Players can also host tournaments with their own prizes for those who place. Some people have won $100s of Dollars just from playing in Splinterlands hosted tournaments and player hosted tournaments.
If you want to try Splinterlands and have a Hive Keychain click here. If you want the P2E aspect, you will need to spend $10 on a spellbook and get into the Bronze tier to start earning.
For more information on the game, head to their discord channel.

King of Duels
@kingofduels is a P2E tactical card game on the Hive blockchain which is currently in its early stage of development but still has an ever-growing friendly community.
If you ever played Yu-Gi-Oh, this is the game for you! The gameplay is very similar to other TCGs including Magic the Gathering, but the playing style is a lot closer to Yu-Gi-Oh,.
To play the game (much like all the other games mentioned today), you just need a Hive account and you can log in and start playing with the free deck. If you want to expand your decks to the starter decks, you would just need to pay $10 for each starter deck.
The game already allows players to buy, sell and rent cards which is great for an early development game. I would recommend you having a look and trying the game out if this sounds like a bit of you, as there are already so many decks you can build to dominate in this new Play-To-Earn game.
If you want to be apart of the KoD tournament (you can check out the information and rules here) click this link and in to start playing KoD!
If you want more information on King of Duel, check out their Discord as everyone is more than helpful in there.

Crypto Shots
If you've been looking for a good First Person Shooter (FPS) game on the blockchain then @Crypto-Shots.com is the game for you! The best thing about this game is that you're not limited by playing on Hive, you can also play on the Wax blockchain.
At the moment, the game has three levels that you can play for free but if you want to start earning from it, you would need to purchase a NFT pack.
Crypto Shots is a little different to other FPS games as it is a browser-based game so no downloads required. You can access the game from any PC that you can log into one of your wallets from.
Crypto Shots has a lot of similarities to Doom and Gold Eye, so if you are a fan of old school FPS games, then this game is perfect for you.
If you want to get involved in the game and see what it is about, click here.
To join the Crypto Shots community come and hang out in the Discord!

Rising Star
If you are into games that you can set up missions, leave them, come back in a few hours and see that you've made some gains then @risingstargame is the game you want to play.
Rising Star is a great game as it helps independent artists by showcasing their music on their game. The game is really enjoyable as you can buy NFTs from their in-game market using Starbits (their game currency) or you can buy packs if you're feeling lucky.
The game itself starts you off as a busker trying to make fans and get 'paid' in Starbits after your mission. Throughout the game you will need to do multiple missions to gain more Starbits which helps you level up, allowing you to complete longer and more rewarding missions. You can create a band as well and travel around the towns becoming the best band out there.
The NFTs gained in this game allows you to build up your character and band members as each person will start off with their own amount of fans which makes it slightly easier to play other levels (some missions need a certain amount of fans to complete it).
However, you can't click and go all day... you do have an energy bar which is needed when you start a mission. Some missions may take 10 energy, some will take 50 and some may even need 100% of your energy to do it. The more energy you need to complete a mission the better the final rewards can be, so it does go hand in hand really - want to play loads of games: complete cheap mission but don't get the XP and Starbits or use more energy in missions and get a better XP and Starbits results.
If you have a Hive account then you can join this game, log in with your hive address and start your missions by clicking here.
If you want to know a bit more about the game or tips and tricks, then join their Discord for more information.

PsyberX
@psyberx is currently a closed Alpha game with a limited amount of people who can access the current version of the game. This will be another great FPS game once released or more people gain access to the game.
At the moment, the game modes are Death Match and Free for All, but they have a lot of mini game modes planned. A multiplayer feature is currently in the works and will be released soon to those who already have access to the game.
The great thing about this game is that is is Omni chained which means you can play it on multiple blockchains. At the moment, PsyberX is already on three different blockchains: Hive, Avalanche and Myria, so if you have one of these wallets you can play the game (if you have an access pass!)
If you have any questions about the game or want to know more about their plans for the future, you should head to their Discord where their friendly Mods will answer all of your questions.
If you do want to play the game, you will need to get a Founders badge. The mods will be able to tell you how to achieve this.
To have a look at the game you can check it out here.
if you want to ask any question about the game join their discord and ask one of their kind mods any question you have as if you want access to the game you will need a founders badge.
Thank you to @beccss for the graphics and for edits made to this post.
---
---