Splinterlands Blog 012 - SPLINTERCARDS.COM
First I would like to thank @tehox for creating this very useful site for FREE! If you want to know more about this site just visit @tehox.

HOMEPAGE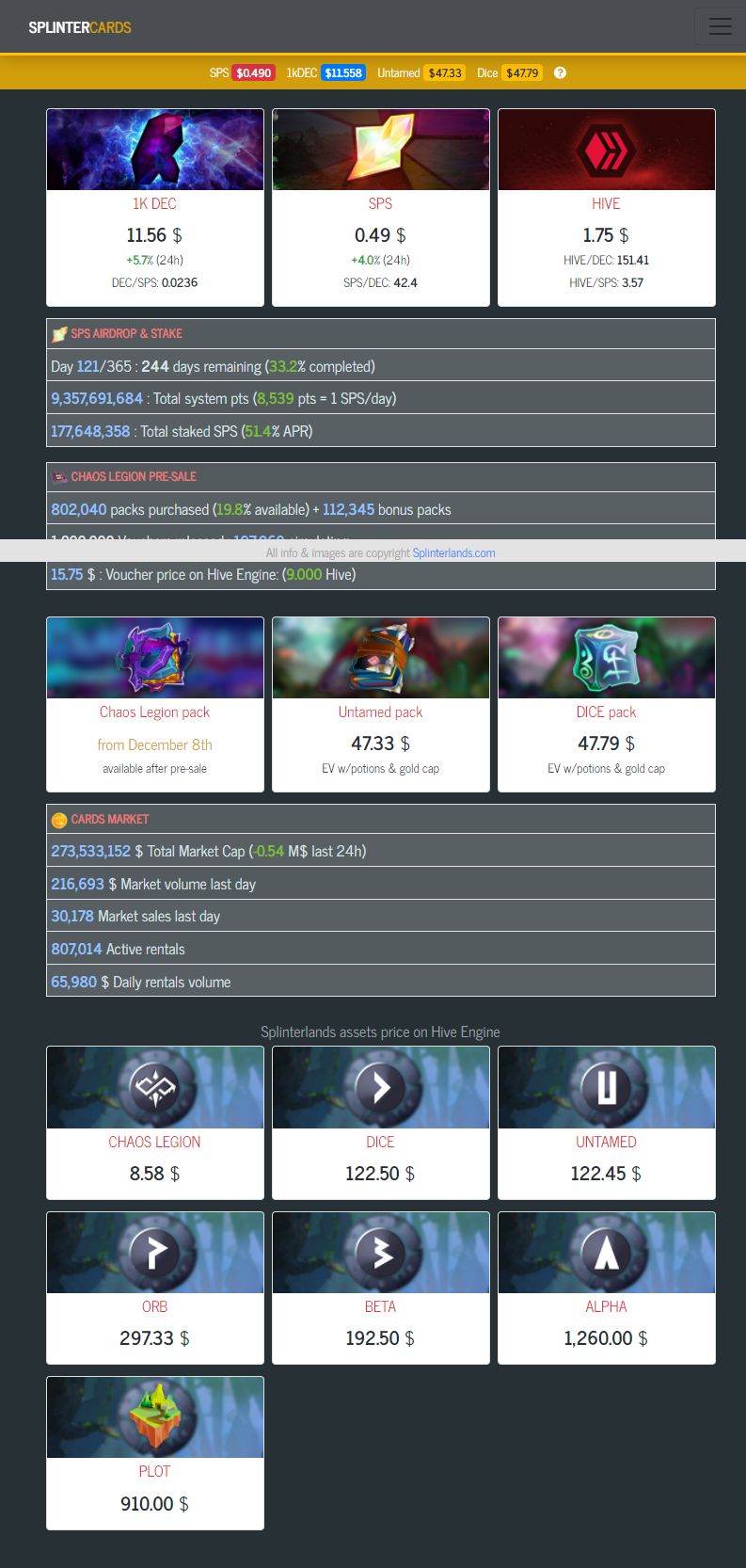 This page gives us a summary of what's going on in splinterlands economy(updated price of in-game assets like DEC,SPS,HIVE and PACKS)
CARDS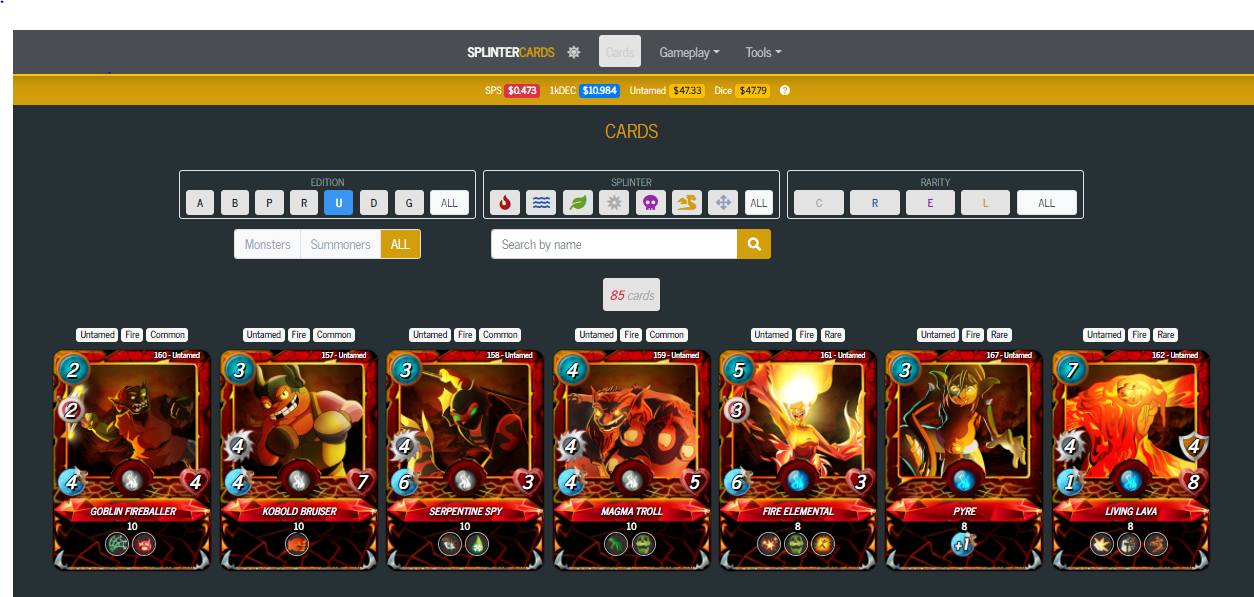 If you are new to the game there is nothing else better to do than to familiarize each monsters stats and ability. Because when viewing your opponents previous battles you can only see the monsters and their levels so being familiar with them will help you make your battle plan. But of course you can also have this tab open but you have to be quick.
ABILITIES

This page is really important for beginners and even for experienced players. Not only can you view the description of each abilities but you can also view the monsters with that ability and the level in which they acquire that ability! For example, your opponent is spamming monsters or summoners with tank heal it is obvious that you'll need the affliction ability in your line up. But sometimes you may be overwhelmed with all the cards you have or if you are renting you may not be that familiar with all the cards so having this tab open while playing will really give you the edge!
GAMEPLAY

The gameplay tab also includes the following: Rulesets, Leagues - which are very important as I have discussed in my previous blog, Lands - if you are planning to buy land and want to knowledgeable about it, Editions and Splinterlands Roadmap.
TOOLS

This tools are just awesome! It will really make your life easier!
Missing BCX
This tab will tell you what cards are you lacking but only available in the regular Promo, Reward, Untamed & Dice editions. In my case I still need about $100,000 dollars to complete and max out all cards!
SPS Airdrop Calculator
If you want to know your expected airdrop per day this is what you need. Just import your account info. You can also see your estimated total airdrop for the year!
SPS Staking Calculator
This is the same as the one above but the difference is instead of airdrop it will be from your staked sps. So if you want to know your daily SPS drop just add the two.
Chaos Legion Presale Vouchers Calculator
This was very helpful to me! We can actually compute our expected vouchers but it will be tedious and maybe inaccurate. Knowing your expected amount of voucher will help you plan in advance. Although this will only give you an estimate because the amount of SPS staked is a variable.
LOW CARD & LOW BCX PRICES GAP
Cards on the market usually depreciates when combined. Low card price means the price of single card with 1 bcx while low bcx price is the lowest price per bcx on the market whether the card is combined or not. This is useful when deciding what cards to buy.
ACCOUNT INFO
This is useful when you are transacting directly to other players. You can check their in game assets like SPS and DEC. Although you can also use Baron's Toolbox which is more detailed.
source: https://splintercards.com/index.html https://www.baronstoolbox.com/
There are other tools which I still have to explore so that's it for today guys! Keep safe!
---
---