The Easiest Way To Purchase a Splinterlands Land Plot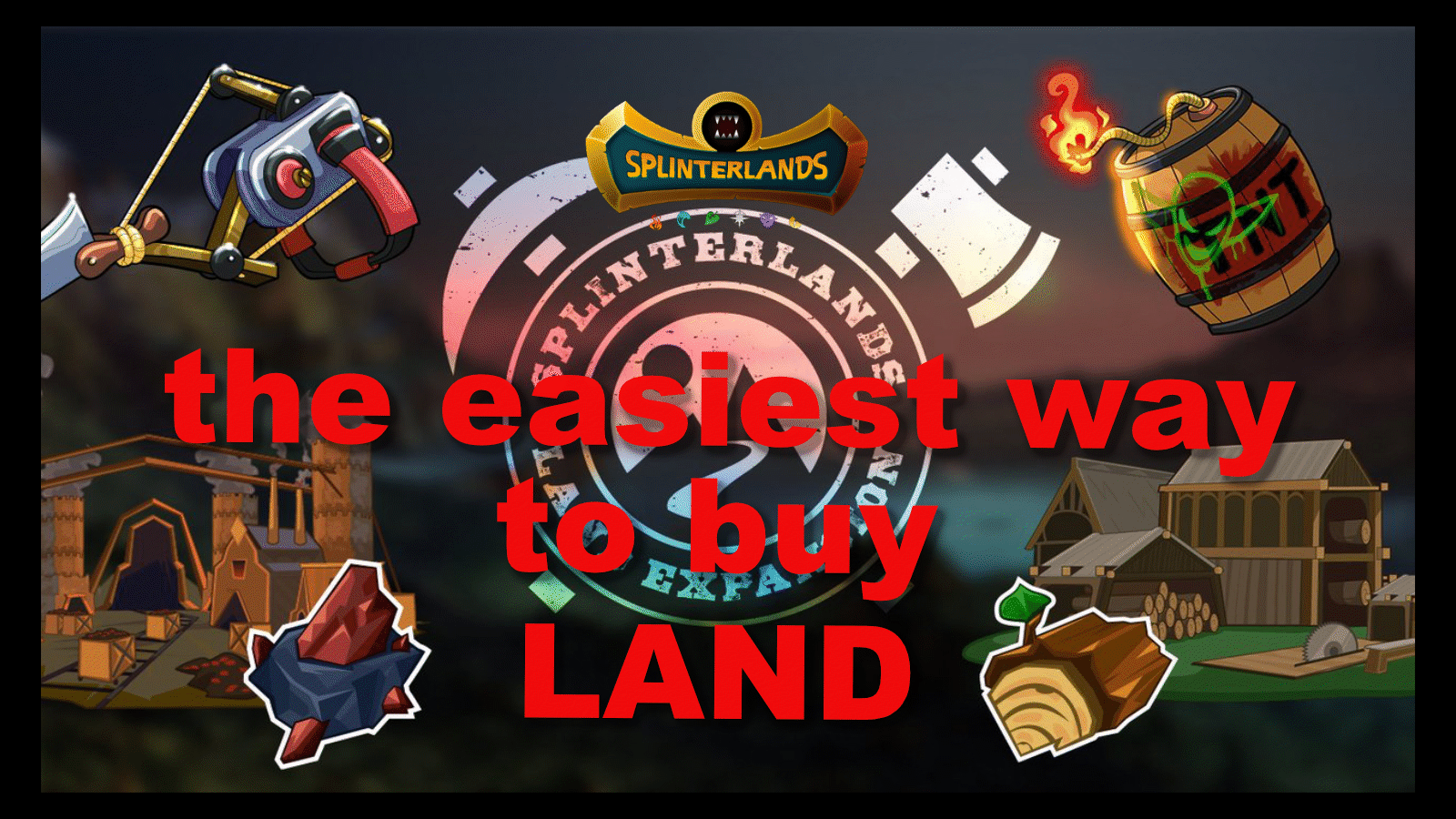 Image Source & Land Exapnsion Details
I've been asked this question a lot, and I've seen it asked more times than I can count. I suspect that will continue until the prices get so high that even fewer can afford it... So I made this post so I could link people to it.
I'll get straight to it:
The 'Easiest' way to purchase a Splinterlands Land Plot
The easiest way, for most people, is probably going to be AtomicHub using WAX. It's not necessarily the 'best' way, or the 'cheapest' way, but it is likely the easiest for most right now. You just need a WAX wallet, and some WAX.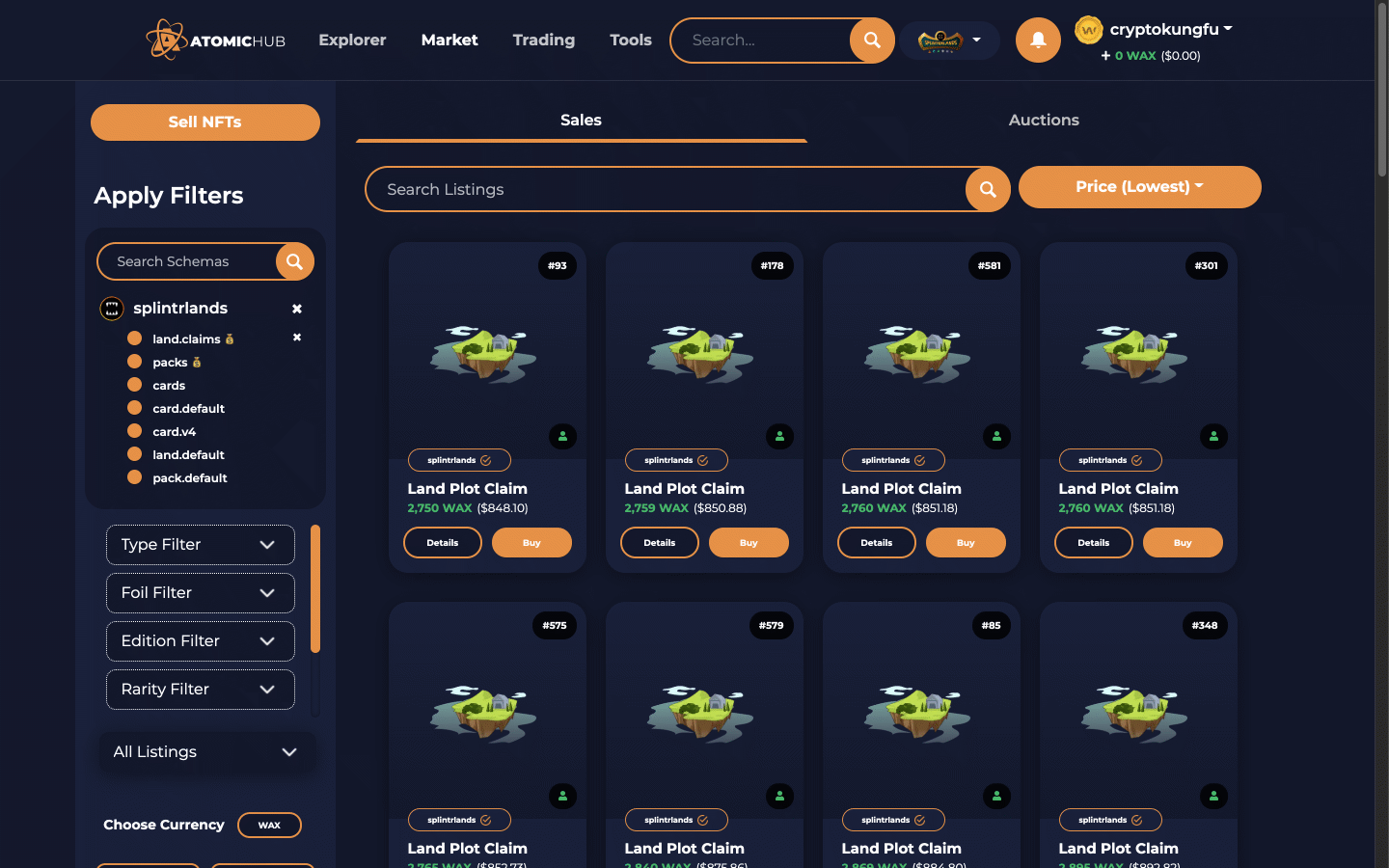 AtomicHub Splinterlands Land Plots ~ Image links to that page
Setting up a WAX Wallet
In the spirit of 'easiest' I'm showing you the easiest way. Again, not necessarily the best.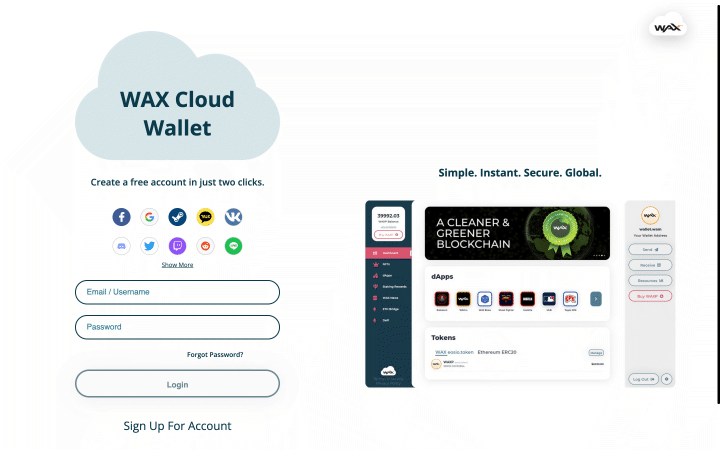 Wax Cloud Wallet
Getting some WAX
You can buy WAX on Bittrex or Binance, however you will have to wait for your deposits to clear on both platforms. That can range from 3-10 days.
You can also buy WAX using a credit card through MoonPay, you can find a link in your WAX Cloud Wallet dashboard, shown in the picture below.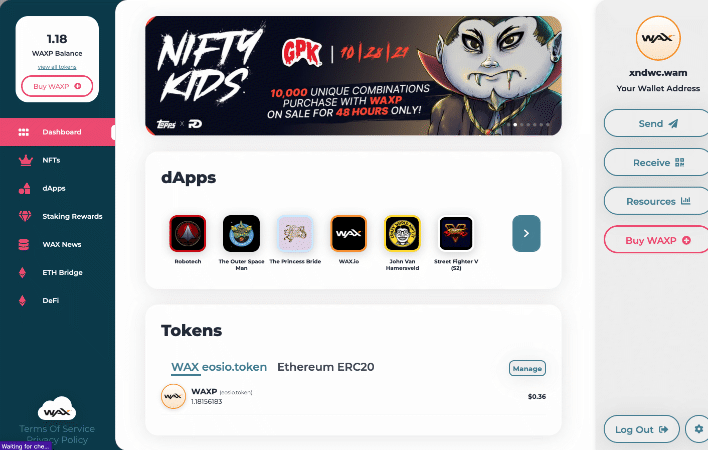 Wax Cloud Wallet Dashboard
Last time I checked, the exchange rate is marked up a bit over Bittrex or Binance, and there is a $13.50 processing fee. To me, that is just too much... but if you have to 'do it now'... time... after all, is the thing most people trade for money anyway.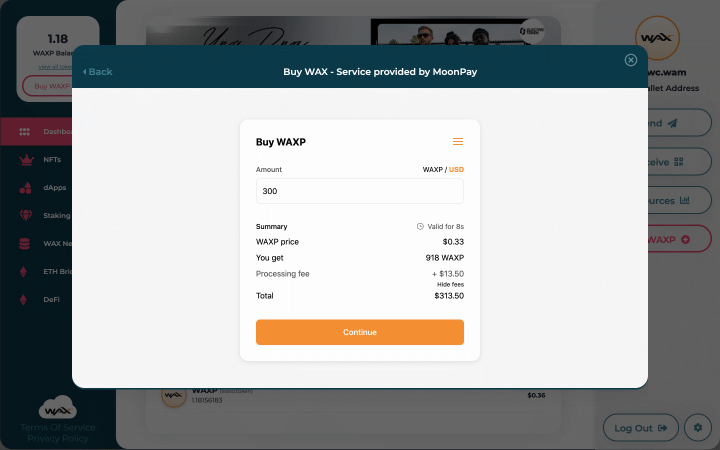 Buy WAX with MoonPay
From there it's pretty straight forward. AtomicHub is much like any other eCommerce marketplace you have probably used.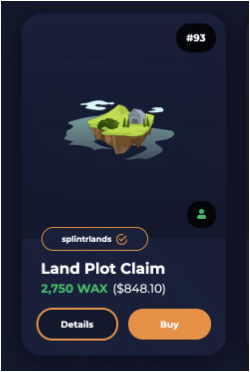 Once you've purchased, you might want to transfer your new land plot into the game itself for safekeeping. That's easy to do on AtomicHub using their Deposit to Game tool, which can be found from the 'Tools' menu: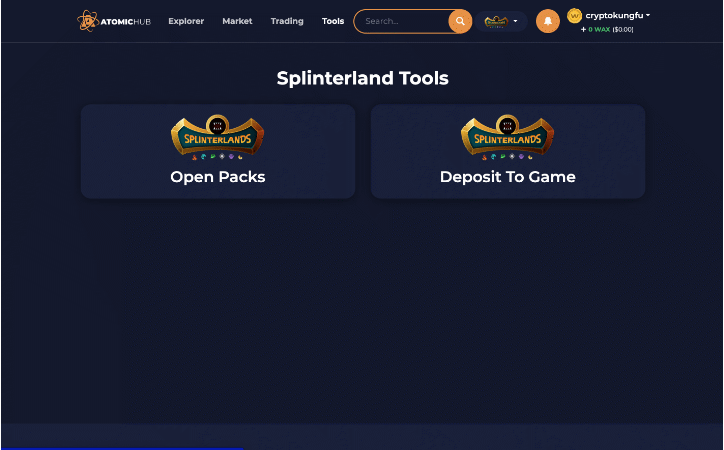 AtomicHub Splinterlands Tools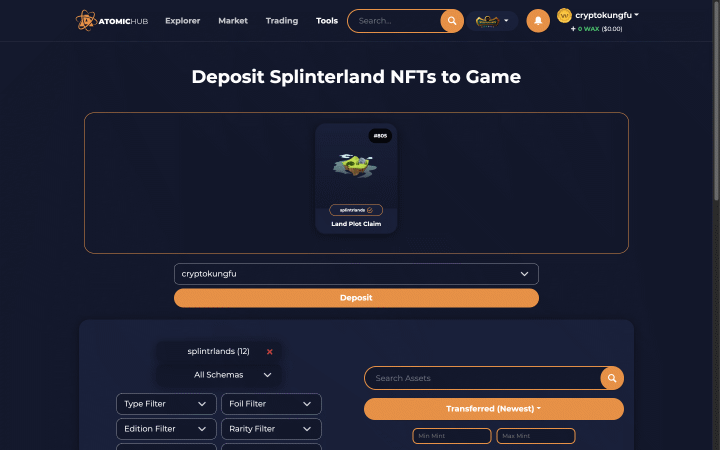 AtomicHub Deposit to Game
Some things worth mentioning
Easiest, is most often, 'not' the best
Please keep in mind that the easiest way to do something is most often not the 'cheapest' way. At the same time, the 'cheapest' way to do something, is not always the 'best' way.
Sometimes time is the cost, and sometimes money is. Sometimes it's both.
The best way around that 'dichotomy' is knowledge and experience. The more you know, the cheaper something can be, and the more practice you have, the faster you can go.
With all that said, at the time of this writing, you can purchase a Splinterlands land plot on Hive Engine for almost $50 less than on AtomicHub.
That's not always true, sometimes it's the other way around. Some people buy them on Hive Engine, and then list them for sale on WAX so it's 'easier' for you... of course that also means a price markup. Selling on WAX is also more expensive than selling on Hive Engine. Your also paying for someone's knowledge and experience as well.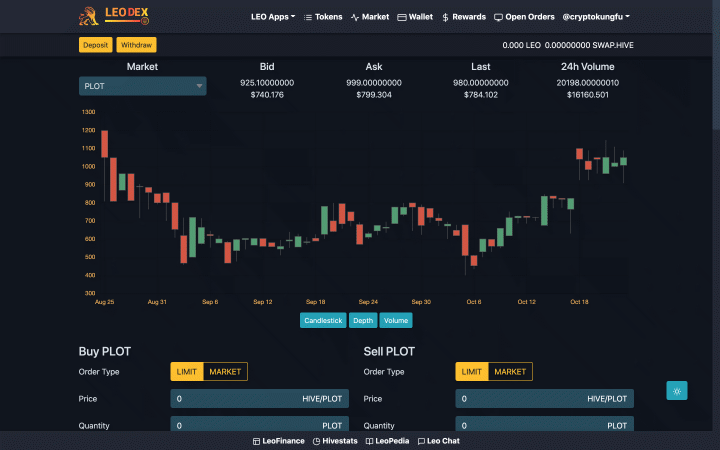 https://leodex.io/market/PLOT
There are a couple of extra steps to buy on Hive Engine, and multiple options for interfaces to the exchange too. The picture above is using LeoDex, but you can also use TribalDex.com. All those extra options and steps can, and does, make it more confusing for beginners.
That's often the cost of not having specific knowledge or lacking in practiced experience... you end up being at a 'financial disadvantage'.
It's worth learning, and practicing... That's the interesting thing about the combination of knowledge and experience. The combination gives you an extra advantage over 'easy'. Because let's face it, if it's 'easy', that's the way most people will do it.
In my next couple posts I will go over all the details of how to buy a land plot using Hive Engine, and also some nifty tools that I use to keep fee's down when changing between different coins and even different chains.
Please let me know in the comments if you found this helpful, if you need some more help, or if there is something specific you'd like me to write up and explain. Be sure to follow me too if you want my next posts to come up in your feed.
Cheers, and may blessings, beauty and bounty be all around you!
---
---