The New PeakMonsters CP (collection power) Metric for Splinterlands Cards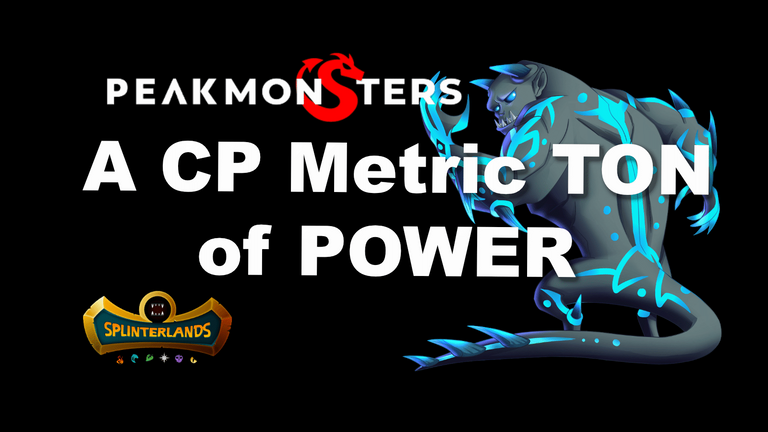 Image credits, Splinterlands.com & PeakMonsters.com

---
Let's talk about the new CP Metric (Collection Power) recently introduced on PeakMonsters. If you're into Splinterlands, you probably already know all about PeakMonsters.com.
But, if you don't, your in for a real treat!


PeakMonsters has one of the sleekest interfaces out there. Really, it's very well put together! You can buy cards, sell cards, rent cards, place bids in multiple different ways, even delegate or transfer cards, all using PeakMonsters.
There's more you can do too, but here I want to talk about the new CP Metric they recently introduced. Check out the part in the screenshot below highlighted with the red square.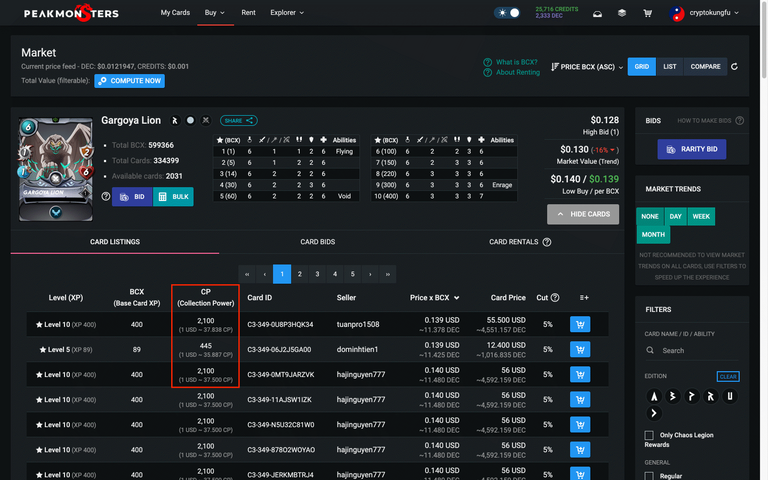 Let's zoom in on that a little: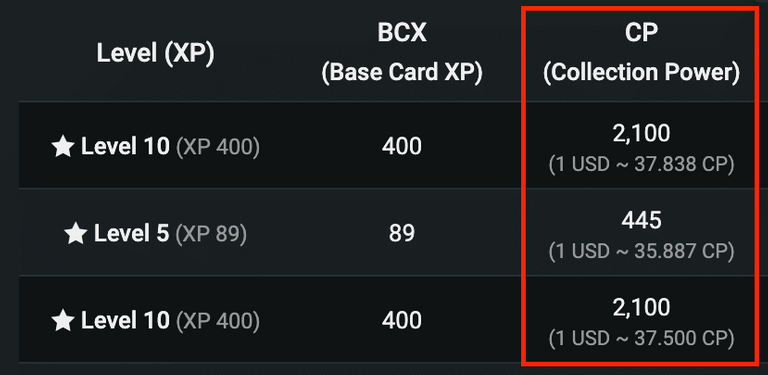 $1 USD get's you roughly 37 CP. That LVL 10 card is listed for $55.55, and it has a collection power of 2100.
2100 CP / $55.55 USD = 37.80 CP per 1 USD
Collection Power
As you likely already know, you need both Rank and Power to move up in Splinterlands League's. With the recent changes where your season rewards are based on your 'current' qualified league, rather than the 'highest achieved', CP has become quite the commodity.
Even before the change, end of season rental prices had a tendency to sky rocket, but with the need to now hold that power through the end of season snapshot, getting power can be even more of a challenge.
With all the different editions, and they're different power levels, it can also be somewhat complicated to calculate exactly how much you will get for any given card. PeakMonsters new CP Metric makes all that a lot easier! Both for purchasing cards for power, and renting them.
Renting Cards for CP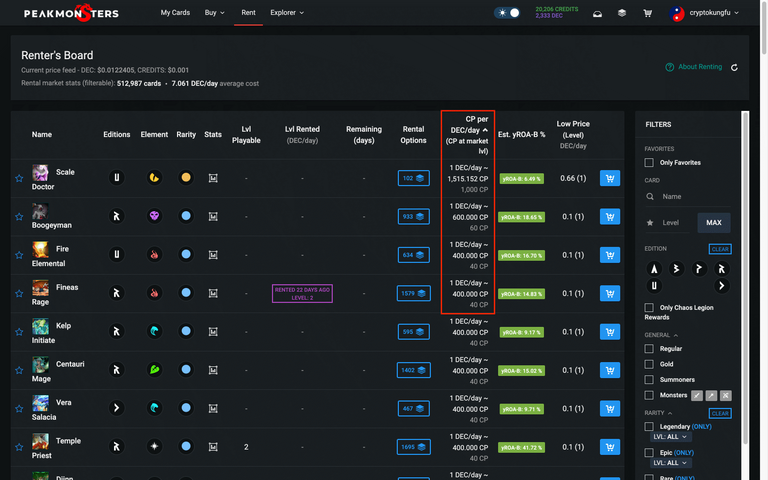 As you can see from the screenshot above, it's now super simple to see how much power you are renting right from the PeakMonsters rental screen. You can even sort it to make sure you are getting the best 'bang for your DEC'.
I'm not a big fan of renting cards just for power. I usually only rent cards I intend to actually play with. You will likely notice that cards with the higher CP values are usually not the most 'playable' cards.
But, if you're just looking to rent some cheaper power just to push you into the next league, this new tool is super useful. Sometimes, for us small fish in the pond, it can just be too expensive to buy and you gotta do what you gotta do.
Purchasing Cards for CP
There's also a new way to sort cards listed for sale by their CP/Cost Ratio. Check out the screenshots below. To get to this screen make sure you select 'Compare' from the the upper right, also highlighted in red: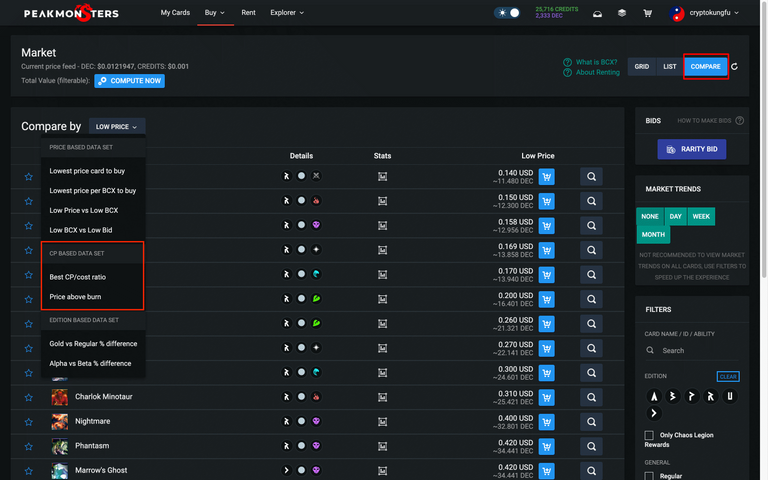 Best CP/Cost Ratio
After selecting "Best CP/Cost Ratio" you will get a list of cards like the screenshot below showing two different ratios. The first from the left is the ratio using the lowest price, and the second is the lowest price per BCX (base card experience).
Higher level cards (with higher BCX) tend to have a lower cost per card and thus better ratios, which means more CP per dollar.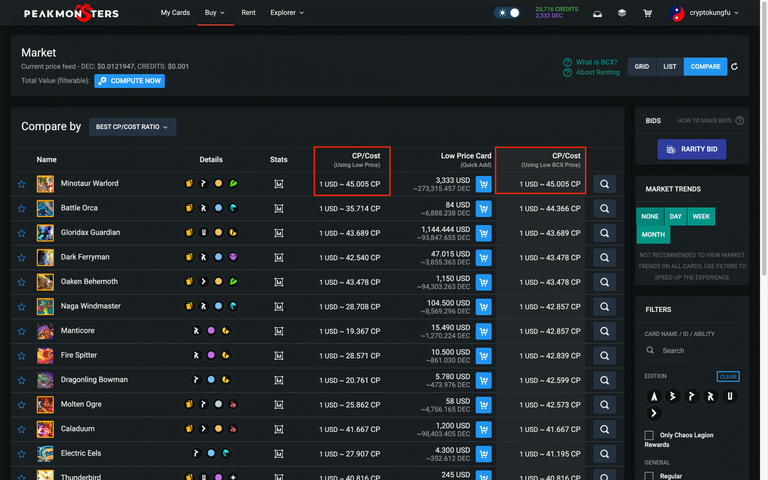 Below is a screenshot of the expanded details you get by clicking the magnifying class for an individual card.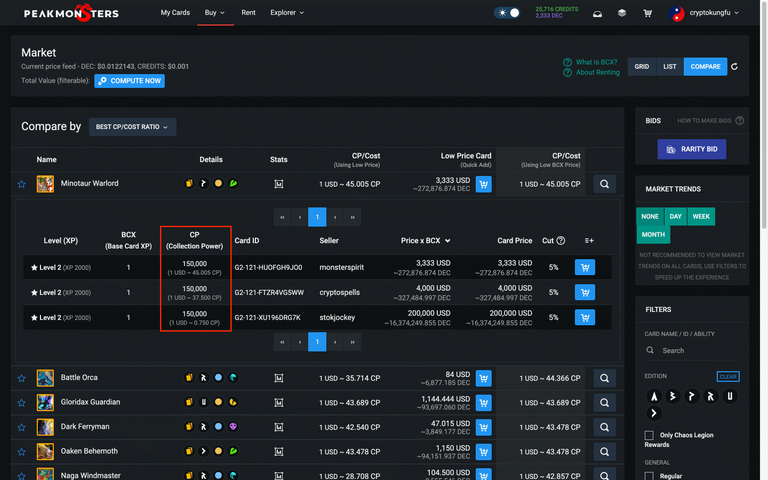 Take note that the cards are listed in order of the lowest price per BCX and you will have to click the magnifying glass to find the specific card(s) that you want to add to your cart if you are taking advantage of higher BCX cards. The low price card is most often NOT the best CP/Cost ratio as you can see in the screenshot below.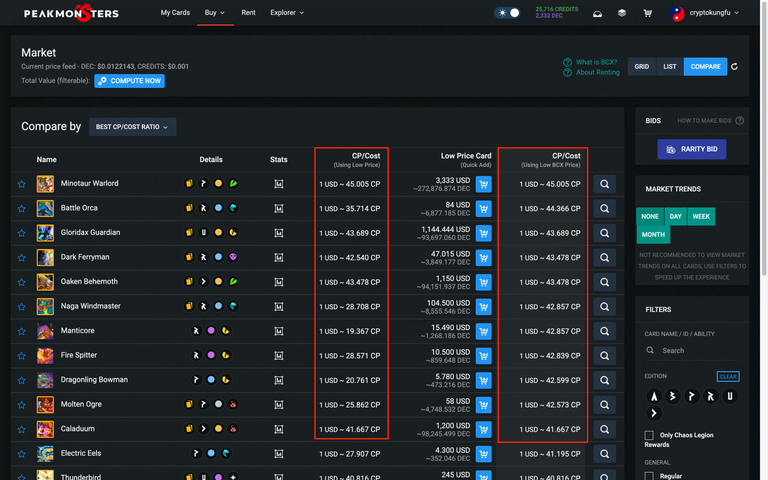 The CP Metric & Market Trends
I used to do these CP calculations using a spreadsheet, and it was honestly a real pain to keep it updated. Just a few weeks ago CP Ratio's were in the 70+ range and now as you can see from all the data above, the ratios are more in the 35-45 range. Some of the more sought after cards can be super low, like less than 5!
That means prices have gone way up, even for the new rewards cards! This new, and very convenient, display of the CP Ratio on PeakMonsters makes it really easy to spot if a card is a good buy for power. If you see a ratio above 50, buy it quick!
---
I hope you found this post helpful!
A big thanks to the @peakd team for creating such an awesome tool and great new metric!
---
---