Splinterlands Guild Store - a place to spend your Brawl Rewards!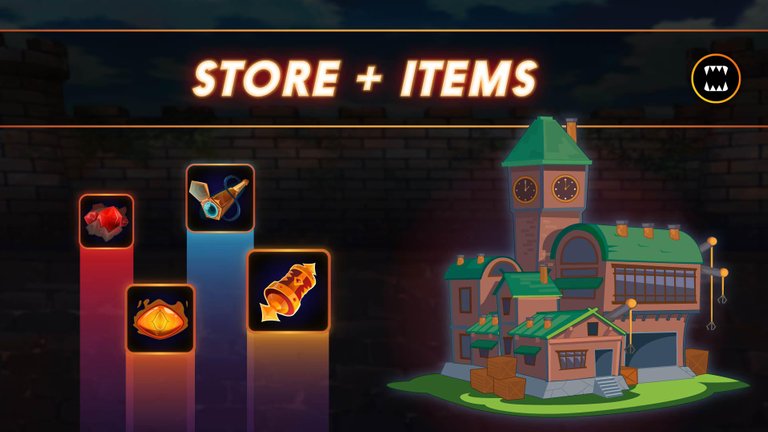 Excitement is building as the Gladiators train for their first Arena battles throughout the great Guilds of Praetoria! Battle Mages are providing good business for the newly opened Guild Stores, equipping themselves with various magical artifacts to give their guilds an edge over rivals. There's plenty of inventory, so get down to your local Guild Store and satisfy that shopping itch today!
In case you missed it, Brawls 2.0 testing is currently open to Mavericks. There's still time to join before the first test Brawl starts! Details here: https://peakd.com/splinterlands/@cryptomancer/splinterlands-brawls-testing-20-now-open-to-the-mavs
In this post we explore some details about the upcoming Brawls 2.0 features (not yet released at the time of writing).
---
Introducing the Guild Store
The Store is one of two new guild buildings added in the Brawls 2.0 update. Leveling it up will provide 2 main benefits to guilds: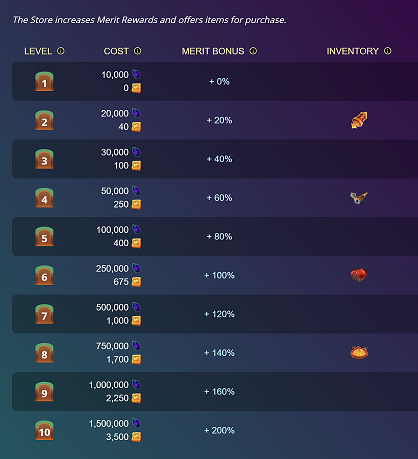 Merit bonuses - The higher the Store level, the more Merits you will win as rewards for Brawl participation. In order to be eligible to receive Merits, your guild must have at least a level 1 Store, so constructing this building right away should be a priority.

Store items - Reaching certain levels will unlock new items, which will then be purchasable in the Store. Guilds should strive to reach Store level 2 as quickly as possible, as that unlocks Gladius Cases for purchase.
Wait what are Merits?

Brawls 2.0 adds a new type of individual Brawl reward called Merits. Merits are a non-transferable guild currency used to buy items in the Guild Store. Everyone who participates in a Brawl will receive Merits when the Brawl ends.
So there are now two types of Brawl rewards: guilds themselves win Crowns, and the individuals within the guild win Merits. As Brawling is a team sport, every participant in a given guild will receive the same amount of Merits, regardless of win / loss / draw record. However, these amounts will differ from guild to guild.
The Brawl Rewards pop up provides an estimate of how many Merits you can expect to receive under ideal conditions: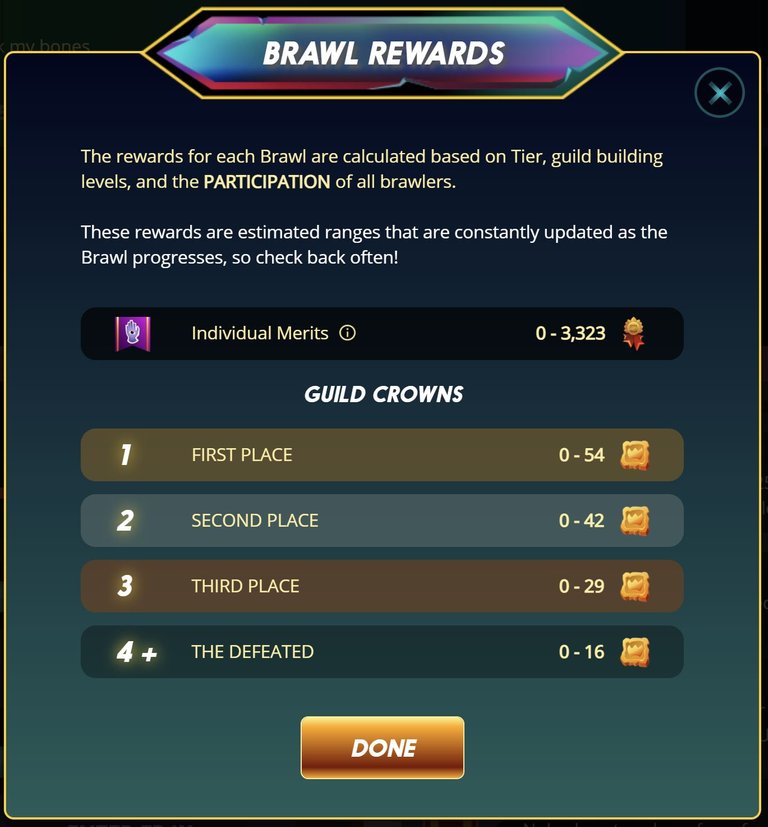 Important: to receive Merits, you must submit all your teams for a given Brawl! So if you're the forgetful type, set an alarm, have a guild member ping you, or something... because you want those Merits! You will still get Merits if an opponent surrenders/flees, and for defending an empty Fray (i.e. a Fray that no other guilds fill).
Merits Calculation
The amount of Merits each guild member will receive is calculated as follows:
Merits = (Crowns won X 500 X Store bonus multiplier) / (number of Frays in the Brawl)

The number of Frays in the Brawl depends on the Tier of the Brawl (from 1 to 5 stars):
| Frays | Brawl Tier |
| --- | --- |
| 13 | 1 Star |
| 16 | 2 Star |
| 18 | 3 Star |
| 21 | 4 Star |
| 25 | 5 Star |
Example Merits Calculation
Let's say your guild won 22 Crowns in a 2 Star Brawl, and filled 14 out of the 16 available Frays. Unfortunately, one guild member had a family emergency and wasn't able to play the Brawl. So only 13 guild members submitted all teams. And, further, let's say the guild has a level 3 Store.
Then total Merits per guild member = (22 x 500 x 1.4) / 16 = 962.5
So each of the 13 guild members who fully participated will receive 963 Merits (rounded to the nearest whole number).
~ As Brawls 2.0 hasn't been released at the time of writing, Splinterlands reserves the right to change the Merits calculation and Store bonuses before release if necessary! ~
Buying Store Items
To go shopping at your Guild Store, click the VISIT STORE button from the guild building page, or navigate to the GUILD tab of the Splinterlands shop screen (the GUILD tab will not be visible unless you belong to a guild that has at least a level 1 Store):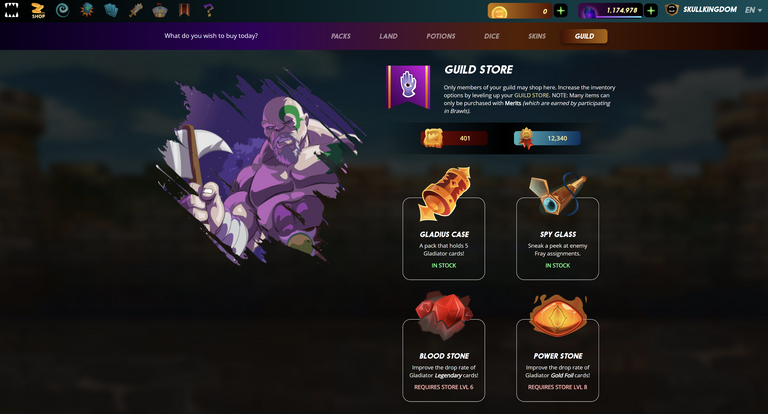 Store items cost a mix of both Merits and Crowns. Items purchasable for Crowns are things that benefit the guild as a whole. Items purchasable for Merits will benefit individual players.
At launch, there will be 4 items available, unlocked gradually as the Store levels up. We plan to add more items over time, some of which may have benefits outside of Brawls (for example, land production bonuses and such).
The items available at launch are:
Gladius Cases - Gladiator card packs. Like the Gladiators themselves, Gladius Cases are SoulBound (cannot be transferred to other accounts or sold on external marketplaces).
Spy Glasses - Useful magical gadgets sold for Crowns, which allow your guild to spy on other guilds during the Prep Stage. Guild Leaders should strive to always keep a couple of these on hand.
Blood Stones - an analogue of Legendary Potions, these magical stones allow Battle Mages to double their chances of receiving Legendary cards when opening Gladius Cases.
Power Stones - an analogue of Alchemy Potions, Battle Mages use these to focus their concentration and double the chances of receiving Gold Foil cards when opening Gladius Cases.
Note: Legendary Potions and Alchemy Potions DO NOT work on Gladius Cases.
Spy Glasses - those sound cool!
Your Guild Leader can purchase any amount of Spy Glasses to assist your guild in preparing for Brawls. Each Spy Glass can be used for the duration of 1 Brawl, and they activate automatically at the beginning of each Brawl's Prep Stage. So if your Guild Leader purchases 5 Spy Glasses, all guild members will be able to take advantage of them for the next 5 Brawls (NOT the current Brawl).
It will be obvious if your guild has an active Spy Glass:

In this example, your guild has use of a Spy Glass for the current Brawl (indicated by the ACTIVE status), and for the next 2 Brawls after this one (2 more uses left).
To spy on enemy guilds, click on another guild's heraldry banner at the top of the screen: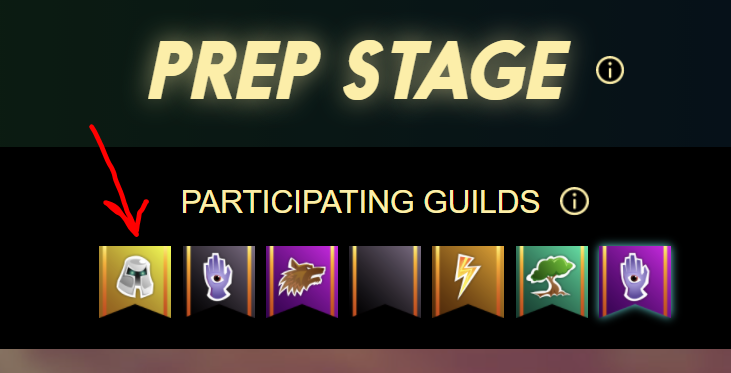 The screen will switch to the Brawl view for that guild, and show you all their Fray assignments. You can click on the STOP SPYING button to return to your own guild: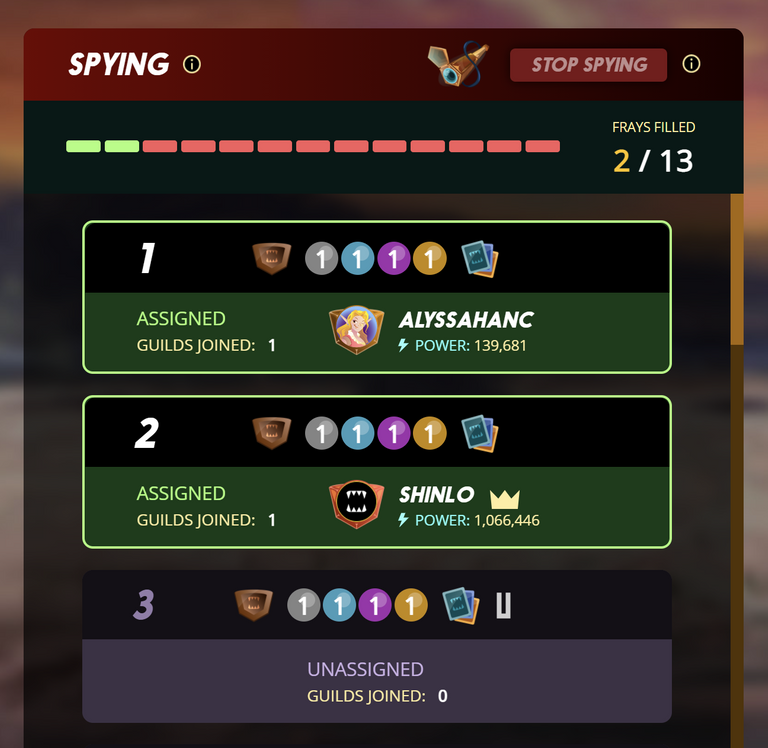 Oh, when a Spy Glass is active you can also see how many Frays other guilds have filled by hovering your mouse over the guild banners: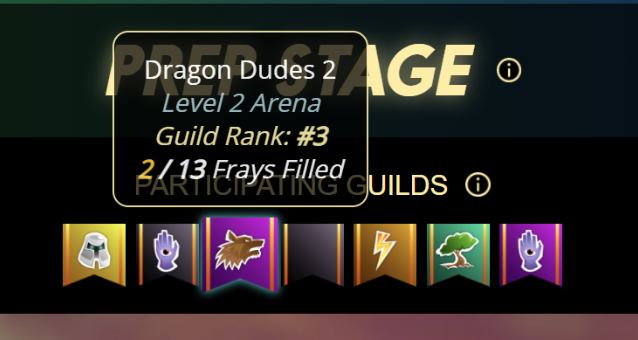 Wow, I better get shopping!
Yes, you'd better... on the QA test server at least. Look for Guild Stores to be launching soon, along with the rest of the features in the upcoming Brawls 2.0 update!
Next week we'll take a closer look at the other features in Brawls 2.0, including Barracks Tactics and the Gladiator cards themselves.
And if you're not already in our game Discord, feel free to stop on by and say hello, our awesome community will give you a warm welcome:
Official Splinterlands Discord: https://discord.gg/A6yNcVqbU6
---

---
---