PIZZA Chess S02: The Bish1UP Series 1 T01 LATER TODAY! FREE ENTRY Longer season, more prizes beyond the podium, 1UP and PIZZA Partnership, MORE INSIDE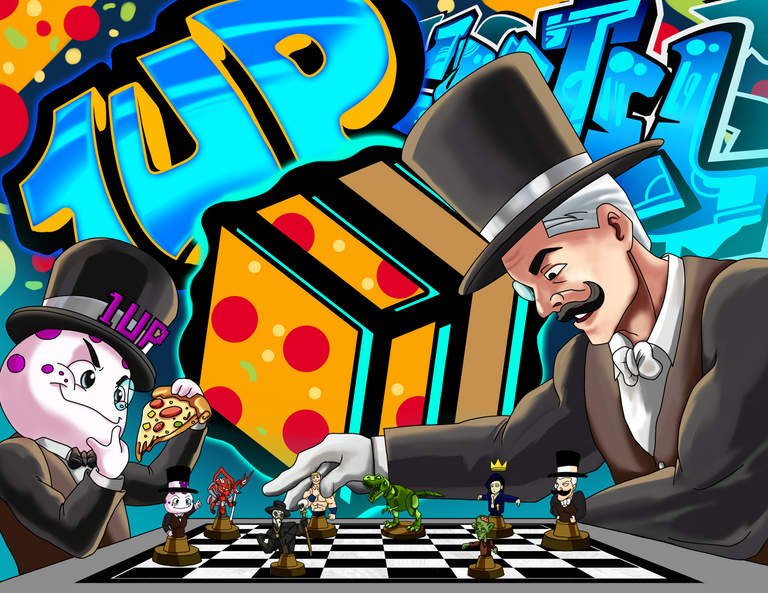 (Promotional artwork commissioned from @japex1226, the prominent 1UP Cartel asset artist and animator, for the Bish1UP Series of Chess Tournaments)
PIZZA Chess: Season 2: The Bish1UP Series
Hello Chess Fanatics, 1Uppers, PIZZA people, and all you other hiveans out there. This week I am excited to announce PIZZA Chess Season 2. The Prize Pool is spilling out of the coffers this time 1UP/Cartel Prizes, PIZZA, and a different format than in the previous series of tournaments (as per the request of commenters in the previous post). This series will be held in 3+2 blitz instead of 5+0 like last series, to pull a greater pool of players. This tournament will be held between 10 tournaments. A grand event to commemorate the grand event that is the 1UP Cartel and hive.pizza partenership, this series will hold a plethora of prizes contributed by: @flauwy 1500 1UP, @thebeardflex 50 PIZZA and a steam key, @dibbler-dabs 50 PIZZA, @huzzah 50 PIZZA, @a1-shroom-spores 80 PIZZA, @h3m4n7 50 PIZZA, and all of you for your participation so far. DEC, LVL, and other various trimming to fill in the gaps will be paid for by myself. Please give all those folks who contributed to this tournament series a round of applause.

The first 5 tournaments (including the one later today as hinted and teased at in various posts on this account leading to his announcement) will be held as qualifiers. Any who reach top 10 qualify in ANY OF THESE FIRST 5 TOURNAMENTS will be able to compete in the last 5. What format will the finals be? Stay tuned to find out chess players (Perhaps a follow would do the trick but what do I know). The prizes in the last 5 Tournaments will be 380 PIZZA, 1500 ONEUP token, a Steam Key and a few hidden participation prizes TBA. The second half prize distribution will be announced as we draw nearer to the finals also.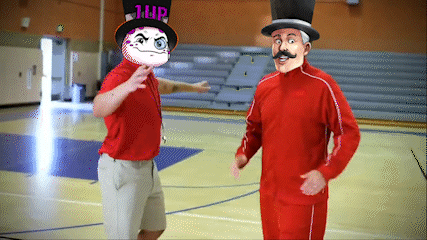 (Gif crafted by @bacon-dub )
First Half Prizes: CARTEL/PIZZA Partnership Goodies
As seen in banner, the discords, the blockchain, hive, and many places at this point. hive.pizza Guild members and 1UP content creators have come together to form a partnership not only in content psting, but in liquidity pools, gamer collabs, and events like this one. The first series will not have 1UP or PIZZA as prizes but instead will boast the following prizes. For each tournament the prizes will be the following. The finals will follow in suite, rewarding participation to all of you participating in this event.
1rst: 100 DEC* and a Legendary Card 15 day delegation in #Splinterlands
2nd: 50 DEC 100 lvl token: The token for CARTEL/1UP affiliate #PsyberX
3rd 50 DEC 100 lvl token: The token for CARTEL/1UP affiliate #PsyberX
Last and second to last place: 10 DEC and a random Rare card Delegation
*Dec is Splinterlands native play2earn currency, lvl is the token for the TBA Play2earn title PsyberX

How to Sign Up: The Bish1UP Series
To sign up for this tournament (the first of the 5 primaries for the finals will be held today at 9pm UTC) click the link here. Please comment your lichess username below for prize distribution purposes. This series will be held EVERY WEEK on Sunday and live streamed for your viewing pleasure (where able). Wanna participate but can't? Don't like the timing? Would you like a different format than 3+2? let me know in the comments and get a slice of PIZZA. In fact, any comment relating to PIZZA, 1UP, or Chess will get a slice. Have fun and stay tuned for further announcements, don't forget to check twitch, hive.pizza discord, or 1UP Discord for live streams and chatter for this event. The next tournament will be held next week on Sunday 13 at 9UTC (unless you guys decide upon a better time on Sunday below). Cheers!
THE PASSWORD FOR ENTERING THIS FREE ENTRY TOURNAMENT ON LICHESS IS: Bish1UP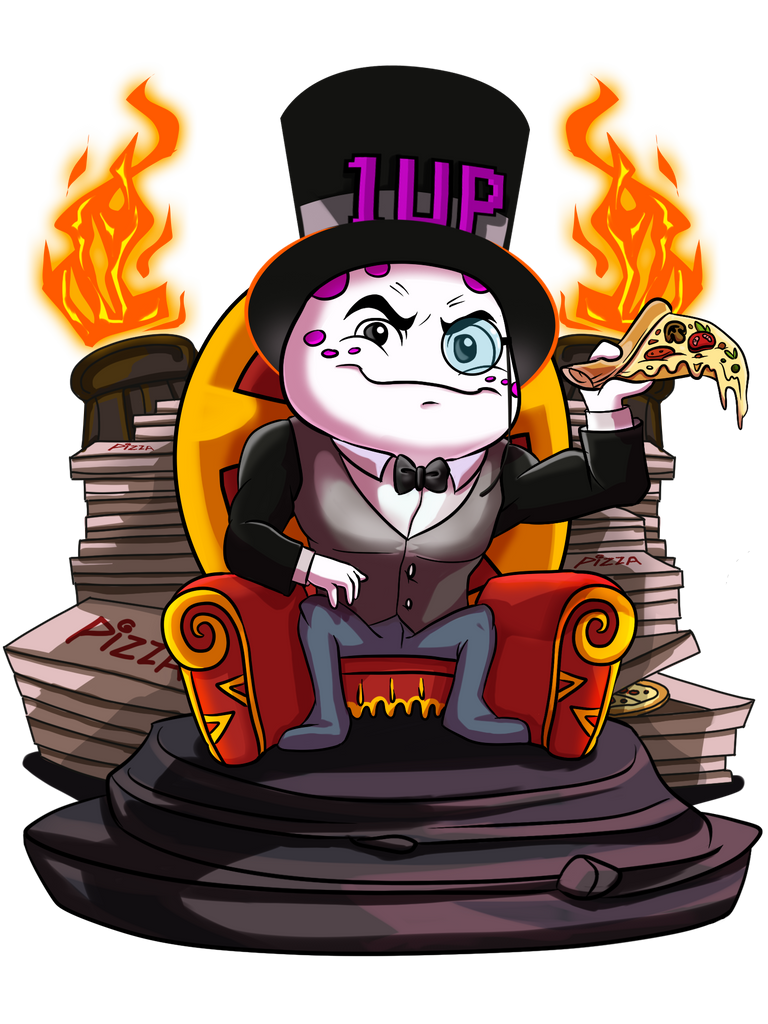 ---
---