All That Glitters: MIllion Dollar+ $$$ Lineup Defeated. One of the THREE Golden Archmage Arius Against Much More Common Cards!

The Rarest of the Rare: Golden Archmage Arius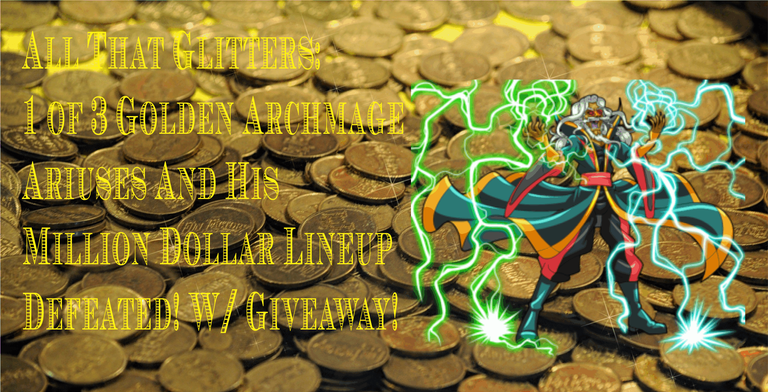 If you aren't currently playing #Splinterlands click here to sign up and #Play2Earn now and get a FREE card!
Greetings Splinterlanders, this week I had the stroke of luck to encounter @goldmatters and his legendary deck from alpha testing times (check out his Splinterlands story from humble beginnings here and toss him a like or tip while you're at it). In other encounters I have not been able to withstand his golden fury, but this time (with significantly less lustrous cards) I was able to seize victory from the jaws of defeat. This is an encounter with one of the three, that's right THREE, Golden Archmage Arius cards in existence. To top it all off @goldmatters also boasts a powerful set of incredibly rare golden alpha cards. He is an alpha player and a considerably difficult opponent to defeat who has been playing since the start, and in turn has gold foil alpha cards valued in the 100s of thousands at this current time. Don't forget to check out @goldmatters here on peakd and support him too, he's been playing for a long time.
Strategy and Positioning
In the battle located here there are numerous melee creatures in the backline on either side due to the "Melee Mayhem" ruleset that allows melee creatures to attack from any position. Additionally, there is the earthquake ruleset inflicting 2 physical damage to each unit without flying at the end of every turn.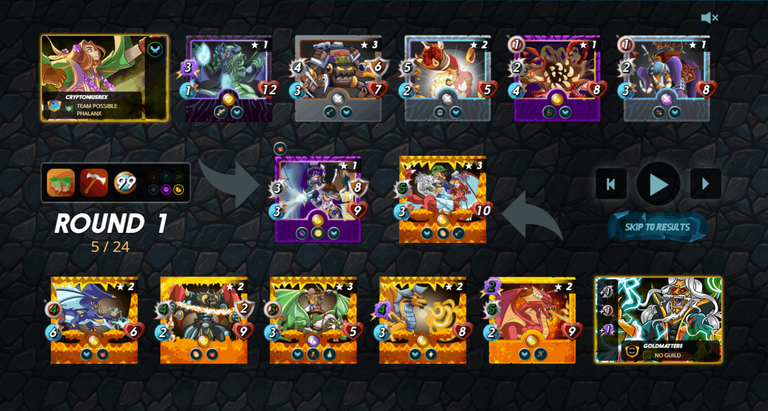 To combat this ruleset I use Brighton Bloom granting flying to my units that normally cannot fly, thus avoiding 2 damage to my units every turn. Meanwhile the enemy uses flying dragons, EXCEPT for Lord of Darkness. The enemies collection sported many legendary dragons and formidable damage even though it didn't maximize the utility of the ruleset (The enemy has ranged units that if brought forward cannot attack), but by not playing to the ruleset this also throws off predictions of anticipated damage type or cards played.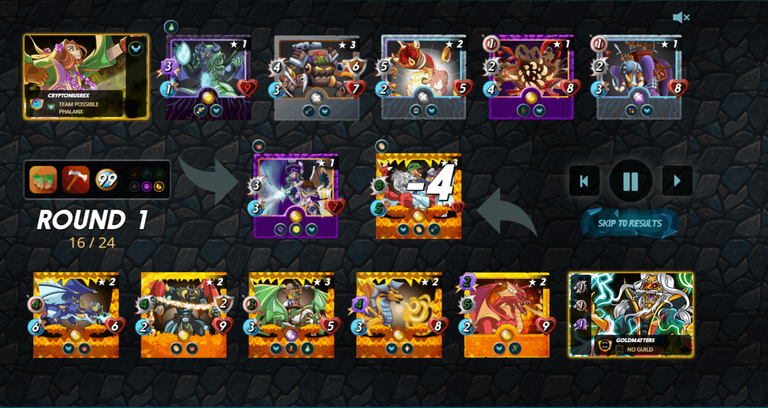 The position 1 and 2 tanks for the enemy lineup are formidable but due to my excessive burst damage and robo dragon knight being equipped with void to reduce enemy magic damage, robo dragon knight outlasts the enemy Chromatic Dragon. This matter of a few hits that robo-knight absorbs in this period in which the enemy is down one tank plays a vital role. The fact that Lord of Darkness is suffering 2 damage every turn, while none of my units do, also played a key piece in the eventual outcome.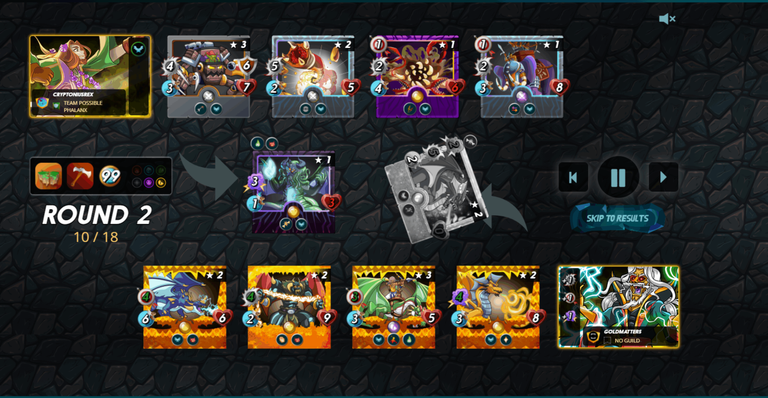 The enemy royal dragon archer sniped my backline and added poison (a deadly tactic), and had numerous high health tanks in front of it. Despite these factors the Vigilator in my lineup dealt a ridiculous amount of damage to the frontline. So much so that the royal dragon archer was brought up by round 3. It should be noted that War Chaang and Goblin Mech also dealt considerable damage in this ruleset, and without the combination of all 3 of them there would not have been enough front line burst. Cthulu in fact acted as a position 2 tank for Royal Dragon Archer's snipe damage, allowing the Viligator and War Chaang to survive. Each lineup was placed by order of survivability, mine however survived a bit better.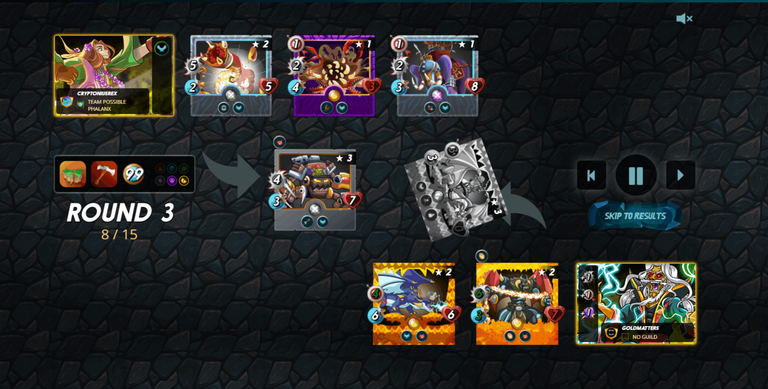 The enemy ends up being mauled by excessive backline damage in position 5 and 6, despite the enemy having TWO stuns on their team that seem to proc on nearly every hit this match. The enemy lineup was beyond deadly and could've easily beat mine with a miss or two difference from either side, an enjoyable match to watch where it's hard to tell which team will bring about victory until the bitter end. Excellent strategy from my opponent, and a fight worthy of mention. Archmage Arius gives plus 1 to ALL attack types, needless to say this is quite powerful in any situation.
Talking Tidbits and Giveaway
The cards I played against are very scarce, particularly the enemy summoner. In this case my opponent used them well, and even despite that lost to more modern meta cards and a lot of luck. What does this mean? If anything this just means that those gold foil alpha and promo cards are scarce and strategically significant in the right hands, but not unbeatable (not even close). NO CARDS ARE UNBEATABLE, regardless of set, scarcity, value etc. there are always paths to victory. To enter this giveaway you merely have to like AND comment on this post and one of you will be chosen at random to be delegated a gf orc sergeant for 15 days. Don't forget to hit that follow button for other Splinterlands related content: like tournaments, art, lore, battle guides, giveaways, and more!
Keep Summoning and See You in the #Splinterlands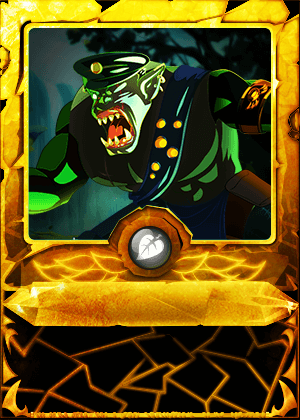 ---
---