Android Assassin: Art Submission Doodle w Lore and Massive Giveaways

Arak vs The Android Assassin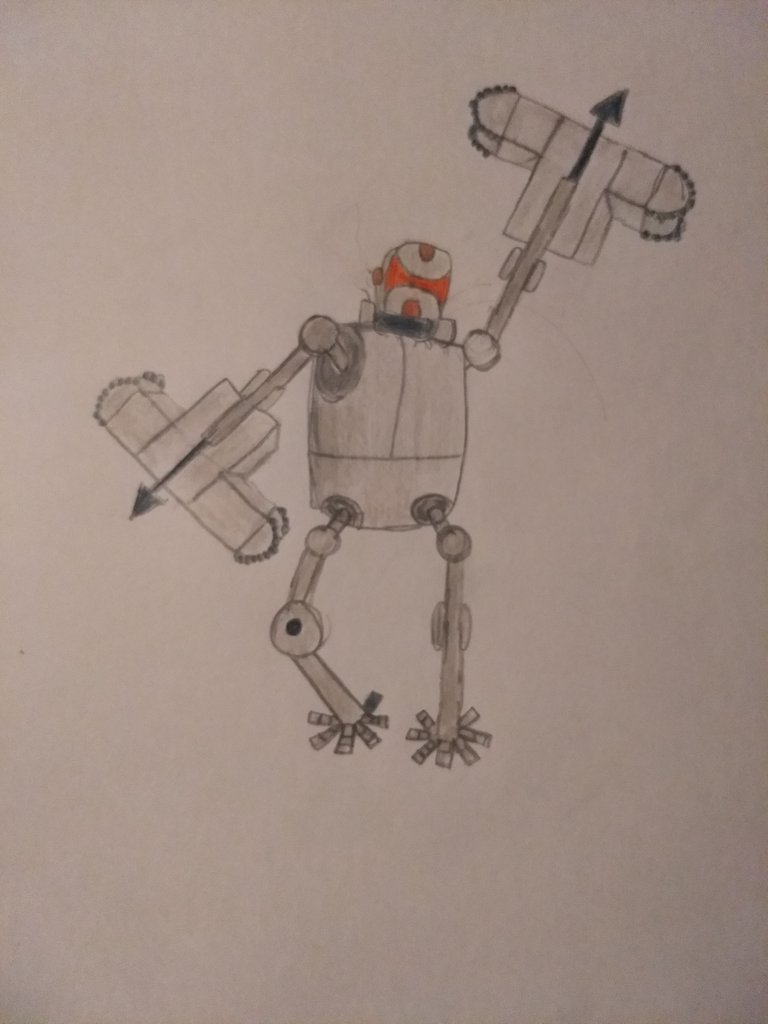 If you aren't playing splinterlands click here to sign up
I drew this with pencil and colored pencils too. It's a bit of a quick doodle (not the greatest thing in the world), but was intended to be a fun little doodle for this continued lore story. And without further or do, the lore part.
The crowd roared as Janus' sword crashed against Arak's battered shield.
Janus' mutilated jaw let out a sadistic laugh as his malicious presence amplified.
"Just as weak as I remembered" Janus said as he delivered many blows in quick sucsession from various angles. The only thing Arak could do was defend and stare into the decomposing face of his former mentor and friend, and that's when Arak noticed it. Janus' stance was off. Nothing like the balance and weight that Janus taught him, almost as if it was his intention. Arak's observation was cut short when Janus charged and clashed his blade against Araks quadrent and drew his face in close to Arak. Arak could smell the fetid rotting odor wafting from his opponent who was inches away.
"Listen to me Arak, I don't have much time. I lost to their champion and now they use dark magic to force me to continue to fight. End this, you must escape. I'm not going to lose any more of my family." Janus whispered in a hushed tone. "You're the only one who can defeat their champion kiddo. Release me, I want to see my wife agai-" Then Janus involuntarily and jerkily turned around and walked to the center of the arena to boast to the crowd. He raised his arms above his head and the crowd roared, and when he cupped his hand to his ear it only augmented the hysteria. Arak was frozen. The Janus that Arak knew, the closest thing to family Arak ever had, was still in there somewhere. Arak was shaking, not from fear, but from anger. Arak silently lunged forward as Janus continued to rile up the crowd, Janus turned back around just in time to see Arak's quadrent pierce his abdomen. Despite this Janus still swung his blade at Araks head, but Arak evaded and drove the quadrent deeper and used his weight to keep pushing them both towards the edge of the arena.
Janus let out a maniacal laugh. "You call that a thrust? I've seen goblins stronger than you" he said as another blade swing narrowly passed above Arak's head. Suddenly with a audible thunk Arak's quadrent dug itself into the exterior wall of the arena. Arak then let go of his spear and quickly slithered backwards. Janus was impaled to the arena, flailing his arms in wild arcing strikes. Arak then drew closer with his shield raised.
"What are you going to do with that?" asked Janus as he continued to cackle. Arak continued to advance forward, slowly but steadily. "Bore the crowd to death? I'll break that shield like those before you, and those who will come after" he said as his rotting face attempted a grin.
"You'll never make it ou--" Before Janus could finish Arak launched the shield with full force and the dexter of the shield embedded itself in the undead gladiator's neck all but severing it. Janus dropped his sword and frantically clawed at the shield to no avail. The crowd began to chant "Kill.. Kill.. Kill.." as Arak advanced to Janus. Arak picked up Janus' discarded blade and raised it above his head.
"Goodbye old friend" Arak whispered under the crowd's deafening chanting.
"Survive kiddo. Live for the both of us" Janus raspily gasped. Tears started pouring down Arak's face under his helmet, his hand trembled above his head. "DO IT!" The blade fell and Janus' head fell to the floor of the Arena with a disgusting, wet thud. The crowd was silent for but a moment, and then a wave of uproarious cheers filled the arena.
"Wasn't that something folks? A bit quick for my liking" the ornately armored skeletal announcer bellowed to the crowd. "In fact that was such a quick match, what do you folks say? Should we start the next round?" upon hearing this the crowd exploded in enthusiastic agreement. "Well you heard em" the announcer said referring to no one in particular "Next up, we have the mechanized murderer. The mysterious assassin that fell from the sky. It's a mean MEAN killing machine. Put your hands together for our very Androooooiiiiiiiiiiiiiiiiiiiiiddd Asssssassssssssiiiiiiiiiin!!!"
Arak grabbed his shield, and unable to remove his quadrent instead clutched Janus' blade tightly. Arak could see his enemy emerge from the arena entrance. The stark grey robot appeared to have some sort of crossbow apparatus for each arm and a large red panel where it's eyes should be. It's torso rotated as it scanned the area. It was humanoid but it's torso arms and legs swiveled and moved in every direction as if each limb was independent.
"I'll survive Janus. And I'll end this." Arak adopted a defensive stance as the Assassin stopped and stood perfectly still with it's sensors pointed directly towards Arak. His fight had only just begun.
A Mountain of Giveaways: Giveaway Catchup
I have been behind on the giveaway delegations (and posting in general) due to assorted personal business, so here is a mountain of stacked of giveaways from my last round of posts. @blueleader03 @frinzfriez @deathfool @dwaldz @dedman19 @jaopalas @eiji90 @joshnaire @kingmurloc @chuckrick @olaf.gui @tlsovotl All of you have card delegation from last weeks posts here, here, and here. I also have a mountain of story, lore, and art posts inbound for those of you wondering what is going to happen to Arak and Argonm, and more. I know I've been tardy (particularly with art and lore), but expect plenty more good stuff later this week.
Android Assassin: Giveaway
To enter this giveaway you merely have to like AND comment on this post and 1 lucky commenter will get delegation of a rusty android for 15 days. And don't forget to impale that follow button for more cool content.
Keep Summoning and See You in the #Splinterlands
---
---