Chanseus the Great, Pizza Party Crasher: A Familiar Face, Battle Guide, and FREE Pizza with Guide to Cheesy Goodness

Chanseus the Great: Crashing the Pizza Party
Hello and welcome hiveans as some of you no doubt know PIZZA is a token on the hive engine. It can be purchased directly with hive or other currencies on hive engine here, but why mention this now cryptonius? What does this have to do with me a Splinterlands player? Well firstly the PIZZA community runs great things on hive AND have numerous powerful guilds in Splinterlands. One of those guilds being Pizza 1: The Stuffed Crust lead by @kennysgaminglife (who by coincidence follows me here on hive too, why aren't you? ). Another cool dude who is always contributing to Splinterlands, if you are interested in additional content definitely check out his page here. I doubt you'll regret it. You may even have so few regrets you might follow his content. Anywho, by pure dumb luck I happened to duel this gentleman in ranked. And by another stroke of luck I happened to win. So today I'm going discuss the tactics used in the battle and afterwards I'm also going to talk about the pizza token team, the great things they are doing, and how one goes about getting some pizza.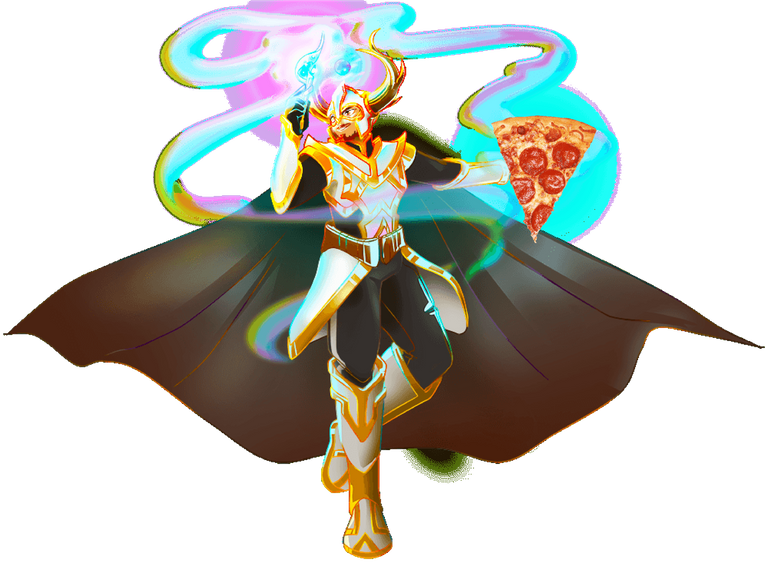 Chanseus The Great: Armored Wizard
In the battle located here I chose the Chanseus summoner due to his synergy with armored characters. My opponent chose Cryptmancer, an excellent choice for the death splinter against almost any lineup. The ruleset was weak magic and no neutrals. Naturally Chanseus lends himself particularly well to this ruleset, whereas Cryptmancer is better in most situations. As you can see Kralus and hero from beyond both benefit from Chaseus' armor regeneration. That plus the fact that you can't leech life from armor lead Vampire remaining close to his original hp. However even with this advantage, Ancient lich was able to breach his armored defense.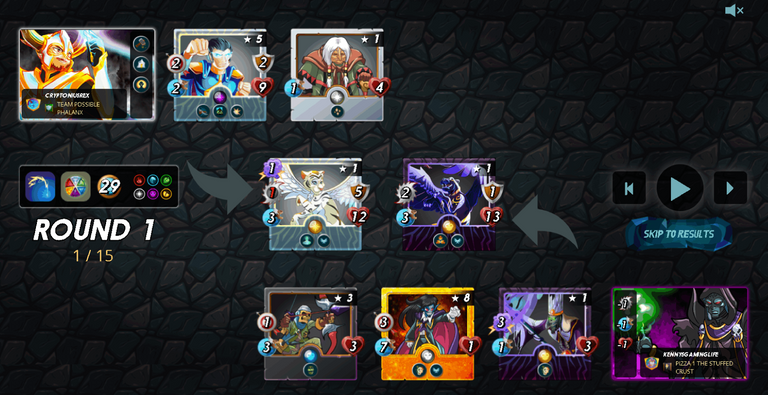 After exchanging numerous blows Kralus falls, but Chanseus has an ace in the hole. Resurrection.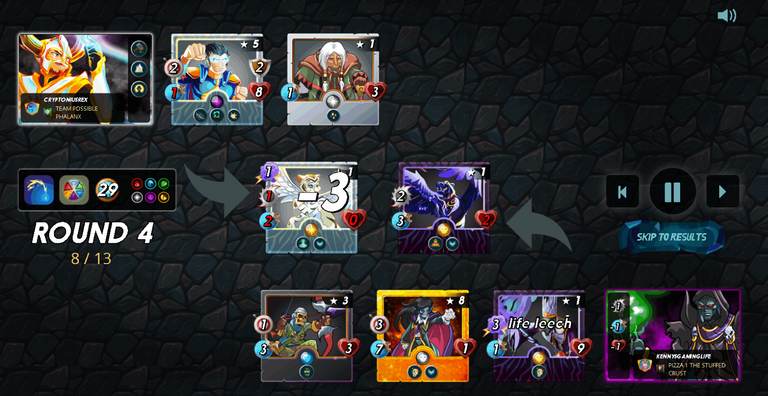 Chanseus revives Kralus with his original armor value and Hero from beyond finishes off the enemy Dark Ha' On bringing the ancient lich to the front line with a hefty 11 health.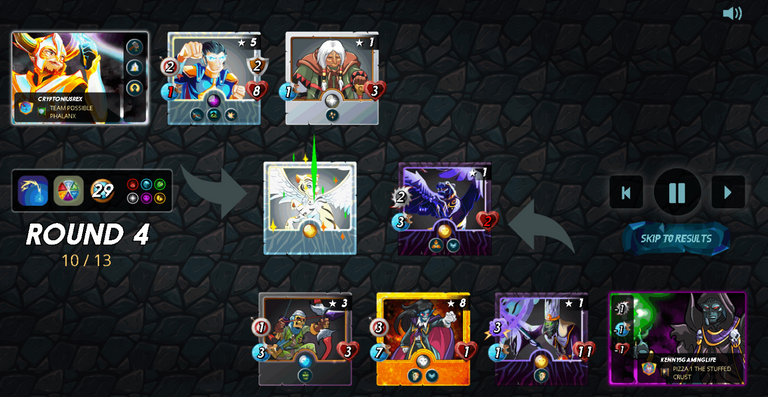 Despite the massive health advantage Kralus is able to survive and his armor buys him time for Divine Healer to mend his wounds. Leading to an exchange of blows that ends in the death of Ancient lich in round 8.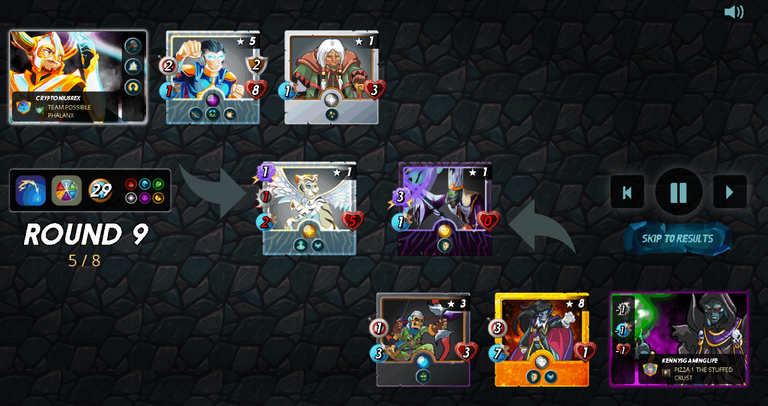 This occurred because Ancient Lich's life sap only regenerated 2 health per turn compared to the 4 incoming damage from my lineup. After the death of ancient lich, vampire moves to position 1 and skeletal archer is unable to compete with both armor and health regeneration. Leading to an entertaining to watch victory. If my tank didn't have immunity affliction would've ended this battle very quickly. @kennysgaminglife had an excellent lineup that would've been very deadly against the majority of lineups with tank heal, while simultaneously not being hindered by affliction himself due to lifesap adding max hp and not actually "healing". Since affliction is a useful ability at higher ranks to stop numerous tanks and healers, immunity or cleanse can completely change the outcome.
Battle Summary and Talking Tid Bits
Despite Chanseus winning this battle, I rarely see him as many users prefer the armor given across the board by Peakrider or Tyrius. However if your units are furnished with armor or given armor due to a ruleset or ability. Chanseus offers a unique set of abilities being the only summoner with Triage. I must admit strategically he is usually unexpected because of his overall lack of play, resurrection is an ability that can be a game changer also. Some of you have already laughed maniacally as your team dominates the opponent due to an accidentally revived chicken, or cursed yourself as a unit with heavy armor comes back from death's door like in this battle.
Lorewise, Chanseus comes from an island in the sky floating above the other splinters called Solaki and descended after his best friend was murdered for stealing bread. Renouncing his destiny in Solaki nobility, he steals powerful artifacts and descends to the Splinterlands to find a way to liberate the lower class of Solaki society (the "deathlies"). Having arrived on a comet his true origin is unknown, perhaps he and Hero from Beyond share greater similarities than we think. Perhaps the resurrection ability is a bit of a spoiler for when he eventually finds a way to revive Yuki (his friend), only time will tell.
Pizza: A Rundown of Hive's Delicious Engaging Token
You may be wondering "How do I get PIZZA?" Well to buy pizza you first need to go to hive.pizza here. Then after that you can purchase the token via Hive engine, Leo Finance, or even Tribaldex.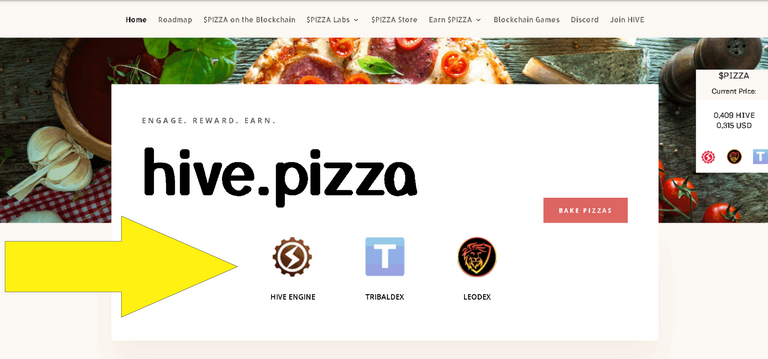 Now you might be wondering "But what can I do with this PIZZA?" Well, surprisingly enough there are quite a few things you can do with it. Well one of the things you can do if you have over 25 staked pizza is to send some FREE pizza to your favorite authors here on hive with the !PIZZA command cough. To see the other currently available token applications check out their store here, their extension in the app store is named Hive dApp Menu here. Eventually offering gaming services and even servers via this delicious token. And no I'm not cheesing you. Originally created by @thebeardflex , this token is very fun-ctional and if you want information on this token's progress or just other gamer posts definitely check him out too.
Pizza and Splinterlands: Hot Slices at Hot Prices

To use this pizza to get DEC and cards in Splinterlands you simply have to sell your token on one of the three aforementioned markets to a currency usable in Splinterlands, my preference is hive engine. Which looks similar to this, and once you deposit your currency of choice you can sell pizza or buy pizza.

And now without further or do, the part you have all been waiting for FREE PIZZA!
Free Pizza: Tell me your Splinterjokes
I know I said this pizza was free, but like a dastardly ne'er do well I have ulterior conditions. Now that you are here entangled in my web of deceit let me tell you the condition for this FREE PIZZA : Tell me a Splinterlands joke in the comments. Each day the best jokes will get a slice of pizza. Take it cheesy everyone, show me your inner jester. Have a couple of yuks and a few lucky comments will be chosen and sent a slice of pizza by me. Each joke can earn a slice of pizza. Splintermemes are obviously also accepted, however if you are not the original creator of said meme at least drop their handle so they can comment and get in on the pizza party. Needless to say, anything obviously plagiarized will not be considered if the original author on hive is not tagged. I will use my daily allocation of pizza slices each day until the payout of this post. It's time to get in front of that brick wall and adjust that microphone, you're on! Don't forget to follow for more neat stuff and to check out the rest of this post for useful info.
Keep Summoning and See You in the #Splinterlands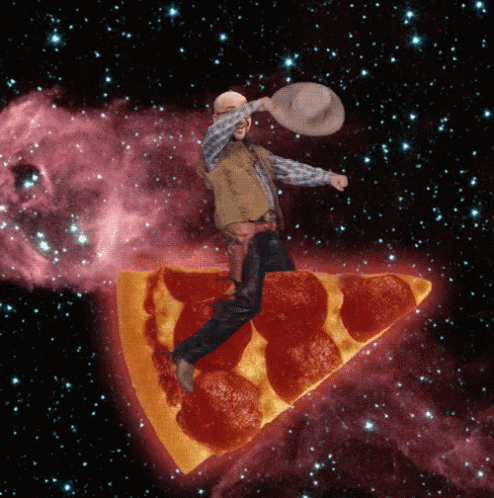 ---
---