What Happened to Customer Service?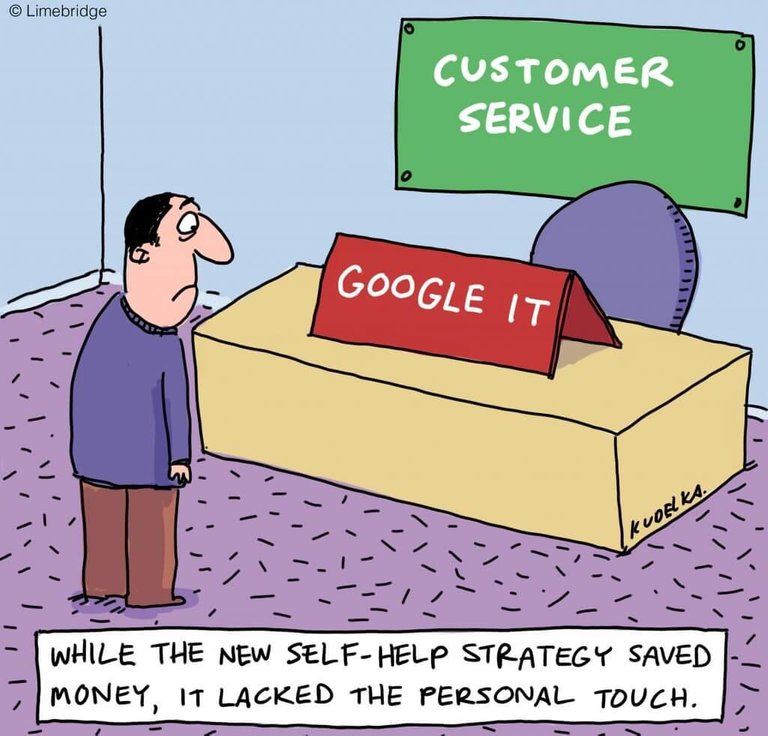 I originally posted this on read.cash, but Ecency users tend to be more tech-savvy!
. Have a read. Any suggestions on how to solve my problem, let me know.
Whatever happened to customer service. It used to be the best way to show the customer that they were essential to the company. Maybe, I'm too old, and I grew up smoking on airlines (truth- not a conspiracy theory).
What was it like? There was a non-smoking section where the smoke was told not to go! However, the only curtain was the first class barrier, and there was no barrier between the smoking and non-smoking section.
The economy class had metal knives and forks. The customers were always right. If you were confused, there was an answer from someone in authority.
Based on the above example, I hope that you can understand my disappointment in the current trend of lessing customer support too, "Just ask social media."
Recently, I have had some trouble with Brave and Metafox. I set up some funds on Pancakeswap using a Brave browser and Metafox. When I went back to check on it, the wallet couldn't connect. I checked Pancakeswap. When I checked their customer support, it said, "Sorry, no customer support."
https://docs.pancakeswap.finance/contact-us/customer-support#there-is-no-customer-support-for-pancakeswap
Not Kidding.
I blamed this on Brave because I have many issues with sites not working on that browser (both mobile and desktop). When I looked into Brave's customer support, I went to the help site, signed in, and posted a thread. No reply.
I checked online and found some advice:
"Turn the BNB wallet to Etherium and back."
"Close down everything, and restart."
I tried to contact Metamask. I found myself in a loop of pages titled "How to contact Metafox" but no solution to contact them.
This really got me thinking about how recently companies have been able to get away with a lot of poor customer service. Is this going to continue?
One technique that really gets me is the "Click I have read customer agreement."
Today when you sign up for a service, you have a choice of reading all the fine print- which has fine print within the fine print, and you need to go to several pages to understand everything or simply click "I have read the agreement." It's nearly impossible to read- if you happen to read it- you probably don't understand it, and they can change it. When they change the policy, they give you another policy to read.
Now I can understand companies' underlining problem of people not reading the FAQ. I'm sure that they get flooded with a lot of the same questions that it answered in the FAQ. But for people that go through the FAQ and find no similar problem, this is frustrating.
So, I'm still researching how to get into my funds on Pancakeswap. I will probably just use another browser. I still think that it's Brave's problem. I would prefer to stay with Brave because I have everything set up on it.
If you have any solutions for me, please feel free to reply. If you or someone you know that works for Metamask, Brave, Pancakesap, or even Air Canada (also terrible customer service), ask them if they are willing to help a customer.
---
---