MAXIMIZING AND UTILIZING RENTALS FOR POWER IN PEAKMONSTERS (For Beginners)
If you are renting cards for power in Splinterlands, then Peakmonsters is the best and easiest way to rent those cards.
WARNING! THIS METHOD MAY TAKE TIME AND PATIENCE. FIGURES FOR EXAMPLE PURPOSES ONLY!
SCENARIO
Starting with the new update that you won't receive any DEC in loot chests when you are below Silver and you'd want to stay in the Silver league for a long period. Let's say you'd want your rentals to be 7 days long and the minimum power requirement in the Silver League is 15000 Power. Let's say you'd want your budget to be 168 DEC or 0.8 DEC per 500 Power per card.
CP/DEC/DAY
In this scenario, you'd just want to look and sort the list at the CP(collection power) per DEC/day which is the automatic setting. You'd want to filter it Gold, Legendary, or Alpha and Promo cards because they are high collection power cards which will save you time to rent a lot of cards.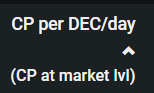 After filtering it, look at its CP.

The CP in grey is the collection power it gives while the white CP is its equivalent CP per DEC/day and this is the value you'd want to focus on. Going back to the scenario, you'd want 0.8 DEC per 500 power card, divide 500 with 0.8 and you'll get 625 CP. Any number above 625 CP is inside your budget for 7 days as long as the greyed-out CP is below 15000 power and until you reach 15000 power.

To support, the image above sells the cards for 4 DEC per day and it is above 625 CP which is within our budget. Let's say there are 5 other cards with the same price and CP as the one in our image then you get.
4 DEC/card/day x 5 cards x 7 days = 140 DEC
It is even below our allocated budget of 168 DEC.
IN SIMPLE TERMS
Get the CP/DEC/Day basing on your allocated budget.
Filter out the cards with big CP (Gold/Legendary).
Compare CP/DEC/Day
Anything above your CP/Dec/Day and less than or equal to your CP is within your budget.
And there you go, you can now mass rent.
NOTE: This worked for me as I rented out cards for 14 days with 168 DEC in the silver league. (Not including those cancelled rentals). Whichever card was rented didn't matter to me as I could get to Gold rating with a cheap rent line up for 1 day.
Comments and Suggestions are welcomed below. Follows and upvotes are really appreciated. I'm a beginner too <3.
---
---