Low Budget Players and the Chaos Legion Card Airdrops
Hello everyone, I decide to write my first post here as the general sale of Chaos Legion packs is on.
---
And the reason for it I believe to be a noble one. As you all may be aware of at this point, not only buying packs may be an interesting way to increase your collection and CP Power at a decent cost but also it may give players the chance of winning extra airdropped cards - which (aside from usually being very good and strong cards) tend, according to examples from the recent past, to grow greatly in value as time goes by.
The thing is, the bigger the number of packs acquired the bigger the chances for an Airdrop card. Only after the character is unlocked it may be afterwards obtained via packs purchasing - with Doctor Blight being the exception.
As many others I myself am a low budget player, which means not being able at the moment to purchase large amounts of packs and consequently to increase the chances for an Airdrop card. More precisely, having acquired so far 15 packs only, the odds in my case for an Airdrop character are 4,2855% chance for a Standard card and little 0,17145% chance for a Gold Foil card.
As the odds tell, one, as a low budget player, should not rely on this possibility. But the thing is:
Fortune may be on your side!
And so it happened with me!
I was lucky enough to get a standard Iza the Fanged having bought only 15 packs! Although not the best from the unlocked cards so far, still a very nice one!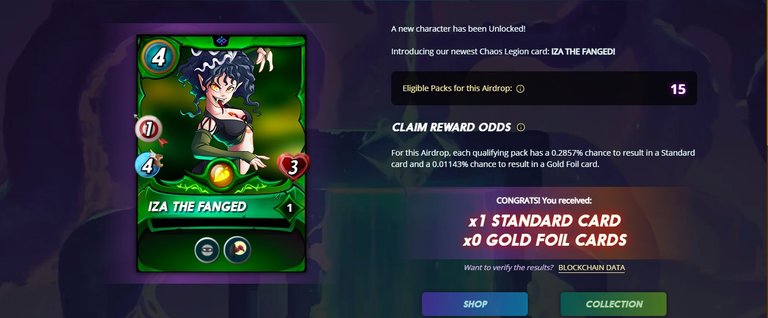 So, the reason I decided to write this post is simple:
Since it was possible for me it may be possible for you too!
If you relate to this or know a friend or someone who's been recently in need for a message of enthusiasm concerning the game, share it! Spread the message! It is possible!
In case you're new to Splinterlands, here's my invitation so you can be a part of it!
Good luck to you all!
---
---