Wait, the remnant of your apple changed colour to rusty brown; Ever cared to know why?
Have you ever cut an apple and left it on the kitchen counter for a few minutes, only to come back and find it has turned brown? In fact, a bite from it and if left for sometime, it will in no time change colour. I am moved to do some findings about this phenomenon and interestingly, science has a better and beautiful explanation to give us. Let's see how brief this discussion will go. Join me as we explore apples.
It is no strange news nor perhaps a new thing that, apple is a simple fruit loved by many. In fact, because of its name starting with the very first letter of the alphabet, it is easily the common word in children's mouth. Which teacher doesn't begin teaching with 'a' is for 'apple'? I guess possibly none.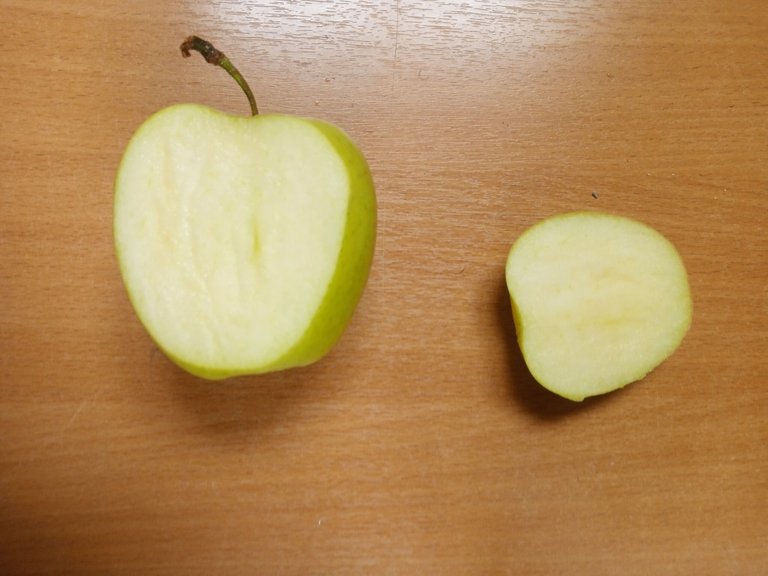 [Apple cut open]
Beyond its sweetness which is of course as a result of high concentration of a type of sugar known as Fructose as well other type of compounds such as polyphenols (implicated to play a role in the colour change). The crunchy nature of these fruit is one part that also makes it stand out.
Though it also contains sugars like glucose and sucrose, but on analysis, fructose takes the lead. Just like in natural honey, you also find fructose being highest concentration than the class of sugars. It is the high concentration of these sugar that confers the sweet taste to these natural products.
I think it's important we understand this, higher concentration of fructose in the body, can be more devastating when compared with high concentration of glucose. Both are sugars quite alright, but if my memory does not fail me, they do not completely follow the same metabolic pathway in the body.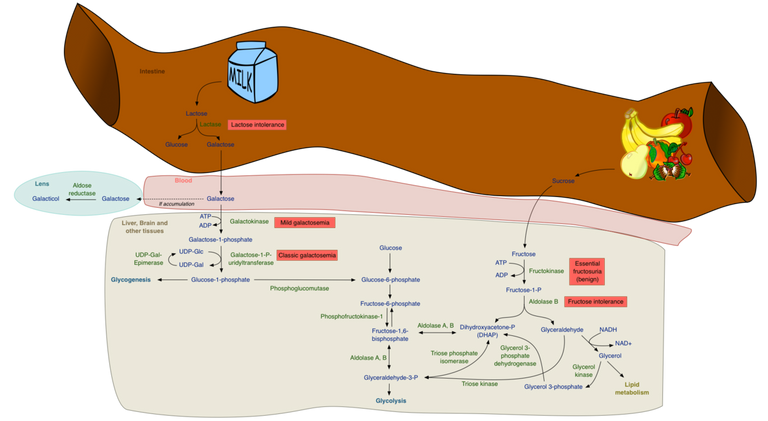 Fructose, Glucose and galactose metabolism
If you recall in one of previous discussion, where I talked about glucose being a major source of quick energy for cell use and its metabolism occurring in the cytoplasm and further degraded to yield ATP (the energy currency of all cells).
When it comes to the breakdown of fructose, the case is different because it occurs mainly in the liver. The primary reason why fructose cannot be broken down in the cytoplasm or cytosol is because, it requires the enzyme called fructokinase.
The secret here is this, the enzyme phosphorylates the fructose, that is, it adds one molecule of phosphate to the fructose thereby activating it for use. If fructose is not phosphorylated, then it cannot be committed for use and that is why this was reaction reaction is an irreversible one.
Just a tip, Whenever you see an enzyme that ends with kinase, just know that they are those ones that carryout phosphorylation reaction (addition of phosphate to another molecule). In the presence of fructokinase, fructose is converted to fructose-1-phosphate. Fructose-1-phosphate can in this form, be further converted into glyceraldehyde dihydroxyacetone phosphate. The long and short of the reaction yields fatty acids.
Since this enzyme fructokinase is mostly abundant in the liver, it obviously makes a lot of sense, as to why the liver is the primary organ for the degradation of fructose. Now imagine consuming a huge chunk of fructose, and in this case apple, this can simply overwhelm the catalytic ability of the liver to degrade this sugar.
Secondly, it could cause the liver to produce large amount of fats by using glyceraldehyde to synthesize acylglycerol. If it were glucose, definitely it could follow different pathways but for fructose liver is the primary organ. So in a nutshell excessive consumption of fructose might not mean well for your body.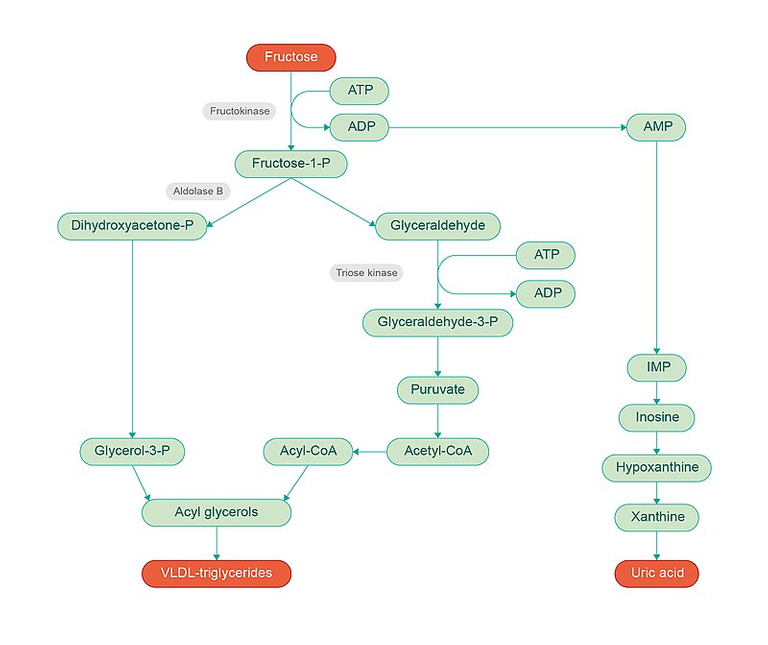 Fructose metabolism in the LIver
When large quantities of fructose reach the liver, the liver uses excess fructose to create fat, a process called lipogenesis. Eventually, people who consume too much fructose can develop nonalcoholic fatty liver disease, a condition in which too much fat is stored in the liver cells
This is just a tip of the iceberg on what goes on when you take things in excess. Like I always preach here, moderation remains the key. An apple a day keeps the door away, so they say, but in excess, you are only calling for trouble. In fact, what if I told you that apples are also acidic in nature, would you be surprised? I don't think you should.
Apples are known to contain a type of acid called malic acid. Though it also contains Vitamin C, but malic happens the be the most abundant. Apples have an average pH of 3.5. Alright before we go deeper in other things, let's sort out the reason behind the colour change in apples once they are cut open or exposed.
Why they change colour
I am at least if not, 80 percent sure that you reading this post must have tasted apple, one way or the other. At first, they maintain their almost white inner colour then, only to change in colour after some minutes. This is what is called browning of apples. It occurs majorly as a result of a chemical reaction that occurs when the apple is cut and exposed to air. This reaction is not usually spontaneous but rather a gradual one that only gets visible overtime.
Anthocyanins are phytochemicals that provide some of the reds and purples found in flowers, wine, and fruit. The anthocyanins benefit the plant by attracting pollinators and benefit humans by acting as antioxidants in our diet. The level of anthocyanins that accumulate in a plant depends on the environmental conditions. For example, light exposure influences anthocyanins to accumulate rapidly in apples prompting a color change.
The different colourations of most plants, is as a result of a type of pigment they produce called anthocyanins. The apple is no different, hence, also contains this pigment. The variation in colour of these pigment is mainly based on the pH. It can takes shades of red, blue, purple, etc. So when next you see that fine beautiful apple with probably a colour of red, the first thing in your mind should be anthocyanin. However, not all apples are greeen. The one with green colour simply has the common type of pigment also common in plants - chlorophyl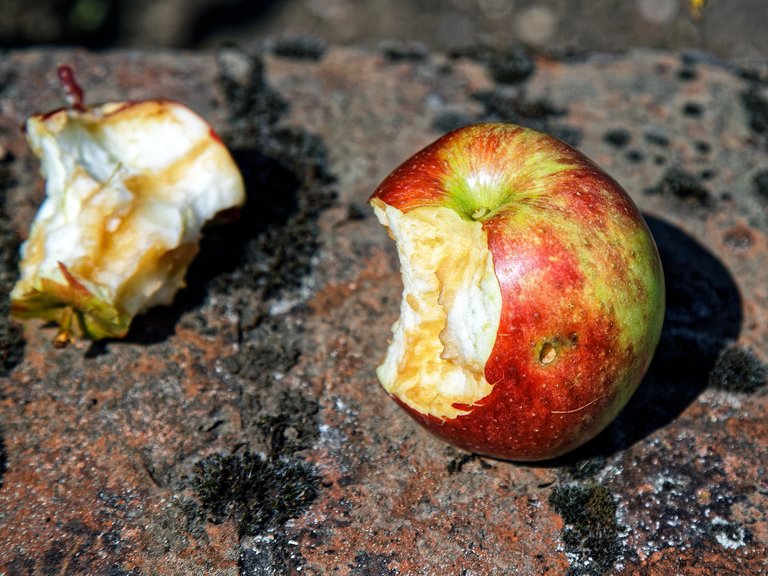 Colour change in apple
The moment you bite an apple or cut it open, the protective skin is broken thereby exposing the cells of the apple to atmospheric oxygen. This allows the enzymes in the apple's cells come in contact with oxygen thereby leading to an oxidation reaction. These enzymes in the apple are called polyphenol oxidase (PPO) and in the presence of atmospheric oxygen, they facilitate the conversion of the polyphenol in the apple to to rusty brownish.
The result of this reaction is the formation of brown pigments also known as melanin, on the surface of the apple. Interestingly, I am learning this for the first time. Melanin in apples, indeed interesting. It has been reported that, the rate of the formation of this brownish pigment (melanin) depends on the concentration of the of the PPO and the polyphenol. The more they are in concentration, the faster the formation of the brown colour.
Is this something to be worried about?
From my findings so far, the oxidation reaction does decrease the concentration of polyphenols and most importantly, the antioxidant contents of the apple. As you know, antioxidants play good role in our body by lowering and at the same time neutralizing acid radicals that cause damage to healthy cells of the body.
If these antioxidants are degraded, then it simply means that we are eating only fibres from the apple. So an advise, when you open up apple, try finishing it. Leaving it open degrades the nutritional content.
I believe you learnt something from here, alright. See you some other time, at least I tried so hard to keep this short enough while capturing most things I wanted to discuss.
References
Excess free fructose, apple juice, high fructose corn syrup and childhood asthma risk – the National Children's Study
The Gut Shields the Liver from Fructose-Induced Damage
Enzymatic browning in apple products and its inhibition treatments: A comprehensive review
Why do apples turn brown so fast?
Why do apple slices turn brown after being cut?
---
---