My EOS rewards on Splinterlands and what i should do with this asset

This is the splinterlands player dadspardan and you all know what time it is.
the end of the seasons brings us all out looking at our chests we have built up over 14/15 days and when i opened mine it was a surprising moment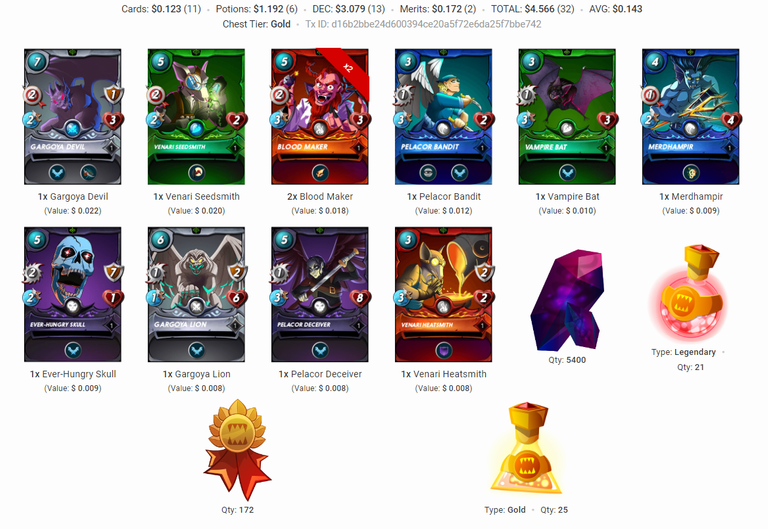 So apart from the Dark energy crystals I didn't get many wows with this and it total value was that of about $4.56 it got me thinking of the value of everything I have in splinterlands and if it is worth it, in the long run, playing to earn.
So I'm going to look at what options i could do with my assets
Now before i start I'm not considering touching my other splinterlands assets
such as SPS, vouchers, and Land
this is purely about the playable NFTS I have in my current deck
Option A
SELL ALL MY NFTS
Now This would be a challenge but collectively all my decks in worth $3.9k
at list price, IF I wanted a quick sale then maybe at 3.6k but this would not be a small amount of money as it reflects my investment in the game for about 18 months now,
The downside of this would be not being able to play this game for DEC and in the future other bonuses as well, and with SPS brawls and ranked matches this could be bad if another pump is on the way then card values could double potentially, SO less likely to follow this option
Option B
Rent out all my NFTS
This is the lesser of the two evils and with the amount I have it could be in the ranges of about 1900-2000 DEC a day if all are rented at one but probably the average a day would be 1000 DEC, this would mean I miss out on the profits of battles and chests and would probably be a better option in terms of any immediate changes as well as I could be back on the game as soon as the rental is done
Option C
Invest further into my decks
With my fund a bit spread this is a bit of a slower and more progressive action, so not an option for me
Option D
Do a split of all this like now
So currently for any decks, I do not use I have rented them out these include my earth/water and death decks as they are only bronze effective at best and with them being rented I can get a potential 800 dec max a day but more likely averages around 350-400 a day and I will be in a good position to take advantage of the brawls and when SPS ranked begins.
This is something I do have to think about but if you have a view on this please feel free to comment down below as I do like other points of view on this
And to all hope you are all richer than you were yesterday :)

---
---