BRAWL FRAY ADJUSTMENTS PROPOSAL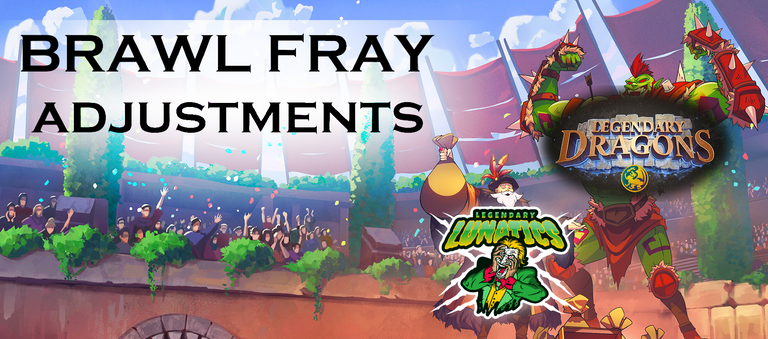 INTRODUCTION
When Brawls V2 were introduced, most guilds were in Tier 1 or Tier 2. As a result, only those two Frays were updated. Now SPS Brawl rewards are here. In the meantime, the old-established guilds are on their way to conquer Tier 3 / Tier 4, however the Fray layout has not yet been adjusted and still dates back to the early days of V2.
A lot has changed since then. The more reason the community is asking for an updated Fray layout.
Some of our very active members of the Legendary Dragons community, the largest German speaking Splinterlands community, got together and came up with a design that we believe will result in a highly competitive atmosphere for new and old players alike.
Edit: We were not able to reach consensus either. Removing alpha only frays and reducing the number of GF frays is not supported by everyone.
Edit 2: @uwelang for instance would love to keep all alpha frays and does not mind the amount of GF Frays as they are right now. @therealwolf does not support this article bc he def. does not want to see any reduction in GF or Alpha Frays. Other members were part of the conversation and support this post. Such as whysoserious @schneegecko @louis88 @jeanpi1908 @simsahas @wrrrri @vasupi. Obviously, not every member of the legendary Dragons community has commented on this article and not every member of the main guild Legendary Dragons has participated in writing this article, nor expressed that they fully agree. However, we decided to post it and start a conversation. 100% consensus will never be reaches, also not within our community.
---
Link to our German speaking community: https://discord.gg/xRcpDZTqUY
Link to our international community: https://discord.gg/b4vwGeagua
---

OBSTACLES FOR NEWER PLAYERS
When Brawls were introduced, it was merely a nice spare time activity for guilds. Times have changed and we are at the brink of giving this game a true e-sports vibe. More and more guilds are focused on competitive Brawls. The current Brawl layout is mostly focused on pleasing OGs rather than engaging newer players.
Most guilds have to overcome the following obstacles
There are more members than Fray spots
Members competing for the same Fray spot
GF Frays can't be filled

BRAWL STATS AND FILL RATE OF FRAYS
@m0r0s analyzed Brawl 116 for Tier 1 and found the following. All GF Frays, as well as A/B Frays have an average fill rate of below 30%. Chaos Legion only Frays are the least popular Frays in the respective league.
My guess is that it is due to the restrictions in card selection. Adding the current mini edition and the associated reward and promo cards is urgently needed. For Tier 2, we can paint a similar picture. The fill rate of the GF Frays is just about 60%. Only the GF bronze Fray was able to reach 72% fill rate.
---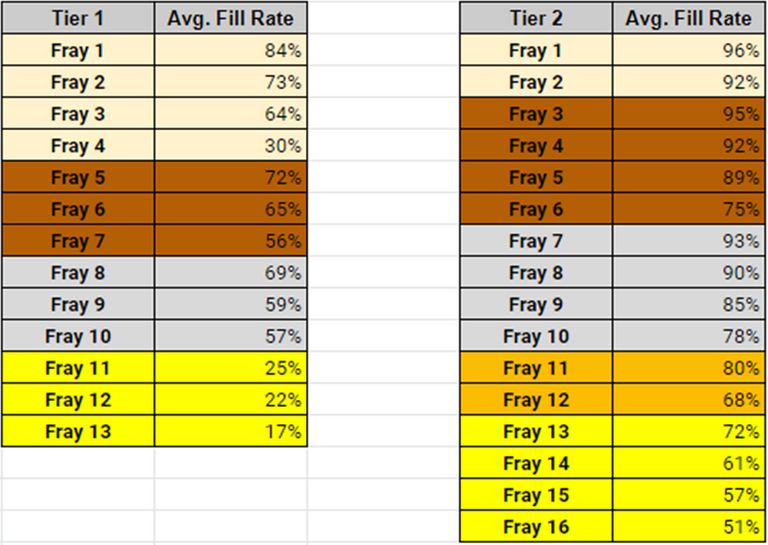 LIST OF FRAY ADJUSTMENTS
We focused primarily on creating a system that could be applied universally to all future game updates. It was most important to us that new players can be involved from the beginning and also be motivated to continue and invest in the game. Being able to truly enjoy brawls was the main objective. At the same time, we wanted to make sure that there is still a use case for older editions.
The Alpha only Frays stood out the most. We get why the Frays were there in the first place, especially because we do have guild members who would happily fill each and every alpha only Fray.
But is it sustainable? Alpha card owners are already being rewarded generously through alpha only tournaments. But, everyone who has already participated in one of those tournament can probably agree that it is not really fun to play. Card selection is so limited that in most cases RNGesus decides who wins. The tournaments are a wonderful way to actively increase ROI of alpha cards. For Brawls, however, we would like the focus on a fun gameplay and strengthening the guild community.
---
We made the following adjustments
Increased the total number of Frays per Tier.
Reduced the total number of GF Frays.
Each tier focuses on a very specific league
More balanced Fray layout per Tier
The current main edition is represented
---
The chart below summarizes the changes and compares them to the previous layout.
The table shows the number of Frays in a given league, regardless of whether it is a GF or RF Fray.
For Tier 1, this means that there has been a total of 13 Frays. Of those 13 Frays, 4 were Novice, 5 were Bronze, 4 were Silver, 0 were Gold, 0 were Diamond.
We increased the number of Frays to 14. Of these 14 Frays, there are now 6 Novice, 5 Bronze, 3 Silver, 0 Gold, 0 Diamond.
---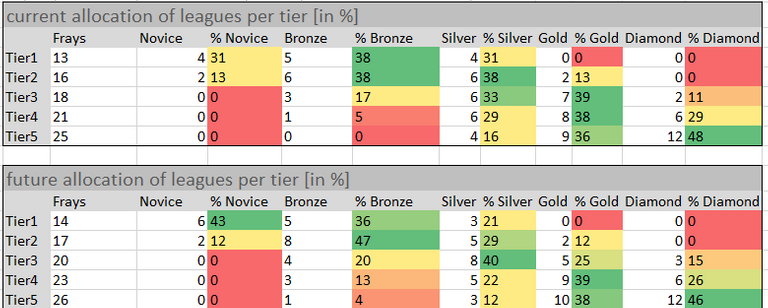 ---

---
Thanks to @schneegecko there is a more pleasant way to look at this. The graphic shows the current and future distribution of Frays across each league.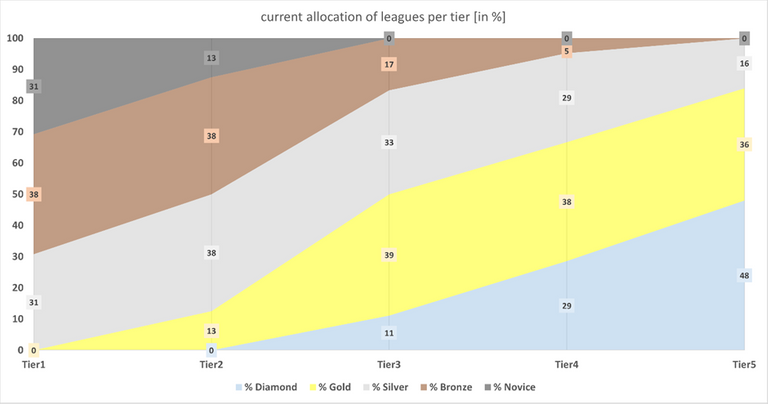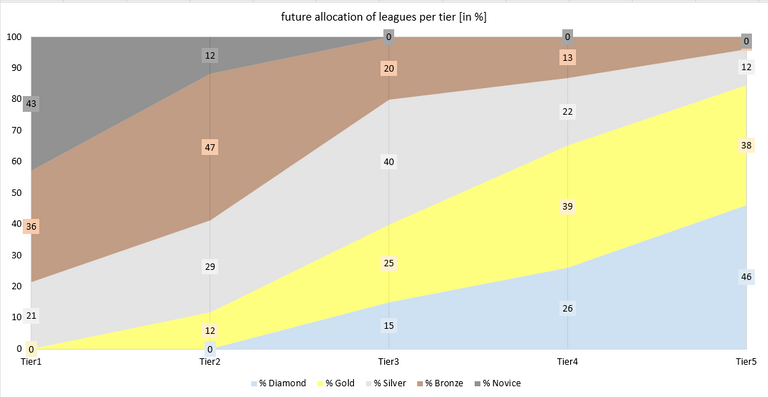 LIST OF FRAYS FOR EACH TIER
Currently there are still technical restriction in regards to promo and reward cards. However, the layout shows how we would like to see it in the future.
---
Link to the spreadsheet:
https://docs.google.com/spreadsheets/d/1KZzyV279ine6aKc6psmLriLShNEnhkdhgRk3qOajBaM/edit?usp=sharing
---
Modern would allow all cards that are currently playable in the modern format. For the time being, however, this would probably have to be limited to one of these two options
Untamed, Dice, Chaos Legion, Riftwachers
Untamed, Dice, Chaos Legion, Riftwachers, all Reward and Promo cards
Both from an economic point of view, as well as enjoyment of actually playing the game, I would personally prefer the second option.
---
The format C/RW/P/R refers to the current main and mini-edition, as well as the associated Promo and Reward cards. For technical reasons, this probably also has to be limited to the following 2 options
Chaos Legion, Riftwachers
Chaos Legion, Riftwachers, all Reward and Promo cards
As before, I would also prefer option 2. As soon as the next main edition comes out, the frays would be adjusted to R/P/R. This is primarily to allow onboarding of new players.
---
Tier 1 should be accessible for everyone. It should provide a competitive atmosphere for new players and new guilds who just started with the game. Each guild member should get the opportunity to participate and to start earning Merits.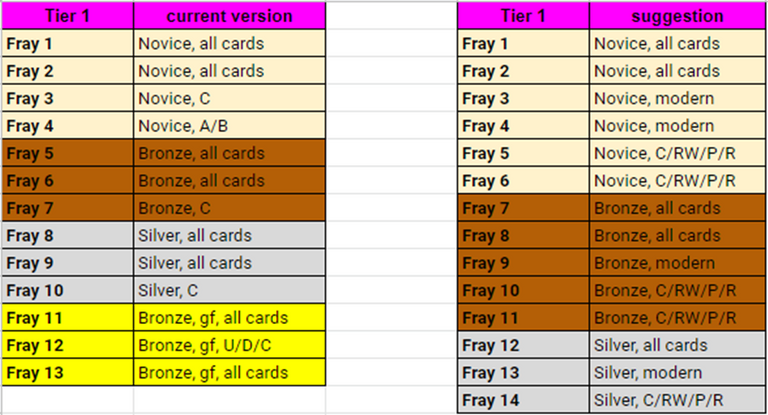 ---
For Tier 2 the focus is on Bronze League plus 1 additional Silver Fray.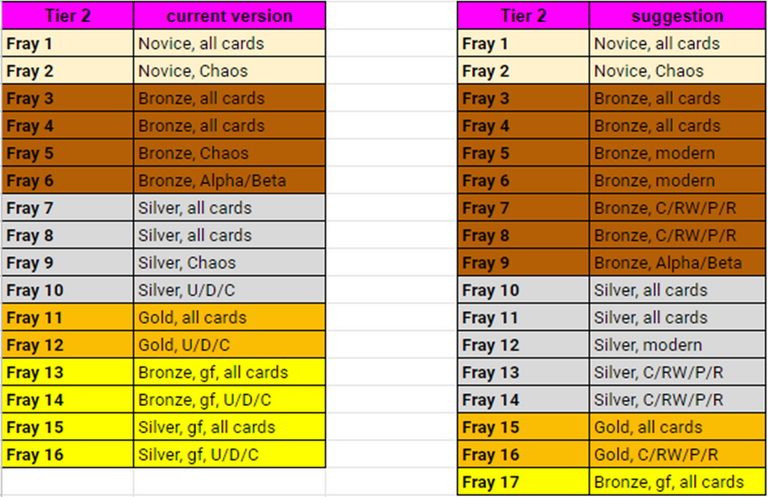 ---
For Tier 3 the focus is on Silver League plus one additional Diamond Fray.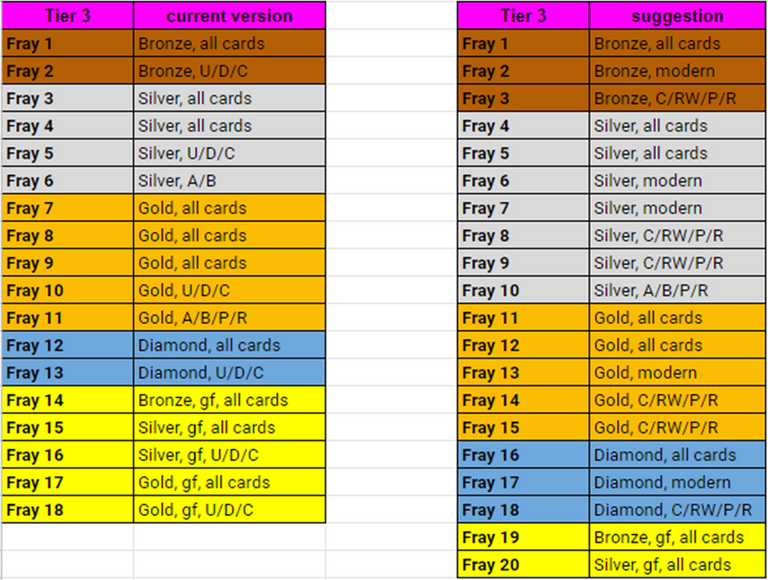 ---
For Tier 4 the focus is on Gold League plus one additional Diamond Fray.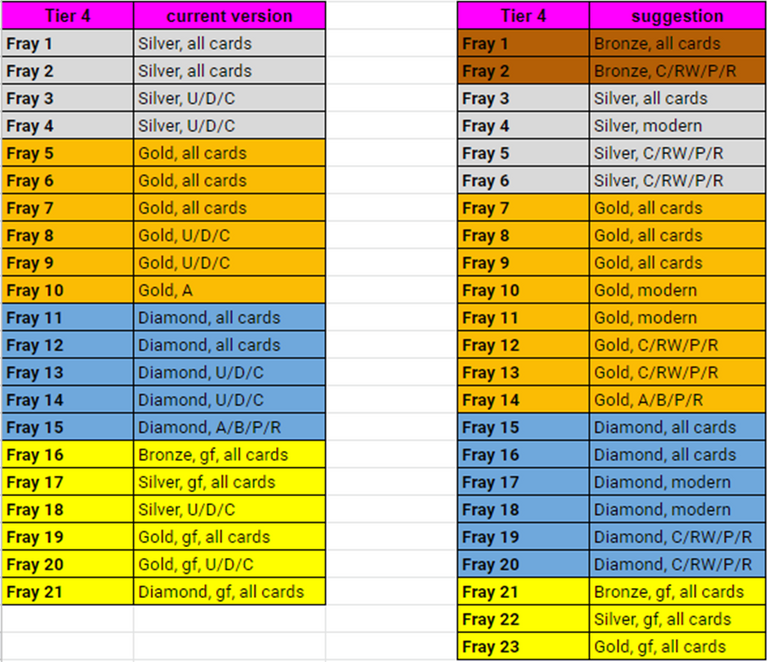 ---
For Tier 5 the focus is on Diamond League plus 3 additional Gold Frays.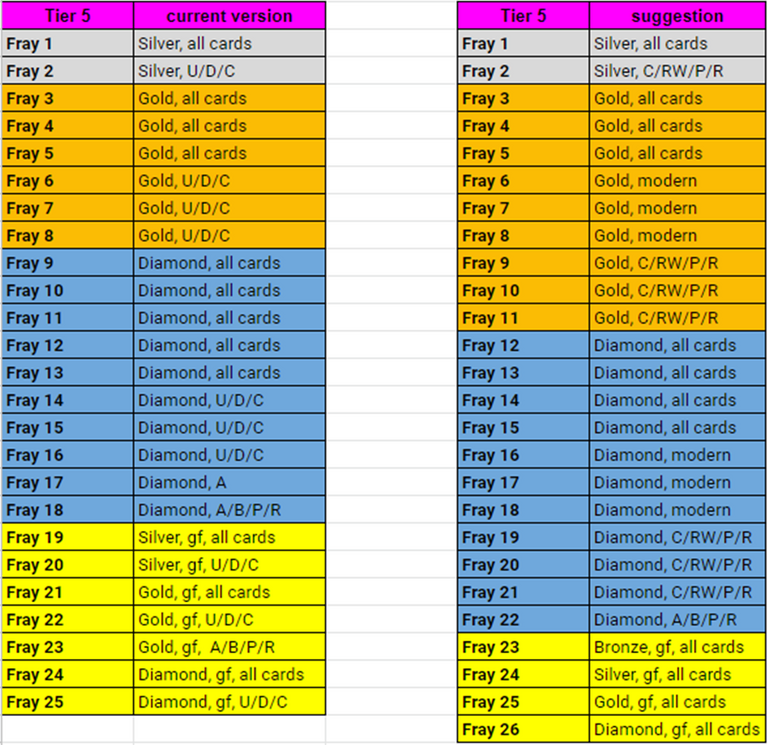 ---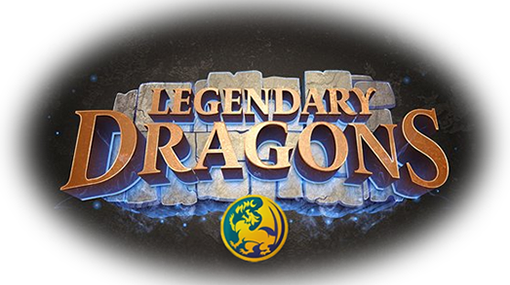 ---
---