A great defense for your battles with low mana cost / Una gran defensa para tus batallas con bajo coste de maná [ENG/ESP]
First part in English and second part in Spanish
Primera parte en Inglés y segunda parte en Español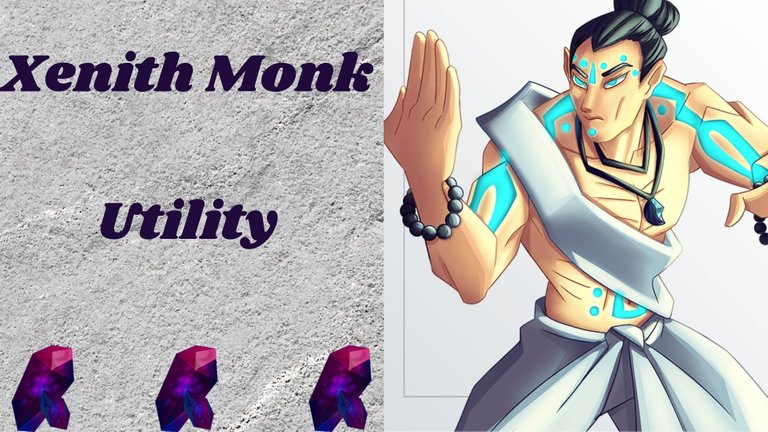 Today I will talk about an excellent defensive card that has a very low mana cost so you can use it even in your battles with the Little League rule, but it can still get better because this card is from the neutral deck so you can combine it with other decks and create incredible combinations. This card is the Xenith Monk and is a rare card that belongs to the chaos legion edition.
But why is Xenith Monk a card that stands out?
In splinterlands there are many amazing cards to use and Xenith Monk is one of them because it has great abilities that will be very useful for defense, two other important points of it that I mentioned before is the fact that it has a low mana cost, being more The specific cost is 4 and also belongs to the neutral deck which makes it a card that you can create combinations with any other deck.
But he has two important weaknesses to mention, the first is the fact that his attack is low even at high levels and the second is that his abilities only start to appear from level 2, so at level 1 which is the level of starting cards it won't stand out much, but at higher levels it will be an excellent card because of its 3 abilities which are Heal, Void and Magic Reflect.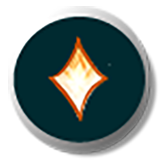 Heal is a great ability for defensive cards because it makes the card heal for 1/3 of its life, and the minimum amount of healing is 2. It may seem little but it makes a huge difference, especially in low mana battles where the amount of cards on the field is smaller, it is an abilitie that will help a lot Xenith Monk in battles and it appears from level 2.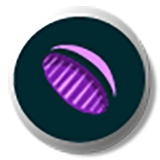 Void is another excellent ability for defensive cards because it reduces damage taken by cards with magic attack by half. As cards with magic attack are often used in battles it will be a great abilitie for Xenith Monk to have, mainly because this type of card ignores the shield of cards and directly attacks life so having Xenith Monks on defense will make the their attack does not easily advance to your other cards.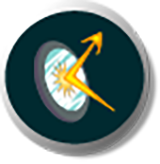 Magic Reflect is not a defensive ability but it will also be great against cards with magic attack because it deals part of the damage taken by those cards back to it, being more specific it is half the value. Your opponent's magic attack cards will surely hate Xenith Monk.
You can better see Xenith Monk stats by clicking on the card and going to Stats.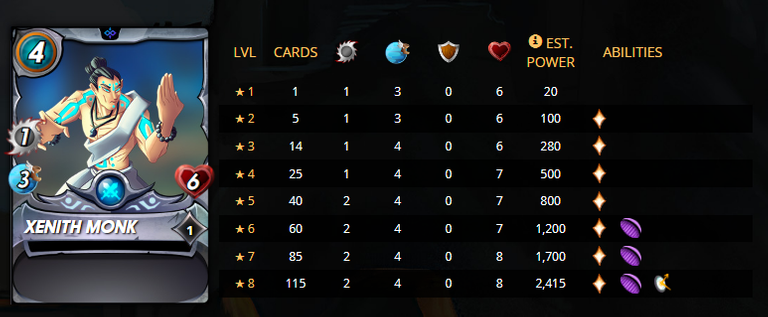 What is the best position for Xenith Monk?
As it is a defensive card and also a melee card it is more useful in the first position because it will be able to defend and attack, in other positions it will not be able to attack unless it has a rule that allows melee cards to attack from any position like a Up Close and Personal. Even with this rule I would still recommend using him in first position because his attack is not high so he won't be very useful in other positions.
What are the ways to get Xenith Monk?
The Xenith Monk belongs to the chaos legion edition which is the most recent edition in Splinterlands, so it is possible to get it in 2 ways.
The first is through the splinterlands market where you can buy it for $0.77 and the payment methods are DEC or credits.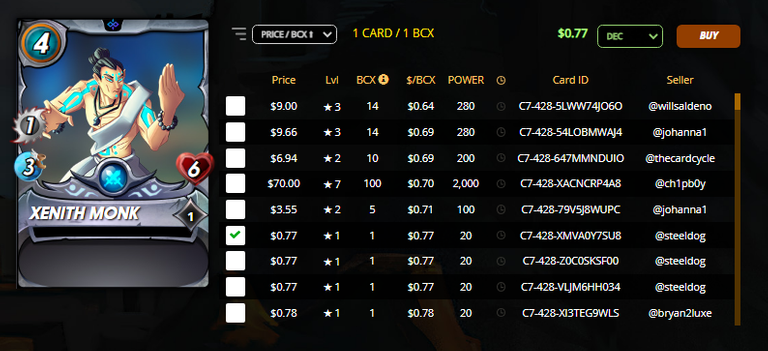 The second way is through the chaos legion packs that are still being sold and each pack costs $4, this pack comes with 5 random cards from the edition and at least 1 rare card or higher is guaranteed per pack. As Xenith Monk is a rare card so the chances of winning him are not low but it will depend on your luck.
You can buy the pack through the shop in splinterlands.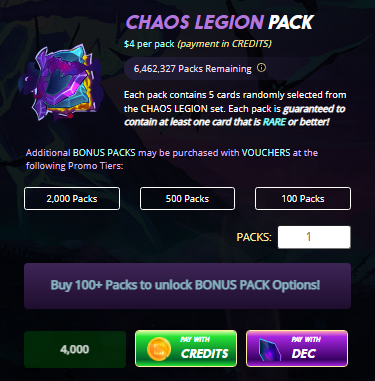 or through the hive engine where its value is traded below $4 but if you buy there you are not eligible for airdrops.

An incredible card to have in your collection, don't you agree?
If you still don't know Splinterlands and want to play you can use my referral link if you want: Acess the game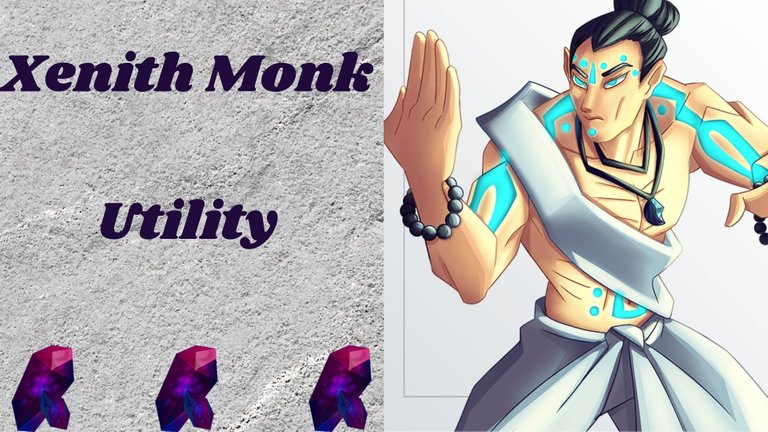 Hoy hablaré de una excelente carta defensiva que tiene un costo de maná muy bajo por lo que puedes usarla incluso en tus batallas con la regla de la liga pequeña, pero aún puede mejorar porque esta carta es del mazo neutral para que puedas combinarla. con otras barajas y crea combinaciones increíbles. Esta carta es el Monje Xenith y es una carta rara que pertenece a la edición de la legión del caos.
Pero, ¿por qué Xenith Monk es una carta que destaca?
En splinterlands hay muchas cartas increíbles para usar y Xenith Monk es una de ellas porque tiene grandes habilidades que serán muy útiles para la defensa, otros dos puntos importantes que mencioné antes es el hecho de que tiene un bajo costo de maná, siendo más El coste específico es de 4 y además pertenece al mazo neutral lo que lo convierte en una carta que puedes crear combinaciones con cualquier otro mazo.
Pero tiene dos debilidades importantes para mencionar, la primera es el hecho de que su ataque es bajo incluso en niveles altos y la segunda es que sus habilidades solo comienzan a aparecer desde el nivel 2, por lo que en el nivel 1 que es el nivel de las cartas iniciales. no se destacara mucho, pero a niveles mas altos sera una excelente carta por sus 3 habilidades que son Curar, Vacío y Reflejo Magico.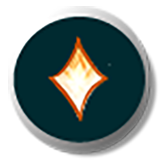 Curar es una gran habilidad para las cartas defensivas porque hace que la carta cure 1/3 de su vida, y la cantidad mínima de curacion es 2. Puede parecer poco pero hace una gran diferencia, especialmente en batallas de bajo maná donde la cantidad de cartas en el campo es menor, es una habilidad que ayudará mucho a Xenith Monk en las batallas y aparece a partir del nivel 2.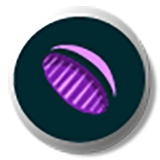 Vacío es otra excelente habilidad para las cartas defensivas porque reduce a la mitad el daño recibido por las cartas con ataque mágico. Como las cartas con ataque mágico se usan a menudo en las batallas, será una gran habilidad para Xenith Monk, principalmente porque este tipo de carta ignora el escudo de las cartas y ataca directamente a la vida, por lo que tener Xenith Monks en defensa hará que su ataque no lo haga. avanzar fácilmente a sus otras cartas.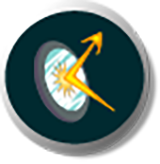 Reflejo Magico no es una habilidad defensiva, pero también será excelente contra cartas con ataque mágico porque le devuelve parte del daño recibido por esas cartas, siendo más específico, es la mitad del valor. Las cartas de ataque mágico de tu oponente seguramente odiarán a Xenith Monk.
Puedes ver mejor las estadísticas de Xenith Monk haciendo clic en la carta y yendo a Estadísticas.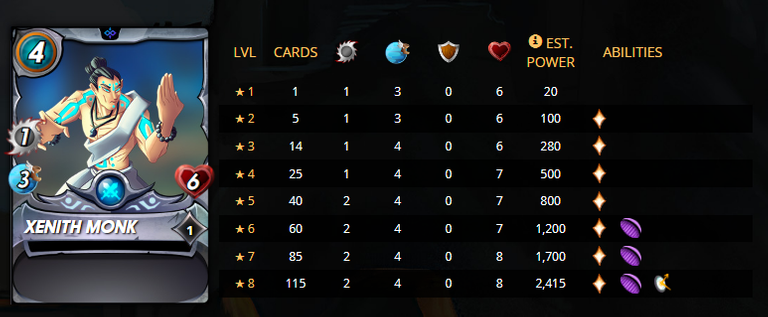 ¿Cuál es la mejor posición para Xenith Monk?
Como es una carta defensiva y también cuerpo a cuerpo es más útil en la primera posición porque podrá defender y atacar, en otras posiciones no podrá atacar a menos que tenga una regla que permita que las cartas cuerpo a cuerpo ataquen. desde cualquier posición como De cerca y personal. Incluso con esta regla, recomendaría usarlo en primera posición porque su ataque no es alto, por lo que no será muy útil en otras posiciones.
¿Cuáles son las formas de conseguir Xenith Monk?
El Monje Xenith pertenece a la edición de la legión del caos que es la edición más reciente en Splinterlands, por lo que es posible conseguirlo de 2 formas.
La primera es a través del mercado de splinterlands donde puedes comprarlo por $0.77 y los métodos de pago son DEC o créditos.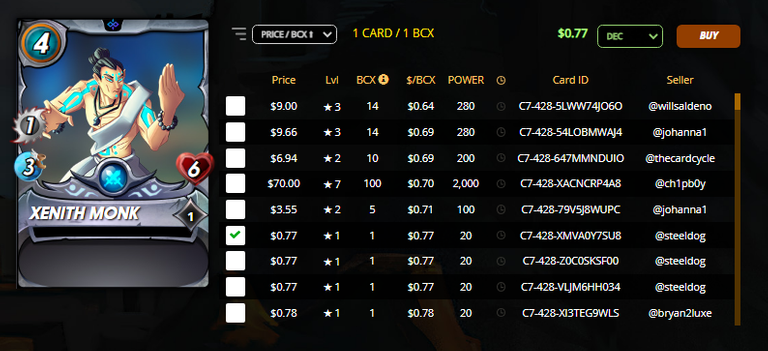 La segunda forma es a través de los paquetes de la legión del caos que aún se venden y cada paquete cuesta $ 4, este paquete viene con 5 cartas aleatorias de la edición y se garantiza al menos 1 carta rara o superior por paquete. Como Xenith Monk es una carta rara, las posibilidades de ganarlo no son bajas, pero dependerán de tu suerte.
Puedes comprar el paquete a través de la tienda en splinterlands.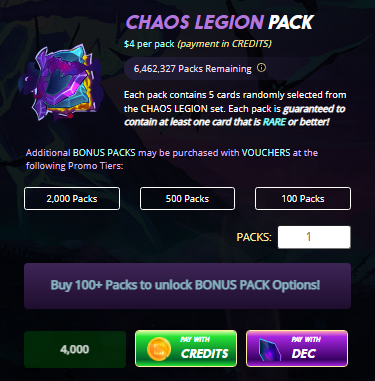 o a través del motor de colmena, donde su valor se negocia por debajo de $ 4, pero si compra allí, no es elegible para lanzamientos aéreos.

Una carta increíble para tener en tu colección, ¿no te parece?
Si aún no conoces Splinterlands y quieres jugar, puedes usar mi enlace de referencia si quieres: Acceder al juego
---
---