A sacrifice necessary for battle / Un sacrificio necesario para la batalla [ENG/ESP]
First part in English and second part in Spanish
Primera parte en Inglés y segunda parte en Español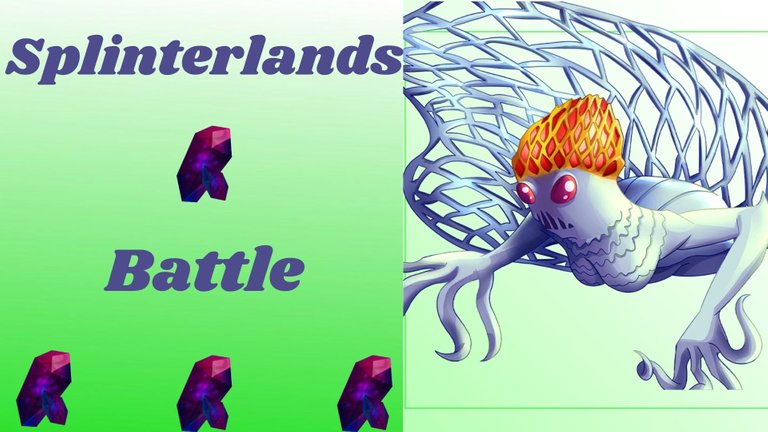 Cards with magic attack are very useful for battle because they are able to bypass the shield of cards and directly attack their health, so the earth deck for those starting out in Splinterlands is a great choice if you want to use these cards, because he has the Obsidian Summoner that increases the Magic Attack of cards by +1 and a wide variety of Magic Cards.
For this challenge the deck I will use is the earth deck and in battle I will show how incredibly useful and practical it is to use it. One of the cards that stands out the most is Mycelis Slipspawn that has magic attack and an incredible amount of health so it will be a great choice to defend and attack, in addition it has the Taunt ability that makes it the target of all attacks so you won't have to worry about having your other cards taking damage, but this gives a huge disadvantage to Mycelic Slipspawn as it will take a lot of damage, so having cards like Goblin Psychic that also belongs in the earth deck and has the Tank Heal ability will be a great support for her.
But before I talk about my strategy for the card, let's get to know Mycelic Slipspawn better to know what is her maximum usefulness in battles, so I will mention about her at her maximum level.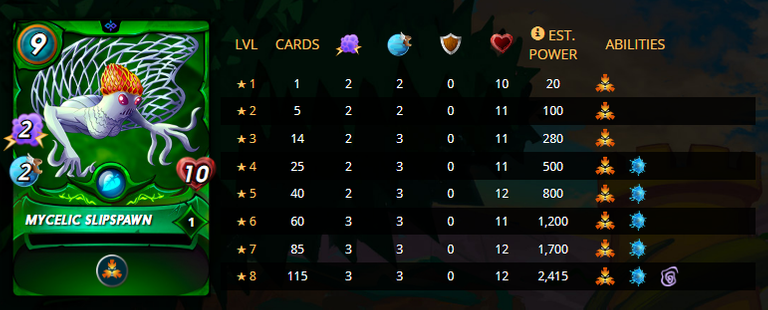 Mycelic Slipspawn is a rare card from the chaos legion edition and also one of the starter cards that you can use for free in Splinterlands after purchasing the Summoner's Spellbook for $10. But the starting cards are only at level , for you to use them at higher levels where they are much more powerful you need to rent them or buy them but I won't go into details about that in this post. In the image above you can better see the levels of the Mycelic Slipspawn card but maybe you don't know how its abilities work so I'll explain them.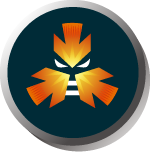 I will start with the Taunt ability that I mentioned before, it is possible to use it from level 1 and its function is to attract the attacks of the cards to the card that has it, but if the card with the Taunt ability is not in the first position then the card of the your opponent's first position will attack your first position card and not the card with the Taunt ability.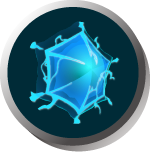 The Forcefield ability makes the card that has it only take 1 damage from cards that have 5 or more attack and this is a great defense because at higher levels cards like this are not uncommon to appear.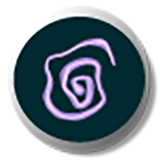 Its last ability is Slow and it reduces the speed of all enemy cards by 1, but only while the card that has the Slow ability is in battle and this effect is stackable so if you have 2 cards with the Slow ability the reduction will be two.
These are great abilities that will help Mycelic Slipspawn not take too much damage and also not be defeated so quickly.
Let's see how Mycelic Slipspawn fares in battle:
Summoner: Obsidian
Increases cards' magic attack by +1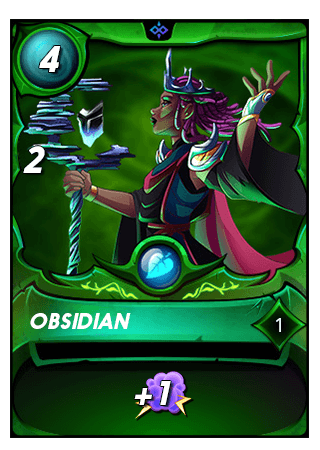 First Position: Mycelic Morphoid
Card with 1 mana cost and no abilities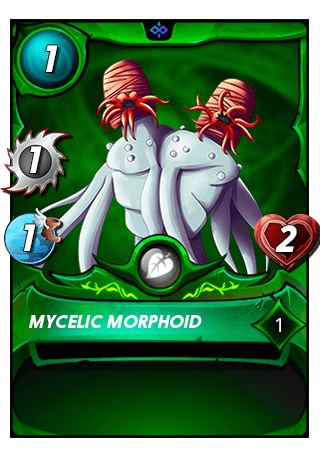 Second Position: Mycelic Slipspawn
Card with 9 mana cost and has the Taunt ability that makes it the target of attacks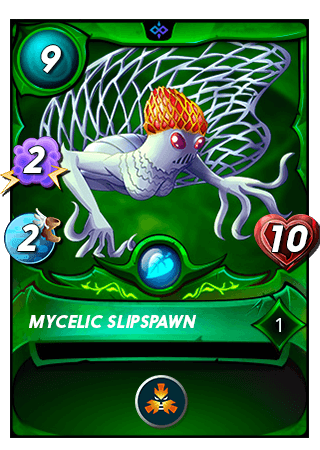 Third Position: Regal Peryton
Card with 5 mana cost and has the ability Flying that increases your chances of dodging attacks from other cards that don't have the ability Flying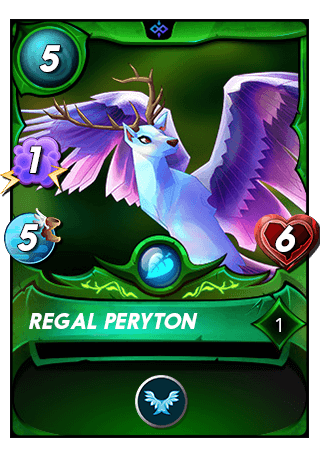 Fourth Position: Psychic Goblin
Card with 6 mana cost and has the ability Tank Heal that heals the allied card positioned in the first position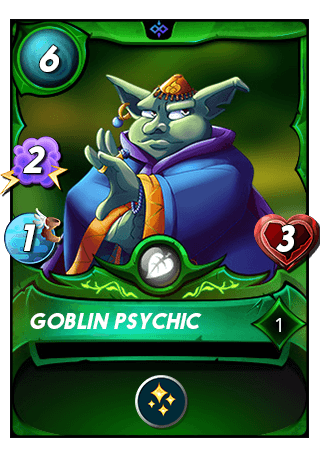 Fifth Position: Khmer Princess
Card with 2 mana cost and no abilities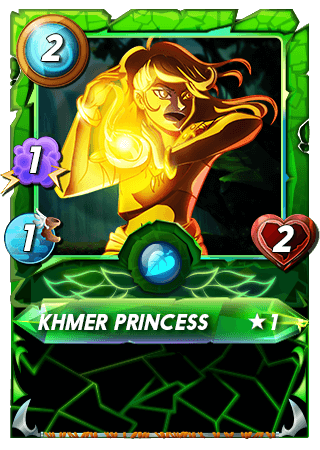 Sixth Position: Child of the Forest
Card with 3 mana cost and has the Snipe ability that makes it have magic attack and ranged cards as a priority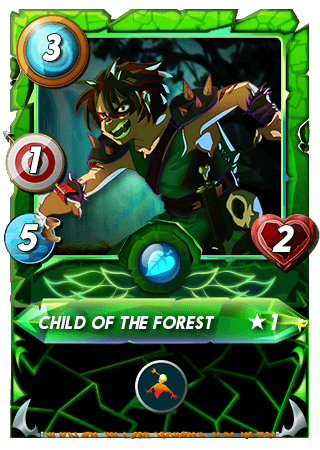 All cards used for this battle were at level 1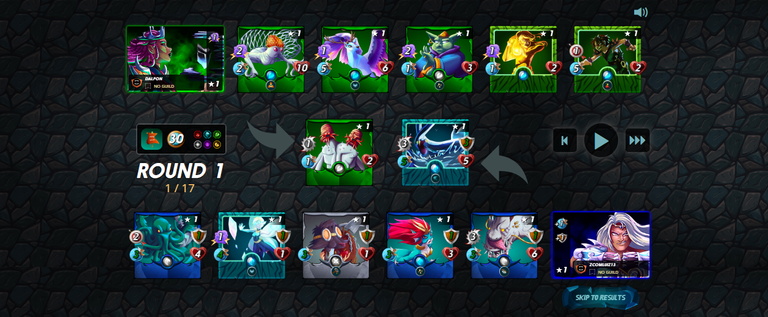 In battle choose many cards with magic attack and summoner Obsidian was a great choice because my opponent chose Summoner Kelya Frendul that grants shield and speed to his allies and as cards with magic attack ignore the shield of the cards and directly attack their life so my opponent will have a hard time in battle.
Many of my opponent's cards are low on health so they will be easy targets for my magic attack cards.
He chose the Scavo Hireling card that has the Repair ability and it repairs part of the shield of the card that took the most damage, but it won't be a very useful card. Your Merdaali Guardian card has the same ability as my Goblin Psychic so it will support the first rank card. The Serpent of Eld card is very powerful because it has a lot of attack and the Dodge ability that increases your chances of dodging attacks but doesn't work against magic attacks and your health is low. The Deeplurker card will attack the lowest health card and the Ice Pixie and Kulu Swimhunter will only deal damage in battle.
In the first round Mycelic Slipspawn was the main target of the attacks and she took a lot of damage but with the help of Goblin Psychic she managed to recover a good amount of health. As Serpent of Eld's main weakness is cards with magic attack so he was defeated in this round even with the help of Merdaali Guardian healing him.
In the second round Mycelic Slipspawn was almost defeated with only 1 life left but the Goblin Psychic saved her and she remains safe. The Deeplurker was in the first position and was the target of magic attacks, causing him to be defeated even though he had the Merdaali Guardian's healing. Soon after, Merdaali Guardian occupied the first position and was also defeated.
In the third and also the last round there are only 2 cards left for my opponent and one has low life and the other is ranged so once Ice Pixie is defeated Kulu Swimhunter will not be able to attack because he will be in the first position. Both cards can still attack but are not able to defeat Mycelic Slipspawn so it's my turn to attack and in a few attacks both are defeated making the battle come to an end.
Conclusion
Mycelic Slipspawn can be the target of attacks and take a lot of damage but if you have great cards like Goblin Psychic supporting it then it will be able to resist much longer and also keep your other cards safe. Having several cards with magic attack is also a great strategy against cards that have a shield or summoners that grant it like Kelya Frendul but it all depends on your strategy.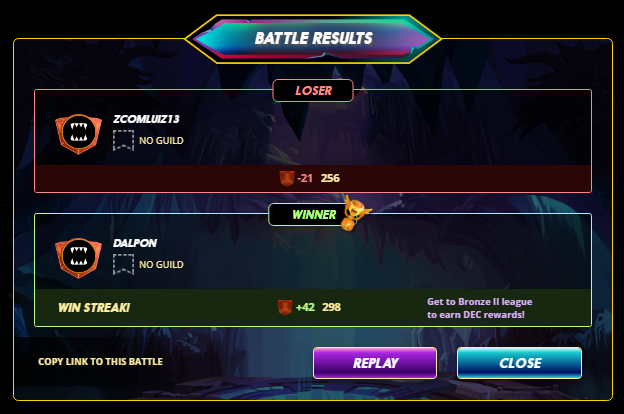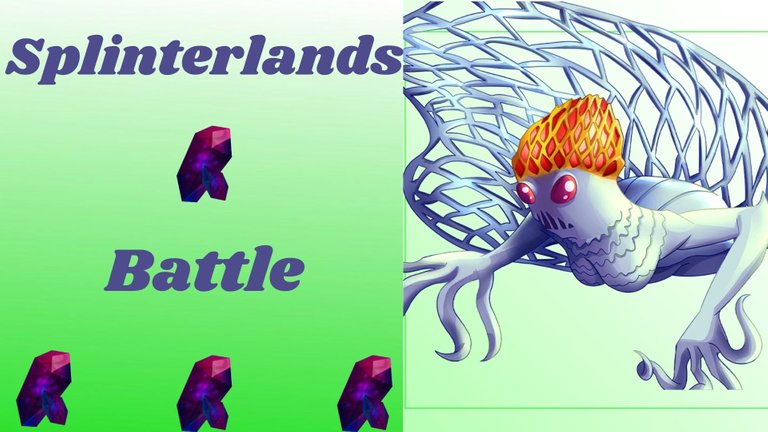 Las cartas con ataque mágico son muy útiles para la batalla porque son capaces de sortear el escudo de las cartas y atacar directamente su salud, por lo que el mazo de tierra para los que se inician en Splinterlands es una gran opción si quieren usar estas cartas, porque tiene el Invocador Obsidian que aumenta el Ataque Mágico de las cartas en +1 y una gran variedad de Cartas Mágicas.
Para este desafío, el mazo que usaré es el mazo de tierra y en la batalla mostraré lo increíblemente útil y práctico que es usarlo. Una de las cartas que más se destaca es Mycelis Slipspawn que cuenta con ataque mágico y una cantidad increíble de salud por lo que será una gran elección para defender y atacar, además cuenta con la habilidad Taunt que la convierte en el objetivo de todos los ataques por lo que no tendrás que preocuparte de que tus otras cartas reciban daño, pero esto le da una gran desventaja a Mycelic Slipspawn, ya que recibirá mucho daño, por lo que tener cartas como Goblin Psychic que también pertenece al mazo de tierra y tiene el Tanque La capacidad de curación será un gran apoyo para ella.
Pero antes de hablar de mi estrategia para la carta, conozcamos mejor a Mycelic Slipspawn para conocer su máxima utilidad en las batallas, por lo que mencionaré sobre ella en su máximo nivel.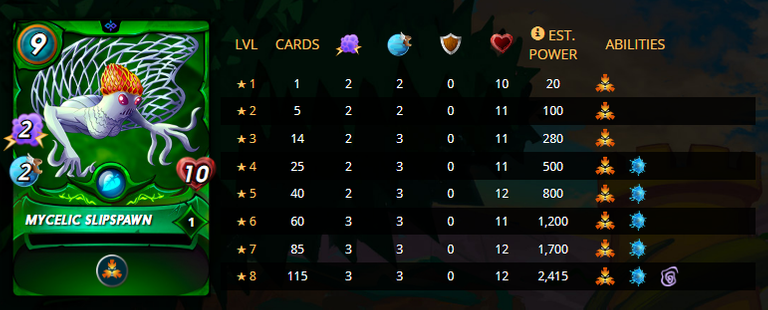 Mycelic Slipspawn es una carta rara de la edición de la legión del caos y también una de las cartas de inicio que puedes usar gratis en Splinterlands después de comprar Summoner's Spellbook por $10. Pero las cartas iniciales son solo a nivel, para que las uses en niveles más altos donde son mucho más poderosas, necesitas alquilarlas o comprarlas, pero no entraré en detalles sobre eso en esta publicación. En la imagen de arriba puedes ver mejor los niveles de la carta Mycelic Slipspawn pero tal vez no sepas cómo funcionan sus habilidades así que te las explico.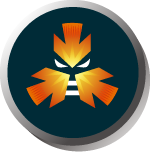 Comenzaré con la habilidad Taunt que mencioné antes, es posible usarla desde el nivel 1 y su función es atraer los ataques de las cartas a la carta que la tiene, pero si la carta con la habilidad Taunt no está en la primera posición, luego la carta de la primera posición de tu oponente atacará tu carta de primera posición y no la carta con la habilidad Taunt.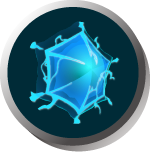 La habilidad Forcefield hace que la carta que la tiene solo reciba 1 daño de las cartas que tienen 5 o más ataques y esto es una gran defensa porque en niveles más altos cartas como esta no son raras de aparecer.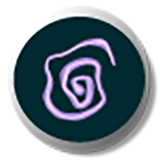 Su última habilidad es Slow y reduce la velocidad de todas las cartas enemigas en 1, pero solo mientras la carta que tiene la habilidad Slow está en batalla y este efecto es acumulable por lo que si tienes 2 cartas con la habilidad Slow la reducción será de dos.
Estas son grandes habilidades que ayudarán a Mycelic Slipspawn a no recibir demasiado daño y tampoco ser derrotado tan rápido.
Veamos cómo le va a Mycelic Slipspawn en la batalla:
Invocador: Obsidiana
Aumenta el ataque mágico de las cartas en +1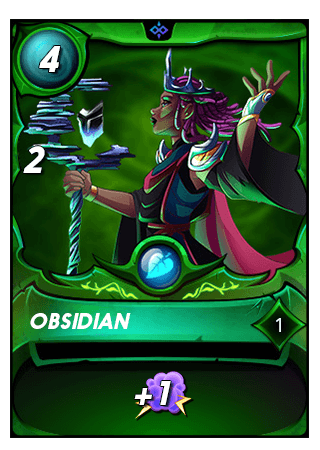 Primera posición: Mycelic Morphoid
Carta con 1 coste de maná y sin habilidades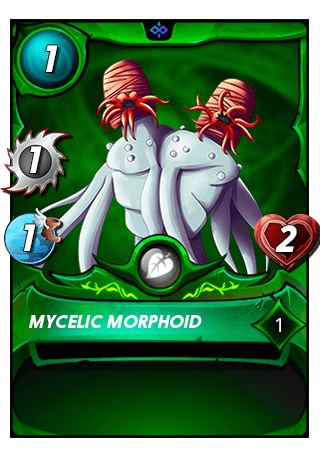 Segunda Posición: Mycelic Slipspawn
Carta con 9 de costo de maná y tiene la habilidad Taunt que la convierte en el objetivo de los ataques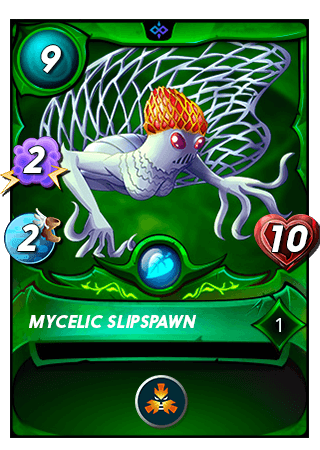 Tercera posición: Regal Peryton
Carta con coste de 5 de maná y tiene la habilidad Volar que aumenta tus posibilidades de esquivar los ataques de otras cartas que no tienen la habilidad Volar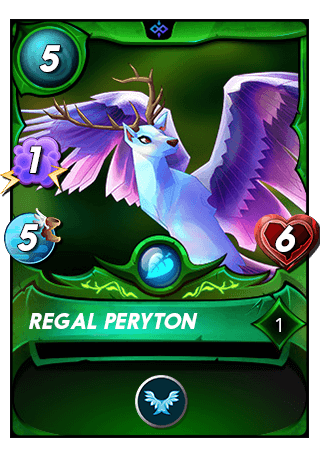 Cuarta Posición: Goblin Psychic
Carta con coste de maná 6 y tiene la habilidad Tank Heal que cura a la carta aliada posicionada en primera posición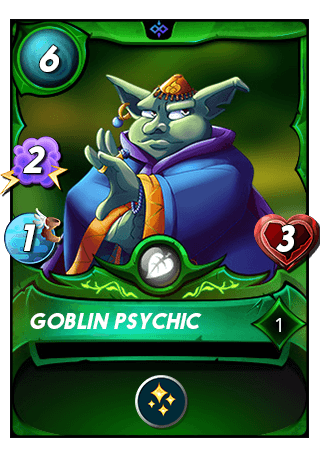 Quinta posición: Princess Khmer
Carta con 2 de coste de maná y sin habilidades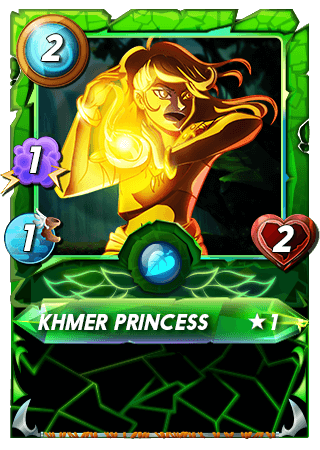 Sexta Posición: Child of the Forest
Carta con coste de 3 de maná y tiene la habilidad Snipe que hace que tenga como prioridad cartas de ataque mágico y a distancia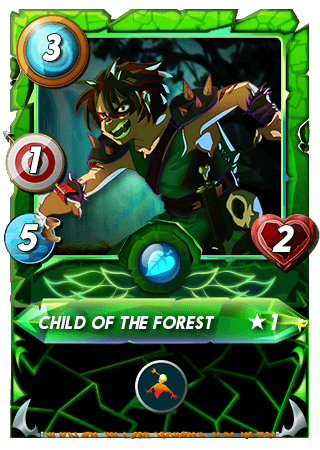 Todas las cartas usadas para esta batalla estaban en el nivel 1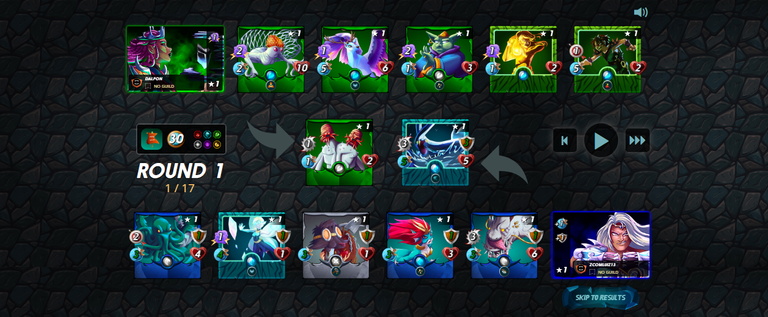 En la batalla, elegir muchas cartas con ataque mágico y la invocadora Obsidian fue una gran elección porque mi oponente eligió a la invocadora Kelya Frendul que otorga escudo y velocidad a sus aliados y como cartas con ataque mágico ignoran el escudo de las cartas y atacan directamente su vida, por lo que mi oponente tendrá dificultades en la batalla.
Muchas de las cartas de mi oponente tienen poca salud, por lo que serán objetivos fáciles para mis cartas de ataque mágico.
Eligió la carta Scavo Hireling que tiene la habilidad Repair y repara parte del escudo de la carta que recibió más daño, pero no será una carta muy útil. Tu carta Merdaali Guardian tiene la misma habilidad que mi Goblin Psychic, por lo que admitirá la carta de primer posicion. La carta Serpent of Eld es muy poderosa porque tiene mucho ataque y la habilidad Dodge que aumenta tus posibilidades de esquivar ataques pero no funciona contra ataques mágicos y tu salud es baja. La carta Deeplurker atacará a la carta de salud más baja y Ice Pixie y Kulu Swimhunter solo infligirán daño en la batalla.
En la primera ronda, Mycelic Slipspawn fue el objetivo principal de los ataques y recibió mucho daño, pero con la ayuda de Goblin Psychic logró recuperar una buena cantidad de salud. Como la principal debilidad de Serpent of Eld son las cartas con ataque mágico, fue derrotado en esta ronda incluso con la ayuda de Merdaali Guardian que lo curó.
En la segunda ronda, Mycelic Slipspawn casi fue derrotada con solo 1 vida restante, pero Goblin Psychic la salvó y ella permanece a salvo. Deeplurker estaba en la primera posición y fue el objetivo de los ataques mágicos, lo que provocó que fuera derrotado a pesar de que tenía la curación del Guardián Merdaali. Poco después, Merdaali Guardian ocupó la primera posición y también fue derrotado.
En la tercera y última ronda solo quedan 2 cartas para mi oponente y una tiene poca vida y la otra es a distancia, por lo que una vez que Ice Pixie sea derrotado, Kulu Swimhunter no podrá atacar porque estará en la primera posición. Ambas cartas aún pueden atacar, pero no pueden derrotar a Mycelic Slipspawn, así que es mi turno de atacar y en algunos ataques ambos son derrotados y la batalla llega a su fin.
Conclusión
Mycelic Slipspawn puede ser el objetivo de los ataques y recibir mucho daño, pero si tienes grandes cartas como Goblin Psychic apoyándolo, entonces podrá resistir mucho más tiempo y también mantener a salvo tus otras cartas. Tener varias cartas con ataque mágico también es una gran estrategia contra cartas que tienen escudo o invocadores que lo otorgan como Kelya Frendul pero todo depende de tu estrategia.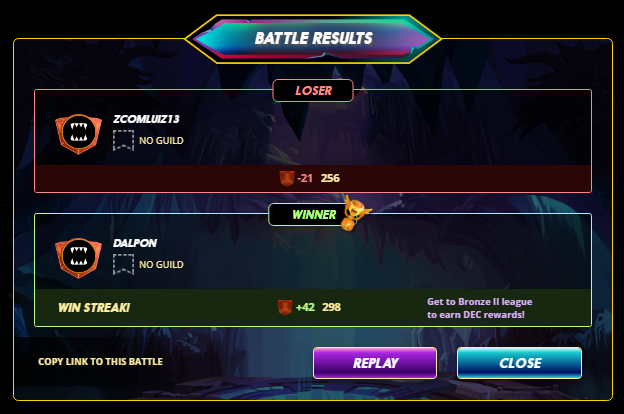 ---
---