A Scary Card Needed for Victory / Una carta de miedo necesaria para la victoria [ENG/ESP]
First part in English and second part in Spanish
Primera parte en Inglés y segunda parte en Español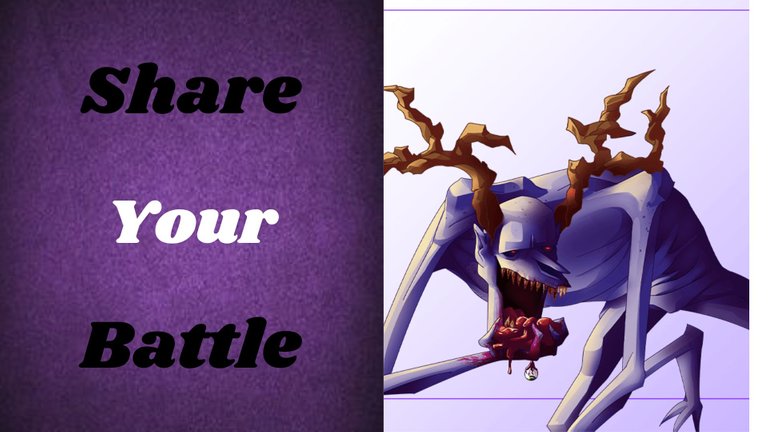 The death deck has many terrifying cards that are incredibly powerful and the Cursed Windeku card is one of them, this rare card from the chaos legion edition causes a lot of chills in people but it is also one of your best allies for battles and you will not regret using it.
First of all, Cursed Windeku is a melee card that has a lot of health so you will want to have him in the first position to defend, his attack is not much and his speed is reasonable and he has 3 abilities in total but for the battle that I will show today I used this card at level 1 and he only has the Thorns ability at that level.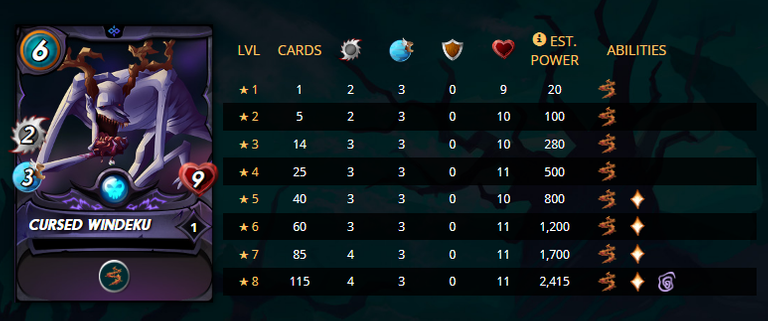 With the Thorns ability he is able to do 2 damage when a melee card attacks him, so if a melee card attacks Cursed Windeku it will take 2 damage back. It's a great ability to do more damage during a battle and the more melee cards your opponent has the more damage he will do, but that's only as long as he's not defeated.
The other 2 abilities he has is Heal which makes him heal on his turn and is an excellent ability and Slow which makes him reduce the speed of the opponent's cards by 1, but they are only released when Cursed Windeku has levels bigger so I won't mention more about them.
For the battle besides Cursed Windeku I used 5 other cards which were Thaddius Brood (summoner), Silent Sha-Vi, Life Sapper, Death Elemental and Soul Strangler.
Summoner: Thaddius Brood
Reduces opponent's magic attack and health by 1.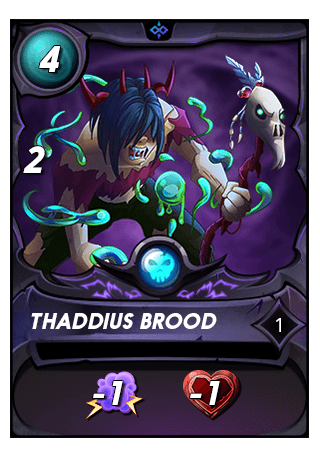 First position: Cursed Windeku
It's a great defensive card with 6 mana cost and has the Thorns ability that deals damage to melee cards when attacked.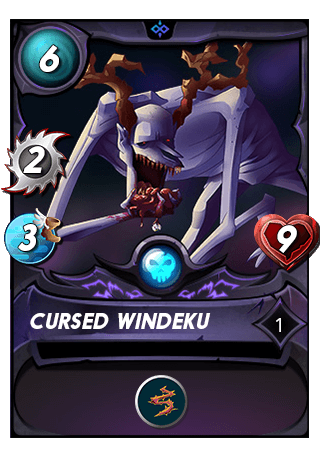 Second position: Silent Sha-Vi
Melee card with 5 mana cost that has the ability Sneak that makes it attack the card positioned in the last position.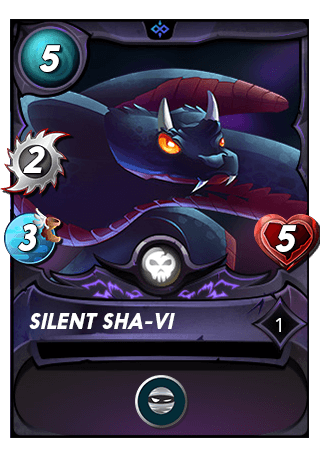 Third position: Life Sapper
Card with 3 mana cost magic attack that has the Life Leech ability that makes it come to life when it attacks a card.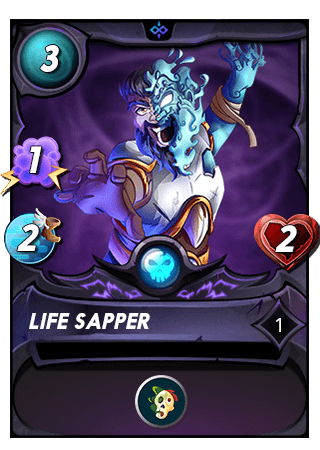 Fourth position: Soul Strangler
Ranged card with 3 mana cost that has no abilities.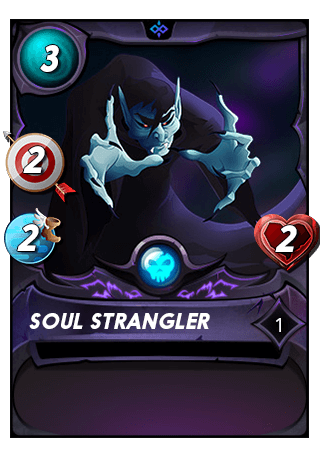 Fifth Position: Carrion Shade
melee card with 1 mana cost and no abilities.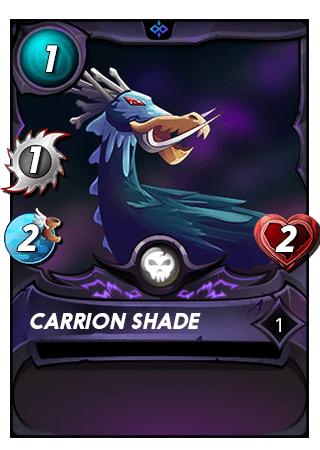 All cards used for this battle were at level 1.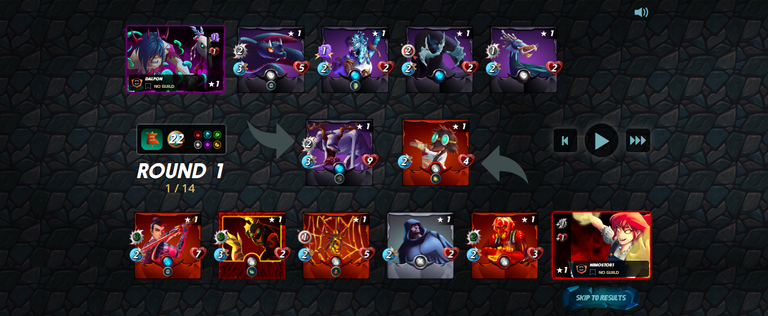 In the battle my opponent used the fire deck with the summoner Tarsa so the life she gives is nullified by my Thaddius Brood's life reduction and my magic reduction is not useful because my opponent doesn't have cards with magic attack and the melee attack of the his cards is augmented by summoner Tarsa.
He has 3 melee cards that will struggle with Cursed Windeku as he has the Thorns ability that deals damage when he takes damage from a melee card.
In the first round, Life Sapper is targeted by Serpentine Spy and is defeated, Scavo Chemist is targeted by Cursed Windeku and Soul Strangler and is defeated, Carrion Shade is targeted by Tenyii Striker and is defeated. I have 3 cards left and 5 cards from my opponent so I'm at a disadvantage.
In the second round, the Radiated Scorcher is targeted by Cursed Windeku and is defeated, the Soul Strangler is targeted by the Serpentine Spy and is defeated. There are 2 cards from me and 4 from my opponent left in the battle.
In the third round, Tenyii Striker is targeted by Silent Sha-Vi and is defeated, Silent Sha-Vi is targeted by Serpentine Spy and is defeated. 1 card left by me and 2 by my opponent.
In the fourth round the Lava Spider card is in the first position and is unable to attack because it is a ranged card. The Serpentine Spy attacks the Cursed Windeku and is defeated because it received 2 damage from the Thorns ability. 1 card from me and 1 from my opponent remain in the battle.
In the fifth round, the Lava Spider card is defeated by Cursed Windeku and the battle is over.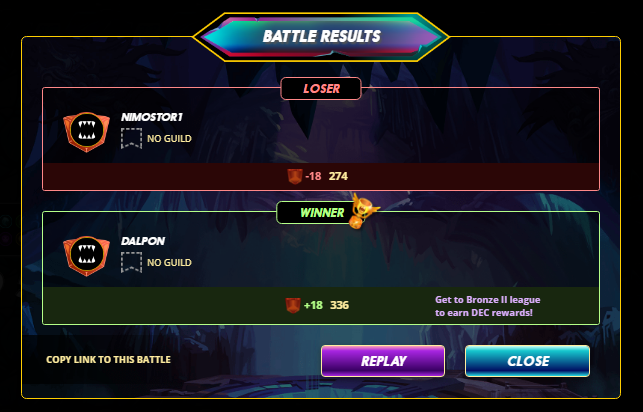 Cursed Windeku was the last card left in the battle and it had a good amount of health but it didn't have the opportunity to show its full utility because most of my opponent's melee cards attacked the back cards so Cursed Windeku's Thorns ability it was only useful towards the end of the battle, but he was still a great choice because he did a lot of damage during battle and a great defense.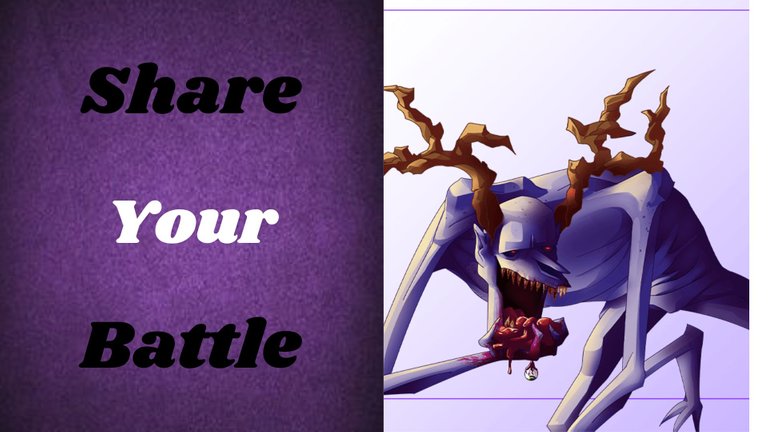 El mazo de la muerte tiene muchas cartas terroríficas que son increíblemente poderosas y la carta Cursed Windeku es una de ellas, esta carta rara de la edición de la legión del caos causa muchos escalofríos en las personas pero también es uno de tus mejores aliados para las batallas y lo harás. no me arrepiento de usarlo.
En primer lugar, Cursed Windeku es una carta cuerpo a cuerpo que tiene mucha salud por lo que querrás tenerlo en la primera posición para defender, su ataque no es mucho y su velocidad es razonable y tiene 3 habilidades en total pero para el batalla que mostraré hoy Usé esta carta en el nivel 1 y solo tiene la habilidad Espinas en ese nivel.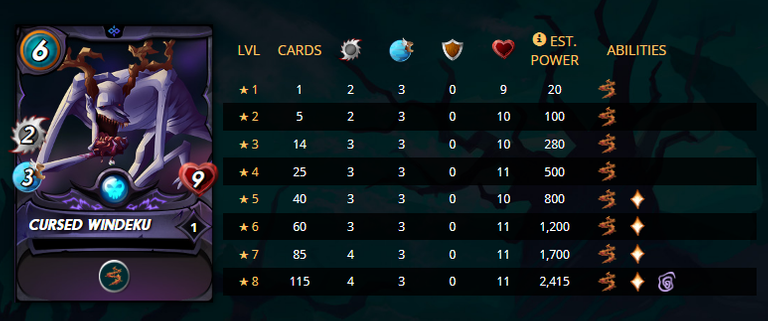 Con la habilidad Espinas, puede hacer 2 daños cuando una carta cuerpo a cuerpo lo ataca, por lo que si una carta cuerpo a cuerpo ataca a Cursed Windeku, recuperará 2 daños. Es una gran habilidad hacer más daño durante una batalla y cuantas más cartas cuerpo a cuerpo tenga tu oponente, más daño hará, pero eso es solo mientras no sea derrotado.
Las otras 2 habilidades que tiene son Curar que lo hace sanar en su turno y es una habilidad excelente y Lento que lo hace reducir la velocidad de las cartas del oponente en 1, pero solo se liberan cuando Cursed Windeku tiene niveles más grandes, así que gano. No menciono más sobre ellos.
Para la batalla, además de Cursed Windeku, usé otras 5 cartas que eran Thaddius Brood (invocador), Silent Sha-Vi, Life Sapper, Death Elemental y Soul Strangler.
Invocador: Thaddius Brood
Reduce el ataque mágico y la salud del oponente en 1.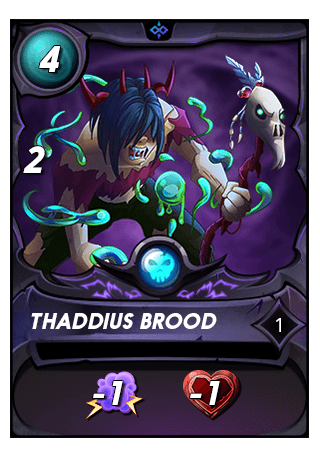 Primera posición: Cursed Windeku
Es una gran carta defensiva con un costo de maná de 6 y tiene la habilidad Espinas que inflige daño a las cartas cuerpo a cuerpo cuando es atacada.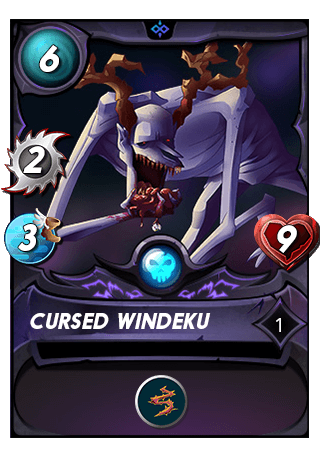 Segunda posición: Silent Sha-Vi
Carta cuerpo a cuerpo con coste de 5 de maná que tiene la habilidad Furtivo que hace que ataque a la carta posicionada en la última posición.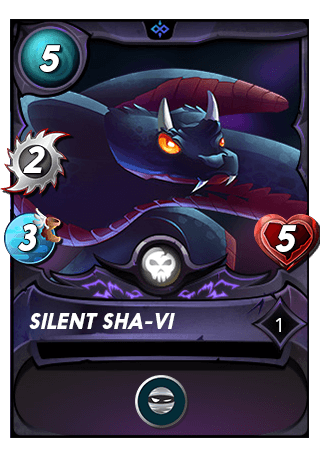 Tercera posición: Life Sapper
Carta con ataque mágico de 3 manás que tiene la habilidad Sanguijuela de Vida que hace que cobre vida cuando ataca a una carta.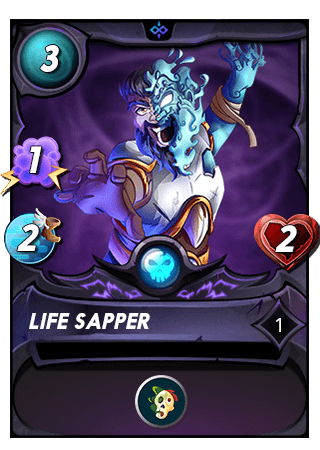 Cuarta posición: Soul Strangler
Carta a distancia con 3 de costo de maná que no tiene habilidades.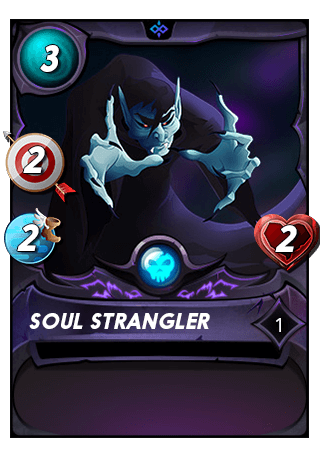 Quinta posición: Carrion Shade
carta cuerpo a cuerpo con 1 coste de maná y sin habilidades.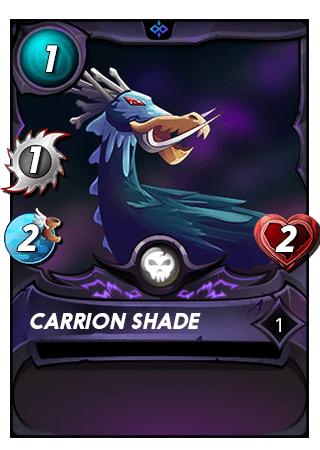 Todas las cartas utilizadas para esta batalla estaban en el nivel 1.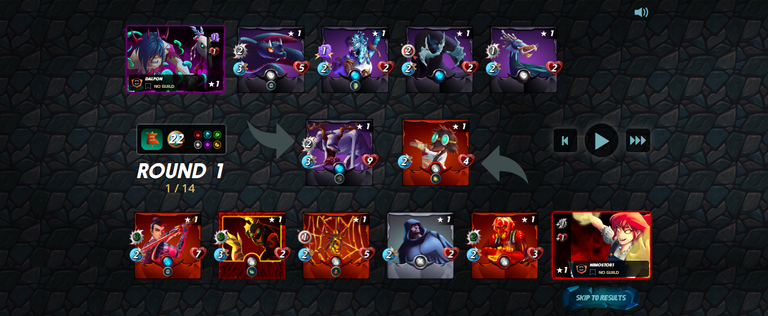 En la batalla mi oponente usó el mazo de fuego con la invocadora Tarsa por lo que la vida que ella da es anulada por la reducción de vida de mi Thaddius Brood y mi reducción de magia no sirve porque mi oponente no tiene cartas con ataque mágico y el ataque cuerpo a cuerpo del sus cartas son aumentadas por el invocador Tarsa.
Tiene 3 cartas cuerpo a cuerpo que lucharán con Cursed Windeku ya que tiene la habilidad Espinas que inflige daño cuando recibe daño de una carta cuerpo a cuerpo.
En la primera ronda, Life Sapper es el objetivo de Serpentine Spy y es derrotado, Scavo Chemist es el objetivo de Cursed Windeku y Soul Strangler y es derrotado, Carrion Shade es el objetivo de Tenyii Striker y es derrotado. Me quedan 3 cartas y 5 cartas de mi oponente, así que estoy en desventaja.
En la segunda ronda, el Radiated Scorcher es el objetivo de Cursed Windeku y es derrotado, el Soul Strangler es el objetivo del Serpentine Spy y es derrotado. Quedan 2 cartas mías y 4 de mi oponente en la batalla.
En la tercera ronda, Tenyii Striker es el objetivo de Silent Sha-Vi y es derrotado, Silent Sha-Vi es el objetivo de Serpentine Spy y es derrotado. 1 carta dejada por mí y 2 por mi oponente.
En la cuarta ronda la carta Lava Spider está en la primera posición y no puede atacar porque es una carta a distancia.La Serpentine Spy ataca al Cursed Windeku y es derrotado porque recibió 2 daños de la habilidad Espinas. 1 carta mía y 1 de mi oponente permanecen en la batalla.
En la quinta ronda, la carta Lava Spider es derrotada por Cursed Windeku y la batalla termina.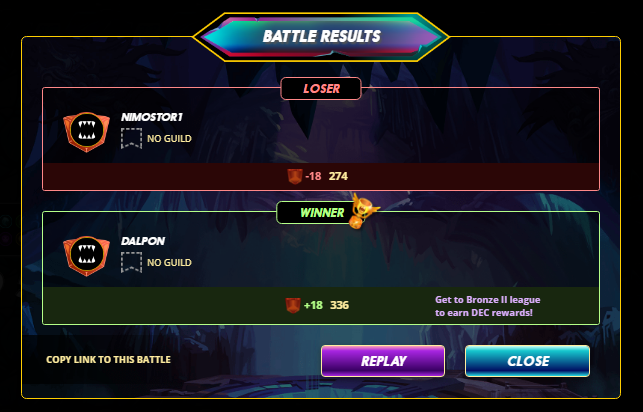 Cursed Windeku fue la última carta que quedó en la batalla y tenía una buena cantidad de salud, pero no tuvo la oportunidad de mostrar toda su utilidad porque la mayoría de las cartas cuerpo a cuerpo de mi oponente atacaban las cartas traseras, por lo que Cursed Windeku Espinas habilidad era solo útil hacia el final de la batalla, pero aún así fue una gran elección porque hizo mucho daño durante la batalla y una gran defensa.
---
---