A support without attack but necessary for battles / Un apoyo sin ataque pero necesario para las batallas [ENG/ESP]
First part in English and second part in Spanish
Primera parte en Inglés y segunda parte en Español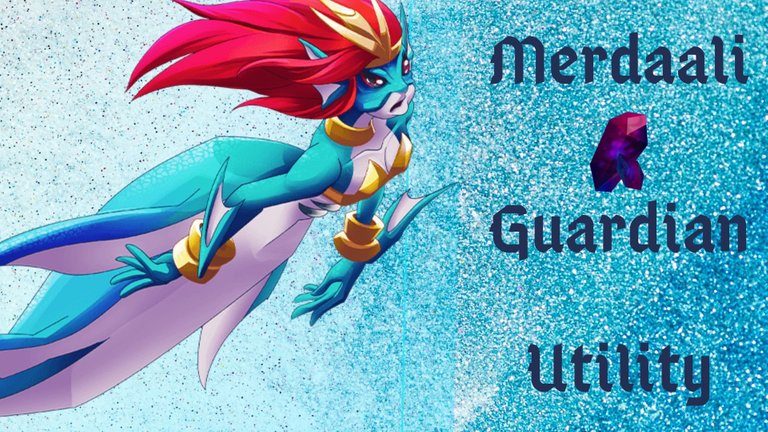 Today I'm going to talk about a card that inhabits the water deck and that has no attack but is incredibly useful for battles and you'll probably want to have it in your battles and in your collection.
The card is called Merdaali Guardian and it is a rare card from the chaos legion edition of the water deck, but you probably already know it because it is very common to see in battles and it is also one of the starting cards that you can play for free after purchasing the Spellbook.
But why is Merdaali Guardian a card that stands out?
As I mentioned before it doesn't have an attack so it won't be useful for dealing damage in battle, but it has excellent utility as a support card for your battles because it has amazing abilities that will help your other cards a lot.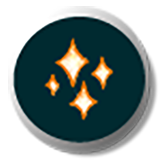 The first ability she has and will be very useful is Tank Heal which makes her heal your card positioned in the first position at 1/3 of the maximum life of that card and in Splinterlands and just like in many other games, an ability to heal always It is very useful and saves you many times.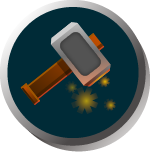 The second ability appears from the level 5 of the card and it is Repair. With this ability Merdaali Guardian will repair part of the shield of the card that took the most damage, so it's also a great support ability that will help your cards a lot. Remembering that it only notices if the card already has a shield, so if the card has never had a shield, the ability will not be useful.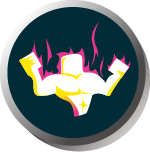 The third ability appears at level 8 which is your maximum level, the ability is Strengthen and it will be very useful for all your cards because it will increase their health by +1 and having more health in battle is always a positive thing in Splinterlands.
To get more information about the card just go to its stats.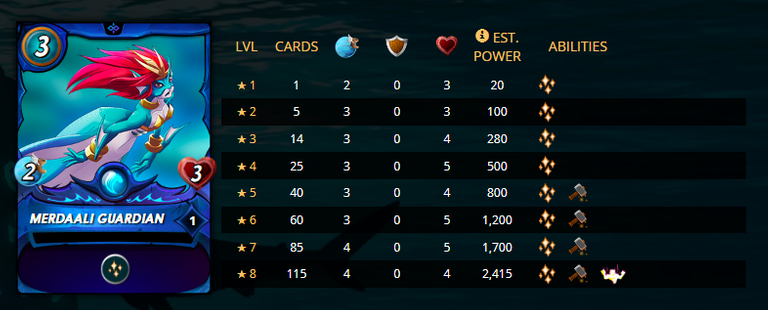 In addition to having no attack, its life is low and as it is a card to be a support in your battles so be careful where you place it.
What is the best position for Merdaali Guardian?
As I mentioned before her health is low so the best position for her is away from the first position because if she becomes the target of the attacks then she won't be able to resist for long and also keep her away from the last position so she doesn't take damage of cards with the Sneak ability.
The right position will depend on how many cards you can put on the battlefield so if you have 6 cards, try putting it in position 3 or 4.
A good summoner combo for him is Kelya Frendul which will increase her speed which is useful as it will make her use her Tank Heal and Repair abilities faster and Kelya Frendul also grants +1 shield which will be a great defense for Merdaali Guardian and your other cards and you also won't have to worry about whether or not the card has a shield for the Repair ability to be useful.
What are the ways to get Merdaali Guardian?
The Merdaali Guardian belongs to the chaos legion edition which is the most recent edition in Splinterlands, so it is possible to get it in 2 ways.
The first is through the splinterlands market where you can buy it for $0.80 and the payment methods are DEC or credits.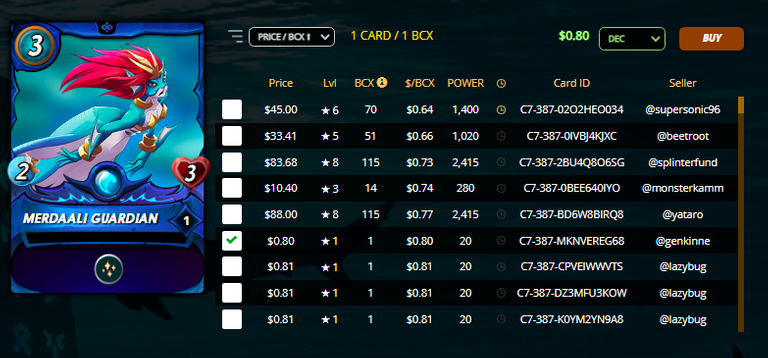 The second way is through the chaos legion packs that are still being sold and each pack costs $4, this pack comes with 5 random cards from the edition and at least 1 rare card or higher is guaranteed per pack. As Merdaali Guardian is a rare card so the chances of winning it are not low but it will depend on your luck.
You can buy the pack through the shop in splinterlands.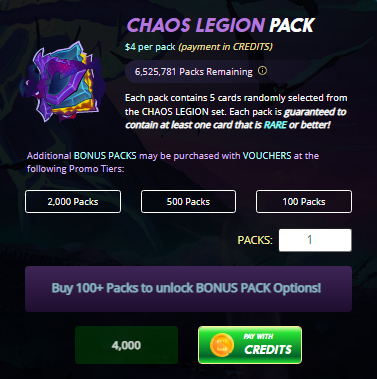 or through the hive engine where its value is traded below $4 but if you buy there you are not eligible for airdrops.

An incredible card to have in your collection, don't you agree?
If you still don't know Splinterlands and want to play you can use my referral link if you want: Acess the game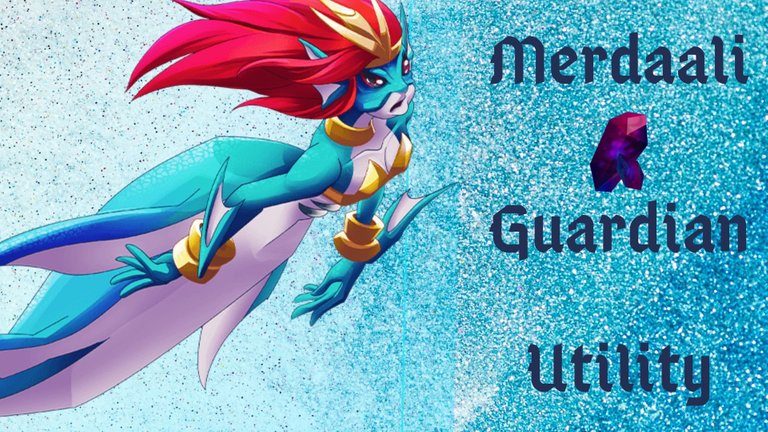 Hoy voy a hablar de una carta que habita en el mazo de agua y que no tiene ataque pero es increíblemente útil para las batallas y probablemente querrás tenerla en tus batallas y en tu colección.
La carta se llama Merdaali Guardian y es una carta rara de la edición de la legión del caos de la baraja de agua, pero probablemente ya la conozcas porque es muy común verla en las batallas y también es una de las cartas iniciales que puedes jugar gratis después de comprar el Libro de hechizos.
Pero, ¿por qué Merdaali Guardian es una carta que destaca?
Como mencioné antes, no tiene ataque, por lo que no será útil para hacer daño en la batalla, pero tiene una excelente utilidad como carta de apoyo para tus batallas porque tiene habilidades increíbles que ayudarán mucho a tus otras cartas.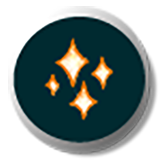 La primera habilidad que tiene y que le será muy útil es Tank Heal, que la hace curar su carta posicionada en la primera posición a 1/3 de la vida máxima de esa carta y en Splinterlands y como en muchos otros juegos, una habilidad para curar Siempre es muy útil y te ahorra muchas veces.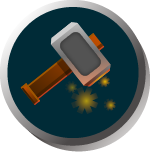 La segunda habilidad aparece a partir del nivel 5 de la carta y es Repair. Con esta habilidad, Merdaali Guardian reparará parte del escudo de la carta que recibió más daño, por lo que también es una gran habilidad de apoyo que ayudará mucho a tus cartas. Recordando que solo se da cuenta si la carta ya tiene escudo, por lo que si la carta nunca ha tenido escudo, la habilidad no te servirá.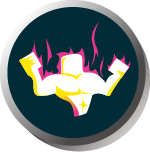 La tercera habilidad aparece en el nivel 8 que es tu nivel máximo, la habilidad es Strengthen y te será muy útil para todas tus cartas porque aumentará su salud en +1 y tener más salud en batalla siempre es algo positivo en Splinterlands.
Para obtener más información sobre la carta, simplemente vaya a sus estadísticas.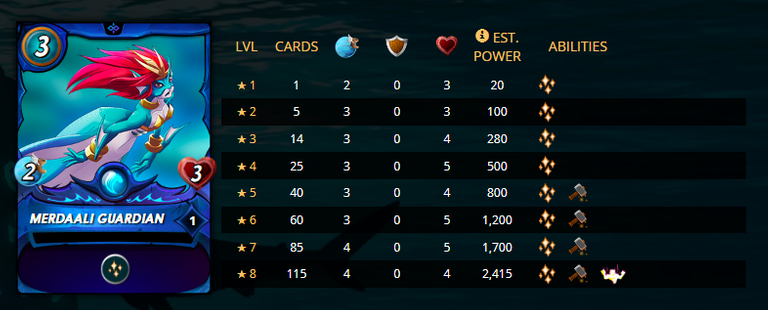 Además de no tener ataque, su vida es baja y como es una carta para ser un apoyo en tus batallas así que ten cuidado donde la colocas.
¿Cuál es la mejor posición para Merdaali Guardian?
Como mencioné antes, su salud es baja, por lo que la mejor posición para ella es alejarse de la primera posición porque si se convierte en el objetivo de los ataques, no podrá resistir por mucho tiempo y también la mantendrá alejada de la última posición. ella no recibe daño de cartas con la habilidad Sneak.
La posición correcta dependerá de cuántas cartas puedas poner en el campo de batalla, así que si tienes 6 cartas, intenta ponerlas en la posición 3 o 4.
Un buen combo de invocador para él es Kelya Frendul, que aumentará su velocidad, lo cual es útil, ya que hará que use sus habilidades Tank Heal y Repair más rápido y Kelya Frendul también otorga un escudo de +1, lo que será una gran defensa para Merdaali Guardian y los demás cartas y tampoco tendrás que preocuparte de si la carta tiene o no un escudo para que la habilidad Reparar sea útil.
¿Cuáles son las formas de obtener Merdaali Guardian?
La Merdaali Guaridan pertenece a la edición de la legión del caos que es la edición más reciente en Splinterlands, por lo que es posible conseguirlo de 2 formas.
La primera es a través del mercado de splinterlands donde puedes comprarla por $0.80 y los métodos de pago son DEC o créditos.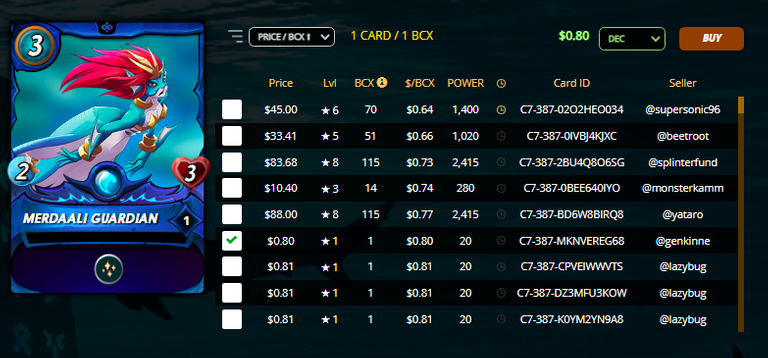 La segunda forma es a través de los paquetes de la legión del caos que aún se venden y cada paquete cuesta $ 4, este paquete viene con 5 cartas aleatorias de la edición y se garantiza al menos 1 carta rara o superior por paquete. Como Merdaali Guardian es una carta rara, las posibilidades de ganarla no son bajas, pero dependerán de tu suerte.
Puedes comprar el paquete a través de la tienda en Splinterlands.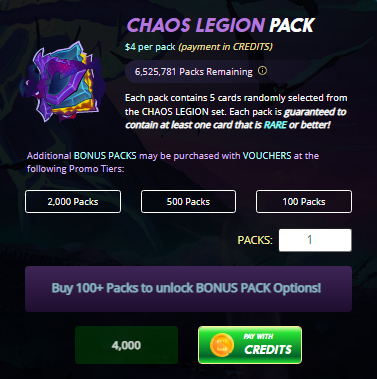 o a través del motor de colmena, donde su valor se negocia por debajo de $4, pero si compra allí, no es elegible para lanzamientos aéreos.

Una carta increíble para tener en tu colección, ¿no te parece?
Si aún no conoces Splinterlands y quieres jugar, puedes usar mi enlace de referencia si quieres: Acceder al juego.
---
---