An incredible monster for the vanguard / Un monstruo increíble para la vanguardia [ENG/ESP]
First part in English and second part in Spanish
Primera parte en Inglés y segunda parte en Español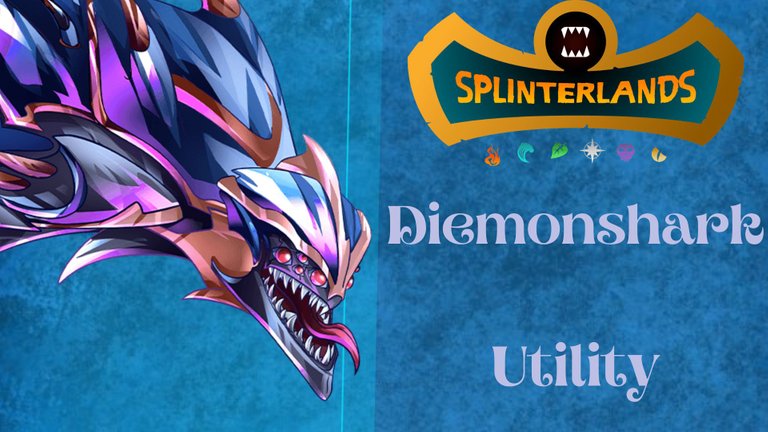 Today I'm going to talk about a card that lives in the depths of the seas and also the water deck, but that's not what makes it an amazing card, but its role in battles in Splinterlands.
You probably already know it because it is one of the starting cards that you can use for free after purchasing the Spellbook and also because it is a very popular and used card. This card is Diemonshark and he is a rare card from the Chaos Legion edition.
But why is Diemonshark a standout card?
Diemonshark stands out because it is an incredible card that serves both to defend and to attack, in defense it has excellent stats such as a high amount of health and shield, especially a shield that will be very useful to defend against melee and ranged attacks. In attack he stands out for his abilities and speed which are excellent and although his attack at level 1 is not high for a card that spends 8 mana it gets higher at higher levels. In short, Diemonshark is a card that you will certainly want to have by your side in battles.
Learn more about the card by viewing its statistics below.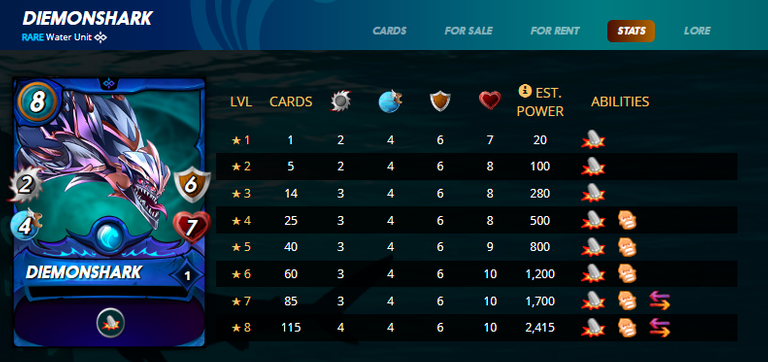 You can see that he at maximum level is an extremely strong card having a high attack, speed, health and shield in addition to 3 amazing abilities that I will now mention their function.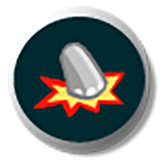 The Trample ability is for when Diemonshark defeats a card he has a chance to attack the next card again, it is an excellent offensive ability to have especially when the card that has it has a lot of attack because the chances of him defeating the card are higher and the Trample enable to be enabled.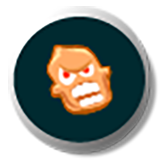 The Enrage ability makes the card that has it increase its stats by 1.5x when it receives an attack and as Diemonshark is a defensive melee card it will be positioned in the first position and will receive most attacks so this ability will be very useful for him , mainly to increase your attack. The stats that increase by 1.5x are melee attack and speed.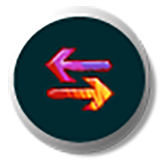 The Retaliate ability makes the card that has it have a 50% chance to hit back when a melee card attacks it. If Diemonshark receives the attack of a melee card he will have 50% of attacking that card back and this is an excellent offensive ability that increases the chances of the Trample ability being activated.
What is the best position for Diemonshark?
As Diemonshark is a melee card capable of attacking only in 1st position and he is also a great defensive card the best position for him is 1st position because then the chances of the Enrage and Retaliate abilities being activated are higher and as he has a lot of health and shield will not be a problem for him to defend unless his opponent uses a lot of magic attack cards.
What are the ways to get Diemonshark?
Diemonshark belongs to the chaos legion edition which is the most recent edition in Splinterlands, so it is possible to get it in 2 ways.
The first is through the splinterlands market where you can buy it for $0.42 and the payment methods are DEC or credits.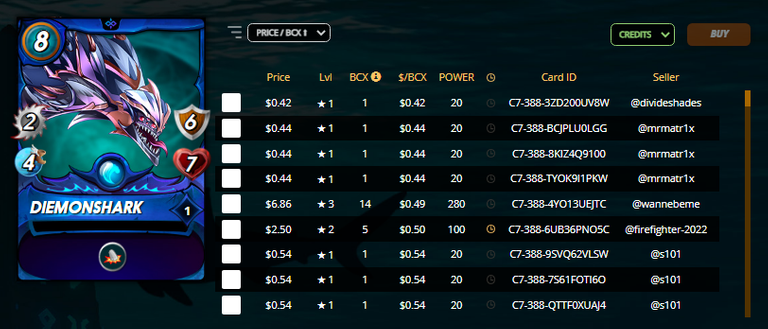 The second way is through the chaos legion packs that are still being sold and each pack costs $4 or 4000 DEC, this pack comes with 5 random cards from the edition and at least 1 rare card or higher is guaranteed per pack. As Diemonshark is a rare card so the chances of winning it are not low but it will depend on your luck.
You can buy the pack through the shop in splinterlands.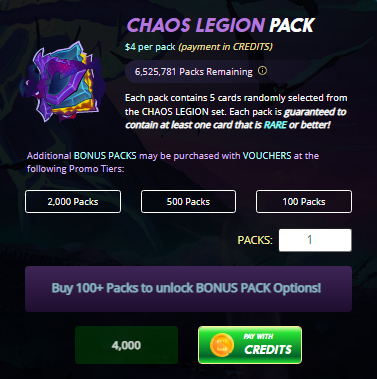 or through the hive engine where its value is traded below $4 but if you buy there you are not eligible for airdrops.

An incredible card to have in your collection, don't you agree?
If you still don't know Splinterlands and want to play you can use my referral link if you want: Acess the game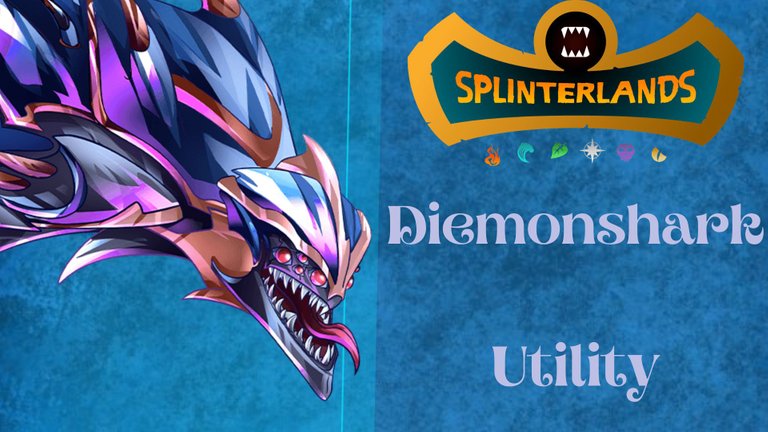 Hoy os voy a hablar de una carta que vive en las profundidades de los mares y también del mazo de agua, pero no es eso lo que la convierte en una carta increíble, sino su papel en las batallas de Splinterlands.
Probablemente ya la conozcas porque es una de las cartas iniciales que puedes usar gratis después de comprar el Spellbook y también porque es una carta muy popular y usada. Esta carta es Diemonshark y es una carta rara de la edición Chaos Legion.
Pero, ¿por qué Diemonshark es una carta destacada?
Diemonshark se destaca porque es una carta increíble que sirve tanto para defender como para atacar, en defensa tiene excelentes stats como una alta cantidad de salud y escudo, sobre todo un escudo que te será muy útil para defenderte de ataques cuerpo a cuerpo y a distancia. En ataque destaca por sus habilidades y velocidad las cuales son excelentes y aunque su ataque a nivel 1 no es alto para una carta que gasta 8 maná se hace mayor a niveles más altos. En resumen, Diemonshark es una carta que seguro querrás tener a tu lado en las batallas.
Obtenga más información sobre la carta al ver sus estadísticas a continuación.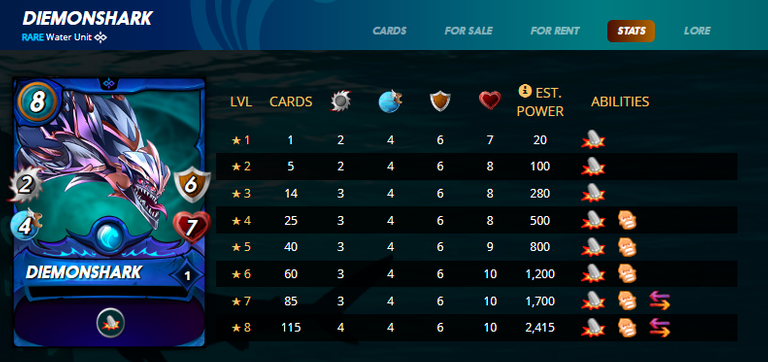 Puedes ver que él en el nivel máximo es una carta extremadamente fuerte que tiene un alto ataque, velocidad, salud y escudo además de 3 increíbles habilidades que ahora mencionaré su función.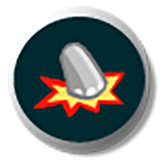 La habilidad Trample es para cuando Diemonshark derrota una carta, tiene la oportunidad de atacar la siguiente carta nuevamente, es una excelente habilidad ofensiva especialmente cuando la carta que la tiene tiene mucho ataque porque las posibilidades de que derrote la carta son más alto y Trample habilitar para ser habilitado.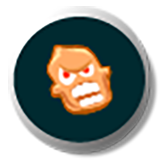 La habilidad Enrage hace que la carta que la tenga incremente sus stats en 1.5x cuando recibe un ataque y como Diemonshark es una carta defensiva cuerpo a cuerpo se posicionará en la primera posición y recibirá la mayoría de los ataques por lo que esta habilidad le será muy útil , principalmente para aumentar tu ataque. Las estadísticas que aumentan 1,5 veces son el ataque cuerpo a cuerpo y la velocidad.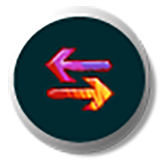 La habilidad Retaliate hace que la carta que la tiene tenga un 50% de posibilidades de devolver el golpe cuando una carta cuerpo a cuerpo la ataca. Si Diemonshark recibe el ataque de una carta cuerpo a cuerpo, tendrá el 50% de atacar esa carta y esta es una excelente habilidad ofensiva que aumenta las posibilidades de que se active la habilidad Trample.
¿Cuál es la mejor posición para Diemonshark?
Como Diemonshark es una carta cuerpo a cuerpo capaz de atacar solo en la primera posición y también es una gran carta defensiva, la mejor posición para él es la primera posición porque entonces las posibilidades de que se activen las habilidades Enrage y Retaliate son más altas y como tiene mucho la salud y el escudo no serán un problema para él para defender a menos que su oponente use muchas cartas de ataque mágico.
¿Cuáles son las formas de conseguir Diemonshark?
Diemonshark pertenece a la edición de la legión del caos que es la edición más reciente en Splinterlands, por lo que es posible conseguirlo de 2 formas.
La primera es a través del mercado de splinterlands donde puedes comprarlo por $0.42 y los métodos de pago son DEC o créditos.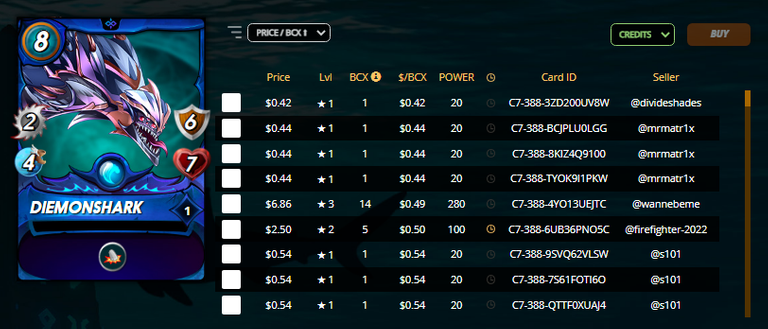 La segunda forma es a través de los paquetes de la legión del caos que aún se venden y cada paquete cuesta $4 o 4000 DEC, este paquete viene con 5 cartas aleatorias de la edición y se garantiza al menos 1 carta rara o superior por paquete. Como Diemonshark es una carta rara, las posibilidades de ganarla no son bajas, pero dependerán de tu suerte.
Puedes comprar el paquete a través de la tienda en splinterlands.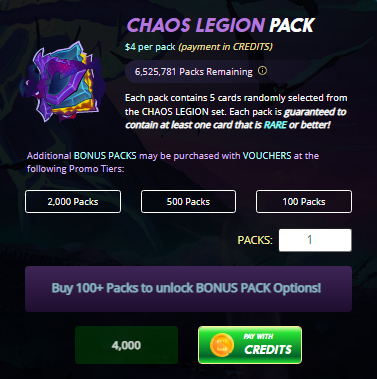 o a través del motor de colmena, donde su valor se negocia por debajo de $4, pero si compra allí, no es elegible para lanzamientos aéreos.

Una carta increíble para tener en tu colección, ¿no te parece?
Si aún no conoces Splinterlands y quieres jugar, puedes usar mi enlace de referencia si quieres: Acceder al juego
---
---