What Characteristics of Existing Cards Could Translate to the Land Game?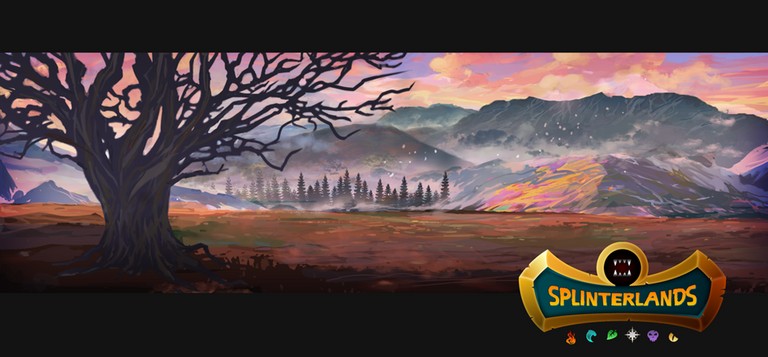 Are there cards on the market that you will be able to use to travel in Splinterlands? What would it be like to jump on the back of a Unicorn, or ride the massive Baleenvast, Baakjira? Will there be card characteristics that will boost efficiency or offer additional utility on land? This post is a speculation about some of the characteristics that exist in our current cards and how they might apply to land.
Also, before I go too far into this post, I want to recognize @shinoxl, who has posted all of the Splinterlands official land artwork on their PeakD page.
A journey of a thousand miles must begin with a single… Dragon?
In the Splinterlands Land-Expansion channel in Discord, @gvasil speculated on an interesting capability that is described in the latest lore. He said:
"In the latest story, Ambush, we read that it takes roughly 8 to 10 days to travel the distance shown by the black dashed line if you are flying on a griffin: 'That's about ten days' worth of flying if we rest at night, maybe eight if we push the griffins hard...' This gives you an idea of what to expect when it comes to travel time for resources. What's interesting is that we might have different options for transferring resources from one place to the other (on foot, using carts, griffins, etc)." (bold and italics are gvasil's)
Once someone has harvested materials from land, will there be a transport time value applied to the movement of those resources? If so, what will it be? Can we travel on our own land faster than other people's? What about roads? Can we use beasts of burden? Who can fly around on a griffin?
It appears that we have at least gotten a hint that some cards may offer value in land gameplay without actually being placed for purposes of harvesting or fighting. What are some other card types that might offer characteristics that could be useful?
For instance, obviously, we would like to know about transport of materials. But, what about ways of protecting our land from invaders? Could cards be used this way? What about movement of individuals? We probably don't want the expense of hiring a griffin to fly to the arena for a tournament, do we? Are there cards that could be identified for quickly moving my character from a piece of land to another more rapidly?
This series of posts will describe a few ideas about alternate types of utility that certain cards MIGHT have when it comes to land. Please keep in mind that there are certainly other cards that have the characteristics that are mentioned but these are some great examples. The posts will be divided by splinter type. Today's is dedicated to fire and water.
But, before we begin with the individual splinters, there is another recent signal that transportation will be integrated into land. VP of Creative, Nate, presented this graphic advertising Splinterfest at a recent town hall. It shows a giant boar pulling a wagon.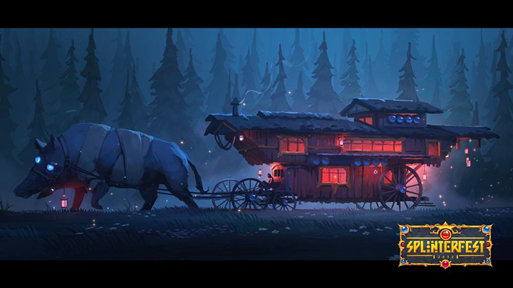 If you consider the lore comments in Ambush and this image, it's clear that movement on land is actively being considered by the Creative team. This wagon is intended to represent the transportation that will be offered to the folks attending Splinterfest. I assume that the small upper room on top of the wagon will be reserved for VIPs and their guests. Oh to be a Pixie on the wall in that room!
Onto the Splinters
Fire
Fire lands will produce Sparkstones. We do not know yet what their properties will be. It could be that they are highly flammable, or explosive, or that they ward off disease and just have "spark" in their name.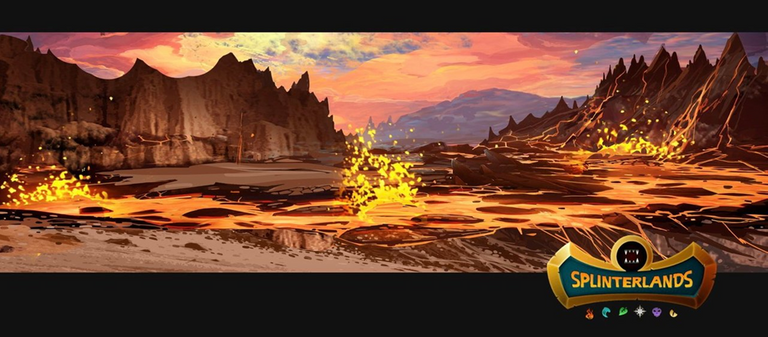 Countess Sinash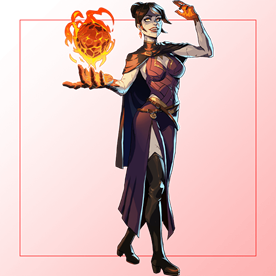 In battle, at level two, the lovely Countess gives swiftness to her companions. It would be interesting if that capability could be applied monsters who were working land alongside her. Would this mean that those monsters would operate at a slightly greater efficiency? Hopefully they don't operate at such a fast speed that they start to ignite their precious Sparkstones!
Elemental Phoenix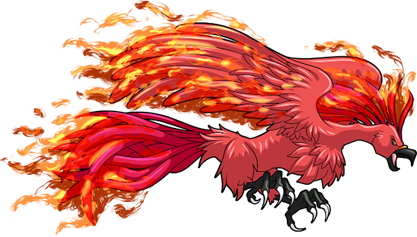 These birds are described as massive in the lore, so if they can be coaxed into working for the landholders, perhaps they could be put to work transporting goods. There are a couple of outstanding questions though: 1) can they transport things made of wood or flesh? Because, well… fire. 2) If for some reason your Phoenix is destroyed mid-transport, will your items come back too, or doesn't it work that way?
Giant Roc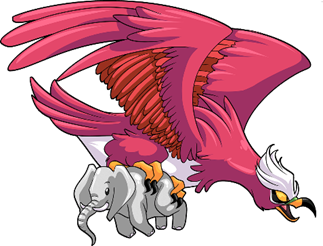 It's probably fairly obvious that a Roc can be used for transport, given the above image from the lore. Presumably, the material that you use them to transport should be less yummy than an elephant. Otherwise, you may not get it back! Going by the size, they could potentially be used to transport very large quantities of materials.
Lava Launcher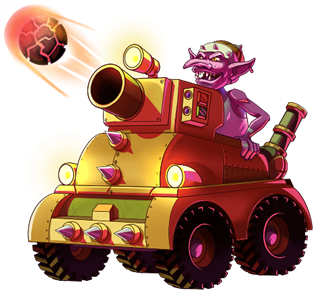 It's not clear how much power a Lava Launcher has. Perhaps a wagon or cart could be hooked to it to pull materials across land and to market. And, they may have a dual purpose. A tank could be a good defensive weapon to post around the exterior of your land to fend off those pesky bad guys. It would be interesting if land holders had to make decisions about the types of cards that they placed on land based on what they can do for that land, rather than just the amount of power or work they provide. For instance, if I have five slots for monsters and want to use two defensively, I would only have three left to mine resources.
Pyre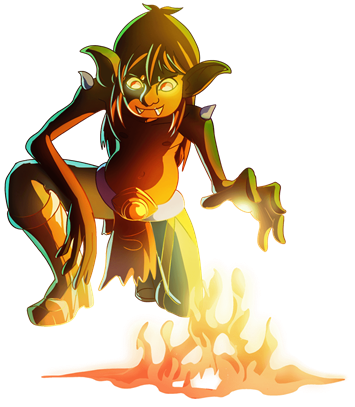 Pyre is a summoner who gives a speed boost to his monsters. If that summoner is used on land, would all monsters on that plot operate with a speed boost? This is especially interesting in that the new legendary fire summoner, Conqueror Jacek, will offer a speed boost of two. That may make pushing Pyre out to work the land a little more appealing to landholders.
Water
The water splinter will produce Bottled Storms. This is another resource that does not appear to have been referenced in the lore yet.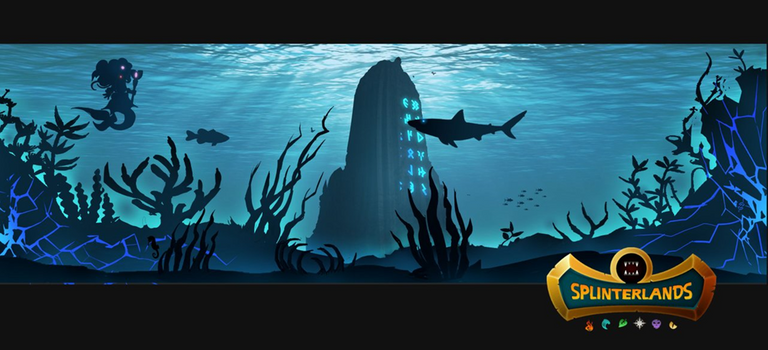 Baakjira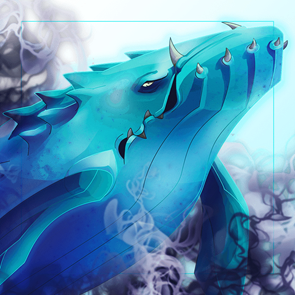 Baakjira is a Baleenvast and is described as being the largest animal in the Splinterlands. As such, if it was possible to strap anything onto it, these would be fantastic beasts of burden for transport. You'd just have to convince them not to dive so deep that all your awesome stuff got crushed. And don't ask them to move fast because these guys never get faster than a speed of two in battles.
Sea Monster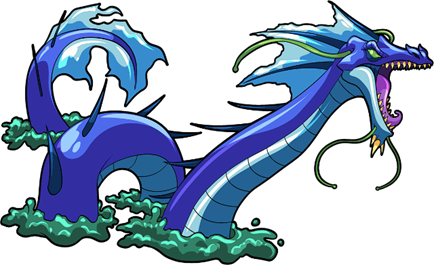 Who will be the unfortunate soul to draw the short straw to load anything onto this guy? The aptly named Sea Monsters are massive sea faring beasts. Sea Monster myths say that some of them can swallow a ship whole. And that even bigger ones can swallow them! However, while they are large and can clearly swim, they also move relatively slowly. They don't reach three speed till level seven. Then again, the biggest ships always the slowest.
Wave Brood/Water Elemental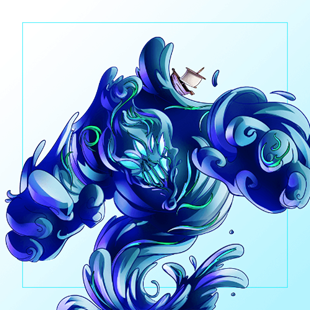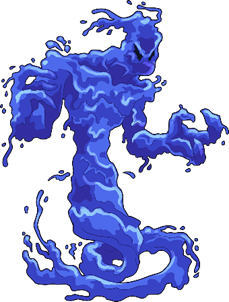 In the lore, a Wave Brood is a corrupted Water Elemental. They appear to have the ability to control water in a way that could potentially be used for transport. Since water splinter areas will be used to harvest Bottled Storms, it's easily conceivable that one of these fellows would be able to help transport those resources.
Venari Wavesmith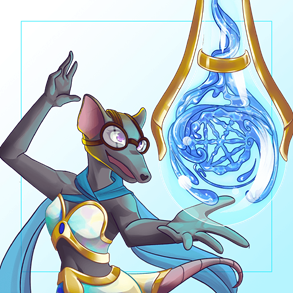 Wavesmiths were previously discussed in greater detail in one of my posts (https://peakd.com/hive-13323/@dangerbald/do-the-venari-smiths-carry-a-secret) a few months back, for their ability to create advanced devices and tools. However, this time, they are getting some love because of the Protect ability. If this capability can be translated to land (water?) in the future, it could potentially offer a barrier to invading hordes of Chaos monsters and better protect our land.
An Embarrassment of Riches
Remember that there are many cards that have similar qualities. So, if you think you are priced out of one of these cards, you should usually be able to find a great alternative.
Please stay tuned later this week where I will look at a few Earth and Life splinter cards that have some interesting characteristics as well.
---
---