Battle Mage Secrets: Equalizer [EN - ESP]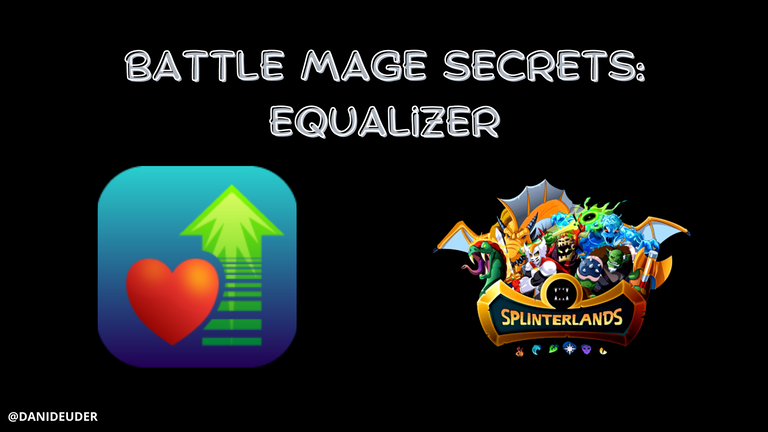 Welcome to another week of the Battle Mage Secrets challenge. This week,
@splinterlands
invites us to participate by analysing a new battle condition.
This week we have to analyse and battle with what an Equalizer condition brings to the table
, and to do so, I'm going to share and analyse a battle with the earth deck and one of the newest summoners to hit the Splinterlands arena. We'll be facing one of the most veteran summoners in this deck. Let's get to this week's analysis. Let's get started.
Bienvenidos una semana más a la cita con el reto Battle Mage Secrets. Esta semana,

@splinterlands

nos invita a participar realizando un análisis de una nueva condición de batalla.

Esta semana debemos analizar y combatir teniendo en cuenta lo que aporta y los condicionantes que incluye una condición como Equalizer.

Y, para ello, voy a compartir y analizar una batalla con el mazo de tierra y uno de los nuevos invocadores llegados a la arena de Splinterlands. Enfrente tendremos uno de los más veteranos invocadores de este mazo. Vamos con el análisis de esta semana. Comenzamos.



This week I'm going to take a gamble and go against the tide. Let me explain. Equalizer as a battle condition causes all cards on the battlefield to have the same vitality as the card with the highest vitality of all that is, if the card with the highest health between the two contenders has 8 points, ALL cards on the board will have a vitality of eight points. It is best in these cases to use cards with low vitality and abilities such as Thorns, Triage, Heal and any ability that provides defence. Well, I'm going to work in a radically different way by including cards with high vitality but very high attack power. Let's see how the risky move I'm going to make works out.
Esta semana me la voy a jugar y voy a ir contracorriente. Me explico. Equalizer como condición de batalla provoca que todas las cartas en el campo de batalla tengan la misma vitalidad que la carta con la vitalidad más alta de todas. Es decir, si entre ambos contendientes la carta con la salud más alta tiene 8 puntos, TODAS las cartas del tablero tendrán una vitalidad de ocho puntos. Lo mejor en estos casos es utilizar cartas con poca vitalidad y con habilidades como Thorns, Triage, Heal y cualquier habilidad que aporte defensa. Pues bien, voy a trabajar de manera radicalmente diferente incluyendo cartas con alta vitalidad pero con un poder de ataque altísimo. Veremos a ver qué tal sale la arriesgada jugada que voy a plantear.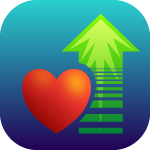 The summoner is going to be Lobb Lowland and it's going to be my first risky bet as it has a summoning mana cost of six points. That said, it's key to be able to include a card that should be a determining factor in the strategy.
El invocador va a ser Lobb Lowland y va a ser mi primera apuesta arriesgada pues tiene un coste de maná de invocación de seis puntos. Eso sí, es clave para poder incluír una carta que debe ser determinante en mi estrategia.

As a tank I'm going to use Mycelic Infantry. Again, a card with a lot of vitality but with tremendous defensive power to give the second line time to do its job and give them time to cause significant damage to the enemy ranks in the first few turns of combat.
Como tanque voy a utilizar a Mycelic Infantry. De nuevo una carta con mucha vitalidad pero con un tremendo poder defensivo para dar tiempo a que la segunda línea cumpla su función y de tiempo a que causen un importante daño en las filas enemigas los primeros turnos del combate.

The second position will go to Dumacke Orc looking to take advantage of the impossibility of using magic attack in this combat and take advantage of his high shield points.
La segunda posición va a ser para Dumacke Orc buscando aprovechar la imposibilidad de utilizar ataque mágico en este combate y aprovechar sus elevados puntos de escudo.

Now it's time for the third position and the key to the whole strategy: Quora Towershead. Lobb Lowland is the summoner so I can include Quora who has a melee attack so I can include her and take advantage of her magic attack. She alone should be the key to the strategy and the one that will make it easier for me to win if everything goes as planned.
Ahora turno para la tercera posición y la clave de toda la estrategia: Quora Towershead. Lobb Lowland es el invocador para poder incluír a Quora que al tener ataque cuerpo a cuerpo la puedo incluír y aprovechar su ataque mágico. Ella sola debe ser la clave de la estrategia y la que me facilite la victoria si todo sale como tengo planeado.

And finally, Arkemis the Bear in the last position to protect the possibility of the opponent including cards that attack my second line. Quora is thus protected from the front and rear, and is in no danger of being eliminated early.
Y, para acabar, Arkemis the Bear en la última posición para proteger la posibilidad de que el rival incluya cartas que ataquen a mi segunda línea. Quora queda así protegida por delante y por la retaguardia no teniendo peligro de ser eliminada antes de tiempo.

Position not used in this battle.
Posición no utilizada en esta batalla.

Position not used in this battle.
Posición no utilizada en esta batalla.


The proposed strategy, though risky, will work wonders. Quora's contribution will be totally decisive and,
although his presence brings a lot of vitality points to the enemy line-up,
his double melee and magic attack will minimise the impact of the defensive abilities that
@reeta0119
has placed in this interesting battle with a lot of tactical component in both line-ups. My opponent fulfils the premises imposed by the presence of Equalize, however, Quora changes everything and will give me the victory in this week's challenge battle.
La estrategia planteada, aunque arriesgada, va a cumplir a las mil maravillas. La aportación de Quora va a ser totalmente determinante y,

a pesar de que su presencia aporta muchísimos puntos de vitalidad a la alineación enemiga,

su doble ataque cuerpo a cuerpo y mágico va a minimizar el impacto de las habilidades defensivas que ha colocado

@reeta0119

en esta interesante batalla con mucho componente táctico en ambas alineaciones. Mi rival cumple con las premisas que impone la presencia de Equalize, sin embargo, Quora lo cambia todo y me dará la victoria en la batalla del reto de esta semana.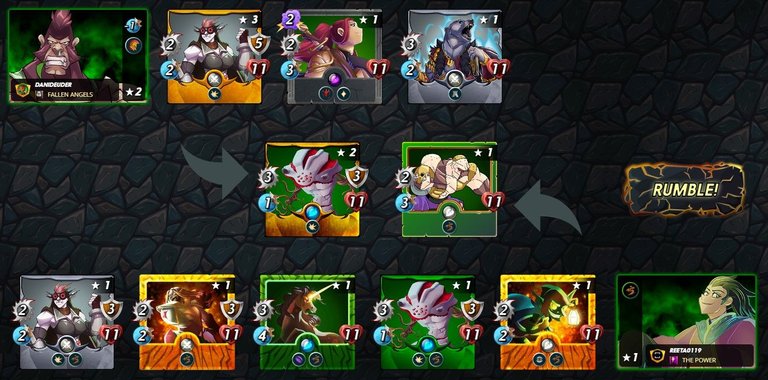 This week's skill, equalizer, imposes a number of conditions to make the most of its impact. As I explain at the beginning of the analysis, the best option is to place cards with low vitality but with abilities that damage or heal like Thorns, Triage or Tank Heal If the opponent chooses cards with a lot of vitality, my cards will see their vitality increase and we will be able to take better advantage of their abilities. However, in the battle that serves as an example, the presence of Up Close & Personal changes everything and being able to include Quora Towershead makes me propose a totally different scenario than the one recommended, which, as you have been able to see, helps me win this interesting battle.
La habilidad de esta semana: equalizer, impone una serie de condiciones para aprovechar su impacto al máximo. Como explico al principio del análisis, la mejor opción es colocar cartas con poca vitalidad pero con habilidades que dañen o curen como Thorns, Triage o Tank Heal. Si el rival se decide por cartas con mucha vitalidad mis cartas verán aumentada su vitalidad y podremos aprovechar mejor sus habilidades. Sin embargo, en la batalla que sirve de ejemplo, la presencia de Up Close & Personal lo cambia todo y el poder incluír a Quora Towershead me hace plantear un escenario totalmente diferente al recomendado que, como has podido comprobar, me sirve para ganar esta interesante batalla.
How do you try to take advantage of the presence of this week's skill as a battle condition in your day-to-day life in Splinterlands? Do you have a pre-determined strategy? Did you like my approach to the battle and its explanation? I'll read you in the comments section, and in a week's time, be sure to check back for a new challenge - see you on the battlefield!
Y tú, ¿cómo intentas aprovechar la presencia la habilidad de esta semana como condición de batalla en tú día a día en Splinterlands? ¿tienes alguna estrategía predeteminada? ¿te ha gustado mi manera de enfocar la batalla y su explicación? Te leo en la sección de comentarios y, dentro de una semana, no dejes de leerme en un nuevo reto. ¡Nos vemos en el campo de batalla!

¿Quieres unirte al Clan Fallen Angels? Clica aquí

All the images in this article are credited to splinterlands.com. Cover image made in canva.com
Divider credited to @kyo-gaming. You can find more dividers from kyo here.
Don't have an account in the game. Join us and conquer splinterlands with my referral link.
---
---