Battle Mage Secrets II: Aimless [EN - ESP]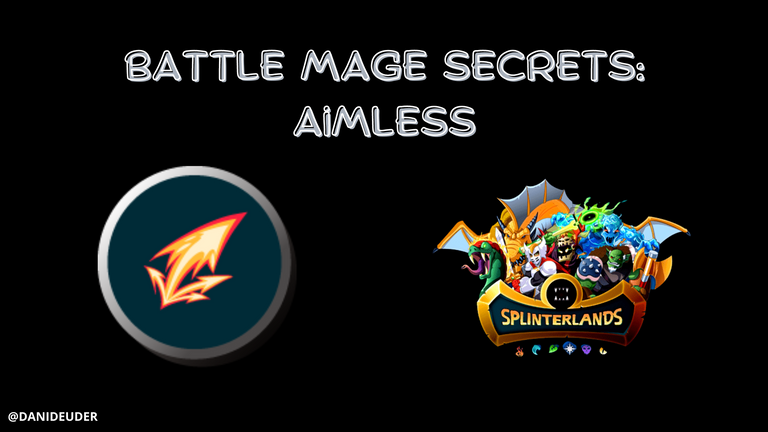 Second edition of the Battle Mage Secrets challenge. This week the Splinterlands team proposes us to analyse the Aimless ruleset, which is basically like analysing the Scattershot skill. A ruleset with a strong offensive component that is a bit of a lottery in each round of attacks. Let's go with the analysis of this week's challenge.
Segunda edición del reto Battle Mage Secrets. Esta semana el equipo de Splinterlands nos propone analizar el ruleset Aimless que, basicamente, es como analizar la habilidad Scattershot. Un ruleset con un marcado componente ofensivo y que es una pequeña lotería en cada ronda de ataques. Vamos con el análisis del reto de esta semana.



If you're a regular in my "Discovering Abilities" series, Scattershot is one of the skills I've looked at most recently. What this ability does is that the attack of the card with this ability can be directed at a random opponent each round, so it's a totally unpredictable ability that can attack that opponent who is destroying our strategy, or even the least suitable opponent. As I said in the introduction, it's a lottery ability.
Si eres habitual de mi serie "Discovering Abilities", Scattershot es una de las habilidades que he analizado más recientemente. Esta habilidad lo que provoca es que el ataque de la carta con dicha habilidad se pueda dirigir a un rival aleatorio en cada ronda. Es, por tanto, una habilidad totalmente impredecible que puede atacar a ese rival que nos está destrozando la estrategia o, también, al rival menos indicado. Como digo en la introducción, es una habilidad lotería.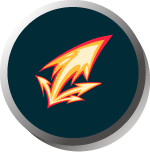 Playing with a water deck, as with this week's battle, you know that Kelya Frendul is my first choice. Also, this week we have a tough opponent in front of us who is going to play water with Alric Stormbringer. You could say they're going head to head, past and present in the summoners of the water deck.
Jugando con mazo de agua, como con la batalla de esta semana, ya sabes que Kelya Frendul es mi primera decisión. Además, esta semana tenemos un complicado rival enfrente que va a jugar agua con Alric Stormbringer. Se podría decir que se miden frente a frente pasado y presente en los invocadores del mazo acuático.

Diemonshark Gold Foil. Diemonshark is another of the base cards in my water deck. It shares with Legionnaire Alvar the honour of being one of the two most used tanks in high mana summoning conditions. This battle, at 31 points, I decided to use him by sacrificing other more powerful cards in the second line.
Diemonshark Gold Foil. Diemonshark es otra de las cartas base de mi mazo de agua. Comparte con Legionnaire Alvar el honor de ser uno de los dos tanques más utilizados en condiciones de alto maná de invocación disponible. Esta batalla, con 31 puntos, decidí usarlo sacrificando otras cartas más poderosas de la segunda línea.

Tide Biter with a mana cost of only three points and the Reflection Shield ability is going to be crucial in this battle. He will penalise opponents who attack him with magic attacks on an opponent who bases his strategy on this type of attack.
Tide Biter con un coste de maná de solo tres puntos y la habilidad Reflection Shield va a ser determinante en esta batalla. Penalizará al rival que le ataque con ataque mágico en un contrincante que basa su estrategia en este tipo de ataque.

In third position Merdhampir embedded in the centre of the line-up due to the ruleset analysed this week and trying to take advantage of his Life Leech ability to add vitality and serve as a shield for Deeplurker.
En tercera posición Merdhampir incrustado en el centro de la alineación debido al ruleset analizado esta semana e intentando aprovechar su habilidad Life Leech para que sume vitalidad y sirva de escudo a Deeplurker.

Deeplurker is arguably one of the best cards in the water deck. A lot of offensive power, tight vitality and mana cost, a lot of speed and, on top of all that, the Opportunity ability. Deeplurker is a fixture in my lineups.
Deeplurker es, posiblemente, una de las mejores cartas del mazo de agua. Muchísimo poder ofensivo, una vitalidad y coste de maná ajustados, mucha velocidad y, junto a todo ello, la habilidad Opportunity. Deeplurker es un fijo en mis alineaciones.

Another fixture of the aquatic deck especially in low mana summoning battles. Pelacor Bandit at level has two hit points and Sneak. For only three points of mana it's a card to watch out for.
Otro fijo del mazo acuático especialmente en batallas de bajo maná de invocación. Pelacor Bandit a nivel tiene dos puntos de ataque y Sneak. A cambio de solo tres puntos de maná es una carta a tener en cuenta.

We complete the line-up with another card similar to Pelacor Bandit. Uraeus at level 3 with two hit points and Sneak, although the presence of Aimless means that this ability doesn't affect the playability of the fight.
Completamos la alineación con otra carta similar a Pelacor Bandit. Uraeus a nivel 3 con dos puntos de ataque y Sneak aunque la presencia de Aimless provoca que esta habilidad no afecte a la jugabilidad del combate.


Riftwatcher will be my opponent in this battle. He'll be teaming up with Alric Stormbringer at level 4 evolution and a water deck. But he's going to do it with a completely different strategy than me. We don't match up on any cards and his potential will be to take advantage of the magic attack of five of his six cards and the bonus that Alric provides. Let's see how this interesting battle plays out.
Riftwatcher será mi rival en esta batalla. Va a formar con Alric Stormbringer a nivel 4 de evolución y mazo de agua. Aunque él lo va a hacer con una estrategia totalmente diferente a la mia. No coincidimos en ninguna carta y su potencial será aprovechar el ataque mágico de cinco de sus seis cartas y el bonus que proporciona Alric. Vamos a ver cómo se decide esta interesante batalla.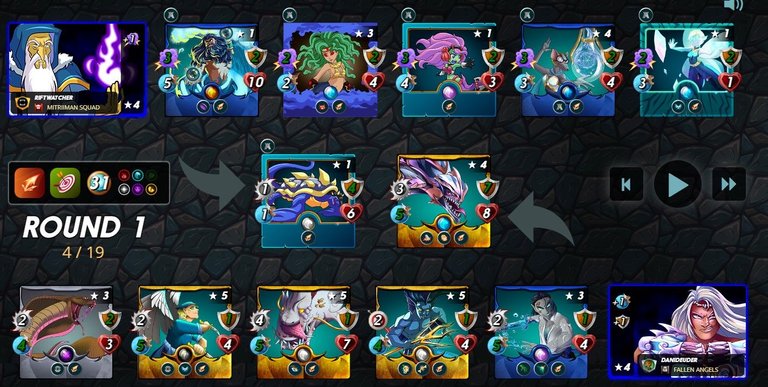 The battle against
@Riftwatcher
was really close.
The critical moment was when Diemonshark was knocked out and couldn't attack for a turn
Luckily in the next turn his ability came into play and he was able to make a double attack that eliminated Djinn Oshannus' shield and left the way free for Tide Biter and Merdhampir to drain his life to eliminate him from the battlefield. Interesting victory in a very close duel.
La batalla contra

@Riftwatcher

ha sido realmente igualada.

El momento crítico fue cuando Diemonshark quedó noqueado y no pudo atacar durante un turno.

Por suerte en el siguiente entró en liza su habilidad y pudo hacer un doble ataque que eliminó el escudo de Djinn Oshannus y dejo vía libre a Tide Biter y Merdhampir para que drenaran su vida hasta eliminarlo del campo de batalla. Interesante victoria en un duelo muy igualado.


Unpredictable. That is the word that defines this week's skill. You have to take advantage of it against those opponents that usually hide a healer or a card that regenerates shield in the middle of their lineups and that we have a hard time eliminating because we don't have any card that can attack them. With Aimless, or Scattershot on one of our cards, that card that gives us a headache can get one of the many random attacks that are going to happen. This is the moment when you're thankful that one of the battle conditions is Aimless.
Impredecible. Es la palabra que define la habilidad de esta semana. Hay que aprovecharla ante esos rivales que suelen esconder bastante bien a un sanador o una carta que regenera escudo en el centro de sus alineaciones y que nos cuesta eliminar pues no tenemos ninguna carta que pueda atacarlas. Con Aimless, o Scattershot en alguna de nuestras cartas, esa carta que nos provoca dolor de cabeza puede recibir alguno de los muchos ataques aleatorios que se van a producir. Es el momento en el que agradeces que una de las condiciones de batalla sea Aimless.
How do you try to take advantage of the presence of this week's skill as a battle condition in your day-to-day life in Splinterlands? Do you have a pre-determined strategy? Did you like my approach to the battle and its explanation? I'll read you in the comments section, and in a week's time, be sure to check back for a new challenge - see you on the battlefield!
Y tú, ¿cómo intentas aprovechar la presencia la habilidad de esta semana como condición de batalla en tú día a día en Splinterlands? ¿tienes alguna estrategía predeteminada? ¿te ha gustado mi manera de enfocar la batalla y su explicación? Te leo en la sección de comentarios y, dentro de una semana, no dejes de leerme en un nuevo reto. ¡Nos vemos en el campo de batalla!

¿Quieres unirte al Clan Fallen Angels? Clica aquí

All the images in this article are credited to splinterlands.com. Cover image made in canva.com
Divider credited to @kyo-gaming. You can find more dividers from kyo here.
Don't have an account in the game. Join us and conquer splinterlands with my referral link.
---
---