Battle Mage Secrets: Unprotected [EN - ESP]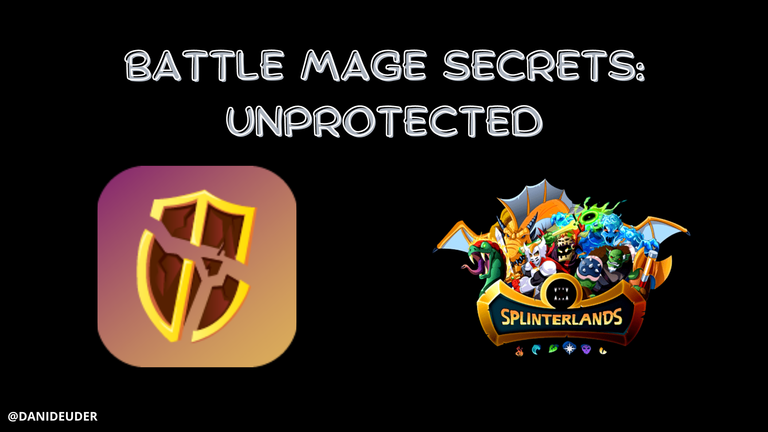 Good morning, afternoon, evening, night to all and depending on the time of day you read me. A new edition of the Battle Mage Secrets challenge is here with this week's look at the Unprotected condition A condition that renders those tanks full of awesome shields totally useless. Let's go with the analysis of a new battle condition for another week. We begin now.
Buenos días, tardes, noches a todos y dependiendo del momento del día en que me leas. Llega una nueva edición del reto Battle Mage Secrets con el análisis, esta semana, de la condición Unprotected. Una condición que hace que esos tanques llenos de escudos asombrosos sean totalmente inútiles. Vamos con el análisis de una nueva condición de batalla una semana más. Comenzamos ya.



The battle condition analysed this week has a very strong anti-defensive component. Its effect is to remove all shields from all cards as well as shields provided by summoners and abilities In other words, we are facing a battle with no shields on any card and we will have to adapt our strategy to this reality. And the fact is that eliminating shield points varies the strategy to be used in each specific case in a more than notable way.
La condición de batalla analizada esta semana tiene un componente anti defensivo muy marcado. Su efecto es la de eliminar todos los escudos de todas las cartas así como los escudos aportados por invocadores y habilidades. Es decir, tenemos ante nosotros una batalla sin escudo en ninguna carta y tendremos que adecuar nuestra estrategia a esta realidad. Y es que eliminar los puntos de escudo varía de manera más que notable la estrategia a utilizar en cada caso concreto.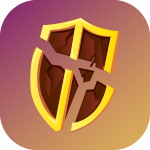 Let's analyse the alignment I'm going to use in the example battle under the Unprotected condition. In the summoner position I'm going to use Obsidian, obviously looking to take advantage of the magic boost buff on all cards.
Vamos a analizar la alineación que voy a utilizar en la batalla de ejemplo bajo la condición Unprotected. En el puesto de invocador voy a utilizar a Obsidian buscando, evidentemente, aprovechar el buff de aumento mágico en todas las cartas.

As a summoner I place someone you can't imagine. Fungus Flinger I want to use his Martyr ability to give more power to Quora who comes in second.
Como invocador coloco a alguien que no te imaginas. Fungus Flinger. Quiero aprovechar su habilidad Martyr para dar más poder a Quora que viene en segunda posición.

In second place comes the absolute star of the Gladius collection. That's right, you guessed it: Quora Towershead. There's little I can say about Quora that you don't already know.
En segunda posición viene la estrella absoluta de la colección Gladius. Correcto, lo has adivinado: Quora Towershead. Poco puedo explicar de Quora que no conozcas ya.

Another card with Martyr comes from behind. If the opponent has cards to finish off Venari Marksrat the extra Quora can be absolutely devastating.
Otra carta con Martyr viene por detrás. Si el rival tiene cartas para acabar con Venari Marksrat el extra que recibe Quora puede ser absolutamente demoledor.

Turn now for a healer: Goblin Psychic You know, recover vitality from the card that is in the first position each round.
Turno ahora para un sanador: Goblin Psychic Ya sabes, recuperar vitalidad de la carta que esté en cada ronda en la primera posición.

One of the best cards in the land deck is Regal Peryton so, unsurprisingly, it's also part of this line-up looking to take advantage of Unprotected.
Una de las mejores cartas del mazo de tierra es Regal Peryton así que, como era de esperar, también forma parte de esta alineación buscando aprovechar Unprotected.

And finally, Chaos Agent at level 3 who has the option to dodge ranged and melee attacks with his Dodge ability.
Y, para acabar, Chaos Agent a nivel 3 que tiene la opción de esquivar ataques a distancia y cuerpo a cuerpo con su habilidad Dodge.


The battle pits me against
@mckrazy10
who has a water deck with a summoner at level 1. This means that
he starts with a deficit compared to my deck as he cannot use evolved cards.
This fact is going to be decisive in the outcome of this battle which, as you can guess, ends with a victory for my record.
La batalla me enfrenta a

@mckrazy10

que forma con un mazo de agua con invocador a nivel 1. Es decir,

comienza con un déficit con respecto a mi mazo ya que él no puede utilizar cartas evolucionadas.

Este hecho va a ser determinante en el desenlace de esta batalla que, como podrás intuir, acaba con victoria para mi historial.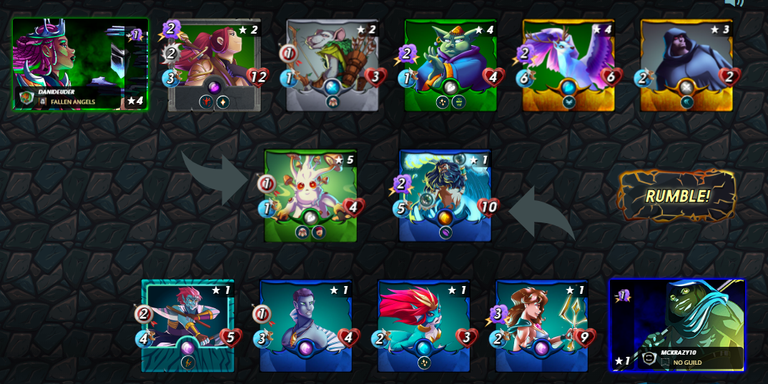 Another analysis completed and developed with an interesting battle. Unprotected causes those cards with a high defensive tendency to have a very reduced proteanism by eliminating the shield points they can bring This way, cards with a lot of offensive power and high speed are of interest, and attacking before the opponent can mark, in this condition more than ever, the development of the combat and the final victory for our team or for our opponent.
Otro análisis finalizado y desarrollado con una interesante batalla. Unprotected provoca que esas cartas con alta tendencia defensiva tengan un protegonismo muy reducido al eliminar los puntos de escudo que puedan aportar. Así las cosas, interesan cartas con mucho poder ofensivo y alta velocidad y es que atacar antes que el rival puede marcar, en esta condición más que nunca, el desarrollo del combate y de la victoria final para nuestro equipo o para nuestro rival.
How do you try to take advantage of the presence of this week's skill as a battle condition in your day-to-day life in Splinterlands? Do you have a pre-determined strategy? Did you like my approach to the battle and its explanation? I'll read you in the comments section, and in a week's time, be sure to check back for a new challenge - see you on the battlefield!
Y tú, ¿cómo intentas aprovechar la presencia la habilidad de esta semana como condición de batalla en tú día a día en Splinterlands? ¿tienes alguna estrategía predeteminada? ¿te ha gustado mi manera de enfocar la batalla y su explicación? Te leo en la sección de comentarios y, dentro de una semana, no dejes de leerme en un nuevo reto. ¡Nos vemos en el campo de batalla!

¿Quieres unirte al Clan Fallen Angels? Clica aquí

All the images in this article are credited to splinterlands.com. Cover image made in canva.com
Divider credited to @kyo-gaming. You can find more dividers from kyo here.
Don't have an account in the game. Join us and conquer splinterlands with my referral link.
---
---