Discovering Abilities: Trample [EN - ES]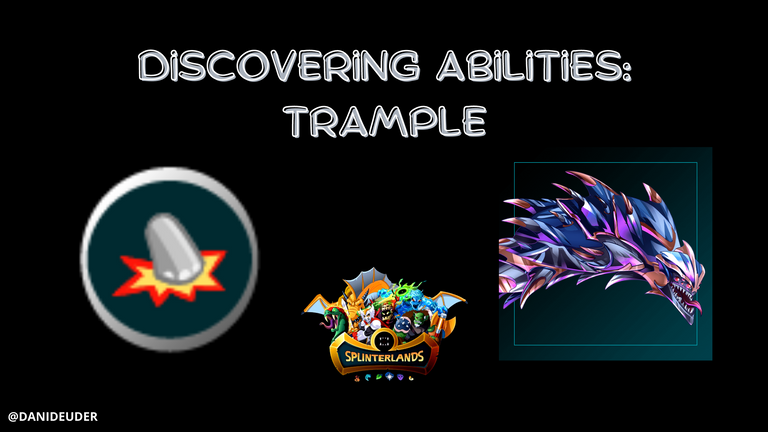 This week we started the series by looking at different skills. We did so by talking about an unusual skill, but one that, when used well, is really powerful. [You can read the first analysis of the Cripple skill here.](
https://peakd.com/splinterlands/@danideuder/discovering-abilities-cripple
) This week it's time to talk about another skill that, while more common than Cripple, is also rarely used in Splinterlands. I'm talking about the Tremple ability.
A skill that is rarely activated in combat, but when it does, it's a skill that can be decisive
on most occasions. Let's take a look at its analysis. To introduce it we will use DIemonshark in combat, a card that already has this ability in its level and that, as you will see in the example combat, this time it's my turn to suffer its effects.
La semana comenzamos la serie analizando diferentes habilidades. Lo hacíamos hablando de una habilidad poco habitual pero que, bien utilizada, es realmente poderosa. Puedes leer el primer análisis sobre la habilidad Cripple aquí. Esta semana toca hablar de otra habilidad que, aunque es más común que Cripple, también es poco utilizada en Splinterlands. Hablo de la habilidad Tremple. Una habilidad que es díficil que se active en combate pero que, cuando lo hace, es determinante en la mayoría de las ocasiones. Vamos con su análisis. Para presentarla utilizaremos en combate a DIemonshark, una carta que tiene ya en su nivel esta habilidad y que, como verás en el combate de ejemplo, esta vez me toca a mi sufrir sus efectos.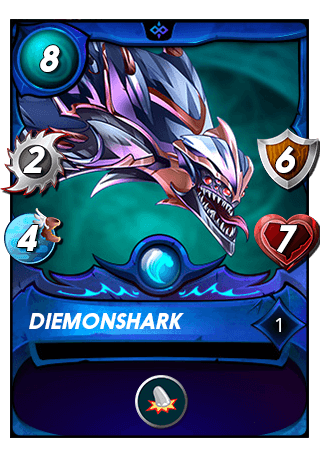 Diemonshark is a rare card from the Water Splint and Chaos Legion edition. It has melee attack and a life of 7 points plus a 6 point shield which makes this card one of the main tanks in the water splint. It also has in its first level of evolution the ability we talked about this week: Trample. An ability that has the effect that "when a card with this ability hits and kills an opponent's card it will attack the next card in the opponent's line-up a second time".
Diemonshark es una carta rara pertenenciente al mazo de agua y la edición Chaos Legion. Tiene ataque cuerpo a cuerpo y una vida de 7 puntos además de un escudo de 6 puntos lo que convierte a esta carta en uno de los principales tanques del mazo de agua. Además cuenta ya en su primer nivel de evolución la habilidad de la que hablamos esta semana: Trample. Una habilidad que tiene como efecto "cuándo una carta con esta habilidad golpea y mata a una carta rival atacará una segunda vez a la siguiente carta en la alineación rival".
He has two melee attack points which, if he activates the Trample ability, can become four that turn. At level 4 it is a card that goes from good to very good by gaining the Enrage ability. Two abilities that, together and active, can be absolutely devastating.
Tiene dos puntos de ataque cuerpo a cuerpo que, si activa la habilidad Trample, se pueden convertir en cuatro en ese turno. A nivel 4 es una carta que pasa de buena a muy buena al obtener la habilidad Enrage. Dos habilidad que, juntas y activas, pueden ser absolutamente demoledoras.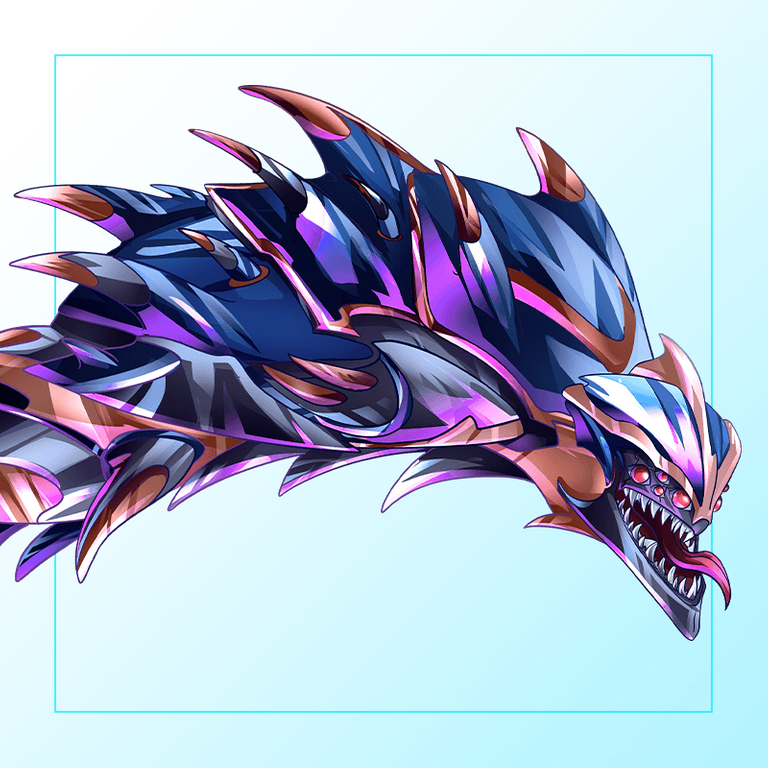 This skill we are analysing this week is like an elephant out of control. If activated, it tears apart anything that gets in its way. The downside is that, to activate, the card with this ability has to kill the monster it attacks, and it's a one-use ability. That is, once activated, it attacks a second time and, to activate again, it has to fulfil the condition of killing the opposing card when performing an attack. Powerful but difficult to activate and only one use per activation.
Esta habilidad que analizamos esta semana es como un elefante fuera de control. Si se activa destroza todo lo que se interpone en su camino. El punto negativo es que, para activarse, la carta con esta habilidad tiene que matar al monstruo al que ataque y, además, es una habilidad de un solo uso. Es decir, una vez activa ataca una segunda vez y, para volver a activarse, tiene que cumplir la condición de matar la carta rival al realizar un ataque. Habilidad poderosa pero de difícil activación y de un solo uso por activación.


Let's see this skill in action. I'm going to use the water deck with Diemonshark in it, which has this ability at level 1. I'm going to be surprised to see another DIemonshark in the opponent's lineup. It's going to be a complicated and interesting battle in which one of the two will activate his ability and swing the battle in his favour.
Vamos a ver en acción esta habilidad. Para ello voy a utilizar el mazo de agua en el que cuento con Diemonshark que tiene esta habilidad en su nivel 1. La sorpresa me la voy a llevar al ver a otro DIemonshark en la alineación rival. Va a ser una batalla complicada e interesante en el que uno de los dos va a activar su habilidad y va a decantar la batalla a su favor.
We both have similar line-ups in which there are only two differences. While I have Flying Squid and River Hellondale, my opponent varies those cards by putting Nerissa Tridawn third and Captain's Ghost second to last.
Ambos contamos con alineaciones similares en las que apenas hay dos diferencias. Mientras yo cuento con Flying Squid y River Hellondale, mi rival varía esas cartas colocando a Nerissa Tridawn en tercera posición y a Captain's Ghost en penúltima.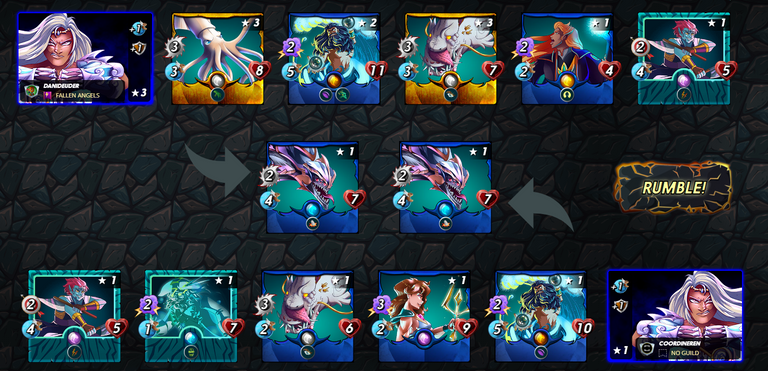 This time it was time to lose. In a fight between two similar tanks,
the one who could activate his ability would have a good chance of turning the battle in his favour.
Nerissa's power did a lot of damage to my Diemonshark and that caused
@coordineren
to greatly increase his chances of winning this interesting battle, which he would eventually do.
Esta vez tocó perder. En una lucha entre dos tanques similares el que pudiera activar su habilidad tendría muchas opciones de decantar la batalla a su favor. El poder de Nerissa hizo mucho daño a mi Diemonshark y eso provocó que @coordineren aumentará considerablemente sus posibilidades de ganar esta interesante batalla como así haría finalmente.


Trample is a powerful skill. Its problem is that it is difficult to activate. You have to have very specific conditions for it to activate and, using my water splint with Diemonshark as a tank on a regular basis, I haven't seen it activate too many times. However, when it has, it has done some serious damage to the enemy ranks. Besides Diemonshark you can find this ability in other decks in cards like Rexxie, Grund or a legendary like Desert Dragon.
Trample es una habilidad poderosa. Su problema es su dificultad para activarse. Se tienen que dar unas condiciones muy concretas para que se active y, usando de manera habitual mi mazo de agua con Diemonshark como tanque, no la he visto activarse en demasiadas ocasiones. Eso si, cuando lo ha hecho ha causado un daño determinante en las filas enemigas. Además de en Diemonshark puedes encontrar esta habilidad en otros mazos en cartas como Rexxie, Grund o en una legendaria como Desert Dragon.

All the images in this article are credited to splinterlands.com. Cover image made in canva.com and headers with cooltext.com
Divider credited to @kyo-gaming. You can find more dividers from kyo here.
Don't have an account in the game. Join us and conquer splinterlands with my referral link.
---
---