Discovering Abilities XLV: True Strike [EN - ESP]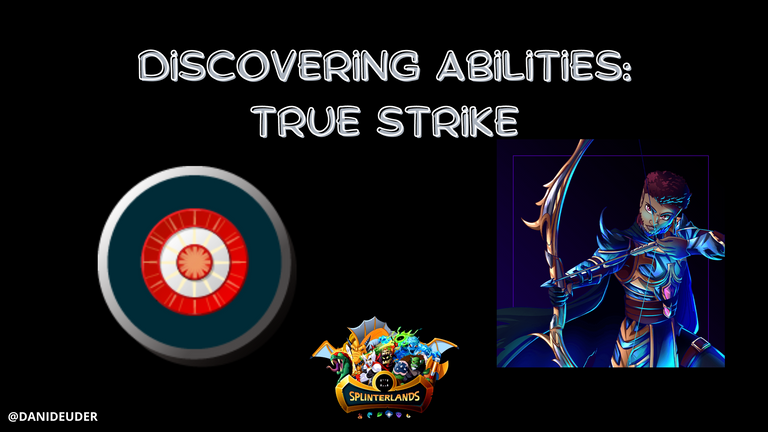 55th edition of the Discovering Abilities series. We've reached a point where we've almost covered the analysis of all the abilities that the Splinterlands universe has to offer... But there are still a few more to go. This is the case with the skill I'm looking at this week: True Strike A skill that, despite being represented by a target, is useful with all three types of attack we have. Let's take a look at the possibilities offered by skill number 55.
Edición número 55 de la serie Discovering Abilities. Llegamos a un punto en el que tenemos casi cubiertos los análisis de todas las habilidades que nos ofrece el universo Splinterlands... Aunque aún quedan algunas por analizar. Es el caso de la habilidad que analizo esta semana: True Strike. Una habilidad en la que, a pesar de que aparece representada por una diana, es útil con los tres tipos de ataque que tenemos. Vamos a analizar las posibilidades que nos ofrece la habilidad número 55. Comenzamos.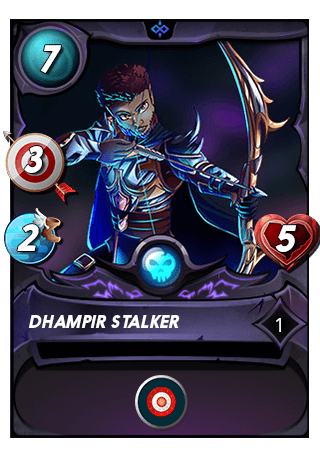 Last week I did the analysis with Angelic Mandarin at level 4. This week the card will have less level. I'm going to do the analysis with a deck that I haven't developed and that I hardly play with. However, it is the ideal deck to use with the unevolved death deck. Dhampir Stalker is one of the few cards that has True Strike in its first level of development, so I'm going to take advantage of this circumstance to do the analysis with Dhampir Stalker and the Death Deck.
La semana pasada realicé el análisis con Angelic Mandarin a nivel 4. Esta semana la carta va a tener menos nivel. Y es que el análisis lo voy a realizar con un mazo que no tengo desarrollado y con el apenas juego. Sin embargo, es el mazo ideal para utilizar con el mazo de muerte sin evolucionar. Y es que Dhampir Stalker es de las pocas cartas que cuenta con True Strike en su primer nivel de desarrollo. Así que voy a aprovechar esta circunstancia para realizar el análisis con Dhampir Stalker y el mazo de muerte.
We have a total of 19 cards in Splinterlands that feature True Strike. Dragon and Fire decks benefit the most with up to four cards with this ability. Death is followed by Death with three. In addition to the aforementioned Dhampir Stalker at level 1, we have The Gorlodon at level 3 and Gladius Trapp Falloway at level 6. At level 1, only Charlok Minotaur, Ancient Redwood, legendary, and Byzantine Kitty, also legendary, have True Strike at level 1. As you can see, True Strike is not an easy ability to use if you don't have a certain level of development in your decks.
Tenemos un total de 19 cartas en Splinterlands que cuentan con True Strike. Los mazos Dragón y Fuego son los mas beneficiados pues cuentan con hasta cuatro cartas con esta habilidad. Le sigue el de muerte con tres. Además de la mencionada Dhampir Stalker a nivel 1 tenemos a The Gorlodon a nivel 3 y la Gladius Trapp Falloway a nivel 6. A nivel 1 solo Charlok Minotaur, Ancient Redwood, legendaria, y Byzantine Kitty, también legendaria, cuentan con True Strike a nivel 1. Como puedes comprobar, no es True Strike una habilidad fácil de utilizar si no tienes cierto nivel de desarrollo en tus mazos.


The contribution provided by True Strike is not to be underestimated. And a card with True Strike will not miss any of its attacks regardless of the target. In other words, True Strike is the ideal way to counter the Blind ability. Furthermore, True Strike not only intervenes in ranged attacks, but also in melee attacks and in those magical attacks that may have a chance to miss due to some special ability of the card receiving the attack.
El aporte que nos proporciona True Strike no es algo a despreciar. Y es que una carta con True Strike no fallará ninguno de sus ataques sea cual sea el objetivo del mismo. Es decir, True Strike es la forma ideal de contrarrestar la habilidad Blind. Además, True Strike no solo interviene en los ataques a distancia, si no también en los cuerpo a cuerpo y en aquellos ataques mágicos que puedan tener opciones de fallar debido a alguna habilidad especial de la carta que reciba el ataque.


Let's go now to the strategy I'm going to use to get the most out of Dhampir Stalker and True Strike. In the example battle I'm playing
@thuye106
who is going to form up with a water deck led by Kelya Frendul at level 2.
I will form up with a death deck and Contessa as a summoner at level 1 looking to boost my defence by including Scavo Hireling in the lineup
Contessa reduces the possible ranged attack that the opponent brings in and Scavo is recovering shields from my tank. The weakness of the lineup is in the event that the opponent uses magic attack, although my study of the opponent indicates that they are unlikely to do so. Let's see how this strategy plays out.
Vamos ahora con la estrategia que voy a utilizar para aprovechar al máximo a Dhampir Stalker y True Strike. En la batalla de ejemplo me mido a @thuye106 que va a formar con un mazo de agua dirigido por Kelya Frendul a nivel 2. Yo formaré con mazo de muerte y Contessa como invocadora a nivel 1 buscando potenciar mi defensa incluyendo a Scavo Hireling en la alineación. Contessa reduce el posible ataque a distancia que aporte el rival y Scavo va recuperando escudo de mi tanque. La debilidad de la alineación es el caso de que el rival utilice ataque mágico si bien mi estudio del rival indica que es poco probable que lo haga. Vamos ver el resultado de esta estrategia.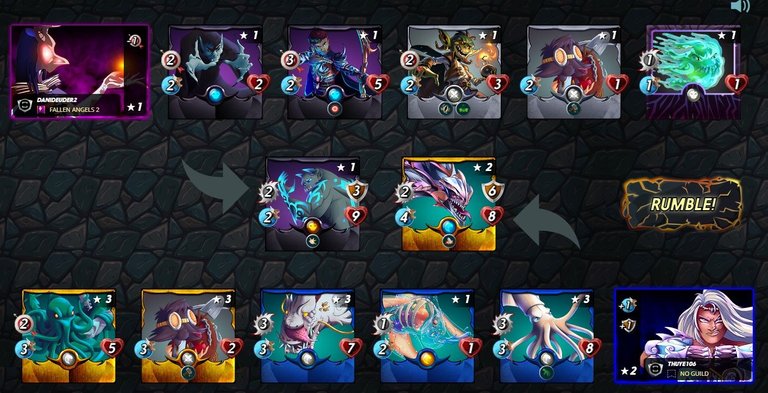 This has been one of those battles in which the strategy that has been put in place performs even better than expected. The presence of Scavo Hireling recovering Harklaw's shield and Dhampir Stalker's powerful attack with no chance of failure thanks to True Strike made the battle end without losing a single one of my cards Absolute domination of the battle and uncontested victory thanks to those points.
Esta ha sido una de esas batallas en las que la estrategia planteada rinde incluso mejor de lo esperado. La presencia de Scavo Hireling recuperando escudo de Harklaw y el poderoso ataque de Dhampir Stalker sin posibilidad de fallo gracias a True Strike hicieron que la batalla terminara sin perder ni una sola de mis cartas. Dominio absoluto de la batalla y victoria incontestable gracias a esos referidos puntos.


After analyzing the True Strike ability and its effects in combat, I only have one thought to share with you: What an absolute wonder it must be to set up a battle with Bizantyne Kitty as a summoner by adding True Strike to ALL the cards in the lineup. Now we know why it's a prohibitively expensive summoner on the Splinterlands market. Grade of 7 out of 10 for True Strike in a new analysis of the Discovering Abilities series.
Una vez analizada la habilidad True Strike y sus efectos en combate solo me queda una reflexión que compartir con vosotros: Qué absoluta maravilla tiene que ser plantear una batalla con Bizantyne Kitty como invocadora añadiendo True Strike a TODAS las cartas de la alineación. Ahora ya sabemos el motivo de que sea un invocador con un coste prohibitivo en el mercado de Splinterlands. Nota de 7 sobre 10 para True Strike en un nuevo análisis de la serie Discovering Abilities.
Now tell me, have you used True Strike on a regular basis? Do you find any additional use for it that I missed in my analysis? Looking forward to reading your opinion about this skill, see you soon!
Ahora cuéntame tú, ¿has utilizado True Strike de manera habitual? ¿Le encuentras algún uso adicional que se me haya escapado en mi análisis? Muchas ganas de leer tu opinión sobre esta habilidad, ¡nos leemos!

If you want take a look at all my reviews here are the links:
I.- Cripple
II.- Trample
III.- Double Strike
IV.- Magic Reflect
V.- Heal
VI.- Void Armor
VII.- Bloodlust
VIII.- Resurrect
IX.- Reach
X.- Opportunity
XI.- Silence
XII.- Affliction
XIII.- Amplify
XIV: Blast
XV: Camouflage
XVI: Close Range
XVII: Demoralize
XVIII: Divine Shield
XIX: Dodge
XX: Halving
XXI: Headwinds
XXII: Inspire
XXIII: Life Leech
XXIV: Phase
XXV: Piercing
XXVI: Oppress
XXVII: Poison
XXVIII: Protect
XXIX: Reflection Shield
XXX: Repair
XXXI: Retaliate
XXXII: Rust
XXXIII: Scattershot
XXXIV: Scavenger
XXXV: Shatter
XXXVI: Slow
XXXVII: Snare
XXXVIII: Strengthen
XXXIX: Stun
XL: Swiftness
XLI: Tank Heal
XLII: Taunt
XLIII: Thorns
XLIV: Triage

All the images in this article are credited to splinterlands.com. Cover image made in canva.com and headers with cooltext.com
Divider credited to @kyo-gaming. You can find more dividers from kyo here.
Don't have an account in the game. Join us and conquer splinterlands with my referral link.
---
---