Discovering Abilities XLVI: Void [EN - ESP]
New week and new review of the Discovering Abilities series in which, every week, I analyse a new skill from the Splinterlands universe. The series is about to come to an end and, this week, the analysis will be about the Void skill A defensive skill that can be very useful against teams with a predominance of magical attacks. For this, I'm going to use the water deck with the legendary Djinn Oshannus as the main character of the analysis. This is the beginning of the analysis of this ability number 56.
Nueva semana y nueva revisión de la serie Discovering Abilities en la que, cada semana, realizo el análisis de una nueva habilidad del universo Splinterlands. La serie está a punto de finalizar y, esta semana, el análisis será sobre la habilidad Void. Una habilidad defensiva que nos puede ser de mucha utilidad ante equipos con predominio del ataque mágico. Para ello, voy a utilizar el mazo de agua siendo protagonista del análisis la legendaria Djinn Oshannus. Comienza aquí el análisis de esta habilidad número 56. Vamos con él.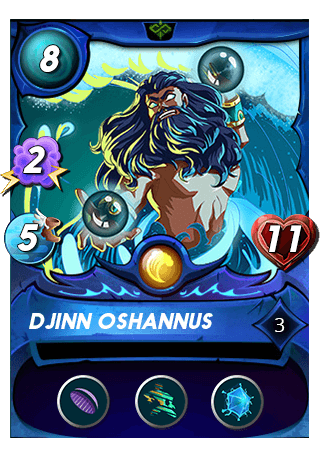 Yes, you are right. I'm going to take advantage of the fact that my water deck is evolved and I have Djinn Oshannus at level 3 which will give me an important advantage in combat. However, this legendary card from the water deck has Void already at its initial level so it's an ideal card to work with this anti-magic ability. Also, if you combine Djinn Oshannus with Baakjira, which also has Void, your water deck will be more than interesting.
Si, tienes razón. Me voy a aprovechar de que mi mazo de agua está evolucionado y cuento con Djinn Oshannus a nivel 3 lo que me va a dar una importante ventaja en combate. Sin embargo, esta carta legendaria del mazo de agua cuenta con Void ya en su nivel inicial por lo que es una carta ideal para trabajar con esta habilidad anti magia. Además, si combinas a Djinn Oshannus con Baakjira, que también cuenta con Void, tu mazo de agua será de un nivel más que interesante.
A total of 40 cards have Void among their special abilities. It's a well-spread ability, as there is no deck that has few options for using Void, and even seven cards in the neutral deck have it, so it's an ability that can be found at every level of the game. It can be used by those who play in the lower leagues as well as those who dominate the game in the higher divisions of the Splinterlands universe.
Un total de 40 cartas cuentan con Void entre sus habilidades especiales. Es una habilidad bien repartida pues no hay ningún mazo que tenga pocas opciones para usar Void. Incluso siete cartas del mazo neutral la aportan por lo que es una habilidad que podemos encontrarnos en todos los niveles del juego. Utilizable tanto por aquellos que juegan en ligas bajas como por los que dominan el juego en las divisiones más altas del universo Splinterlands.


Moving on, let's look at the impact of using the Void ability in combat. Its gameplay is to reduce the damage received by magic attacks in such a way that it halves, rounding up, the magic damage received with the exception that if the damage is 1 it is reduced to 0. Key ability against teams with high magic attack power.
Ya entrando en materia vamos a analizar qué impacto tiene el uso de la habilidad Void en combate. Su jugabilidad es la de reducir el daño recibido por ataques mágicos de tal manera que reduce a la mitad, redondeando hacia arriba, el daño mágico recibido con la excepción de que si el daño es 1 se reduce a 0. Habilidad clave ante equipos con mucha potencia de ataque mágico.


For the example battle I'm going to use a tank like Legionnaire Alvar who has Void Armor followed by Djinn Oshannus who brings Void.
That is, I'm going for a defensive strategy where the tank deflects the magic attack to his shield and the second card halves it,
followed by several cards with inordinate attack power in the second line. It's a strategy that
@idkpdx
will have a hard time countering. Let's see how this strategy plays out on the battlefield.
Para la batalla de ejemplo voy a plantear un tanque como Legionnaire Alvar que cuenta con Void Armor seguido de Djinn Oshannus que aporta Void. Es decir, planteo una estrategia defensiva en la que el tanque desvía el ataque mágico hacia su escudo y la segunda carta lo reduce a la mitad. Todo ello seguido de varias cartas con un poder de ataque desmesurado en la segunda línea. Es una estrategia que @idkpdx tendrá dificil contrarrestar. Vamos a ver qué tal funciona esta estrategia sobre el campo de batalla.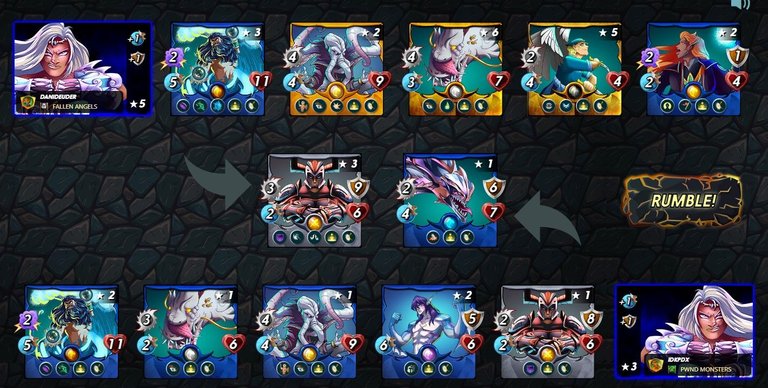 Four of our six cards match on the battlefield. But I have the advantage of having some cards that are more developed and therefore more powerful than my opponent's. I also have River Hellondale and Pelacor Bandit, which will give us a difference over Diemonshark and Noa the Just, which are the two cards that set us apart. The result will be an interesting victory in my favour in the Gold III league in which I will finish this season.
Cuatro de nuestras seis cartas coinciden en el campo de batalla. Si bien yo parto con la ventaja de tener algunas más desarrolladas y, por tanto, con más poder que mi rival. Además cuento con River Hellondale y Pelacor Bandit que van a aportar algún detalle diferencial sobre Diemonshark y Noa the Just que son las dos cartas que nos diferencian. El resultado será una interesante victoria a mi favor en la liga de Oro III en la que voy a acabar esta temporada.


Void is an ability I use very often. Both with the water deck with Djinn Oshannus and the green deck with Mustang Unicorn. It's a basic ability to combat magic attacks, a fairly common type of attack against some decks, and one of the most common, useful, and affordable abilities because of the quantity and quality of cards that have it. It receives a score of 8 out of 10 in this review, making it one of the best abilities reviewed in this Discovering Abilities series.
Void es una habilidad que uso muy a menudo. Tanto con el mazo de agua con Djinn Oshannus como con el mazo verde con Mustang Unicorn. Es una habilida básica para combatir ataques mágicos, un tipo de ataque bastante común contra según qué mazos nos enfrentemos. Una de las habilidades más comunes, útiles y asequibles por la cantidad y calidad de cartas que cuentan con ella. La nota que recibe en este análisis es de 8 sobre 10 siendo una de las mejores habilidades analizadas en esta serie Discovering Abilities.
Now tell me, have you used Void on a regular basis? Do you find any additional use for it that I missed in my analysis? Looking forward to reading your opinion about this skill, see you soon!
Ahora cuéntame tú, ¿has utilizado Void de manera habitual? ¿Le encuentras algún uso adicional que se me haya escapado en mi análisis? Muchas ganas de leer tu opinión sobre esta habilidad, ¡nos leemos!

If you want take a look at all my reviews here are the links:
I.- Cripple
II.- Trample
III.- Double Strike
IV.- Magic Reflect
V.- Heal
VI.- Void Armor
VII.- Bloodlust
VIII.- Resurrect
IX.- Reach
X.- Opportunity
XI.- Silence
XII.- Affliction
XIII.- Amplify
XIV: Blast
XV: Camouflage
XVI: Close Range
XVII: Demoralize
XVIII: Divine Shield
XIX: Dodge
XX: Halving
XXI: Headwinds
XXII: Inspire
XXIII: Life Leech
XXIV: Phase
XXV: Piercing
XXVI: Oppress
XXVII: Poison
XXVIII: Protect
XXIX: Reflection Shield
XXX: Repair
XXXI: Retaliate
XXXII: Rust
XXXIII: Scattershot
XXXIV: Scavenger
XXXV: Shatter
XXXVI: Slow
XXXVII: Snare
XXXVIII: Strengthen
XXXIX: Stun
XL: Swiftness
XLI: Tank Heal
XLII: Taunt
XLIII: Thorns
XLIV: Triage
XLV: True Strike

All the images in this article are credited to splinterlands.com. Cover image made in canva.com and headers with cooltext.com
Divider credited to @kyo-gaming. You can find more dividers from kyo here.
Don't have an account in the game. Join us and conquer splinterlands with my referral link.
---
---