Discovering Abilities XXII: Inspire [EN - ES]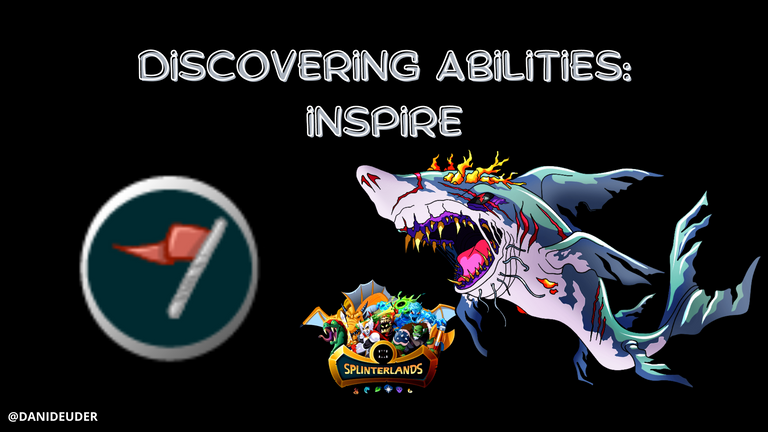 This is the 22nd edition of the Discovering Abilities series. Last week we looked at Headwinds, but this week we're moving on to a specific ability for those battles or lineups where you're stacking up melee cards and it's time for the Inspire ability. And for that, we go back to the water deck and choose to give prominence to a card like Demented Shark. Let's get started.
Alcanzamos ya la edición número 22 de la serie Discovering Abilities. Si la semana pasada analizamos Headwinds esta semana pasamos a una habilidad específica para esas batallas o esas alineaciones en las que acumulamos cartas con ataque cuerpo a cuerpo. Llega el turno para la habilidad Inspire. Y, para ello, volvemos al mazo de agua y optamos por dar protagonismo a una carta como Demented Shark. Comenzamos.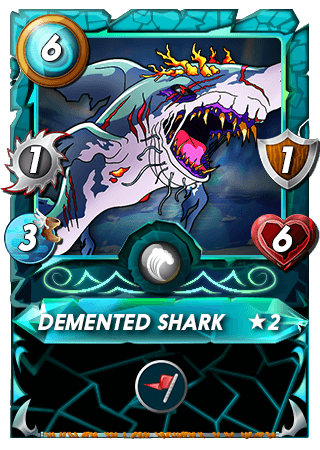 This week's skill has a very clear and uncomplicated gameplay. As the guide says, Inspire adds one point of melee attack to all cards in your lineup, meaning it's an ability that, like other cards such as Obsidian with Magic Attack, increases the attack by one point for all cards in your lineup. It is a very powerful ability that obviously forces us to place a line-up in which the attack that powers this ability, in this case the melee attack, clearly predominates.
La habilidad de esta semana tiene una jugabilidad muy clara y que no conlleva mayor complicación. Como dice la guía, Inspire aporta un punto de ataque cuerpo a cuerpo a todas las cartas de nuestra alineación. Es decir, es una habilidad que, al igual que otras cartas como Obsidian con el ataque mágico, aumenta el ataque en un punto de todas las cartas de nuestra alineación. Es una habilidad muy potente y que, obviamente, nos obliga a colocar una alineación en la que predomine de manera clara el ataque que potencia esta habilidad, en este caso el ataque cuerpo a cuerpo.
As for the presence of this ability in the Splinterlands universe, we have a wide variety of cards that provide it. A total of 17 cards can provide the Inspire ability in the set of decks in the game. Four cards in the water deck have it: Demented Shark, Pirate Captain, River Hellondale, and Relenor Cleaver in the Gladius edition. The most disadvantaged deck in this case is the Death deck, as only Shadowy Presence at level 6 brings Inspire to this deck.
En cuanto a la presencia de esta habilidad en el universo Splinterlands tenemos una amplia variedad de cartas que la aportan. Hasta un total de 17 cartas nos pueden aportar la habilidad Inspire en el conjunto de mazos del juego. Cuatro cartas del mazo de agua la tienen: Demented Shark, Pirate Captain, River Hellondale y Relenor Cleaver en la edición Gladius. El mazo más perjudicado en esta caso es el de muerte pues solo Shadowy Presence y a nivel 6 aporta Inspire en este mazo.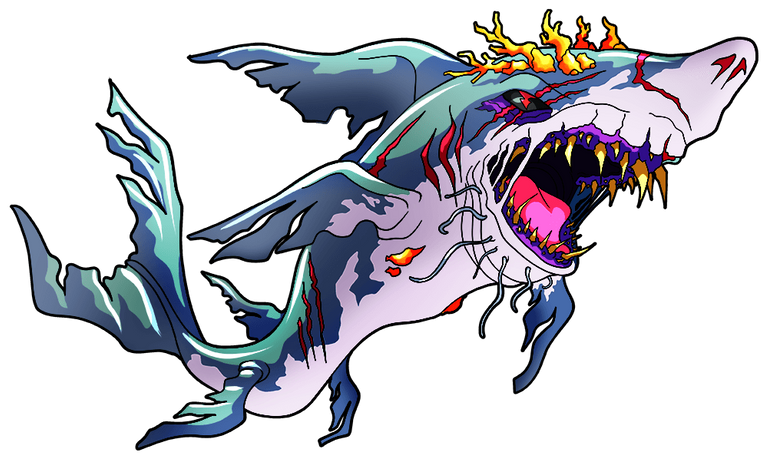 Demented Shark with Inspire is a card that you will use in your lineups more for the attack points it brings to the rest of the lineup than for the actual power of this card. In a full line-up it can add up to a total of six melee attack points per round A more than considerable increase and one that can make a big difference to our battles with a water deck focused on this type of attack, for which, moreover, this deck has some really powerful cards.
Demented Shark con Inspire es una carta que utilizarás en tus alineaciones más por los puntos de ataque que aporta al resto de la alineación más que por el poder en sí de esta carta. En una alineación completa puede sumar hasta un total de seis puntos de ataque cuerpo a cuerpo por ronda. Un aumento más que considerable y que puede marcar una gran diferencia a nuestras batallas con un mazo de agua centrado en este tipo de ataque para el que, además, este mazo tiene cartas realmente poderosas.


Let's get down to business. Let's see Demented Shark and, more importantly, Inspire and its effect in action. My opponent will be
@et5
who will be running a death deck with a mix of melee, ranged and magic. A very versatile and dynamic line-up for which
I'll be playing a full melee line-up
to make the most of the benefit that Inspire brings. Let's analyse the outcome of the battle.
Vamos al lío. Vamos a ver en acción a Demented Shark y, lo que es más importante, a Inspire y su efecto en acción. Mi rival será @et5 que formará con mazo de muerte con una mezcla de ataque cuerpo a cuerpo, a distancia y mágico. Una alineación muy versátil y dinámica para la que pondré en liza una alineación completa con ataque cuerpo a cuerpo para aprovechar al máximo el beneficio que aporta Inspire. Vamos a analizar el resultado de la batalla.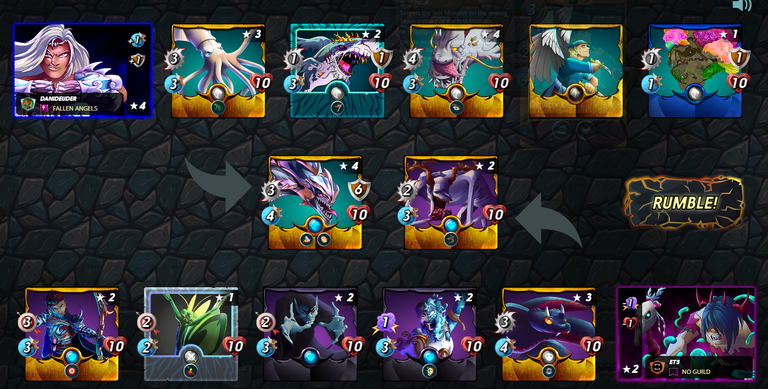 The power of Inspire when you form a full melee attack line-up is absolutely decisive. Even a weak card like Hardy Stonefish becomes dangerous by gaining, at its first level, two attack points. The factor of having Melee Mayhem as a battle condition makes Inspire a must-have and was a key aspect of my final victory. Battle corresponding to the Silver III league.
El poder de Inspire cuando formas con una alineación completa con ataque cuerpo a cuerpo es absolutamente determinante. Hasta una carta débil como Hardy Stonefish se vuelve peligrosa adquiriendo, en su primer nivel, dos puntos de ataque. El factor de que hubiera Melee Mayhem como condición de batalla hace que Inspire sea una obligación y haya sido un aspecto fundamental para mi victoria final. Batalla correspondiente a la liga Plata III.


Inspire is one of those underused abilities that I personally like to play in certain conditions with my water deck. The presence of cards like Flying Squid, Diemonshark or Deeplurker and more modest cards like Pelacor Bandit makes powering the melee attack an important advantage with the water deck as well. A remarkable ability and one that can provide a major advantage when conditions call for boosting melee attack. Paired with a card that provides the Demoralize ability, it can be an unbeatable combo.
Inspire es una de esas habilidades poco utilizadas en general y que a mi, personalmente, me gusta jugar en ciertas condiciones con mi mazo de agua. La presencia de cartas como Flying Squid, Diemonshark o Deeplurker y cartas más modestas como Pelacor Bandit hace que potenciar el ataque cuerpo a cuerpo sea una ventaja importante también con el mazo de agua. Habilidad notable y que puede aportar una ventaja fundamental cuando las condiciones invitan a potenciar el ataque cuerpo a cuerpo. Unida a una carta que aporte la habilidad Demoralize puede ser un combo imbatible.

If you want take a look at all my reviews here are the links:
I.- Cripple
II.- Trample
III.- Double Strike
IV.- Magic Reflect
V.- Heal
VI.- Void Armor
VII.- Bloodlust
VIII.- Resurrect
IX.- Reach
X.- Opportunity
XI.- Silence
XII.- Affliction
XIII.- Amplify
XIV: Blast
XV: Camouflage
XVI: Close Range
XVII: Demoralize
XVIII: Divine Shield
XIX: Dodge
XX: Halving
XXI: Headwinds

All the images in this article are credited to splinterlands.com. Cover image made in canva.com and headers with cooltext.com
Divider credited to @kyo-gaming. You can find more dividers from kyo here.
Don't have an account in the game. Join us and conquer splinterlands with my referral link.
---
---