Discovering Abilities XXXVI: Slow [EN - ESP]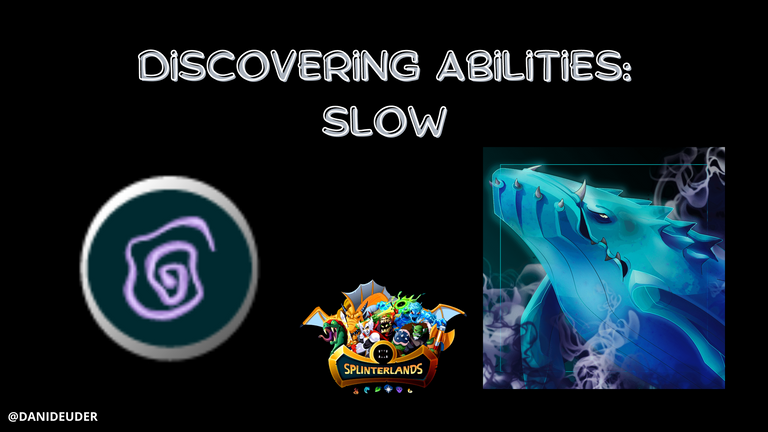 Welcome, for another week, to a new chapter of the Discovering Abilities series. If last week we looked at Shatter with the life deck and a card from the new Soulbound edition, this week we're going back to the water deck and using the legendary Baakjira for the new analysis I'm bringing you today. As you might have guessed if you regularly play water with this powerful tank, it's clear that this week's ability is Slow. So, I won't dwell on it any longer and... let's get started.
Bienvenidos, una semana más, a un nuevo capítulo de la serie Discovering Abilities. Si la semana pasada analizamos Shatter con el mazo de vida y una carta de la nueva edición Soulbound, esta semana volvemos al mazo de agua y vamos a utilizar a la legendaria Baakjira para el nuevo análisis que os traigo hoy. Cómo ya habrás imagina si juegas de manera habitual agua con este poderoso tanque tendrás claro que la habilidad de esta semana es Slow. Así pues, no me entretengo más y... comenzamos.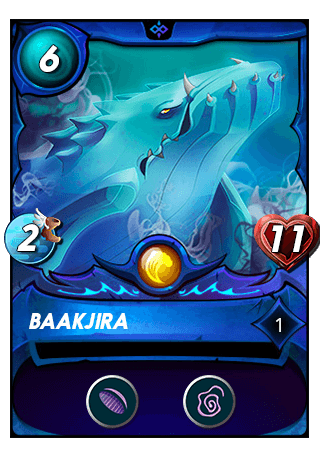 If you're a Splinterlands veteran you'd probably expect Slow's review to have been done with Creeping Ooze. There was a time not so long ago when Splinterlands battlefields were littered with this green booger and a furious chicken. In fact, it was almost mandatory to include one of these two cards in your line-up. Things have evolved and now they hardly ever appear in combat anymore. Baakjira, for example, gives us Slow and also Void, making it a very interesting tank at a moderate summoning cost of six points.
Si eres ya un veterano de Splinterlands probablemente esperaras que el análisis de Slow lo hubiera realizado con Creeping Ooze. Y es que hubo una época no tan lejana que los campos de batalla de Splinterlands estaban repletos de este moco verde y de una gallina furiosa. Es más, era casi obligatorio incluir una de estas dos cartas en tu alineación. Las cosas han ido evolucionando y, ahora, apenas aparecen ya en combate. Y es que Baakjira, por ejemplo, nos aporta Slow y, además, Void, por lo que es un tanque más que interesante a un coste de invocación moderado de seis puntos.
21 cards currently have the ability to bring Slow to our line-ups. Unlike last week, there is not a single Soulbound card that brings this interesting ability. The death and earth decks have the most variety of Slow cards with four in each deck, making them the two decks that benefit the most in this regard. In the neutral deck we have Venator Kinjo at level 3, Scavo Hireling at level 10 and the aforementioned Creeping Ooze at level 1 with Slow.
21 cartas en la actualidad tienen la capacidad de aportar Slow a nuestras alineaciones. A diferencia de la semana pasada, no hay ni una sola carta Soulbound que aporte esta interesante habilidad. Los mazos de muerte y de tierra son los que más variedad de cartas con Slow tienen con cuatro cada mazo por lo que son los dos mazos más beneficiados en este sentido. En el mazo neutral tenemos a Venator Kinjo a nivel 3, Scavo Hireling a nivel 10 y la mencionada Creeping Ooze a nivel 1 con Slow.


This week's skill is a very uncomplicated one in terms of gameplay. Its function is to slow down all enemy cards by one point as simple and as important as that. This is why Baakjira is even more important as his Slow ability plus the one point Kelya Frendul contributes makes a two point difference in the starting numbers which can be a key difference as you will see in the example battle vs Yodin Zaku.
La habilidad de esta semana no tiene mayor complicación en su jugabilidad. Su función es la de reducir la velocidad de todas las cartas enemigas en un punto. Tan simple y tan importante como eso. Este es el motivo por el que Baakjira es incluso más importante pues su habilidad Slow más el punto que aporta Kelya Frendul provocan una diferencia de dos puntos en los números iniciales lo cual puede ser una diferencia clave como verás en la batalla de ejemplo vs Yodin Zaku.


My strategy in this battle against
@quang99
will be to
sacrifice six points with Baakjira and then place three very interesting low summoning cost cards
in the water deck. And this time the strategy works like a charm and will give me a victory in the Silver I League where I am at the time of this review.
Mi estrategia en esta batalla contra @quang99 será la de sacrificar seis puntos con Baakjira y colocar, a continuación, tres cartas muy interesantes de bajo coste de invocación en el mazo de agua. Y esta vez la estrategia funciona a las mil maravillas y me va a otorgar una victoria en la Liga Plata I en la que estoy en el momento de realizar este análisis.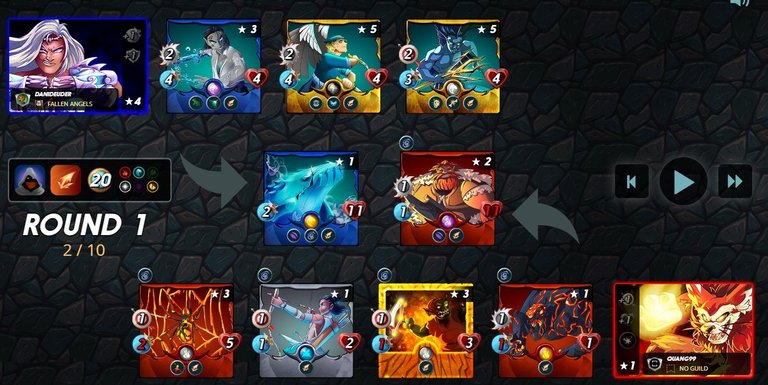 The power of Baakjira and the speed reduction was so decisive that I didn't suffer a single casualty on my four cards in the game. The second line of Tide Biter, Pelacor Bandit and Merdhampir did a great job of tearing the enemy ranks apart step by step. Nice win.
El poder de Baakjira y la reducción de velocidad ha sido tan determinante que no he sufrido ni una sola baja en mis cuatro cartas puestas en liza. La segunda línea formada por Tide Biter, Pelacor Bandit y Merdhampir hicieron un gran trabajo destrozando paso a paso a las filas enemigas. Buena victoria.


Slow is a skill that we can never underestimate the value of including in our line-ups. Also, if you use the water deck, the extra point of speed provided by Kelya Frendul makes for a brutal speed difference that is more than decisive in almost all situations. You will almost certainly gain an advantage and always attack first, and you can cause a lot of misfires in your opponent's attacks. Slow gets a score of 8 out of 10 after this review. A very high score for a skill that certainly deserves it.
Slow es una habilidad que nunca podemos dejar de valorar su inclusión en nuestras alineaciones. Además, si usas el mazo de agua, el punto extra de velocidad que aporta Kelya Frendul provoca una diferencia de velocidad brutal que es más que determinante en casi todas las situaciones. Es casi seguro que obtengas ventaja y ataques siempre el primero y, además, puedas provocar muchos fallos en los ataques del rival. Slow obtiene una nota de 8 sobre 10 tras este análisis. Nota muy alta para una habilidad que, sin duda, la merece.
Now tell me, have you used Slow on a regular basis? Do you find any additional use for it that I missed in my analysis? Looking forward to reading your opinion about this skill, see you soon!
Ahora cuéntame tú, ¿has utilizado Slow de manera habitual? ¿Le encuentras algún uso adicional que se me haya escapado en mi análisis? Muchas ganas de leer tu opinión sobre esta habilidad, ¡nos leemos!

If you want take a look at all my reviews here are the links:
I.- Cripple
II.- Trample
III.- Double Strike
IV.- Magic Reflect
V.- Heal
VI.- Void Armor
VII.- Bloodlust
VIII.- Resurrect
IX.- Reach
X.- Opportunity
XI.- Silence
XII.- Affliction
XIII.- Amplify
XIV: Blast
XV: Camouflage
XVI: Close Range
XVII: Demoralize
XVIII: Divine Shield
XIX: Dodge
XX: Halving
XXI: Headwinds
XXII: Inspire
XXIII: Life Leech
XXIV: Phase
XXV: Piercing
XXVI: Oppress
XXVII: Poison
XXVIII: Protect
XXIX: Reflection Shield
XXX: Repair
XXXI: Retaliate
XXXII: Rust
XXXIII: Scattershot
XXXIV: Scavenger
XXXV: Shatter

All the images in this article are credited to splinterlands.com. Cover image made in canva.com and headers with cooltext.com
Divider credited to @kyo-gaming. You can find more dividers from kyo here.
Don't have an account in the game. Join us and conquer splinterlands with my referral link.
---
---