Discovering Abilities XXXVII: Snare [EN - ESP]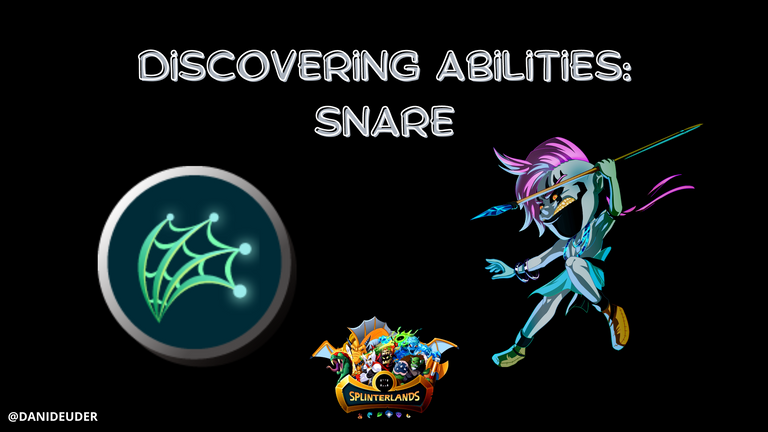 Welcome, one more week, to the Social Media Challenge. We continue our Discovering Abilities series and, this week, we take a look at the Snare ability. To do so, we go with the green deck and an Untamed edition card with a ranged attack that has this selective ability. Join me in this new analysis and decide if it's a worthwhile ability. Let's get started.
Bienvenidos, una semana más, al reto Social Media Challenge. Seguimos con la serie Discovering Abilities y, esta semana, analizamos la habilidad Snare. Para ello vamos con el mazo verde y una carta edición Untamed con ataque a distancia y que tiene esta selectiva habilidad. Acompáñame en este nuevo análisis y decide si es una habilidad que merece la pena. Comenzamos.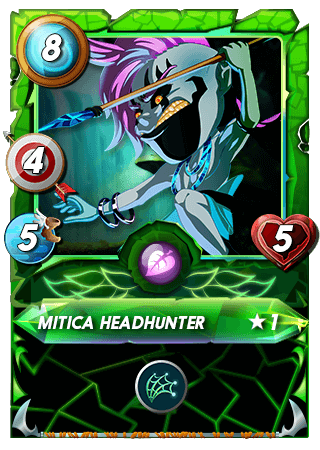 Mitica Headhunter is not one of my usual cards in the earth roster. In fact I had to rent it for this review because it's not a card that fits well with my strategy for this deck. In a deck with a strategy to boost magic attack, a card with a ranged attack and such a high mana cost doesn't fit well. However, in a strategy with Wizard of Eastwood or the new summoner Lobb Lowland its abilities and powerful attack would be a very interesting fit.
No es Mitica Headhunter una de mis cartas habituales en el roster de tierra. De hecho he tenido que alquilarla para realizar este análisis ya que no es una carta que se adapte bien a mi estrategia con este mazo. En un mazo con estrategia para potenciar el ataque mágico una carta con ataque a distancia y tan elevado coste de maná no encaja bien. Sin embargo, en una estrategia con Wizard of Eastwood o el nuevo invocador Lobb Lowland sus habilidades y su poderoso ataque si que tendrían un encaje más que interesante.
This ability appears on up to 22 cards. In addition to Mitica Headhunter is an ability that two other cards in the green deck have, one of which is Gladius edition. The water deck with four cards and the neutral deck with five cards are the decks that benefit the most from Snare.
Esta habilidad aparece hasta en 22 cartas. Además de Mitica Headhunter es una habilidad que tienen otras dos cartas del mazo verde, una de ellas edición Gladius. El mazo de agua con cuatro cartas y el neutral con cinco son los mazos más beneficiados con Snare entre sus cartas.


Snare is a skill with a very specific playability and cannot be played in all possible scenarios. Its benefit is to remove the Flying ability from all cards that receive an attack from a card with Snare, thus preventing your attacks on these cards from missing. As you may have already guessed, this is an ability that can be key in situations with Earthquake as a battle condition and an ability that barely adds up with enemies without a card with this flying ability.
Snare es una habilidad con una jugabilidad muy concreta y que no se puede jugar en todos los escenarios posibles. Su beneficio es el de eliminar la habilidad Flying a todas las cartas que reciben ataque de carta con habilidad Snare evitando así que sus ataques a estas cartas puedan fallar. Como ya habrás intuido es una habilidad que puede ser clave en situaciones con terremoto como condición de batalla y habilidad que apenas suma con enemigos sin carta con esta habilidad voladora.


The selected battle will pit me against
@erin63hawkings
who
I was expecting him to field a flying card or two that Mitica Headhunter could hurt,
but my opponent will surprise me with a strategy without flying cards and with General Sloan leading a life deck that, despite my strategy having some shortcomings, didn't help him to beat me.
La batalla seleccionada me va a enfrentar a @erin63hawkings del que esperaba que pusiera en liza alguna que otra carta con habilidad de vuelo y a la que Mitica Headhunter pudiera hacerle daño. Sin embargo, mi rival me va a sorprender con una estrategia sin cartas voladoras y con General Sloan liderando un mazo de vida que, a pesar de que mi estrategia tenía alguna deficiencia, no le sirvió para derrotarme.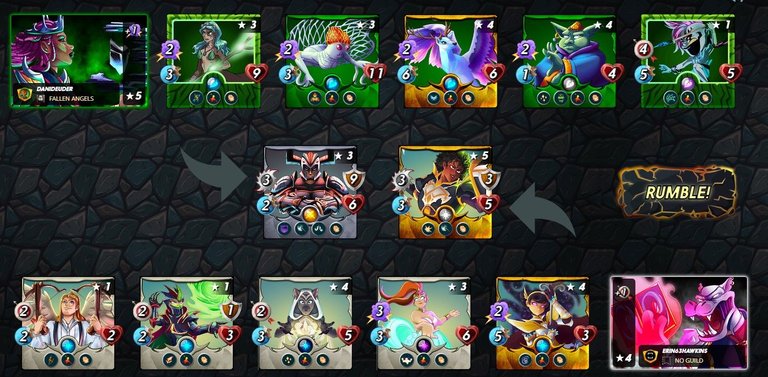 The strategy of boosting the green deck's magic attack is truly devastating. If you also add a tank like Legionnaire Alvar with the Void ability, it allows enough time for the second line's magic attack to destroy the opponent, as it has also happened in this battle. Mitica Headhunter, due to the fact that the opponent varied their usual strategy, did not have a major impact in battle, neither her nor her ability.
La estrategia potenciando el ataque mágico del mazo verde es realmente demoledora. Si, además, le añades un tanque como Legionnaire Alvar que cuenta con la habilidad Void te permite tiempo suficiente para el ataque mágico de la segunda línea destroce al rival como ha pasado también en esta batalla. Mitica Headhunter, debido a que el rival varió su estrategia habitual no tuvo un impacto importante en batalla ni ella ni su habilidad.


This week we are looking at a very situational ability that is not suitable for all battles. It's use to be exploited is limited to very specific situations. One of them is when you play the Earthquake ability because it is presumed that the opponent can play with a lot of flying cards. The second situation is when, after studying the opponent, we come to the conclusion that they are also going to put these types of cards on the battlefield. These are the only two situations where Snare performs and shines as an attractive ability. In all other scenarios it is a useless ability that has no impact on the end result. That being the case, and only evaluating the situations in which its playability has an impact, I give it a 5 out of 10 to the ability analysed this week.
Esta semana estamos ante una habilidad muy situacional y que no sirve para todas las batallas. Su uso para ser aprovechada se limita a situaciones muy concretas. Una de ellas es cuando se juega la habilidad Terremoto ya que se presume que el rival pueda jugar con muchas cartas voladoras. La segunda situación es cuando, tras el estudio del rival, lleguemos a la conclusión que también nos va a poner este tipo de cartas en el campo de batalla. Son las dos únicas situaciones en las que Snare rinde y brilla como una habilidad atractiva. En el resto de escenarios es una habilidad inútil que no tiene impacto en el resultado final. Así las cosas y valorando solo las situaciones en las que su jugabilidad tiene impacto le doy apenas un 5 sobre 10 a la habilidad analizada esta semana.
Now tell me, have you used Snare on a regular basis? Do you find any additional use for it that I missed in my analysis? Looking forward to reading your opinion about this skill, see you soon!
Ahora cuéntame tú, ¿has utilizado Snare de manera habitual? ¿Le encuentras algún uso adicional que se me haya escapado en mi análisis? Muchas ganas de leer tu opinión sobre esta habilidad, ¡nos leemos!

If you want take a look at all my reviews here are the links:
I.- Cripple
II.- Trample
III.- Double Strike
IV.- Magic Reflect
V.- Heal
VI.- Void Armor
VII.- Bloodlust
VIII.- Resurrect
IX.- Reach
X.- Opportunity
XI.- Silence
XII.- Affliction
XIII.- Amplify
XIV: Blast
XV: Camouflage
XVI: Close Range
XVII: Demoralize
XVIII: Divine Shield
XIX: Dodge
XX: Halving
XXI: Headwinds
XXII: Inspire
XXIII: Life Leech
XXIV: Phase
XXV: Piercing
XXVI: Oppress
XXVII: Poison
XXVIII: Protect
XXIX: Reflection Shield
XXX: Repair
XXXI: Retaliate
XXXII: Rust
XXXIII: Scattershot
XXXIV: Scavenger
XXXV: Shatter
XXXVI: Slow

All the images in this article are credited to splinterlands.com. Cover image made in canva.com and headers with cooltext.com
Divider credited to @kyo-gaming. You can find more dividers from kyo here.
Don't have an account in the game. Join us and conquer splinterlands with my referral link.
---
---