Hill Giant analysis - Share your battle edition [EN - ES]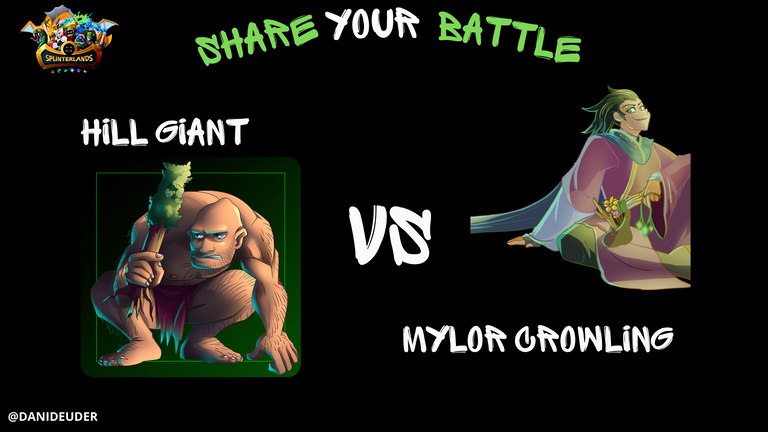 I'm taking a short break from my summer holidays and, from the comfort of the pool, it's time to take a look at Hill Giant in this edition of the Share your battle challenge. A battle with little mana and double Mylor Crowling's presence to analyse one of those cards with which I have a love-hate relationship. I see its usefulness but I can't decide if it's a card I like or not. Let's see if this analysis will give me an opinion on this week's card: Hill Giant.
Hago un pequeño paréntesis en mis vacaciones veraniegas y, desde la comodidad de la piscina, llega el turno para analizar a Hill Giant en esta edición del Share your battle challenge. Batalla con poco maná y doble presencia de Mylor Crowling para analizar una de esas cartas con las que tengo una relación amor-odio. Le veo utilidad pero no termino de decidirme si es una carta que me gusta o no. Veremos si este análisis me termina de dar una opinión al respecto de la carta de esta semana: Hill Giant.

HILL GIANT
THE CARD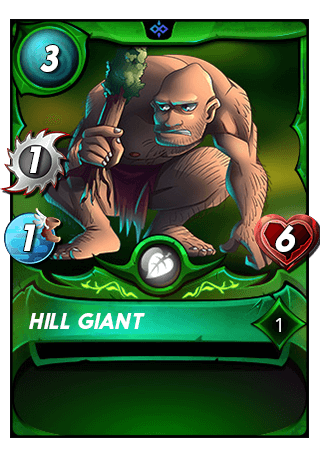 Hill Giant is a common rarity card from the earth deck. It belongs to the Chaos Legion edition and is one of the so-called "starter" cards, meaning that we can play it without buying or renting it, although, as you know, in that case it won't give us focus points for the daily or end-of-season reward. At its initial level it provides one point of melee attack and has one point of speed, the minimum, and six points of life with a summoning cost of 3 mana points.
Hill Giant es una carta de rareza común perteneciente al mazo de tierra. Pertenece a la edición Chaos Legion y es una de las cartas denominadas "starter", es decir, la podemos jugar sin comprarla o alquilarla aunque, como bien sabes, en ese caso no nos aportará puntos focus para la recompensa diaria o de final de temporada. A su nivel inicial aporta un punto de ataque cuerpo a cuerpo y cuenta con un punto de velocidad, el mínimo, y seis puntos de vida con un coste de invocación de 3 puntos de maná.
Hill Giant, due to its characteristics, is a card that can be used as a tank in low mana battles. It has little offensive power but, on the other hand, it provides a decent amount of life for just three points of mana. At level 5 he is already a more than interesting tank with two points of attack and speed and an impressive eight points of health. In terms of special abilities, he'll only provide stun at level 6.
Hill Giant, por sus características, es una carta que cumple para hacer funciones de tanque en batallas de poco maná. Tiene poco poder ofensivo pero, en cambio, aporta una cantidad decente de vida por apenas tres puntos de maná. A nivel 5 ya es un tanque más que interesante con dos puntos de ataque y velocidad y unos contundentes ocho puntos de vida. A nivel de habilidades especiales solo aportará stun en su nivel 6.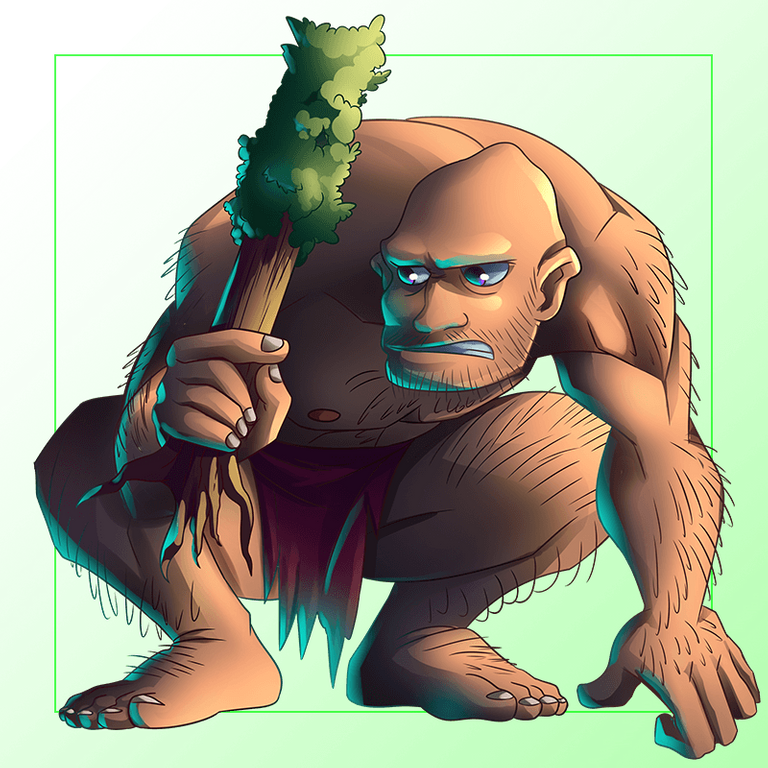 THE HILL GIANT'S STATS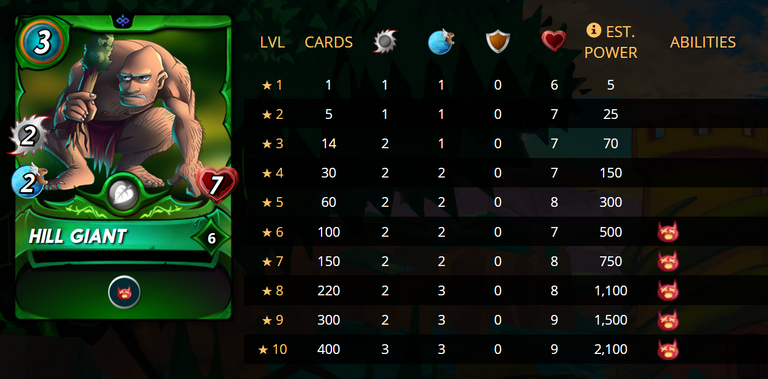 The evolution of Hill Giant is interesting. Although for a card that we will use mainly as a tank, he will never get shield points unless, of course, he is accompanied in the line-up by, for example, Queen Mycelia. Over the course of his 10 upgrade levels he will increase his attack and speed by two points and his health by three from six to nine. At level 5, with two points of attack and speed and eight health, he's already a tank to be reckoned with, and at level 6, with Stun, even more so.
La evolución de Hill Giant es interesante. A pesar de que para ser una carta que usaremos, principalmente, como tanque nunca conseguirá puntos de escudo salvo, evidentemente, que lo acompañemos en la alineación de, por ejemplo, Queen Mycelia. A lo largo de sus 10 niveles de mejora aumentará su ataque y velocidad en dos puntos y su vida en tres pasando de seis a nueve. A nivel 5 con dos puntos de ataque y velocidad y ocho de vida ya es un tanque a tener en cuenta y a nivel 6, con Stun, más aún.
Like all starter cards it is a very cheap card. Also being Chaos Legion edition and common rarity its price in the market is at minimum being one of the most affordable cards in the Splinterlands universe. 0.039 dollars for its purchase and the minimum of 0.10 dec per day in the rental market always talking about its initial level.
Como todas las cartas starter es una carta muy barata. Además al ser edición Chaos Legion y de rareza común su precio en el mercado está en mínimos siendo una de las cartas más asequibles del universo Splinterlands. 0.039 dolares para su compra y el mínimo de 0.10 dec por día en el mercado de alquiler siempre hablando de su nivel inicial.
| Name | Hill Giant |
| --- | --- |
| Rarity | Common |
| Splint | Earth |
| Mana Cost | 3 points |
| Abilities | Stun at level 6. |
| Market Price | 0.039 dollars and 0.10 dec for rent at level 1. |

THE BATTLE
The Hill Giant use example battle is a battle of attrition. With Mylor Crowling as my summoner, I use two cards to passively wear down the opposing line-up until the best card in my set-up, Pelacor Mercenary, has to come into play. Hill Giant will be the second attrition card in this low mana summoning battle with Earthquake and Up Close & Personal abilities.
La batalla de ejemplo de uso de Hill Giant es una batalla de desgaste. Con Mylor Crowling como invocador uso dos cartas para que las espinas desgasten de forma pasiva la alineación rival hasta que tenga que entrar en acción la mejor carta de mi set-up: Pelacor Mercenary. Hill Giant será la segunda carta de desgaste en esta batalla de poco maná de invocación y habilidades Terremoto y Up Close & Personal.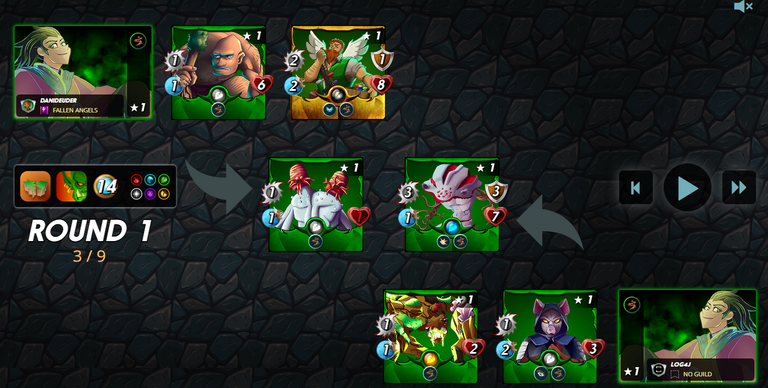 | Card | Explanation |
| --- | --- |
| Mylor Crowling | We are looking for his thorny ability to gradually tear the enemy apart. |
| Mycelic Morphoid | The first card to start the attrition of the opponent. |
| Hill Giant | The aim is to take advantage of his six health points to keep draining the enemies' health. |
| Pelacor Mercenary | With the earthquake rule in this battle, it is necessary to take advantage of its flight ability to prevent it from taking damage and, in addition, it can provoke a failure in the opponent's attacks. |
A very close battle in which
Hill Giant's life caused damage to the opponent
and the flight ability was decisive in causing a crucial failure in a Mycelic Infantry attack that could have given the victory to
@log4j
. Earthquake eliminated his other two cards in the first round.
Batalla muy igualada en la que la vida de

Hill Giant provocó daños en el rival

y la habilidad de vuelo fue determinante provocando un fallo crucial en un ataque de Mycelic Infantry que podría haber dado la victoria a

@log4j

. El terremoto eliminó en la primera ronda a sus otras dos cartas.

CONCLUSIONS
Hill Giant is a very cheap and affordable card that can play its role as a tank in low mana battles. He is also useful hidden in the second line when the Melee Mayhem ability comes into play. In short, in low mana battle conditions his six health at level 1 can be very useful to receive the first attacks of the opponent while our second line is doing damage. An interesting card with a very clear and concrete usability.
Hill Giant es una carta muy barata y asequible que puede hacer su papel como tanque en batallas de poco maná. También es útil escondido en la segunda línea cuando entra en juego la habilidad Melee Mayhem. En resumen, en condiciones de batalla de poco maná sus seis puntos de vida a nivel 1 nos pueden ser de mucha utilidad para recibir los primeros ataques del rival mientras nuestra segunda línea va haciendo daño. Carta interesante y con una usabilidad muy clara y concreta.

¿Quieres unirte al Clan Fallen Angels? Clica aquí

All the images in this article are credited to splinterlands.com. Cover image made in canva.com
Divider credited to @kyo-gaming. You can find more dividers from kyo here.
Don't have an account in the game. Join us and conquer splinterlands with my referral link.
---
---