Share your Battle: Spirit Hoarder [EN - ESP]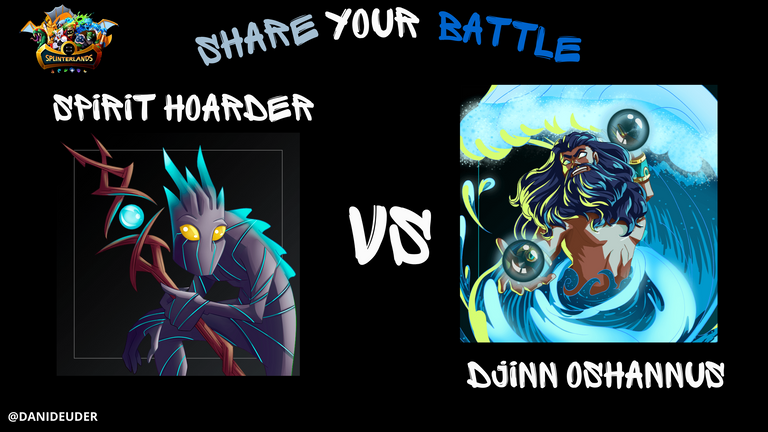 The day arrived. We've been looking at epic rarity cards in the Share your Battle challenge for a few weeks now, and what we're looking at today had to come. Here comes the proposal to analyse a legendary card. I think I remember that this is the first time a card of this rarity has been proposed to us. So here we go. This week we're looking at the legendary card from the neutral deck: Spirit Hoarder. Let's go.
Llegó el día. Llevábamos ya unas semanas analizando cartas de rareza épica en el reto Share your Battle y lo que hoy analizamos tenía que llegar. Llega la propuesta de analizar una carta legendaria. Creo recordar que es la primera vez que se nos propone una carta de esta rareza. Así que vamos allá. Analizamos esta semana la carta legendaria del mazo neutral Spirit Hoarder. Comenzamos.

SPIRIT HOARDER
THE CARD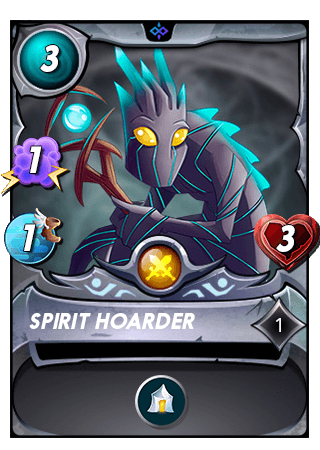 This week, as you read in the introduction, we have a legendary card from the neutral deck. It belongs to the Chaos Legion edition and features Magic Attack. It is not part of my regular roster so I have rented it specifically for this week's review although I must admit that it is not the first time I have rented it and I have used it quite a few times in the past
Esta semana, como has leído en la introducción, tenemos una carta legendaria del mazo neutral. Pertenece a la edición Chaos Legion y cuenta con ataque mágico. No forma parte de mi roster habitual asi que la he alquilado expresamente para realizar el análisis de esta semana aunque debo reconocer que no es la primera vez que la alquilo y la he utilizado bastantes veces en el pasado.
Spirit Hoarder has a summoning cost of just three points and his basic abilities are a magic attack point and speed and three vitality points. It does not have a shield but with an interesting ability in its initial level: Triage. Skill that provides healing to the letter of the second line that has suffered the most damage.
Spirit Hoarder tiene un coste de invocación de apenas tres puntos y sus habilidades básicas son un punto de ataque mágico y de velocidad y tres puntos de vitalidad. No cuenta con escudo pero si con una interesante habilidad en su nivel inicial: Triage. Habilidad que proporciona sanación a la carta de la segunda línea que más daño haya sufrido.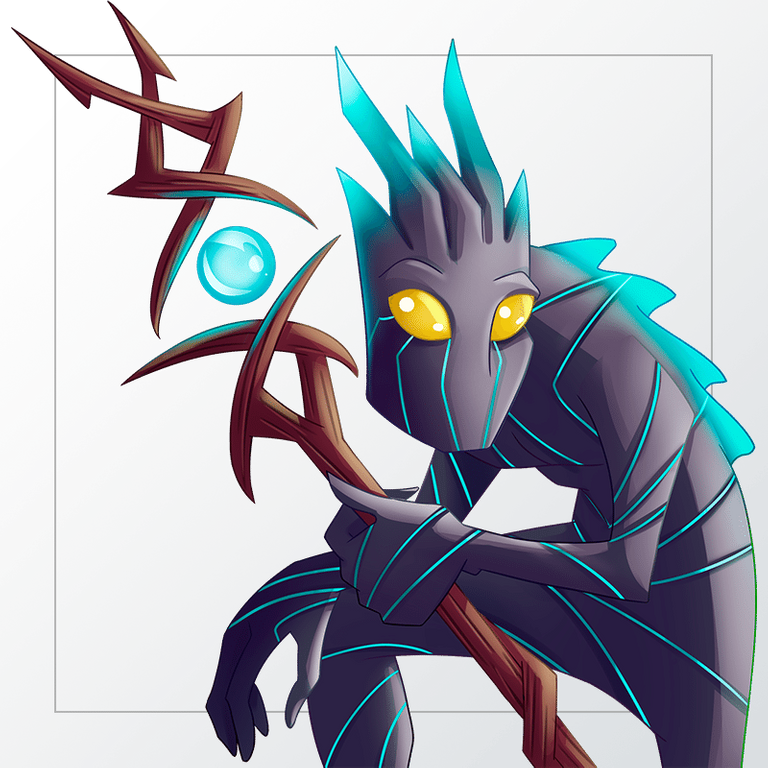 DHAMPIR INFILTRATOR'S STATS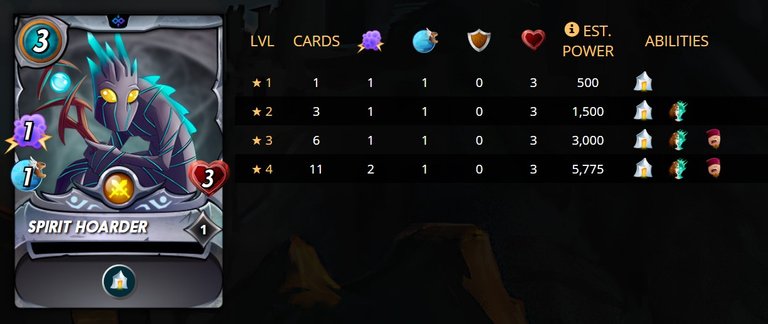 The evolution of Spirit Hoarder is just going to bring him one more point of magic attack and he will win it in his last level of evolution: level 4. What you will gain are special abilities. To Triage will be added, successively, Dispel in its level 2 and Blind in level 3. In his last step of evolution he does not gain special ability but adds, as I said, a point of magical attack.
La evolución de Spirit Hoarder apenas le va a aportar un punto más de ataque mágico y lo va a ganar en su último nivel de evolución: nivel 4. Lo que si irá ganando son habilidades especiales. A Triage le va a ir añadiendo, de forma sucesiva, Dispel en su nivel 2 y Blind en en el nivel 3. En su último paso de evolución no gana habilidad especial si no que suma, como he dicho, un punto de ataque mágico.
With the rise of the last few days appreciated in the market, the current price at the time of Spirit Hoarder's analysis is $ 5.21. As for your rental I have been lucky enough to be able to rent a letter at level 1 for only 6.15 decs for two days. So it cost me, 3,075 dec/day. Quite an affordable price compared to its purchase price.
Con la subida de los últimos días apreciada en el mercado, el precio actual en el momento de realizar el análisis de Spirit Hoarder es de 5.21 dólares. En cuanto a su alquiler he tenido la suerte de poder alquilar una carta a nivel 1 por tan solo 6.15 decs por dos días. Es decir, 3.075 dec/dia. Un precio bastante asequible en comparación con su precio de compra.
| Name | Spirit Hoarder |
| --- | --- |
| Rarity | Legendary |
| Splint | Neutral |
| Mana Cost | 3 points |
| Abilities | Triage at level 1, Dispel at level 2 and, Blind at level 3. |
| Market Price | 5.21 dollars and 3.075 dec/day for rent at level 1. |

THE BATTLE
Battle against a powerful mallet of water that will be more even than it might seem at first glance. And that it will be decided by a detail that is not minor. And I make a beginner's mistake when forming my lineup that my rival will not commit and will be decisive. Keep reading and you will see my serious mistake.
Batalla contra un poderoso mazo de agua que resultará más igualada de lo que pudiera parecer a simple vista. Y que se va a decidir por un detalle que no es menor. Y es que cometo un error de principiante al formar mi alineación que mi rival no va a cometer y será determinante. Sigue leyendo y verás mi grave error.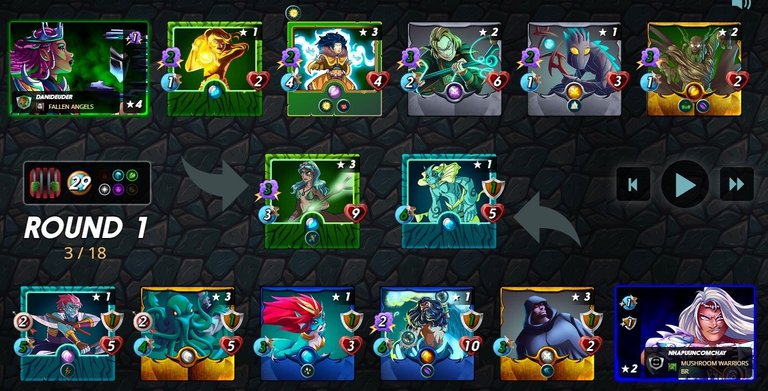 | Card | Explanation |
| --- | --- |
| Obsidian | My green deck summoner who is already at level 5 evolution. |
| Centauri Mage | Used as a tank, although it was not enough to hold back the first opposing wave. |
| Khmer Princess | Mini tank to try to give a little more time to the second line. |
| Spirit Shaman | Powerful card with Divine Shield and Obsidian powered attack. |
| Magi of Chaos | Another card with magic attack in the second line. |
| Spirit Hoarder | The star. |
| Djinn Biljka | A green deck legendary that can't take damage and has a powerful magic attack. |
Correct. The absence of a healer in my lineup will be decisive. Merdaali Guardian gave several important points of vitality to Djinn Oshannus. Having two healers in the green deck like Wood Nymph and Goblin Psychic who in addition to healing attack, placing one of them would have given me the victory. Very serious beginner's mistake mine.
Correcto. La ausencia de un sanador en mi alineación será determinante. Merdaali Guardian le dio varios e importantes puntos de vitalidad a Djinn Oshannus. Teniendo dos sanadores en el mazo verde como Wood Nymph y Goblin Psychic que además de sanar atacan, colocar a uno de ellos me habría dado la victoria. Gravísimo error de principiante el mio.

CONCLUSIONS
You can't always win but it hurts when you lose because of such a serious mistake. In addition, the rival lineup did not attack my second line so Spirit Hoarder's Triage skill could not get into action thus wasting its strength. Even so, Spirit Hoarder is a valid card although it is by no means a finisher and we must assess the conditions and possible rival alignment to decide if it is useful or not at a certain time. Note of 6 out of 10 for this legendary card.
No siempre se puede ganar pero duele cuando se pierde por un error tan grave. Además la alineación rival no atacó a mi segunda línea por lo que la habilidad Triage de Spirit Hoarder no pudo entrar en acción desaprovechando así su punto fuerte. Aún así, Spirit Hoarder es una carta válida aunque no es ni mucho menos un finisher y debemos valorar las condiciones y posible alineación rival para decidir si es útil o no en un momento determinado. Nota de 6 sobre 10 para esta carta legendaria.

¿Quieres unirte al Clan Fallen Angels? Clica aquí

All the images in this article are credited to splinterlands.com. Cover image made in canva.com
Divider credited to @kyo-gaming. You can find more dividers from kyo here.
Don't have an account in the game. Join us and conquer splinterlands with my referral link.
---
---