Soul Strangler -Share your battle [EN - ES]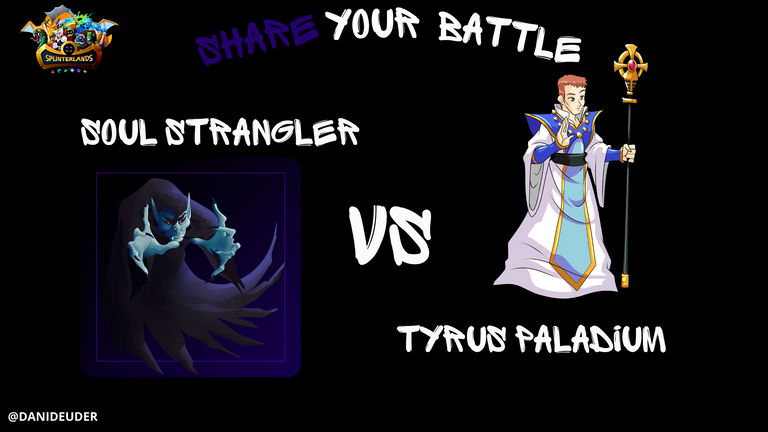 First week of August and Splinterlands invites us to visit the darkest territories of Transylvania. This week's challenge takes us to the deck of death and to test the skills of a mythological creature. Soul Strangler is this week's protagonist. A rare card with ranged attack that I'm going to protect with two great cards to bring out the best in this little vampire from beyond the grave.
Primera semana del mes de agosto y desde Splinterlands nos invitan a visitar los territorios más tenebrosos de Transilvania. El reto de esta semana nos lleva al mazo de muerte y a comprobar las habilidades de una criatura mitológica. Soul Strangler es el protagonista de esta semana. Una carta rara con ataque a distancia y a la que voy a proteger con dos grandes cartas para que luzca su mejor versión este pequeño vampiro llegado desde ultratumba.

SOUL STRANGLER
THE CARD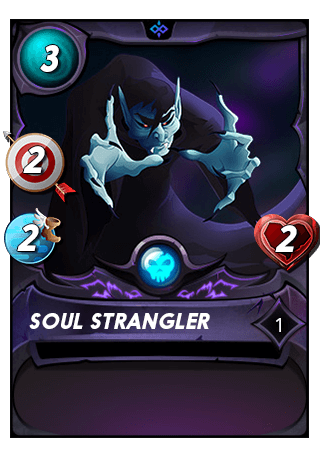 Soul Strangler is a rare card in the death deck. It is from the latest edition released: Chaos Legion and, as usual, it is a starter card. It has magic attack and very modest stats. This is logical considering it has a summoning cost of just three points.
Soul Strangler es una carta rara dentro del mazo de muerte. Pertenece a la última edición publicada: Chaos Legion y, como viene siendo habitual, es una carta de tipo starter. Tiene ataque mágico y unas estadísticas muy modestas. Algo lógico si tenemos en cuenta que tiene un coste de invocación de apenas tres puntos.
The fact that it has a ranged attack limits its usability to the last positions in our line-up. Its life means that even in battle conditions that allow it to attack this type of card from the first position, Soul Stranger will always appear at the bottom of the line-up. Soul Strangler has two attack points, speed and life, and does not have any special abilities until its maximum evolution level. At level 8 he adds the ability "poison". A contribution that comes, perhaps, too late.
El hecho de tener ataque a distancia limita su usabilidad a las últimas posiciones de nuestra alineación. Su vida hace que incluso en condiciones de batalla que permitan atacar a este tipo de cartas desde la primera posición hace que Soul Stranger siempre aparezca en las últimas posiciones de la alineación. Soul Strangler tiene dos puntos de ataque, velocidad y vida y no aporta habilidades especiales hasta su máximo nivel de evolución. A nivel 8 suma la habilidad "poison". Un aporte que llega, quizá, demasiado tarde.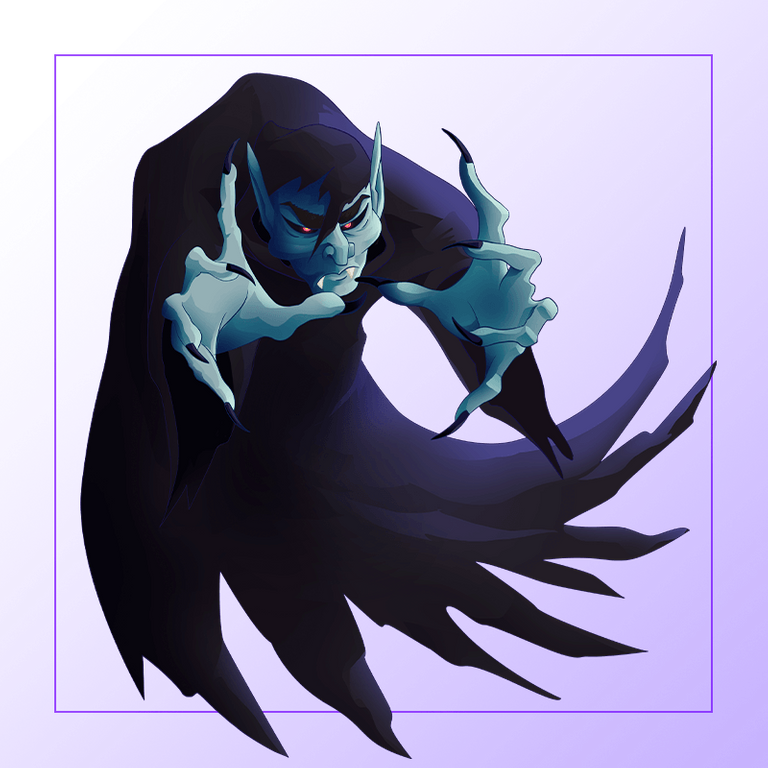 THE SOUL STRANGLER'S STATS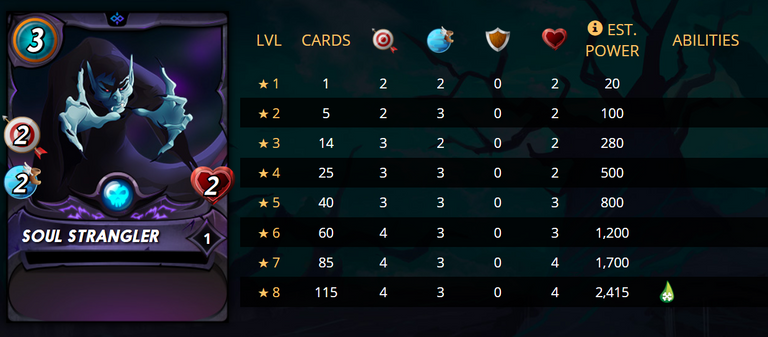 The evolution of Soul Strangler is very modest. The fact that it has no special abilities in its early levels makes it a card that loses value as we increase the level of the league in which we compete. Being a rare card, it has an evolution up to level 8, a level where it has gone from two to four ranged attack points. Speed from two to three and life from two to four. In addition, at his last level he brings the Poison ability. An ability that brings the "possibility" to inflict poison to the opponents and causing damage to the card that receives it at the beginning of each turn.
La evolución de Soul Strangler es muy modesta. El hecho de no aportar habilidades especiales en sus primeros niveles hace que sea una carta que pierda valor a medida que aumentamos el nivel de la liga en la que competimos. Al ser una carta rara tiene una evolución hasta el nivel 8. Un nivel en el que ha pasado de dos a cuatro puntos de ataque a distancia. La velocidad de dos a tres y la vida de dos a cuatro. Además, en este último nivel aporta la habilidad Poison. Una habilidad que aporta la "posibilidad" que inflingir veneno a los rivales y causándole daño a la carta que lo reciba al inicio de cada turno.
It is a very cheap card. Its purchase price is only 0.10 dollars and its rental price is 0.10 dec/day. These prices give us an idea that it is not one of the best cards in the death deck by far.
Es una carta baratísima. Su precio de compra es apenas 0.10 dólares y de alquiler 0.10 dec /día. Estos precios nos dan idea de que no es una de las mejores cartas del mazo de muerte ni de lejos.
| Name | Soul Strangler |
| --- | --- |
| Rarity | Rare |
| Splint | Death |
| Mana Cost | 3 points |
| Abilities | Poison at level 10. |
| Market Price | 0.10 dollars and 0.10 dec for rent at level 1. |

THE BATTLE
For the example battle, one where I wanted Soul Strangler to have a chance to show up for several turns, I paired it with two big cards from the death deck. On the one hand Harklaw as a tank and, behind him, one of the best cards in this deck: Cthulhu. H.P. Lovecraft would be proud of this battle. A werewolf, Cthulhu and a vampire. Mythic.
Para la batalla de ejemplo, una en la que quería que Soul Strangler tuviera la oportunidad de aparecer en varios turnos, la acompaño de dos grandes cartas del mazo de muerte. Por una parte Harklaw como tanque y, detrás de él, una de las mejores cartas de este mazo: Cthulhu. H.P. Lovecraft estaría orgulloso de esta batalla. Un hombre lobo, Cthulhu y un vampiro. Mítico.
| Card | Explanation |
| --- | --- |
| Thaddius Brood | Thadius as a death summoner. Taking advantage of his abilities to reduce the life and magic attack of opponents. |
| Harklaw | His damage reduction ability has been important in withstanding the early onslaught of opponents. A line-up that had a lot of attack from the second line that Harklaw was able to withstand thanks to that ability. |
| Cthulhu | Cthulhu did a lot of damage from his second position, taking advantage of the big tank in front of him. |
| Soul Strangler | His two ranged attack points did a lot of damage and complemented the work of Harklaw and Cthulhu perfectly. |
Very clear game in my favour. Harklaw and especially Cthulhu are two very powerful cards for the bronze league where I'm stuck at the start of the season. Soul Stragler, from the last position in my line-up, took advantage of his presence to shine and show his full potential.
Partida muy clara a mi favor. Harklaw y, especialmente, Cthulhu, son dos cartas muy poderosas para la liga de bronce en la que estoy estancado en este arranque de temporada. Soul Stragler, desde la última posición de mi alineación, se aprovechó de su presencia para brillar y mostrar todo su potencial.

CONCLUSIONS
Soul Strangler is not a prominent card in the death deck. Very basic stats. Although it is saved by its low summoning cost and two attack points. Could be a useful card with a special ability at lower levels. However, the lack of them makes Soul Strangler a card of the bunch that doesn't stand out in the variety of cards in the Splinterlands universe.
Soul Strangler no es una carta destacada dentro del mazo de muerte. Estadísticas muy básicas. Aunque se salva por su escaso coste de invocación y por sus dos puntos de ataque. Podría ser una carta aprovechable con alguna habilidad especial en sus niveles más bajos. Sin embargo, la ausencia de ellas hace de Soul Strangler una carta del montón que no destaca en la variedad de cartas que tiene el universo Splinterlands.

¿Quieres unirte al Clan Fallen Angels? Clica aquí

All the images in this article are credited to splinterlands.com. Cover image made in canva.com
Divider credited to @kyo-gaming. You can find more dividers from kyo here.
Don't have an account in the game. Join us and conquer splinterlands with my referral link.
---
---