He abierto mis primeros dos packs legion
---
🇻🇪Español
English🇺🇸
---
Muy buenas comunidad tanto de splinterland como de hive el dia de hoy vengo a hablarle sobre algunas de las cartas que me tocaron en mis primeros dos packs Chaos legion, tomando en cuenta de las cuales han sido las mejores a gusto propio al igual las que pueden ser muy útiles en batallas de rangos bajo ideales para aquellos jugadores que se están iniciando en este mundo de Splinterland sin mas nada que decir comenzamos.
Very good community both splinterland and hive today I come to talk about some of the cards that I got in my first two packs Chaos legion, taking into account which have been the best to my own taste as well as those that can be very useful in low rank battles ideal for those players who are starting in this world of Splinterland without anything else to say we begin.
---
---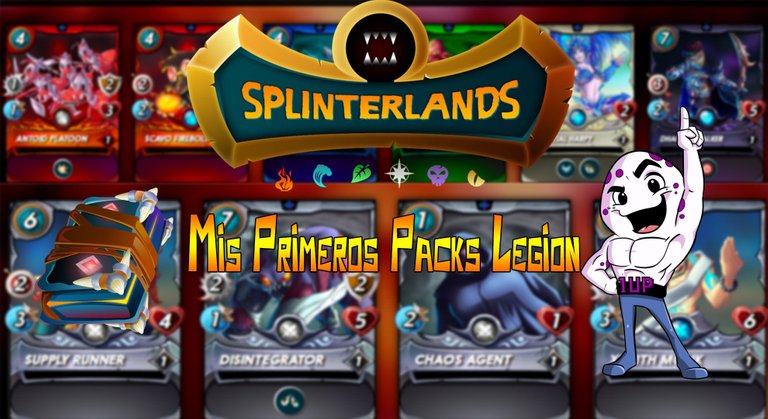 Imagen hecha desde mi computadora con el programa photoshop

---
---


Imagen hecha desde mi computadora con el programa photoshop
---
---
Su poder despierta una vez haya alcanzado el nivel 6, en donde obtendrá una nueva habilidad garroñero que por cada baja de mounstro enemigo obtendra un punto de vida adicional perdurando mas su resistencia y estabilidad en el campo. En los niveles anteriores a esos obtendrán un impulso en vida, fuerza de ataque y velocidad.En las batallas es muy rentable para asi resistir mas los golpes gracias a su habilidad escudo , combinado con el invocador tarsa potencia aun mas su fuerza de ataque y puntos de vida
Their power awakens once they have reached level 6, where they will obtain a new ability called "garroñero" that for each enemy monster killed, they will obtain an additional life point, increasing their resistance and stability in the field. In the levels before that you will get a boost in life, attack strength and speed, in battles it is very profitable to resist more blows thanks to its shield ability, combined with the tarsa summoner it will boost your attack strength and life points even more.
---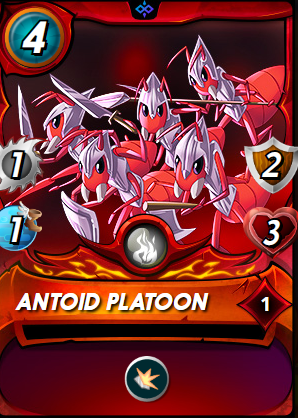 Imagen sacada de un capture de pantalla del juego

---


Imagen hecha desde mi computadora con el programa photoshop
---
---
A nivel de mercado tanto en venta como en alquiler no cuenta con un costo elevado si muy bien es catalogada como una carta común; es una carta recomendada en rangos bajos ya que por un costo de mana de 4 puntos obtendrán un buen tanque de iniciador
At the market level, both for sale and for rent, it does not have a high cost but it is classified as a common card; it is a card recommended in low ranges since for a mana cost of 4 points you will obtain a good initiator tank.
---


Imagen sacada de un capture de pantalla del juego
---
---


Imagen hecha desde mi computadora con el programa photoshop
---
---
Utilizar algún mounstro con habilidad purificar seguida de uno con la habilidad para restaurar escudos para asi darle una mayor durabilidad en primera línea.
Investigando el mercado me encontré con esta carta de nombre Cerberus, quien a su nivel 1 cuenta con un coste de mana de 4 puntos, fuerza de ataque físico de 2 puntos, velocidad de 3, y vida de 5, su precio a nivel 1 ronda desde los 7 a 10$, su precio a alquiler ronda entre 44.50 DEC por dia, cuenta con la habilidad para curar y asi darle mas consistencia y resistencia a nuestra línea, principalmente a Antoid Platoon
Use a monster with the ability to purify followed by one with the ability to restore shields to give it a greater durability in the front line.
Researching the market I found this card named Cerberus, who at level 1 has a mana cost of 4 points, physical attack strength of 2 points, speed of 3, and life of 5, its price at level 1 ranges from 7 to 10$, its rental price is around 44.50 DEC per day, it has the ability to heal and thus give more consistency and resistance to our line, mainly to Antoid Platoon.
---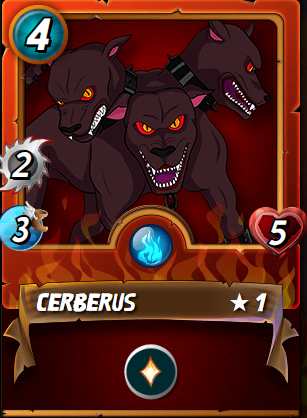 Imagen sacada de un capture de pantalla del juego
---


Imagen hecha desde mi computadora con el programa photoshop
---
---
A pesar de estar en nivel uno, esta carta ofrece una gran ventaja ante monstros de ataque a melee ya que con su habilidad desmoralizar, reduce los puntos de ataques físicos a los monstros oponentes, en niveles posteriores veremos como sus stats van avanzando en cada uno de los aspectos, al llegar al nivel 5 aprendera la habilidad pisotear ayudando asi a distribuir mas daño en sus líneas enemigas y con sus puntos de vida y defensa aumentados lo hacen una carta a segunda línea bastante versátil. Para niveles posteriores aprenderá las habilidades de noquear y contratacar. A nivel de mercado es una carta muy económica rondando su precio de compra alrededor de 0.038$ y con un alquiler de 0.40 DEC por dia
Despite being at level one, this card offers a great advantage against melee attack monsters because with his ability to demoralize, he reduces the physical attack points to the opponent monsters, in later levels we will see how his stats are advancing in each of the aspects, when reaching level 5 he will learn the ability to trample thus helping to distribute more damage in his enemy lines and with his increased health and defense points make him a very versatile second line card. For later levels he will learn the knock out and counterattack abilities. At market level it is a very economical card with a purchase price of around 0.038$ and a rent of 0.40 DEC per day.
---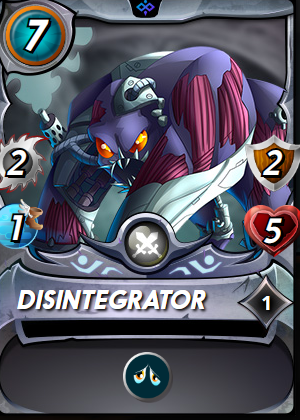 Imagen sacada de un capture de pantalla del juego

---

Imagen hecha desde mi computadora con el programa photoshop
---
---
En esta batalla de limite de mana de 29, plantee mi estrategia con la siguiente alineación
En primera línea Antoid Platoon, para así darle a mi primera línea un escudo de una buena resistencia y que ira dejando un pequeño daño residual para así agilizar el daño a largo plazo.
Desintegrator para así tener un revulsivo y darle apoyo a Antoid Platoon reduciendo los posibles ataques a melee que se encuentren en las filas enemigas
Tenyii Striker al momento de plantear la estrategia pensé que ya una vez armada mi línea de defensa pues era momento de pensar en la ofensiva y esta carta gracias al bosteo que le otorga tarsa y su habilidad para atacar al rival con menos vida logra limpiar líneas de las que se pueden estar recibiendo otros ataques en conjunto
Serpetine spy La decisión va lo mismo que con Tenyii, mi elección se basa a su fuerza de ataque y velocidad que con su habilidad va atacando, eliminando y ayudando a Tenyii a tumbar cualquier daño residual o a gran escala que pueda ocasionar los monstros enemigos desde las líneas traseras
Scavo Chemist esta carta soporte la tome en un principio para prevenir y anular todo efectos negativos que fueran a recaer en mi monstro de primera fila
In this battle with a mana limit of 29, I set my strategy with the following lineup
In the first line Antoid Platoon, to give my first line a shield of good resistance and that will leave a small residual damage to speed up the damage in the long term.
Disintegrator to have a boost and give support to Antoid Platoon by reducing possible melee attacks in the enemy ranks.
Tenyii Striker at the time of planning the strategy I thought that once my defense line was armed it was time to think about the offense and this card thanks to the yawning that gives tarsa and his ability to attack the opponent with less life manages to clean lines that may be receiving other attacks together.
Serpetine spy The decision is the same as with Tenyii, my choice is based on its attack strength and speed that with its ability will attack, eliminating and helping Tenyii to knock down any residual or large-scale damage that can cause the enemy monsters from the back lines.
Scavo Chemist this support card was originally taken to prevent and nullify any negative effects that would befall my front line monster.
---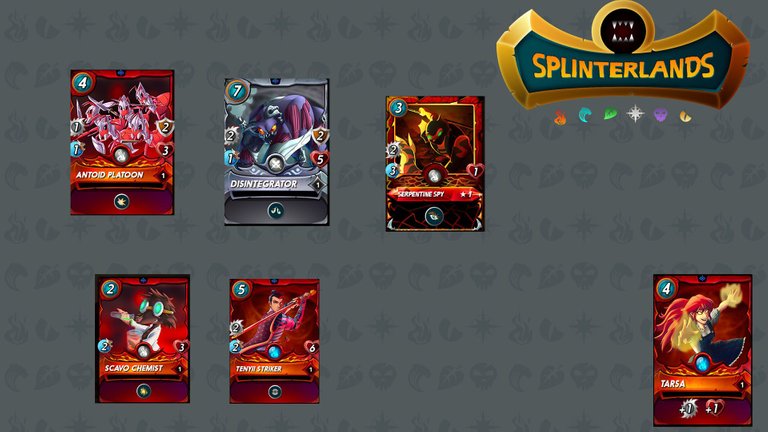 Imagen hecha desde mi computadora con el programa photoshop

---


Imagen hecha desde mi computadora con el programa photoshop
---
---
He de decir que no fue una batalla facil y que tuve cierta suerte en algunos turnos y de que la formacion de mi oponente suponian en su mayoria mounstros de daño a fisico. Es cierto que el invocador que utiliza potencia los ataques a distancia y de que al contar con varios de ellos en su formacion, anula de cierta manera los efectos de desmoralizar a parte de que empezaba mi batalla con desventajas en velocidad gracias a la habilidad de Time Mage, mi formacion fue bien utilizada para distribuir daños a cartas que estaban dando mas ventajas a mi enemigo, en splinterland todo siempre es impredecible, por lo que saber que iba a sacar era imposible. Confie en mis instintos y obtuve como resultado que mis cartas hicieron un alto nivel de counter a las filas enemigas.
I have to say that it was not an easy battle and that I had some luck in some turns and that the formation of my opponent was mostly physical damage monsters. It is true that the summoner that I used boosts the ranged attacks and that having several of them in his formation, it cancels in a certain way the effects of demoralize, besides that I started my battle with disadvantages in speed thanks to the ability of Time Mage, my formation was well used to distribute damage to cards that were giving more advantages to my enemy, in splinterland everything is always unpredictable, so knowing what I was going to get was impossible. I trusted my instincts and as a result my cards did a high level of counter to the enemy ranks.
---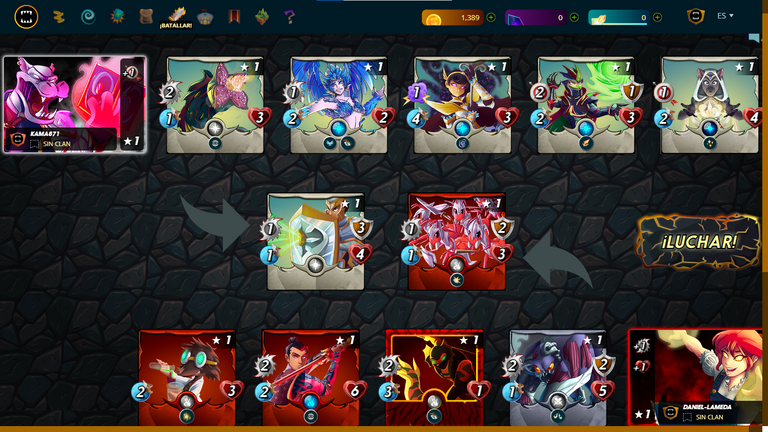 Imagen sacada de un capture de pantalla del juego
---
Eso fue todo por el dia de hoy, muchas gracias por su atencion, debo decir que sigo enviciado al juego xd y que les deseo la mejor de la suerte en sus futuras batallas y apertura de paquetes
That was all for today, thank you very much for your attention, I must say that I am still addicted to the game xd and I wish you the best of luck in your future battles and opening of packages.
Splinterlan Link Refferel: https://splinterlands.com?ref=daniel-lameda
---
---