Splinterlands Rentals - Rent Golem vs SplinterRents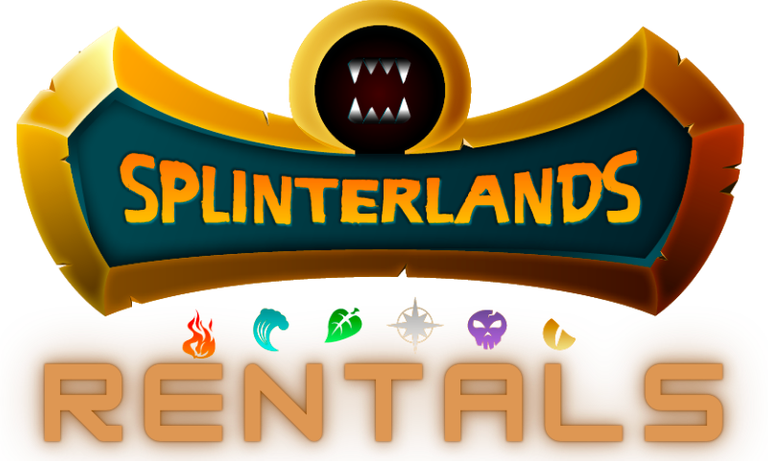 This post is all about the Splinterlands rental market and specifically, we are comparing the two rental services provided by Rent Golem and SplinterRents.
Before we begin I want to apologize for the late post. I was aiming for 1 week after my last update but that didn't really work out. Vacation period was upon us I had no time to prepare a post before we headed out on our road trip. But considering my standard, one month is still not bad. 😀
---
Splinterlands Rental Market
Unless you are new to Splinterlands you probably know there is a rental market where you can either rent out your owned cards and earn a passive income, or, rent cards you don't own, to improve your deck and to potentially earn more from gameplay.
The rental market is excellent Splinterlands players/investors who wish to earn an income from their cards collection, but to manage this manually requires both time and a basic understanding of the market.
If you've done this manually I bet you have used the Load function in Peakmonsters as seen below. It will suggest a price just below the current lowest market price. With a few clicks you can do this for several hundred cards at once. But the price, due to price fluctuations in the market, is quite often way below the fair rental value. So unless you have a good sense for the market and can estimate fair CP/DEC levels, and you don't mind spending extra time to verify/adjust each individual card, and you don't mind repeating the same process several times a day, you are missing out on a lot of rental income.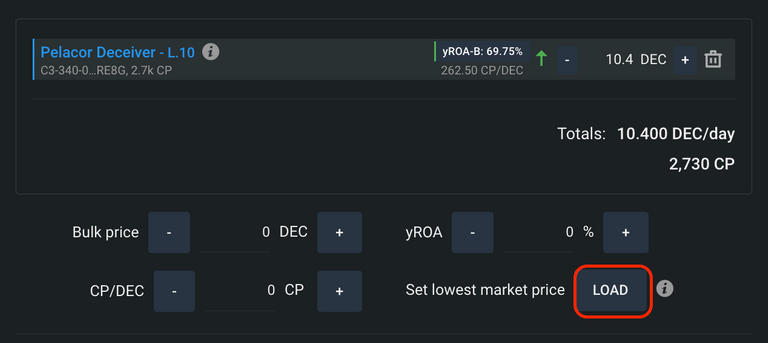 So let's automate it!
We will be looking at Rent Golem and SplinterRents. These are two rental services that I've used extensively and are currently using for my own private accounts. There are pros and cons with both systems, and although one might have the potential for higher returns it might not be the best option for all types of accounts.
We will start with a quick introduction to both services and then we get down to the performance comparison.
Rent Golem
Rent Golem is a web based application accessible on Splex.gg. Initially it was called Splinterlands.Rentals but renamed to Splex.gg when they expanded with more services.
You can add and manage multiple account from one "main" account. The main account is from where you pay the fees and is not necessarily used for renting. For each renting account you need to provide the posting key. This is NOT require for your main account.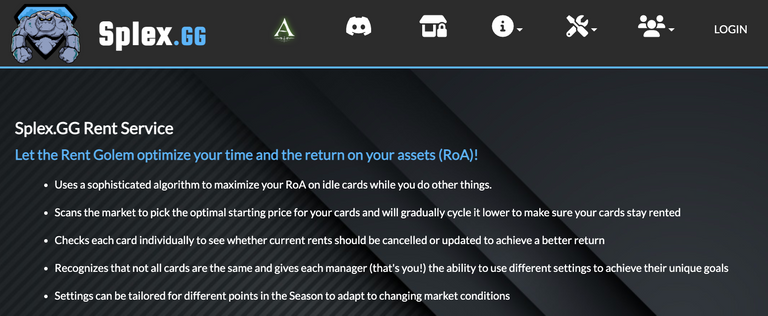 From the account dashboard, you can enable/disable cards available for renting. For example, you have a filter for all your locked cards and can disable renting for those.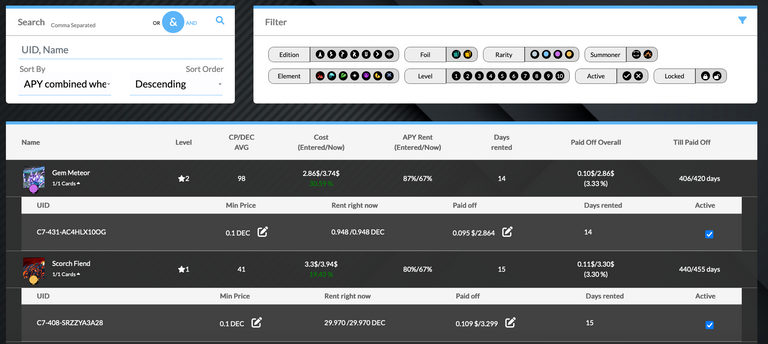 The service recommends around 30HP per 100 cards.
The fee is set to 10% of your rental income.
SplinterRents
SplinterRents is a service fully managed via Discord. After following the setup instructions in the "Onboarding" channel, all configuration and modification is performed via DMs with the bot.
You can add multiple account and manage it from the same Discord user. SplinterRents is using HIVE's posting authority feature to gain access to your account. So instead of giving out your private posting key, you give SplinterRents' HIVE account posting privileges to your HIVE account.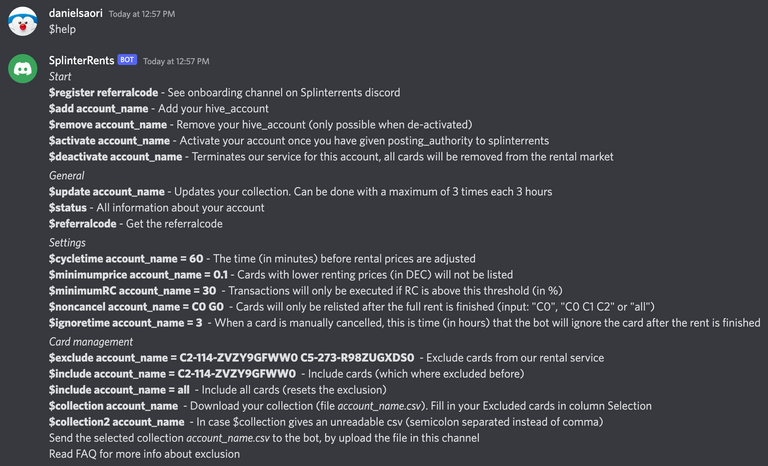 Managing your collection to enable/disable cards available for renting is rather cumbersome. One option is to use the $exclude command and exclude one or several card IDs. The other option is the $collection command to download a csv file of all your cards. You mark your excluded cards in the csv file and upload it to the bot.
I don't know if there is an official recommendation for required HP. An old recommendation I found on Discord was 15HP per 100 cards, but that was before the 2 day rental was introduced.
The fee is set to 5% of your rental income.
Rental return comparison
Let's get down to the rental performance of the two services.
I setup two accounts with identical decks:
Pinkboss - Assigned to Rent Golem
Blueboss - Assigned to SplinterRents

It's a mix of cards and rarities with the majority coming from the Chaos Legion release. Out of the 59 reward cards, 48 are also Chaos reward cards. None of the cards are super exclusive to avoid that a single card can skew the overall rental return. The best returning cards have a daily rate of around 30-40 DEC.
The Collection Points of the cards range from 40-5775 CP. I excluded cards with lower CP on purpose to avoid too common cards.
I activated the rental service on both accounts on the 12th of July, 14 minutes apart. This was one day before the end of season, three seasons back. So the comparison covers two full seasons, including the extra long one where both the modern format and the 2-day rental were introduced.
See below spreadsheet for a breakdown of the rental income per day. The "Total DEC", "Day Difference" and "Total Difference" columns are probably the most interesting. The "Total DEC" column shows the cumulative DEC balance after fees have been paid. The colours in the "Difference" columns indicate which service was ahead, pink for Rent Golem and blue for SplinterRents.
The comparison ran from 12th of July until 16th of August, including two full seasons.
SplinterRents had a 13% higher total return.
Rent Golem's yearly Return on Asset = 12.7%
SplinterRents' yearly Return on Asset = 14.4%
(The RoA is based on a $760 asset value.)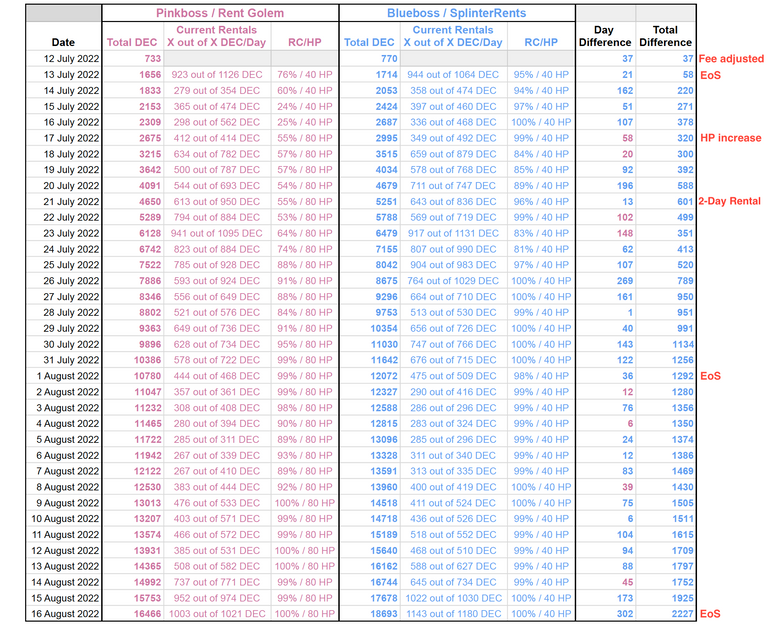 On the first day of the comparison, Rent Golem's fee was at 20%. The day after it was reduced to 10%. I used the 10% fee for the first day as well as I felt it was more fair for the comparison.
HP increase - After 6 days, the RC dropped below 10% for Rent Golem's account and I doubled the HP to 80HP. After the introduction of 2-day rentals on the 21st of July the 80 HP was more than plenty.
I paid Rent Golem's fees on @pinkboss by transferring the amount to @danielsaori. Then I paid all fees from my main account. I currently manage two other accounts with Rent Golem. For @blueboss I transferred the fees directly to @splinterrents account.
Conclusion and comments
I must admit that I was really surprised to see that the @blueboss account managed by SplinterRents outperformed Rent Golem in this way. Even if we disregard from Rent Golem's higher fee, SplinterRents was still ahead by 8%!
Rent Golem is more active. It's more aggressive with more frequent rental price adjustments, requiring more HP to operate. With that in mind, I expected Rent Golem to be superior and be better at finding optimal rental prices.
It's pretty tough to analyze this in detail, but it seems like a more patient approach to get cards rented, waiting for prices to rise rather than quickly reducing the price, was more profitable.
I'm not sure that would be the only explanation though. It also seems that the algorithm used by SplinterRents is better at finding good rental levels.
See below a breakdown of the pros and cons for the two services.
Rent Golem
Pros:
Simple to use. Web GUI to manage your accounts.
Easier to manage accounts used both for playing and renting.
Cons:
Expensive and lower rental returns.
Need to provide private posting key. No support for posting authorities.
SplinterRents
Pros:
Lower fees and higher rental returns.
Using posting authorities, no need to share private posting keys.
Cons:
Setup/configuration is all done via a Discord bot.
More complex to configure filters. Hard to combine playing and renting with the same account.
How do I use the two services?
I have several accounts myself and I use a mix of the two services. For my two playing accounts: @danielsaori and @hunniepie, I use Rent Golem, and on my investment/holding accounts: @zally and @dansao, I use SplinterRents.
It's an exciting time for the rental market currently. We reached ATH if counting since the beginning of June when the new reward system was introduced. Cards with a value of over $11K/day were rented at EoS last season and the market early this season is still hot.

The account @dansao consists of cards from about 1500 Chaos Legion packs. It's a pure CL deck with most cards, except for some commons, kept at 1 BCX. There are some 1 BCX CL commons that rent for crazy prices, so I tried to be smart and I kept those all uncombined.
One good example is the Disintegrator where the average return is currently at 817% ROA. See screenshot below filtering out regular foil Disintegrators. The return for individual cards fluctuate a lot, but it has easily gone as high as 2000%.


😀 Not bad getting $0.6 daily from a $32 investment.
And below is the current rental income for the whole account. These are the cards from the 1500 CL packs, so completely random and not handpicked to provide optimal rental return.

Overall, regular foil CL cards yield a very high ROA compared to many other cards. The decks I put together for @pinkboss and @blueboss is currently just below 20%. Compare this with 93% in the CL only deck above.
What are you doing with your rentals?
What's your experience with any of these services?
---
What's coming next
For my next post I'm planning an update on the sm-voter bot in the Splinterlands Discord. We will look at the various stats and what's done behind the scene to produce the different metrics and graphs.
Please stay tuned.
Thank you very much for reading
---
Posted Using LeoFinance Beta
---
---