My First Splinterlands Brawl Experience - Lessons learned
I have now experienced my first Splinterlands Guild Brawl. I was in Fray #3 which is Bronze level and all cards used must be from the Untamed deck. Also, no cards will play higher than level 1.
Since I have only been playing a few months, I am still a novice when it comes to creating lineups. I thought I was doing good in regular matches. However in the brawls, there were a lot of high mana matches and almost all of them had special rules for each match as well.
Basically I was playing with the standard deck plus a card or two that I owned or was delegated to me. That was a bit challenging but it was not the hardest part. The hardest part was figuring out what the special rules of the matches actually meant since I had never seen most of them before. Special rules like all cards have blast, or even stevens where only even cards can be used and many others.
Since I was used to playing in the Bronze league with standard match rules where most matches had mana caps of 30 except for the occasional 99. A lot of the Fray lineups had mana levels in the 40's. So to get a good combination in my lineup, with the additional mana and only using Untamed cards was a bit challenging for me especially for my first brawl.
I had 8 matches of which I was able to win 2.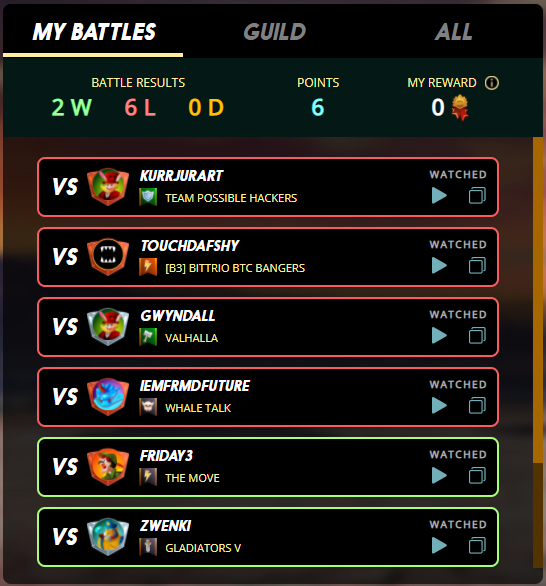 One of my wins was the closest I have ever seen. I had thought if the lineups were the same then it normally ended in a draw however I like keeping my lower mana cards in the middle so had two of the cards flipped compared to my opponents lineup.
https://splinterlands.com?p=battle&id=sm_drYSAAAucu5Mjkb0rdS9&ref=darmstrong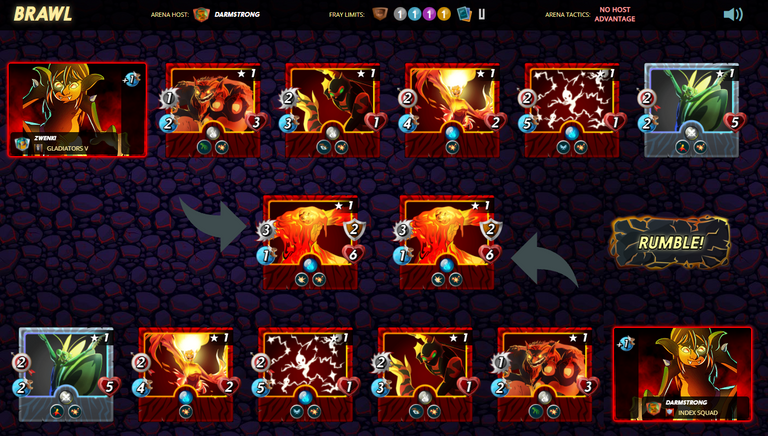 For the next brawl which begins tomorrow, I will be reviewing the cards used by my opponents that beat me to see if I had those cards and choose not to play them. If I do not have those cards, I may look on the market to see if the rental rates are affordable. I want to make sure I am as competitive as possible next go round.
I am part of the Index Squad Guild which is an eSports Team for HE-Index.io
For the Guild's first brawl, we did receive three Crowns. The next guild we will have a few more players and the experience of already going through our first brawl.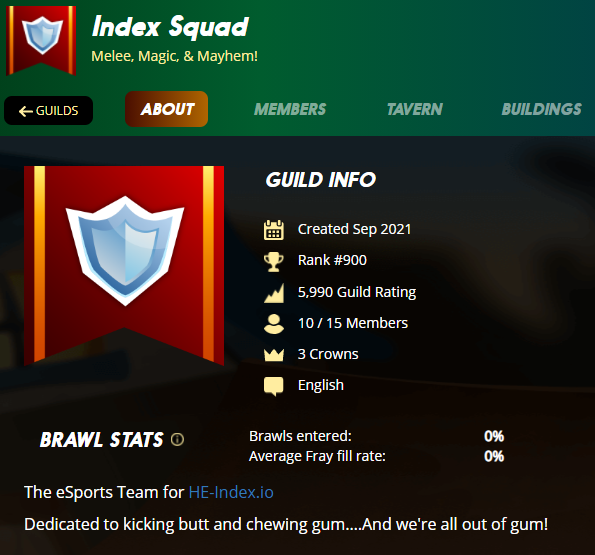 Splinterlands is #1 on dappradar
https://dappradar.com/blog/splinterlands-most-active-game-on-blockchain
The best blockchain game is growing by leaps and bounds, please consider using my referral if you are interested in playing:
https://splinterlands.com?ref=darmstrong
---
---