Splinterlands - My Online Business is earning me around 10,000% ROI. Is Yours?

CORRECTION The title should reflect ROI (Return On Investment) since I used the $10 initial investment in the calculation. I was advised it should not be APY (Annual Percentage Yield) like I had previously stated.
---
Is your online business making you money? Mine is. It is currently making me around a 10,000% APY from a $10 upgrade initial investment. Well, kinda because I didn't use any of my own funds, I earned from other online activity and then re-invested. So my out of pocket was zero...
Can Playing a Game Be a Business that makes you Money?
Investment
Normally to start a Business, you make an investment in the tools needed to work that business. The most common tool to start an online business is a computer and the internet. Nowadays, almost everyone has a computer either desktop or one of the handheld computers called a smart phone.
Most online programs have a fee to upgrade your account to be able to take advantage of greater functionality of the online program.
For your online Splinterlands Business, the $10 to upgrade your account so that you earn rewards is no different than paying the upgrade fees in the online program to earn commissions or be provided access to have your own brand on an affiliate website that you must then promote to get people to sign up under you so you can make money in that program.
Training
When starting an online business, you need to get training for how your tools work, what the best strategies are to grow your business and so on. Now days most training for online programs can be found online for Free. There are always members of the online programs making videos to show how the business works and how to use the various tools that assist with that online program.
For your online Splinterlands Business, it seems like everyone is offering advice on how to grow your account. Some are giving away free business assets. Other online programs will charge you an additional fee to get lifetime access to certain functions or provide you with free upgrades for life. The Splinterlands team is upgrading their program all the time and you do not need to pay extra to get the upgrades.
A Business should be Fun
When you are in a business for yourself, it should be fun. I do not know how to have more Fun than by playing a game that also earns you money. Most of the online programs require you to get referrals and to do that you must create marketing material, advertise and ask everyone you meet to sign up in under you. Or you must sell someone a product that most of the time they do not want.
Need I say more, your online Splinterlands Business is a game. It does not need to be gamified which all online programs are moving to because it already is gamified. So when you learn how to play, you are actually working an online business.
Work your Business Daily to Earn
For an online business to be successful, you need to work at it each and every day. You get up every morning and start your daily tasks for your business.
For your online Splinterlands Business, the program lets you earn daily rewards without having a single person in your downline. And then after two weeks of work, you can earn extra commissions (Season-End Rewards) based on the level you achieved. Just like other online programs, you earn based on the effort you put into the program.
Blog About Your Business
To take your business to the next level, you would normally start a blog so people can follow you and learn more about your business and how they to can become successful in that business.
For your online Splinterlands Business, this is no different. To increase your earning potential, you would blog about your successes, your training and provide tips to other would be business owners. The good news is that you can blog on the Hive Platform and have that as another revenue stream in you business.
Hard Work and Commitment
To be successful in your online business it takes hard work and commitment no matter which online business you are pursuing. I have chosen to make part of my online business a collection of Play2Earn games with Splinterlands as the main program.
Actual Value
I started my online Splinterlands Business on June 28th. I have not invested any out of pocket funds. I saved funds from my other Hive Platform activities to fund the initial $10 investment.
Card Assets $280.38
DEC $76.43
SPS $53.83
Card Pack $7.93
Total $418.57
So in 5 Months, I have earned $418.57 off of a $10 investment to start an online program. Over 10,000% APY and growing. This does not even take into consideration any earning from blogging about my online business.

I receive the SPS token in the program which is worth $53.83 and earns 48.25% APR.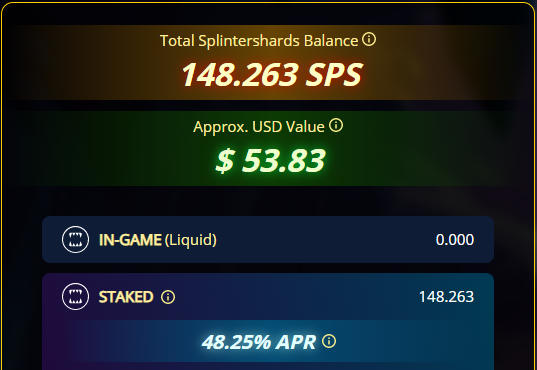 The Collection Power is related to the card assets which I own. The DEC is an utility token traded on the Hive Blockchain for $0.00936 totaling $76.43 USD value. I have 1 card pack worth $7.93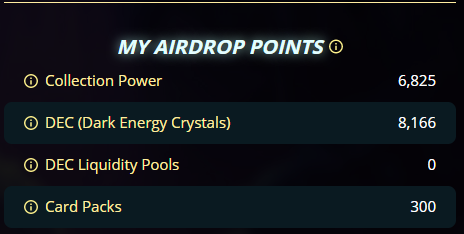 If you would like to start your own online business, leave me a comment and we can discuss further about how to be successful in your own online business.
---
If you have not started playing this exciting Play2Earn game, you should start. Here is my link to sign up:
https://splinterlands.com?ref=darmstrong
Posted Using LeoFinance Beta
---
---