Splinterlands Earning Opportunities for Beginners
I saw my mom getting kinda "ripped off" by playing games on her iPad in the past. Remember those? We're not talking about a lot of money, of course, but I saw that as a rip-off anyway.
Splinterlands is totally the opposite. The game can actually make you money if you "play your cards well" 🤯
The more I learn about Splinterlands, the more I get excited about it. The game is just really, really interesting in terms of gameplay and monetization opportunities.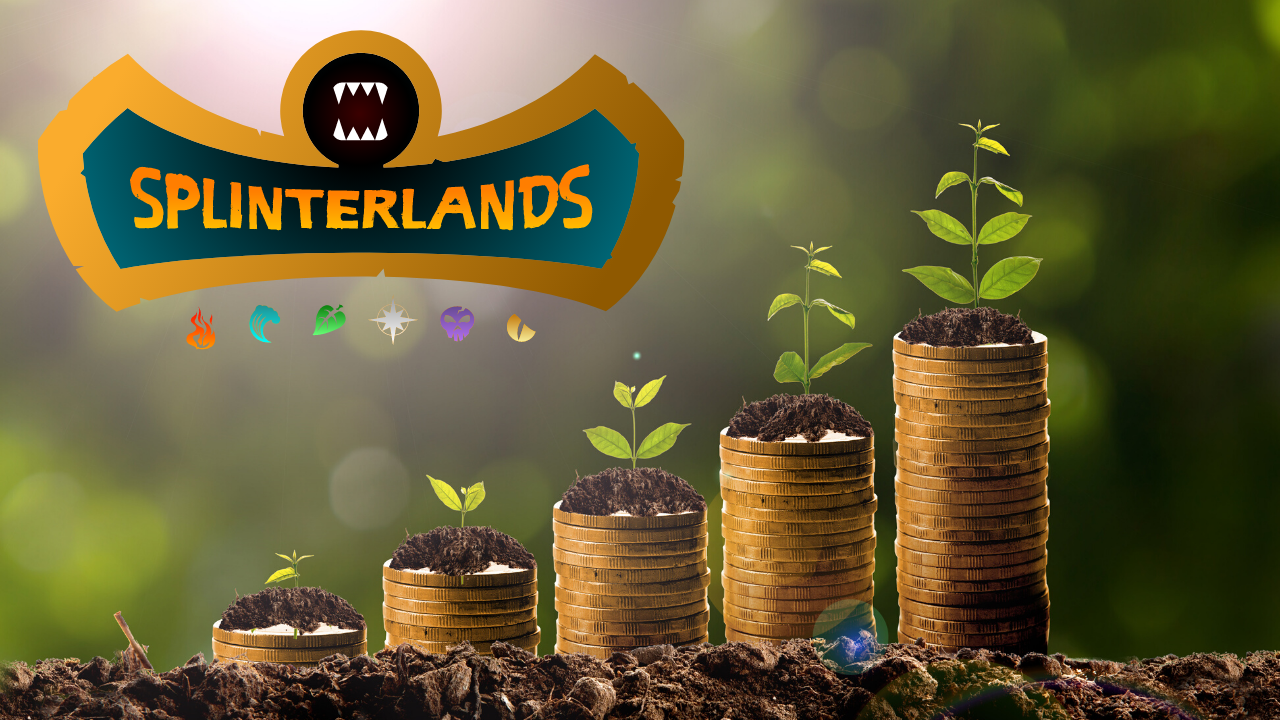 At the moment, there are many different ways you can earn through Splinterlands; which we're about to explore.
Big shoutout to @ecoinstant, as part of this post was inspired by his article on Splintertalk.io written a while ago.
Earning by Playing Splinterlands
This is the most obvious point. You can earn by simply playing the game. And you can earn quite a bit.
Let's take a look at the different opportunities.
Complete Daily Quests for Rewards
In Splinterlands, there's a section where you can see information about daily quests.
You receive a random quest that requires you to win a certain number of ranked play games with cards from a certain Splinter. Every time you win a game using the specified Splinter, your quest progress bar will increase.
When you have won the required number of games, a button will become active that allows you to claim your rewards.
Note that, if you don't like a specific quest or that you think you cannot win it, you can get a new quest, but you can do so only once a day for each quest.
You want to get good at understanding which quests you are able to complete and which aren't a good fit for you.
Once you complete your daily quest, you will be able to start a new quest after 24 hours.
It's also worth noting that the Summoner used in the battle must be from the Splinter specified in your quest for the battle to count towards your quest progress.
For example, if you use a Dragon Summoner with Monsters from your quest Splinter that will not count. So, keep that in mind.
Fiercely Battle for DEC
Dark Energy Crystals (DEC) are the in-game currency of Splinterlands; and there are different ways to earn DEC in the game.
Earning DEC is important, as you can then purchase all sorts of different items and boosts that help you rise to the top of the leaderboard 🚀
DEC rewards from battles tend to be higher early in the season than at the end of it. So, it's a good idea to get organized and think about the optimal timing.
Moreover, rental rates are cheaper at the beginning of the season than at the end of it.
Thus, if you're in for the money, remember that if you want to rent your cards to others you'll make more money (DEC) at the end of the season.
On the other hand, if you want to rent in order to play, do so at the beginning of the season.
Season Rewards
The rewards are for the league you are in (image below). Of course, if you're just starting out on Splinterlands, this is not very important.
The Leagues is a way of grouping people with similar game skills. These below are the 6 Leagues (there are subcategories also).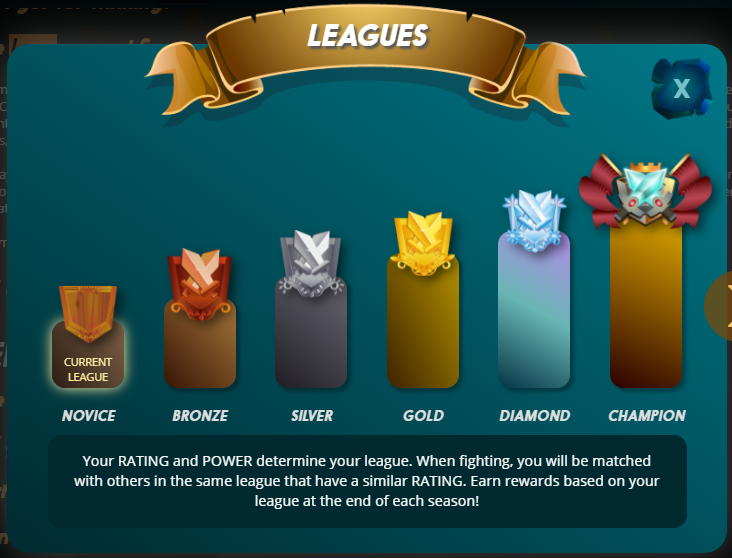 As you win ranked play games you will gain rating points and move higher to reach higher leagues. Of course, the higher the league, the higher the rewards.
SPS Airdrop From Game Assets
And here's my favorite.
A while ago, Splinterlands's Chaos Legion Card pack presale (18th Oct - 17th Nov) was announced.
Holding DEC, SPT and other assets in-game (or on a linked wallet like the Hive wallet) will give you the privilege to earn the airdrop on a daily basis.
The 🍒 cherry on top here is that you can get daily airdrops based on the total game assets you own. Each asset gives a certain number of airdrop points.
You can see the number of airdrop points on this table, but to give you an example (images below):
I hold a total of 19,169 DEC. This gives me 1 airdrop point for each DEC I have, which is a total of 19,169 airdrop points from DEC.
I also have ~28,596 SPT, but this time I get only 7,149 airdrop points from SPT. This is because each SPT is worth 25% in airdrop points (~28,596 x 0.25 = ~7,149).


Earning by Investing in Splinterlands Cards
Splinterlands cards themselves can also give you a substantial income stream if you do things right.
You can do 2 things here:
Buy and Sell Cards for a Profit
If you're not a gamer, you can trade cards for a profit (buying and selling the cards).
Of course, knowing the game will be a big advantage if you want to buy the best cards and then sell them for a profit in a few months.
You can buy cards from PeakMonsters market (image below), which is a platform I am exploring and studying (stay tuned for some tutorials about @peakmonsters coming up).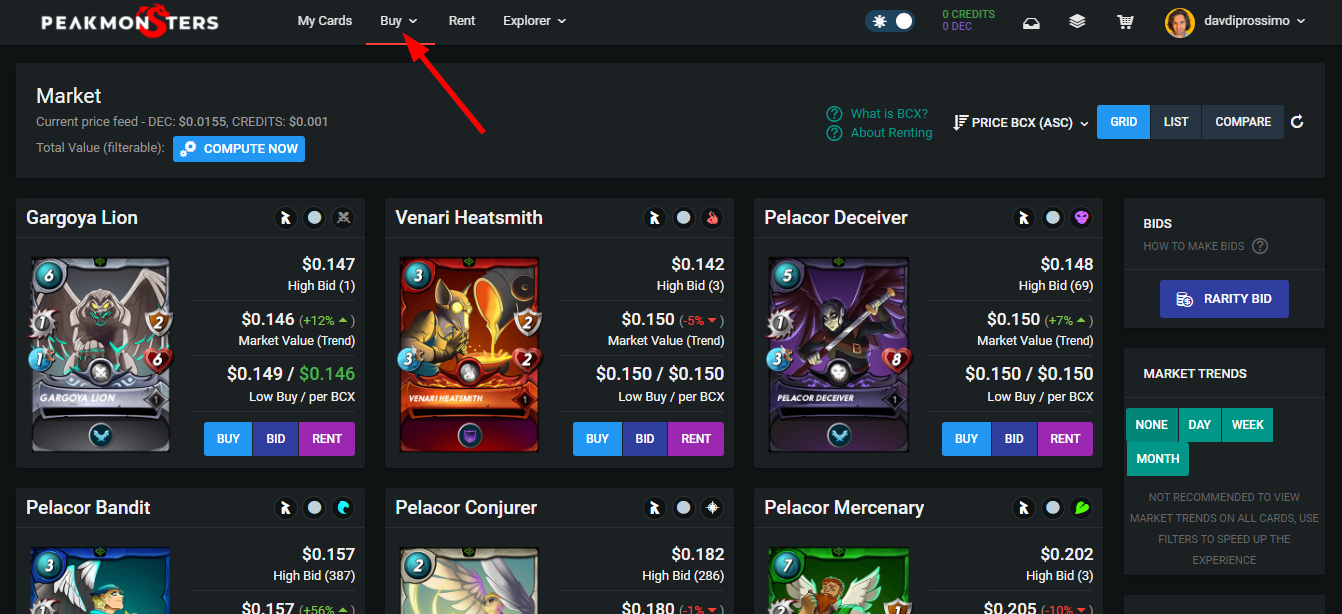 Rent Cards to Active Players for a Profit
This is yet another strategy to consider. Renting out cards can pay off handsomely; and it's also a smart passive income strategy to consider.
Renting is huge in Splinterlands; as not many people have enough money to buy.
PeakMonsters has an entire section dedicated to renting.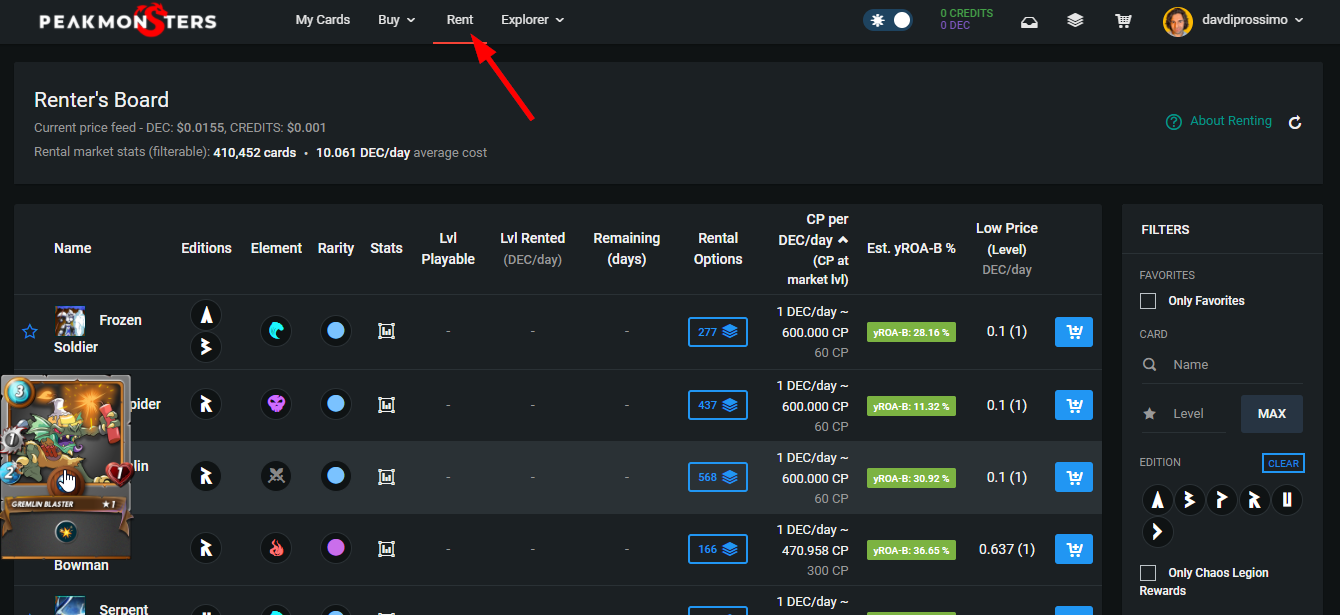 Earning by Writing About Splinterlands
By writing blog posts on Splintertalk.io you get SPT tokens; which is the second-layer Hive token rewarded for blogging on the Splintertalk platform.
SPT rewards are divided 50/50 between the author of the post and all the curators who have voted on the content. This is paid out in liquid SPT tokens after roughly a week.
But SPT is more than just a token. SPT rewards count towards Splintershards (SPS) airdrop points.
Moreover, SPS can be staked within the in-game wallet in Splinterlands, which gives you a nice 66.34% APR at the time of writing this (image below).

The APR will decrease overtime; so staking is the s**t you wanna do as much as possible for the next ~10 months.
Using the Correct Post Tags on Splintertalk
The first time I posted on Splintertalk I got very little engagement; but that's because I used the wrong tags.
Depending on what you write about, you want to use specific tags to categorize your content.
To give you an example, this below is a post I published last week about Splinterlands.

As you can see, I got quite a bit of engagement (Likes, Comments and SPT).
And the tag I used were: #spt #sps #splinterlands #splintertalk #oneup #nft #leofinance #neoxian #play2earn #archon

Again, depending on the content you write about, there'll be specific tags to use. This ☝ was just an example.
Get Involved in Splinterlands Contests
I learned about contests from the @ecoinstant's article about Splinterlands investing.
You can get involved in different contests around the Splinterlands world. Each week, the team from Splinterlands organizes these contests for the creatives out there.
They also have social media sharing challenges. And, you can actually earn quite big upvotes by participating.
This is all I could find, so far, when it comes to Splinterlands earning opportunities for beginners. Stay tuned because I'll continue to read, research, and keep you posted on anything I find.
Ciao 👋😊
Posted Using LeoFinance Beta
---
---