Splinterlands Ranked Match Battle Report. NERISSA TRIDAWN.
I'm glad to be here again amongst you to share another one of my battle reports of splinterlands. As a bronze-level player, I'm quite unfamiliar with battle rules. But, recently I've been getting some battles with interesting rules and this battle is an interesting one too. It was a good experience and I want to share this experience with everyone throughout my post. And this post is also to take participation in an amazing contest. Further explained below step by step.
Splinterlands has chosen an amazing card for this week's contest. This card has all it needs to be called strong. Those of us who know about splinterlandas or play the game, know that magic attacks are superior to melee or ranged attacks. Melee or ranged attacks both can be stopped by shields or shield ability. Also, they have a great chance of missing an attack because of the dodge or flying ability of a monster. This even happens with normal monsters too sometimes. But, only the ability named called void can decrease the damage of a magic attack and shields can't stop magic attacks. It can easily penetrate through any amount of shields and directly hit the monster's health. Also, no monster can dodge a magic attack. Doesn't matter if the card even owns both magic and dodge ability. So, these are the reasons, magic attacks are considered stronger than melee or ranged attacks. At least I think that way and I just love monsters with magic-attacking abilities. You can say I'm kind of obsessed with them.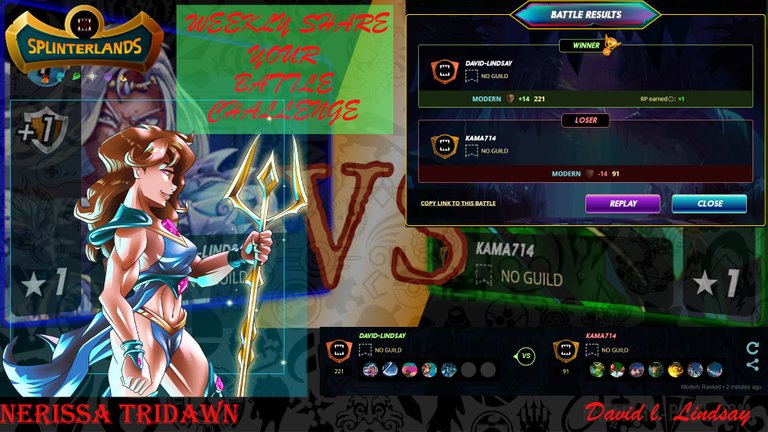 Now, I'm here to write a battle report post to submit my participation in the weekly share your battle challenge contest arranged by @splinterlands. Then, why did I discuss magic attacks right at the beginning of my post?

It's because splinterlands has chosen a strong water monster with a strong magic attacking ability. The monster that they choose this time is named NERISSA TRIDAWN. This is an epic water monster from the chaos legion card series. And this week's challenge is to play with NERISSA TRIDAWN and share my lineup, strategy and the reason for every card's position in a post to participate. You can learn more about the contest from the contest's link that I'll attach at the end of the post. Now, let's discuss the theme card and my battle.
NERISSA TRIDAWN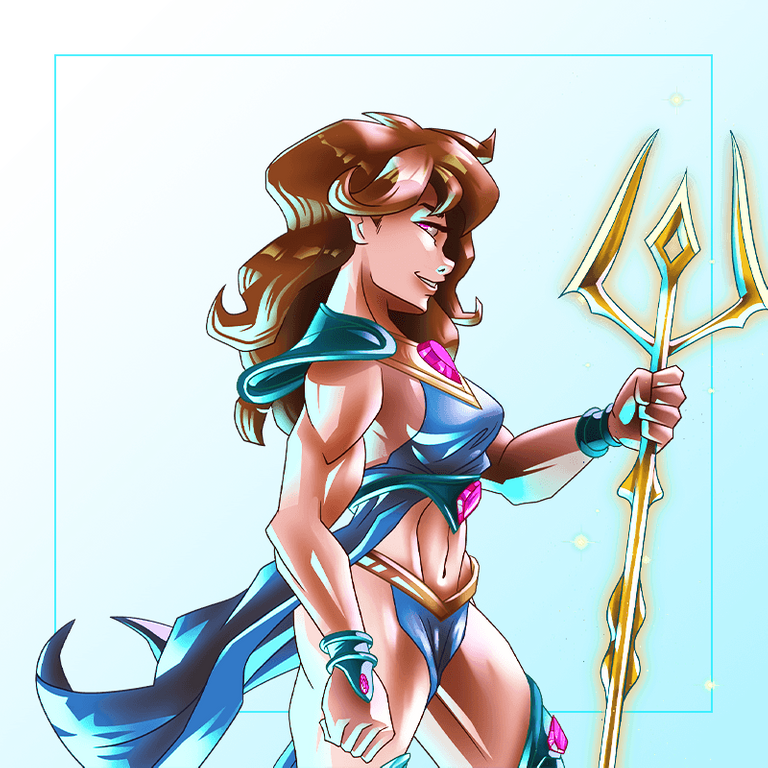 The NERISSA TRIDAWN is an Epic Water monster from the Chaos Legion card series. This beauty costs 9 mana caps to use in battles. And it has no special ability with it. Now, many of you may think that the cost of mana is too much for a card that has no special power. But, wait. The basic abilities of this card are alone enough for the cost. First of all this monster has a level 3 magic attacking ability which I think is huge for a level one card and this even increases to 5 when you have the max level of this card. The speed is not that great but I used KELYA FRENDUL as my summoner and my summoner has the ability to increase the attacking ability of every friendly monster and that was a good combo with Nerissa Tridawn. Now comes the health capacity, this card has the freaking 9 health capacity which is amazing. It even got a shield from my summoner which made it stronger. However, the main reason that I like this card is the amount of magic attacking ability that this card owns.
About my battle: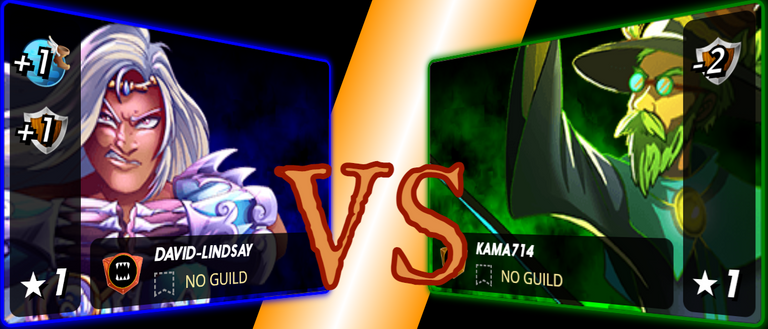 I used the KELYA FRENDUL as my summoner and it helped all my friendly monsters to gain +1 attacking speed and +1 shield and it was supposed to be quite useful. But, my opponent used a summoner that can take away 2 shields from enemy monsters and that's why I wasn't able to get the free shields.
Battle link:
https://splinterlands.com?p=battle&id=sl_a3d6fe5ac929372ce99de6fd26fbcf62&ref=david-lindsay
The battle rule.
The rule for this battle was, fire and retreat. This means all of the monsters that were used in this battle had the return fire ability. This rule allows cards to return the damage of any ranged attacks to the monster that it came from. And I was sure to use it wisely.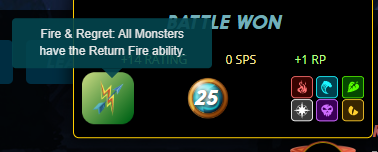 My Lineup: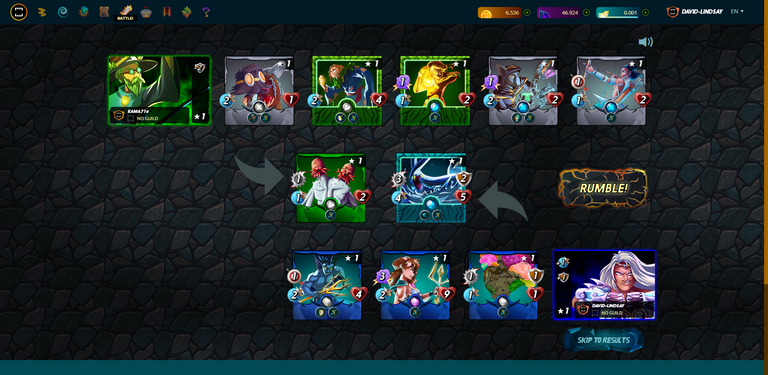 SERPENT OF ELD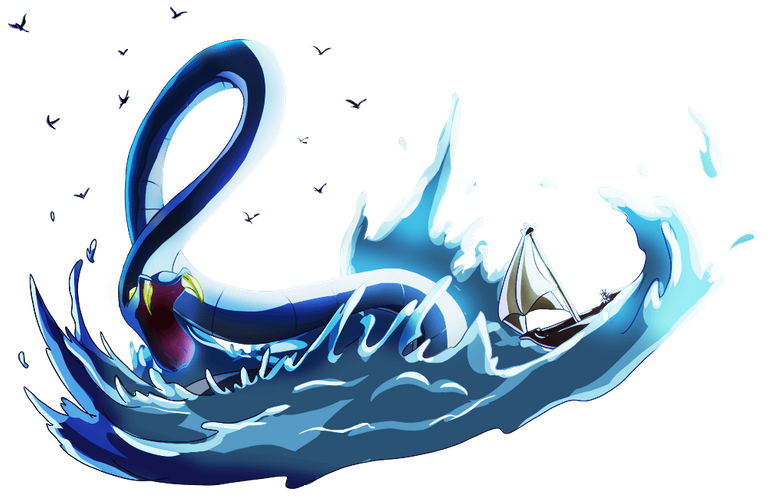 In the first position I used the SERPENT OF ELD. This monster is a rare water monster from the untamed card series. This monster costs 6 mana caps to use in battles and has 3 melee damage-delivering abilities. It also got a faster attacking speed of level 4 and 5 life capacity with 2 shields. These already make sit strong enough even then this monster contains a special ability named Dodge. This ability helps this monster to avoid most of the melee and ranged attacks. And this Dodge ability makes it my perfect choice to use in the first position of the lineup.
HARDY STONEFISH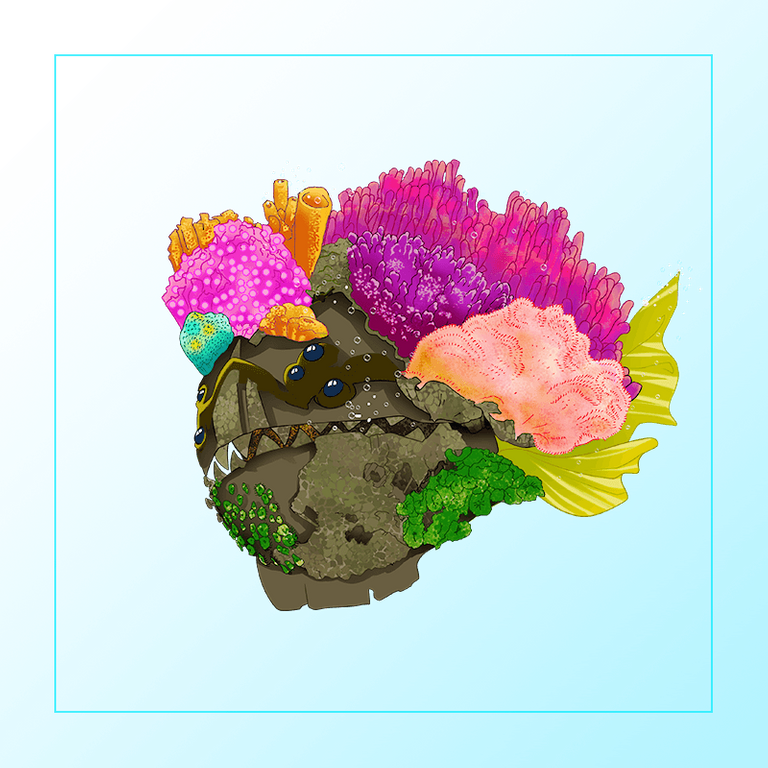 Then I used the HARDY STONEFISH in the second position. This monster is a common water monster from the chaos legion series. And it only costs 1 mana cap to use it in battle. There isn't any special reason behind using it. It's just I had 1 spare mana after setting my lineup and unlike another monster with 1 mana cap cost, the HARDY STONEFISH has an extra shield to it and it gives it the chance to throw an attack or at least hold one more attack. Mainly, I used it as a sacrificial pawn in my lineup.

Then I used the Nerissa Tridawn and as I already discussed, I think it's enough and I think I can jump over to the next one.
MERDHAMPIR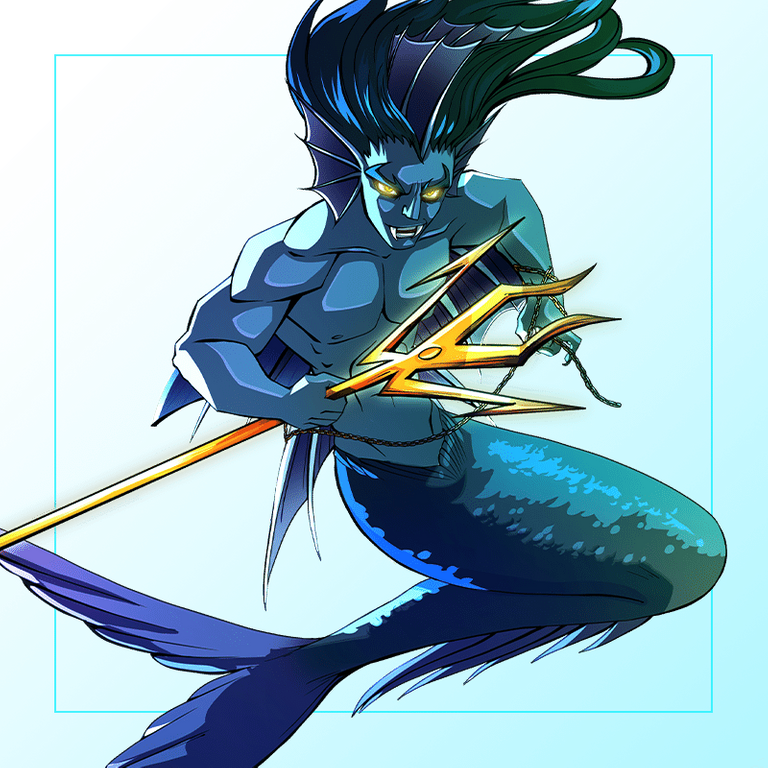 Then in the end I used the MERDHAMPIR. This monster is a common water monster from the reward card pool. This monster costs 4 mana caps to use in battles and it's a ranged attacking monster. But, it can only deliver 1 damage per attack which is low compared to my other monsters that cost 4 mana caps, yet they can deliver 2 or 3 damage per attack. But, the number of attacks wasn't the reason behind it. It was the Life Leech ability of this monster that pulled my interest towards using it. This monster gains 1 life after every attack it throws. And as the battle rule was that all the monsters are going to have the Fire and regret ability, he was going to get hit by that same attack again. But, because of this life leech ability he'd heal himself from that damage and the life level will be neutral all over the battle. And that was the main reason and strategy to use this specific monster in my lineup and as a ranged attacking monster with no close-range ability it was supposed to be used at the end of the lineup.

My strategy was my first monster will hold the line and the Nerisssa Tridawn will finish the enemies with its strong attack. Which seemed to be working perfectly. The Serpent of Eld and Nerissa Tridawn surely helped me win the battle. But, the MERDHAMPIR was a good backup too and if my cards were to fall. I think it'd do good even in the frontline. It'd be an awesome card if this cad also had the close-range ability. But, I'm still happy with it and the cards combo worked really well making the battle an easy win.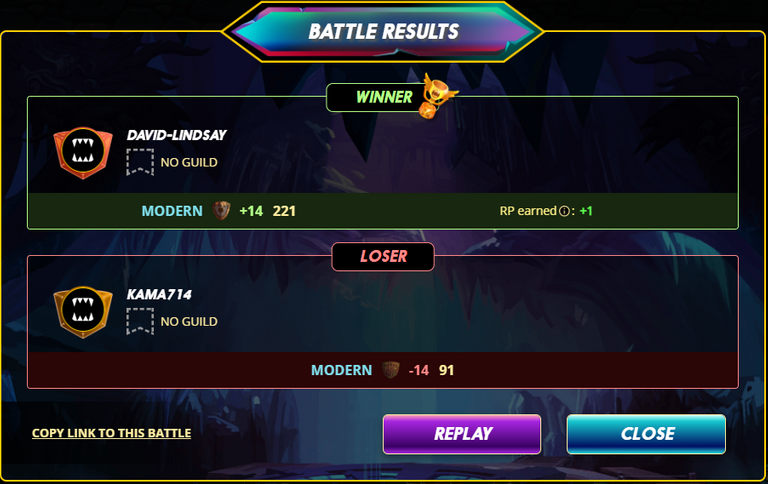 After Battle Result:

This was all about my battle, lineup, strategy and the card.
I hope you liked my post and battle strategy. I tried to bring up the main facts of my whole battle in this battle report of mine. Those of us who play the game, know how things work. So, we will understand what actually happened in the battle from these main facts. And as for those of you who don't know about the game, this will increase the curiosity of the newcomers and you'll find it amazing to see the match live by visiting the battle link I included before. I'd like you to join splinterlands, you can use my referral link to join and please follow me on Twitter.
My referral link to splinterlands:
After visiting the link you'll be able to see everything for yourself in the game and do your research. You'll then need to purchase the spellbook to create an account and play the game.
https://splinterlands.com/?ref=david-lindsay
You can take participation in the share your battle challenge contest of splinterlands by creating a post about splinterlands and sharing it on your social media accounts. I'm participating in this one too and here's the link to that contest:
https://peakd.com/hive-13323/@splinterlands/share-your-battle-weekly-challenge-nerissatridawn
There's also another contest called the Social Media Challenge contest. You can participate there too by following the rules. Here is the link to that contest from this week:
https://peakd.com/hive-13323/@splinterlands/splinterlands-weekly-curation-challange-january-24-2023
My Twitter profile:
Will see you soon with something new or another exciting battle to share with you all.
Thank You
---
---