Splinterlands Ranked Match Battle Report. Weekly Social Media Challenge.
Looks like a lot has changed while I was away from Splinterlands. I had to deal with a huge loss in my mortgage business and other personal issues too. I used to play the game sometimes to keep my mind sane but didn't notice that the challenge of weekly share your battle had also changed. But, I've recovered from all of that and started a new business. After all that time I'm finally free now and back here to share my thoughts on the battles from my Splinterlands playing time.
The ruleset was that all the monsters will have return fire ability. So I had to plan and design my lineup that way. It was a 27-mana cap battle. These rulesets make the game more interesting and let us try out newer challenges and battle formats.

I'm sharing it to confirm my participation in the weekly social media challenge. You can create a post about splinterlands and share it on your social media accounts to participate there. I'll attach the link to the contest at the end of my post.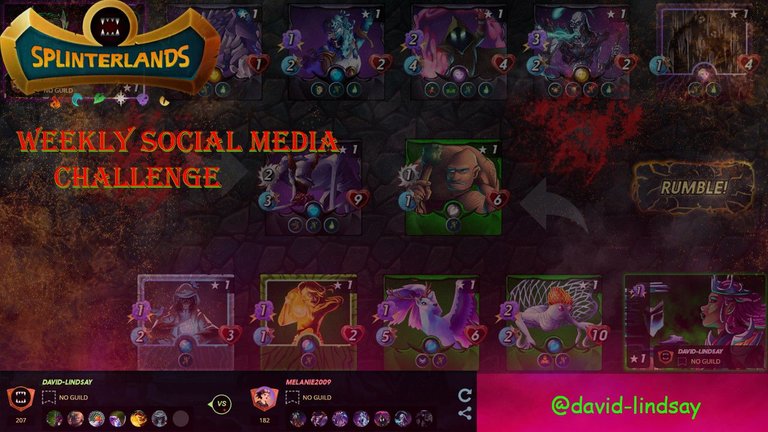 My Battle
So, I was using an Earth Splinter and my opponent was using a Death Splinter. But, man, his opponent, and cards were way more powerful than mine. I was sure that I'm gonna lose the battle just by seeing the power of his summoner and the cards. I used the summoner named OBSIDIAN, which is a rare earth summoner. This summoner's special ability is that it can increase the magic attacking ability of every friendly monster that has the magic attacking ability. But, my opponent used the summoner named WAKA SPIRITBLADE which is a legendary death summoner. This summoner has the ability to provide all their friendly monsters with the poisoning ability. And it's really dangerous. I'll share a detailed explanation of each card too in my lineup.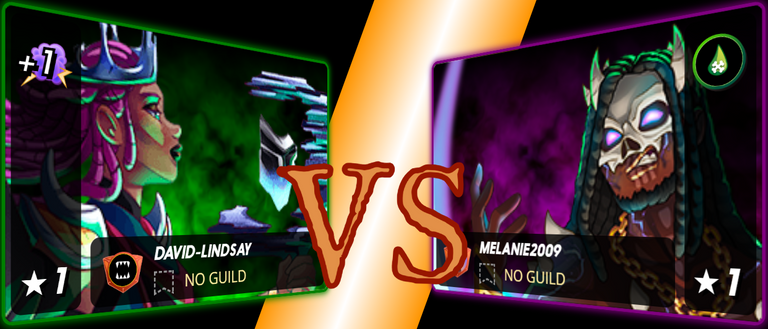 My Battle Link:
https://splinterlands.com/?p=battle&id=sl_e10a456603fd5d83bb8a0375ceb1693f
My Lineup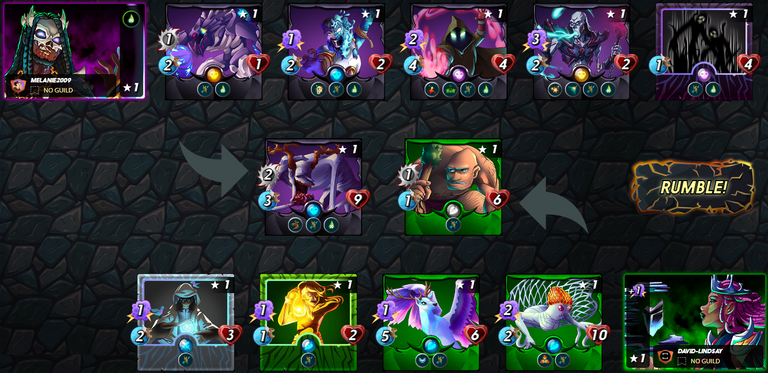 Hill Giant:
So, in the first position of my lineup, I used a monster called Hill Giant. I use this monster in my battle because of its health level and as a shield for my whole lineup. Also, this card only costs 3 mana caps to use in battles. So, it's quite cheap and worth it.

Mycelic Slipspwan:
This card is as mighty as it looks. Even though it costs 9 mana caps, it's a great one to diversify the attacks of the enemy and also hold them. This monster has a huge life storage and the Taunt ability of this monster attracts enemy monsters to target it first. Also, it's a magic-attacking monster and with the help of the summoner, it got the attacking power of 3. And all that combined including the Return Fire ability really made it more than worth the mana cost.
Regal PerytonL:
This monster is on my top favorite list of mine amongst the Earth monsters. It's also one of my most used cards. This monster costs 5 mana caps to use in battles. Yet, it has the flying ability, magic attacking ability, 6 life, and most of all, freaking 5-level attacking speed. This card is really useful when it comes to the frontline in the middle or end of the battle. It can dodge most of the attacks because of its flying ability and because of its super-fast attacking speed, it gets to attack before the enemy card gets to attack most of the time. And that one single attack can win you the match in critical situations.

Khmer Princess:
The main reason behind using this monster is that it costs only 2 mana caps to use in battle and yet it's a magic-attacking monster. And because of the ability of my summoner, the ability increases, making it more helpful. And this card is perfect for use in battles where you get access to low mana usage.

Elven Mystic:
This monster is also a magic attacking card and it costs 4 mana caps to use. Even though it doesn't have any special abilities, I still use it because of only the magic attacking ability. This attacking ability is one of my favorites. cause, it never misses and there's no shield that it can't penetrate. Unless there are some changes in the ruleset.
Strategy
My plan was to hold the front line with the Hill Giant and diversify the enemy attacks with the Mycelic Slipspwan and destroy the enemy lineup with my strong magic attacks with heavy magic attacks. Even though I was worried about the poison ability of the enemy summoner, I was able to pull out my plan successfully and won the battle. But, my opponent sure gave me a hard time.

I'll give you a hint of the enemy monster's power below. You'll get the idea of how strong their abilities were compared to mine.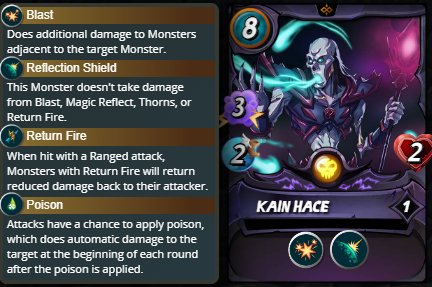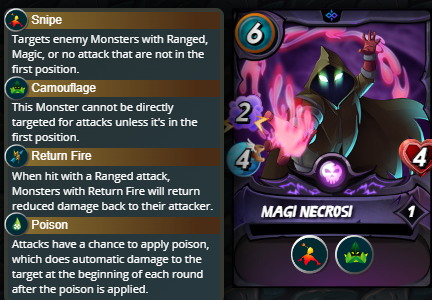 I hope you liked my post and battle strategy. I tried to bring up the main facts of my whole battle in this battle report of mine. Those of us who play the game, know how things work. So, we will understand what actually happened in the battle from these main facts. And as for those of you who don't know about the game, this will increase the curiosity of the newcomers and you'll find it amazing to see the match live by visiting the battle link I included before. I'd like you to join Splinterlands, you can use my referral link to join and please follow me on Twitter.
My referral link to Splinterlands:
After visiting the link you'll be able to see everything for yourself in the game and do your research. You'll then need to purchase the spellbook to create an account and play the game.
https://splinterlands.com/?ref=david-lindsay
You can take participation in the social media challenge contest of Splinterlands by creating a post about Splinterlands and sharing it on your social media accounts. I'm participating in this one too and here's the link to that contest:
https://peakd.com/hive-13323/@splinterlands/splinterlands-weekly-curation-challange-august-8-2023
There's also another contest called the Battle Mage Secrets Challenge contest. You can participate there too by following the rules. Here is the link to that contest from this week:
https://peakd.com/hive-13323/@splinterlands/battlemagesecrets-august-9-2023
My Twitter profile:
https://twitter.com/DavidLi54313008
Will see you soon with something new or another exciting battle to share with you all.
Thank You
---
---